Tricky Trash Candy
You know, when you take a bunch of STUFF, mix it up and coat it in white chocolate.
These Halloween Oreo cookies are fun too! And make a perfect addition to Trash Candy!
I love that this makes a big bowl. And it's so versatile, just mix in what you have!
And you can keep a big bowl for all your friends (or should I say your kids friends) to munch on! Okay fine…a big bowl for YOU to munch on during the day. Or night. Or middle of the night when you are craving something delicious!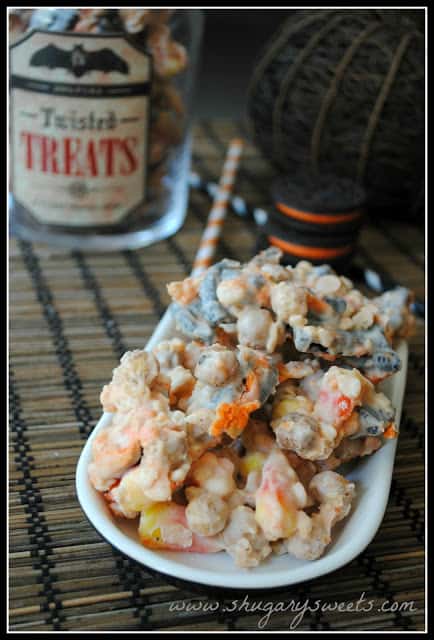 Like this Tricky Trash Candy Recipe? You may also enjoy these similar recipes…
HALLOWEEN Trash Candy– use your leftover Frankenberry, BooBerry and Count Chocula Cereal to make this delicious treat!
Spider Web Pretzels– make easy chocolate covered pretzels for halloween, and create a spider and web to put on them!
OR
Tricky Trash Candy
Ingredients
1 1/2 cup Reese's Puff cereal
1 1/2 cup Rice Krispies cereal
1 cup candy corn
20 Halloween Oreo cookies, broken in fourths
16oz Vanilla Candiquik, melted
Instructions
In a large bowl, mix cereal, candy corn and cookies. Pour melted vanilla candy coating over mixture, stirring gently to combine. Pour onto waxed paper and allow to set, about 30 minutes. Break into chunks and store in air tight container, or ziploc bags. ENJOY.