Chewy Triple Chip Cookies filled with butterscotch, white chocolate and semi-sweet chocolate morsels! Perfect for school lunches, afternoon snacks and dessert. Keeps well in freezer too!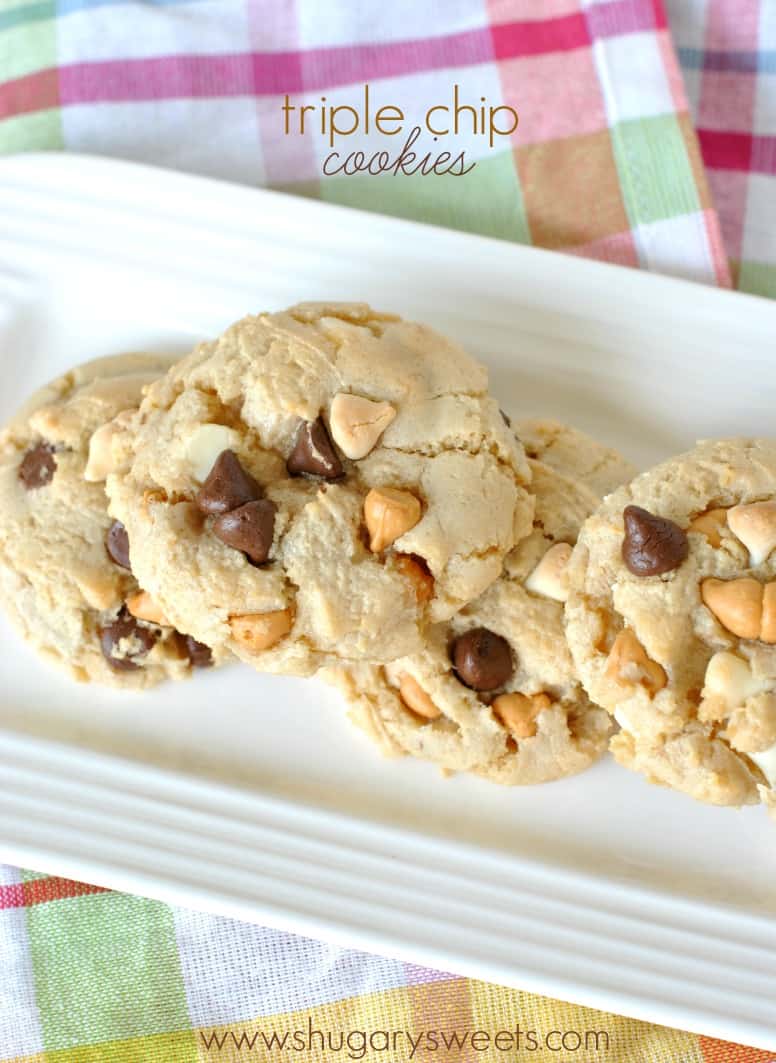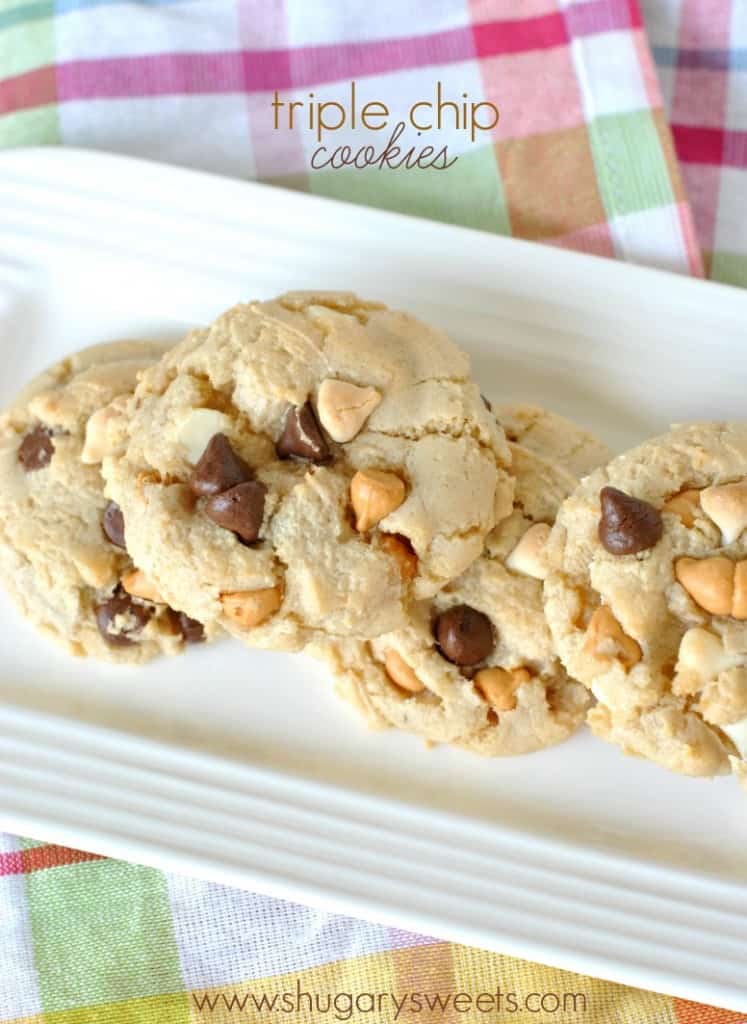 It happened last week. My kids went back to school. I know this happens every year. Summer comes and goes so quickly and all of a sudden the kids are back in school.
Why doesn't winter seem to come and go so quickly? Why does it always seem summer is the shortest season?
Anyways, my kids are back in school and I'm suddenly thrown back into routine, carpool, sports, and homework.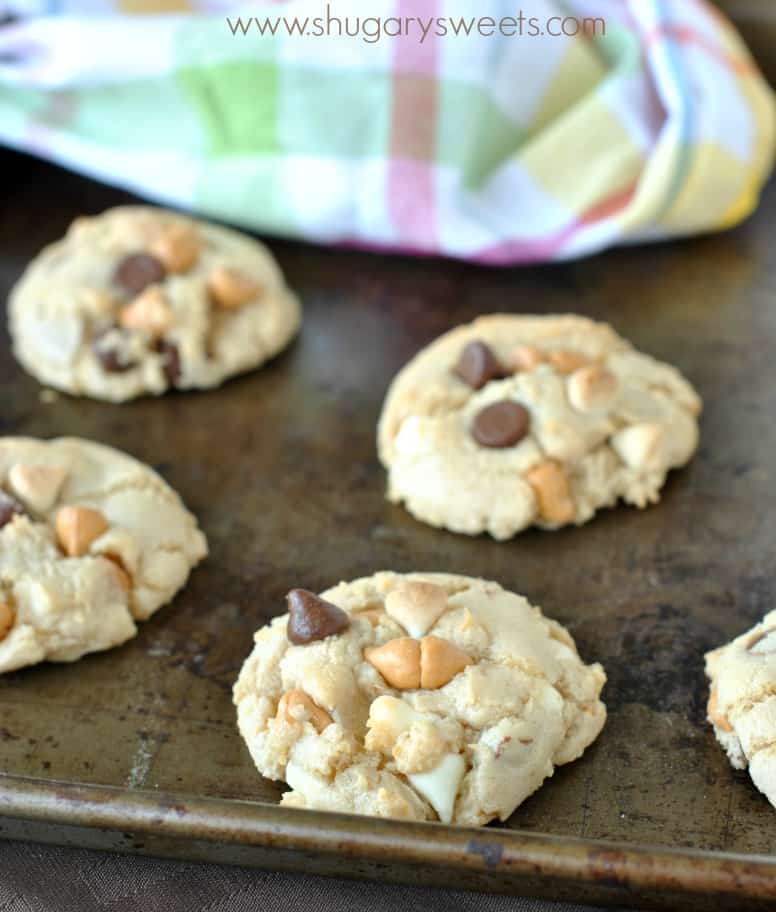 Let's talk about homework for just a quick minute. Then I promise you we will talk about cookies. Homework is hard. I don't remember it being hard when I was in school, but now as an educated adult I find it quite difficult. Why is that?
And why, for the love of all things pure and holy, can't we teach math the way I learned it? Why all these charts and sidebars?? My kids think I'm an idiot when I show them how I learned it. Like somehow, I'm wrong. I only graduated high school and college with good grades, but because I can't do some silly math sidebar in long division I'm labeled "wrong." At least reading hasn't changed, as far as I can tell we still read books from left to right.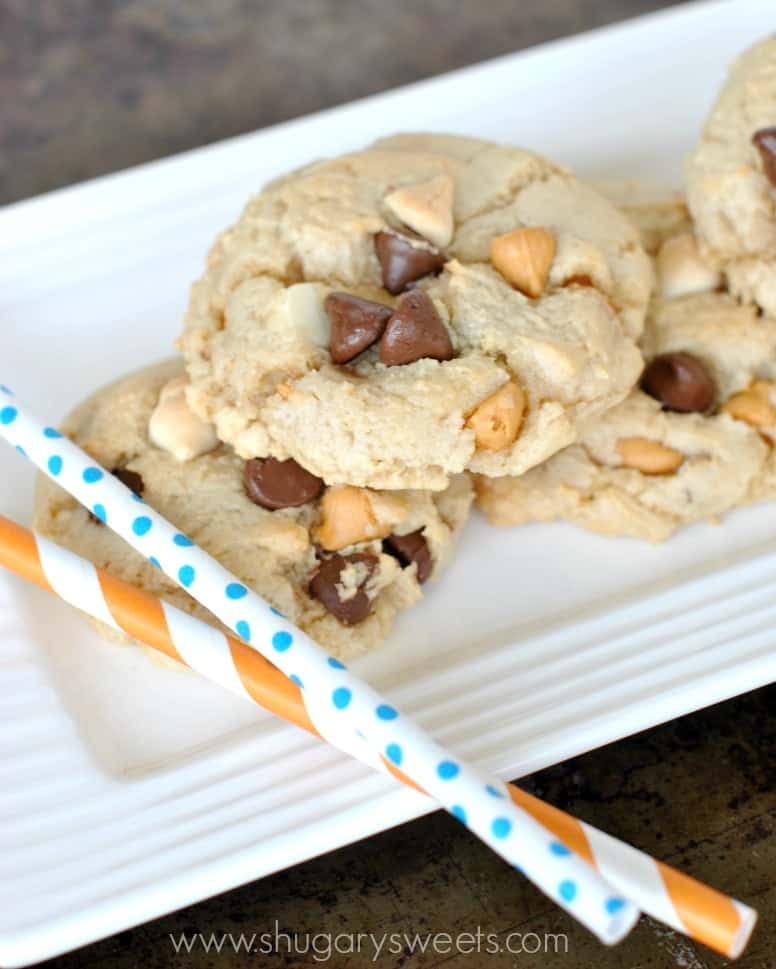 Now, on to these cookies. One of my favorite traditions is to bake cookies every week for my kids. I try to bake on Mondays so they have cookies for the rest of the week, for lunches and snacking.
I know some of you think my cookie recipes make a ginormous amount (I hear ya, 5 dozen is a lot of cookies sitting around). BUT, most of them can be halved EASILY. Also, one thing I do (and I've mentioned it before) is only bake up half the dough.
The remainder of the cookie dough is scooped into balls onto a parchment paper lined cookie sheet and put in the freezer for one hour (while I bake the cookies). I then remove the cookies from the freezer and put them in a large Ziploc freezer bag with the name of the cookie and the baking instructions written on the bag. This way, I have plenty of cookies baked up for the week, but I also have a second week's worth of cookie dough ready to bake in a moments notice.
To bake the frozen dough, just take out how many cookies you want, place them on your parchment paper lined cookie sheet and bake according to your directions. If cooking from frozen, I usually need to add about 2-3 minutes extra. Have a guest drop over for coffee? This is the perfect solution. Take out just the amount of cookies you want to bake and in minutes you have freshly baked cookies. Also great for new moms, housewarming, etc.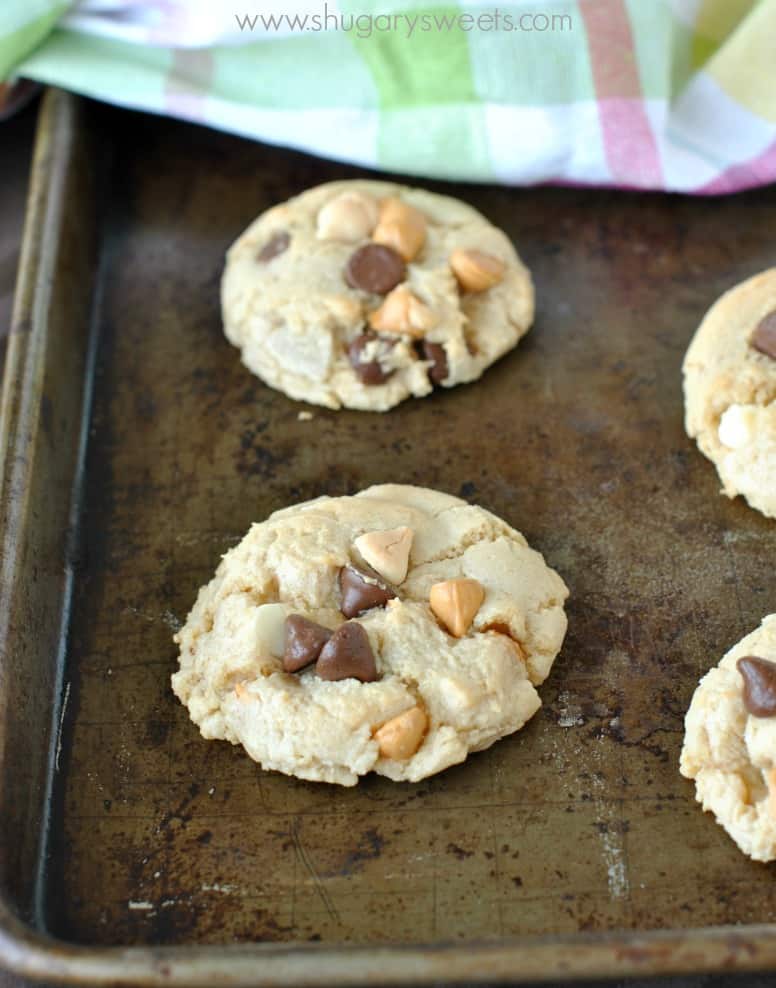 These triple chip cookies are absolutely awesome. The chewiness from the melted butter base is perfect when combined with the three types of morsels…butterscotch, white chocolate and semi-sweet. You can change the types of chips to your liking, subbing peanut butter, dark chocolate or even m&m's!! ENJOY!
And for a moment of parental bragging…here is a cute collage of my kids on the first day of school! My oldest, son, is a junior in high school, then I have a freshman, 6th grader, and 4th grader. My loves!!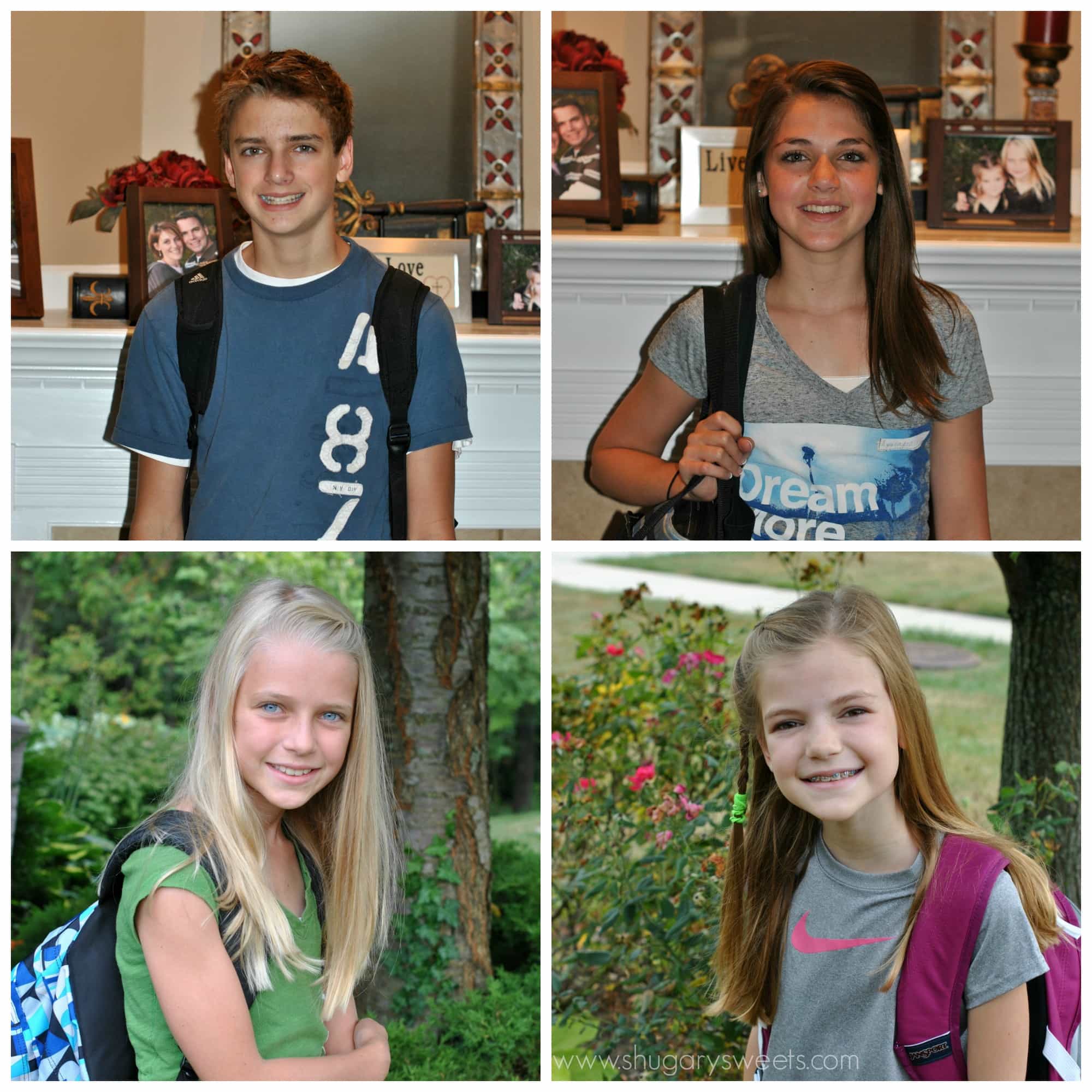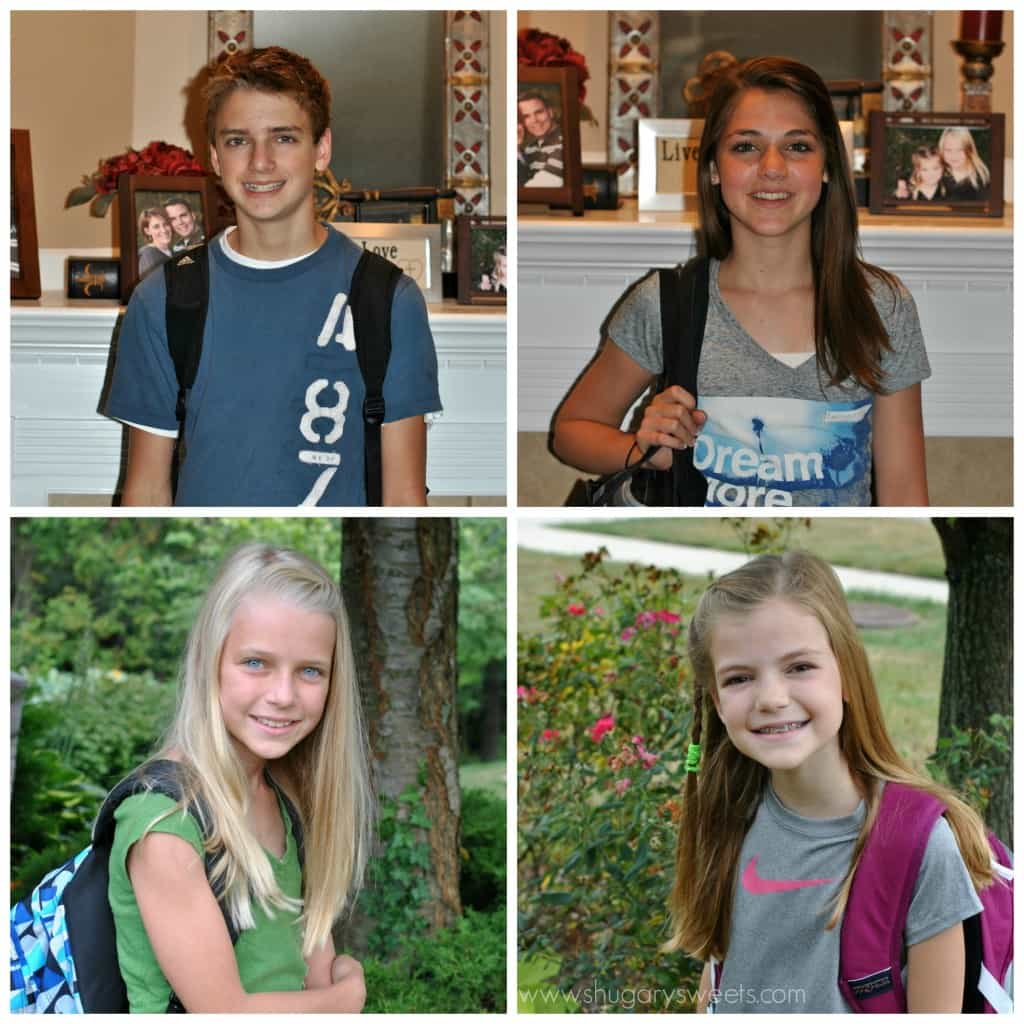 Have you connected with Shugary Sweets on Pinterest yet? Stop on over and follow my boards!
Yield: 5 dozen
Triple Chip Cookies
Chewy Triple Chip Cookies filled with butterscotch, white chocolate and semi-sweet chocolate morsels! Perfect for school lunches, afternoon snacks and dessert. Keeps well in freezer too!
Ingredients
1 1/4 cup unsalted butter, melted
2 cup light brown sugar, packed
1 cup granulated sugar
3 large eggs
1 Tbsp vanilla extract
4 1/4 cup all-purpose flour
2 tsp baking powder
1/2 tsp kosher salt
1 1/4 cup butterscotch morsels, divided
1 1/4 cup white chocolate morsels, divided
1 1/4 cup semi-sweet chocolate morsels, divided
Instructions
In a large mixing bowl, beat melted butter with sugars for two minutes. Add in eggs, one at a time. Add vanilla extract. Beat in flour, baking powder and salt until fully combined. Fold in 1 cup of each type of morsel (reserving the 1/4 cup for garnish).
Scoop cookie dough onto a parchment paper lined baking sheet. I use a 2 Tbsp scoop for these cookies. Using the reserved morsels, press one or two of each kind onto the tops of each cookie. Bake in a 375 degree oven for 10-12 minutes. Remove and cool completely on a wire rack.
Store cookies for up to one week in an airtight container.
Notes
The extra morsels for garnish are optional. If you want to skip this step, just add the morsels into the cookie dough instead. To freeze baked cookies, allow cookies to cool completely. Place baked, cooled cookies into a ziploc freezer bag and freeze for up to 3 months. To freeze cookie dough, scoop dough into 2Tbsp scoops on a parchment paper lined baking sheet. Freeze dough for one hour. Remove scoops from baking sheet and place in a labeled ziploc freezer bag for up to three months. To bake, remove frozen cookie dough and place on a parchment paper lined baking sheet. Bake according to directions, adding 2-3 minutes for frozen dough. ENJOY.
Nutrition Information:
Yield:
60
Serving Size:
1 cookie
Amount Per Serving:
Calories:

161
Total Fat:

7g
Saturated Fat:

4g
Trans Fat:

0g
Unsaturated Fat:

2g
Cholesterol:

21mg
Sodium:

64mg
Carbohydrates:

25g
Fiber:

0g
Sugar:

17g
Protein:

2g
Looking for more Cookie Recipes? These Oatmeal Chocolate Chip cookies are delicious. Chewy and filled with mini chocolate morsels, these are sure to please!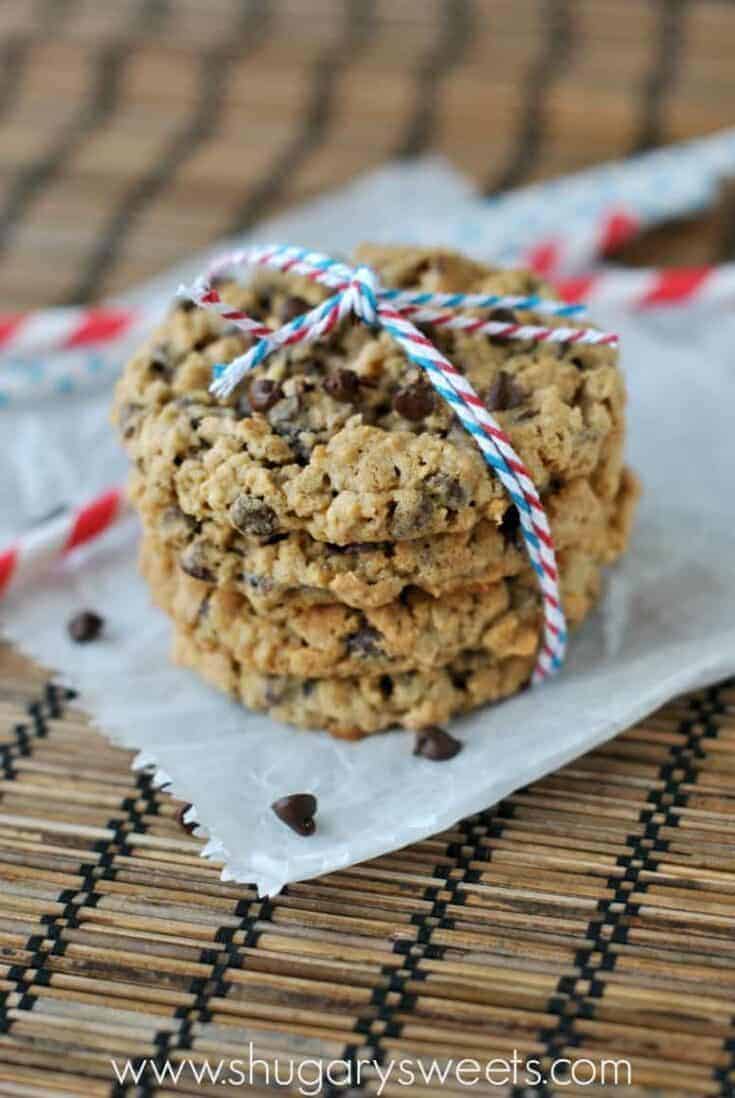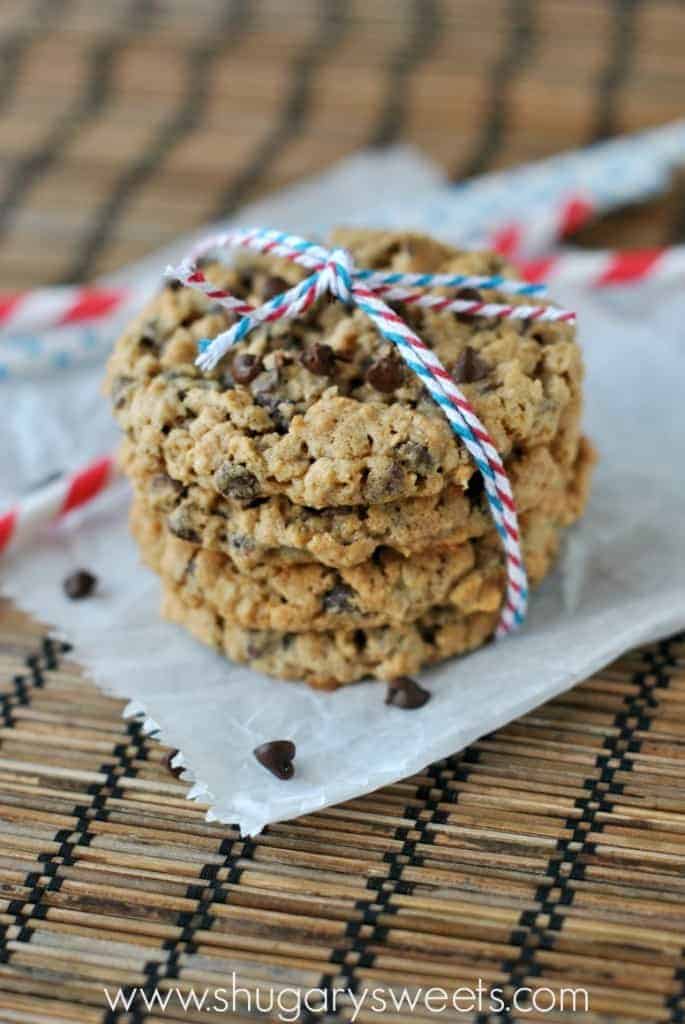 These Chunky Peanut Butter cookies are filled with chunky peanut butter, milk chocolate and dark chocolate!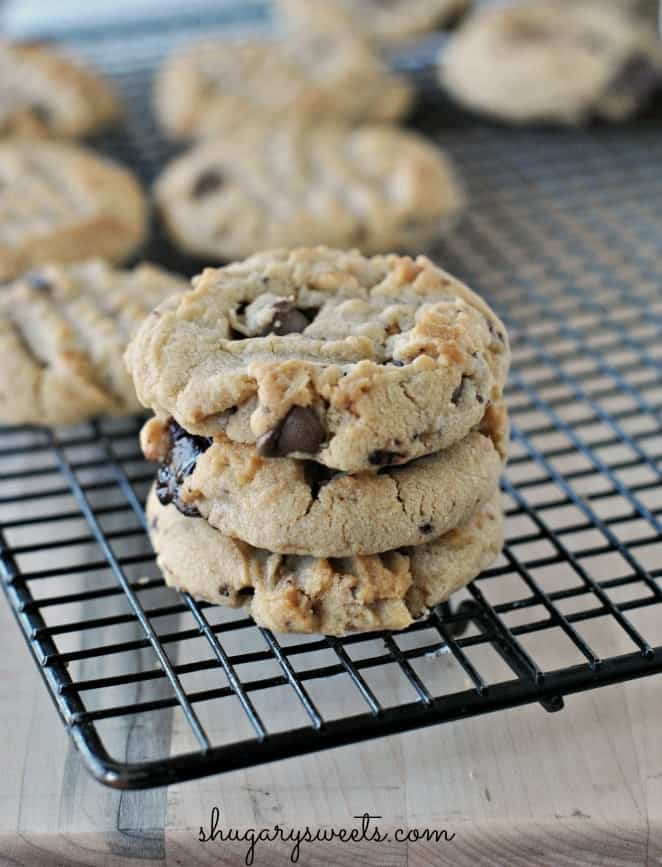 Want an easy, SKINNY cookie? Try making a batch of Skinny No Bake Chocolate Cookies!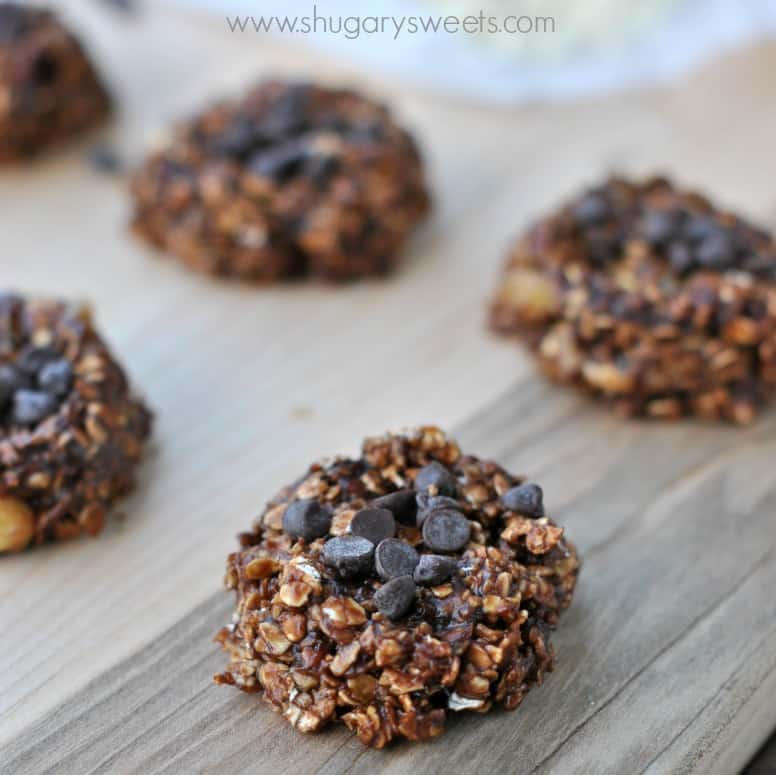 Delicious cookies from around the blogs….
Oatmeal S'mores Bars from Inside BruCrew Life
Triple Chocolate Pudding Cookies from Something Swanky
Famous Amos Copycat Cookies from Crazy for Crust