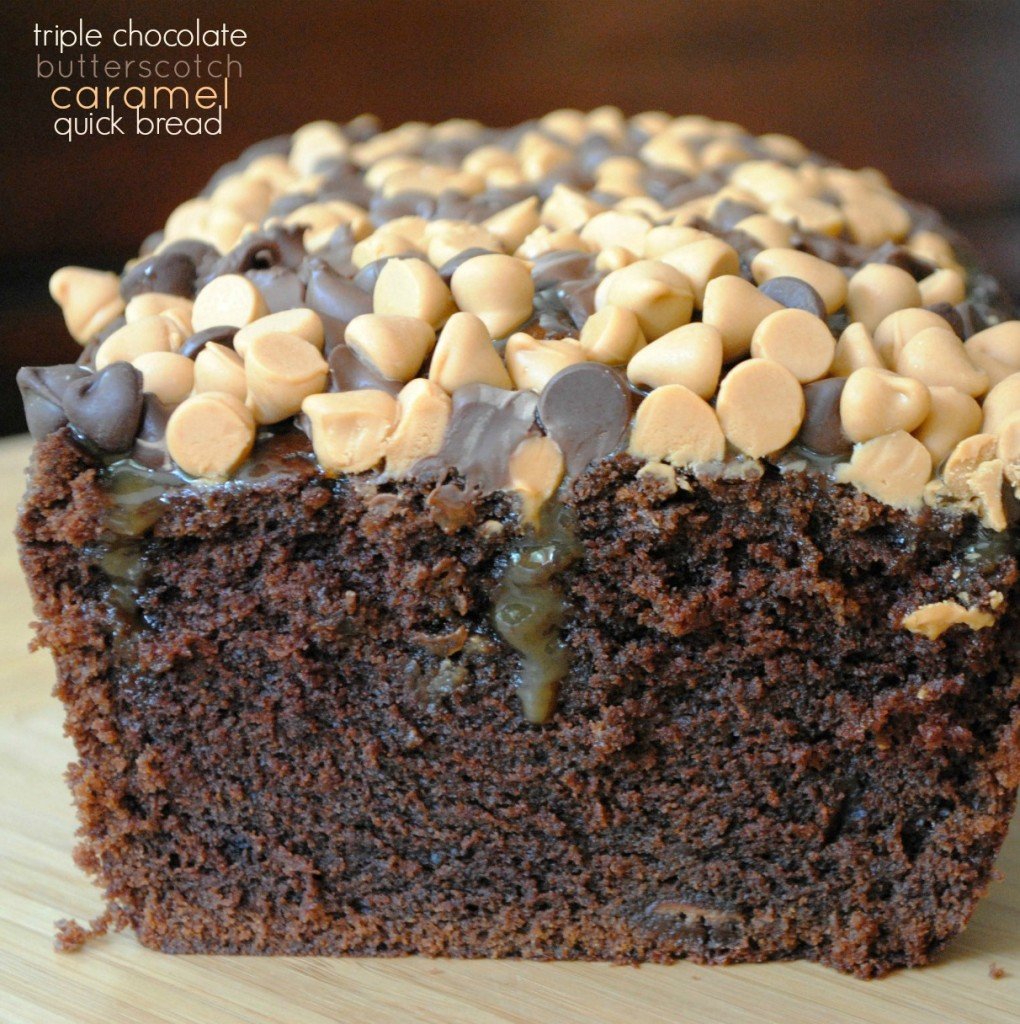 Whew. That's one heck of a title. Today I am doing a little blog post re-do. See back last summer I had total recipe fail.
A trifle? Yep, that what most of my cake and bread fails turn into, if they taste good but don't come out of the pan.
But I also attempted homemade caramel sauce that turned into caramel whipped cream. Which, don't get me wrong, was divine.
But I've been thinking about this bread. Since last summer. I baked it up again. And, since I didn't want a fail on my hands I used jarred caramel ice cream topping. Since that's a little runnier than homemade would normally turn out I topped ith with milk chocolate chips and butterscotch chips. Stuck her in the refrigerator and O M G.
Success. It's a beautiful sturdy chocolate bread with the most scrumptious topping. Don't ya think?
Do you ever go back and re-do old recipes on your blog? Some of my friends did the same thing today. Go check them out at the bottom of this post!
Yield: 1 loaf
Triple Chocolate Caramel Butterscotch Bread
Ingredients
3/4 cup butter, softened
1 1/3 cup sugar
2 eggs
1 Tbsp vanilla extract
1/3 cup sour cream
1/2 cup boiling water
1 3/4 cup flour
1/2 cup unsweetened cocoa powder (I used Hershey's dark chocolate)
1 tsp baking soda
1 cup milk chocolate morsels
1/2 cup caramel ice cream sauce
1/4 cup butterscotch morsels
1/4 cup semi sweet chocolate morsels
Instructions
In mixing bowl beat butter and sugar until creamy, about 3 minutes. Beat in eggs, one at a time. Beat in vanilla, sour cream and water. Slowly add flour, cocoa, and baking soda. Mix completely. Fold in milk chocolate morsels.
Line the bottom of a loaf pan with parchment paper. Use baking spray to grease completely. Pour batter into pan and bake in a 350 degree oven for 60-65 minutes. Allow to cool in loaf pan about 10 minutes. Remove to wire rack and cool COMPLETELY.
When cool, spoon caramel sauce on top of loaf. Press chocolate chips and butterscotch chips into the caramel, it helps keep it from dripping down the sides. Refrigerate bread. Slice when ready to serve! Enjoy.