Triple Chocolate Scones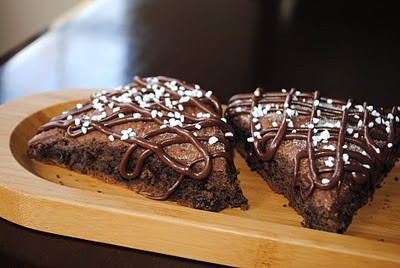 Need more chocolate in your life? Yeah, I'm not sure what in my crazy mind made me decide to make these, but I'm so glad I did! Have guests coming for the holidays? These are a great treat to bring out with your coffee, for breakfast or dessert!
My only concern is I made them a little big. Well, maybe concern is not the right word. I shaped them into a 6inch circle and cut them into 8 wedges. Next time I might try to use the same method I used for the pumpkin scones. Those weren't nearly as large!
Enjoy!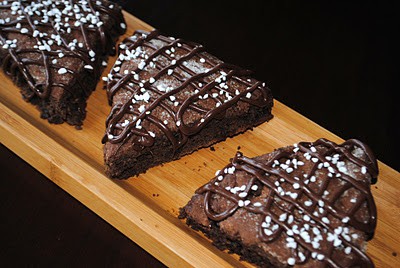 Triple Chocolate Scones
Ingredients:
3 cups all-purpose flour
1/2 cup light brown sugar, packed
1/2 cup unsweetened cocoa powder
1/2 tsp salt
3 tsp baking powder
1 tsp baking soda
1 cup unsalted butter, cubed
1 cup semi-sweet chocolate chips
1 egg
3/4 cup milk
3 Tbsp granulated sugar
1/4 cup milk chocolate, melted
2 Tbsp coarse sugar
Directions:
In a food processor, combine flour, brown sugar, cocoa, baking powder, baking soda and salt. Add cubed butter and pulse until crumbs form. Transfer mixture to a large bowl.

Add in chocolate chips. Mix in egg and milk and stir until just combined. Divide dough into 2 parts. On baking sheet with lightly floured parchment paper, shape one part of dough into a 6 inch circle, pressing lightly with hands. Use a sharp knife or pizza cutter to cut into wedges (8). Leave wedges in place and sprinkle with granulated sugar. Repeat with second half of dough.

Bake in a 400 degree oven for about 25 minutes. Remove and cool slightly before separating wedges.

Drizzle wedges with melted chocolate. Sprinkle immediately with coarse sugar or sprinkles. Enjoy!
(adapted from Rachael Ray)
MAKING THIS RECIPE? Share it with me on Instagram using the hashtag #ShugarySweets so I can see what you're cooking up in the kitchen!