Turkey Enchiladas with Cilantro Corn Puree
Well, I think it's healthy. I honestly don't know. It felt healthy eating it. And that's what really counts isn't it?
Whether you feel guilty when you are done eating. Do your pants feel a little tighter?
Nope, all good after this meal! Good enough to eat dessert (banana bars and cracker bites). Yeah, those recipes are coming soon, and they are NOT healthy. Sorry.
Back to the enchiladas though.
My dog liked them too. Apparantly she is on this, "I'm going to eat anything left on the counter" kick. One day it's a loaf of bread (remember, the communion bread), at camp she opened the picnic basket and ate another loaf of bread, and tonight she ate TWO PB&J's that Alyssa made and left on the counter. She also helped herself to half of an enchilada before I caught her in the act. Naughty little dog.
Anyone want a black lab? Just kidding. Kinda.
Turkey Enchiladas with Cilantro Corn Puree
Ingredients
for the enchiladas:
1 lb ground turkey
½ cup onion, chopped
1 cup salsa
1 cup sweet kernel corn
1 Tbsp cornmeal
1 Tbsp chili powder
1 tsp oregano
2 tsp ground cumin
½ tsp salt
¼ tsp ground black pepper
6 flour tortillas, burrito sized
2 cup colby-jack cheese, shredded
for the cilantro corn puree:
1 cup sweet kernel corn
1 cup fresh cilantro
1 can (4oz) chopped green chilies
⅓ cup skim milk
¼ tsp salt
¼ tsp pepper
Instructions
In food processor, mix last 6 ingredients until blended. Set aside.
In large skillet, brown ground turkey with chopped onion until fully cooked. Remove from heat and mix in corn, salsa, cornmeal, and seasonings.
Spoon ¾ cup turkey mixture down center of each tortilla. Roll up and place seam side down in greased 13x9 pan. Spoon cilantro mixture over the top and sprinkle with cheese. Cover and bake in a 350 degree oven for 30 minutes. Uncover and bake an additional 10 minutes.
Serve and enjoy!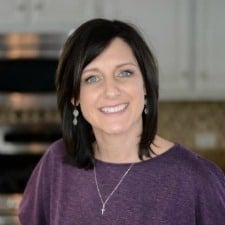 Aimee is a dessert lover (specifically rice krispie treats), workout enthusiast, self-taught foodie, and recipe creator. Her recipes have been featured in over 15 magazines, and her passion is to share her love of cooking with the everyday home cook! Learn more about Aimee.