Sweet and spicy, you will want this Red Pepper Jelly in your fridge and pantry. Learn how to can these jars…perfect for snacks, sandwiches and gifts!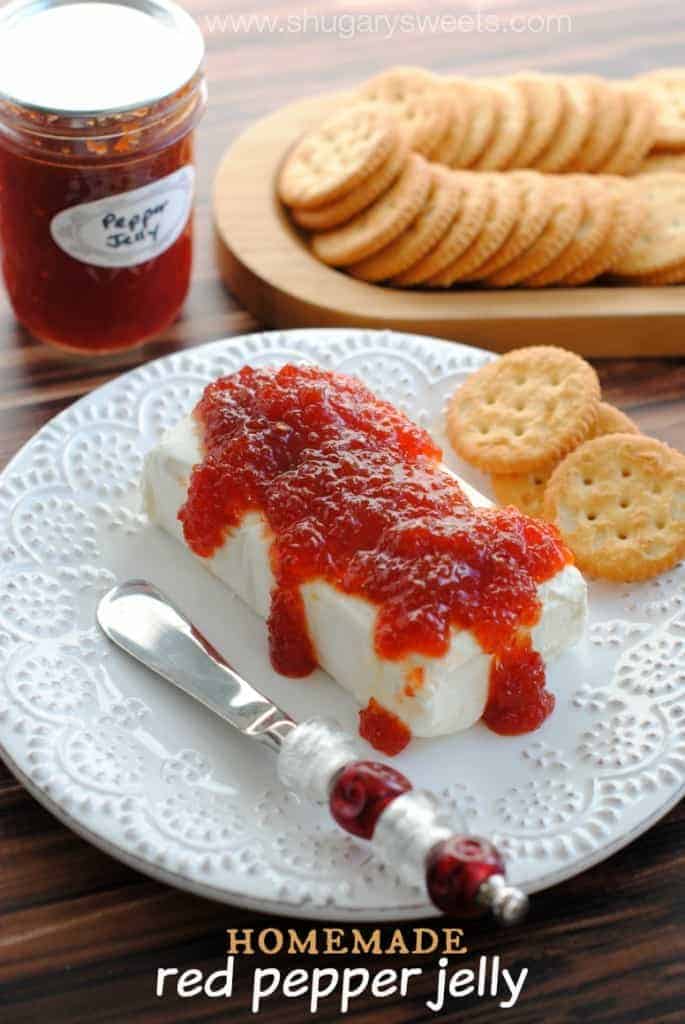 **photos updated November 2014** 
This is my favorite turkey sandwich, made with homemade red pepper jelly. I eat it almost every day. I even made it for my friend Frank once, he was skeptical at first, but became a believer! Using a grill and press works best, but you can cook it on a griddle too.
I wish I had this sandwich this weekend. We went up to Ohio State University this weekend and camped. Well, we didn't camp at the university, we went to a state park nearby. But my oldest daughter had a swim meet at OSU. We spent Friday at the Columbus Zoo, which was awesome!! Such a cool zoo. To top it off we met Jack Hanna while we were there and got our picture with him (of course it's on a different camera, which is still packed somewhere).
Then I spent Saturday and Sunday at the swim meet while hubby and the rest of the gang hung out at the campground. If you have never had to sit through a swim meet, let me tell you, it's painful. I spent about 14 hours away from the campground so she could swim for a total of about 6 minutes. Only to repeat the second day. I think I have permanent marks on my legs from the bleachers.
Okay, that's my swim rant. It was a great weekend, but my point was, I wanted this sandwich. We stopped in a deli on Saturday for lunch, and I wanted a turkey sandwich, but I wanted THIS turkey sandwich. So of course whatever I ate wasn't the same. Make this, you will love it!
And the red pepper jelly? Oh yum. I can about 12 jars of this every fall, and they are like gold. I am very stingy with them! So if you have received a jar from me, consider yourself lucky! The pepper jelly isn't difficult, but if you've never canned before it may be more time consuming than you are used to! If you'd like to make it, the recipe is below as well, so get those peppers growing in your garden. You will need about 8-9 red sweet peppers to make 6 jars, which I ALWAYS double. I mean, if I'm going through the work, then I might as well make it worth it! The pepper jelly is amazing on a sandwich, or a burger. But it's also great on cream cheese with crackers! Enjoy!
Grilled Turkey Sandwich Recipe:
2 slices bread
3 oz sliced turkey breast
1/4 apple, sliced very thin
1/2 avocado, sliced thin
2 Tbsp red pepper jelly (recipe below)
2 oz cheddar cheese, sliced
1-2 tsp olive oil, for heating pan/griddle
Heat griddle or grill pan and press over medium heat with 1-2 tsp olive oil. When hot, assemble in order….bread, cheese, turkey, avocado, pepper jelly, apple, cheese, bread. Heat until cheese is melted, serve warm and enjoy!