Turtle Cookies
It's hard to stake a claim like that…"the best." I make a lot of cookies. Like at least 2-3 times a week a batch goes in the oven, at least one new recipe each week too!
But, these were rich. In chocolate. And caramel. And pecans. Oh my.
Love this recipe? Check out these too…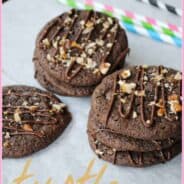 Turtle Cookies
Turtle Cookies: decadent chocolate cookie packed with caramel, pecans and drizzles of melted chocolate!
Ingredients:
1 cup butter, softened
1 cup brown sugar
3/4 cup granulated sugar
2 eggs
2 Tbsp milk
2 tsp vanilla extract
2 1/4 cup all purpose flour
1/2 cup dark chocolate Hershey's cocoa powder
1 tsp baking powder
1/2 tsp kosher salt
1 cup Kraft caramel bits
1 cup chopped pecans, divided
1/2 cup semi-sweet chocolate morsels, melted
Directions:
Beat butter and sugars for 3 minutes until well combined. Add eggs, milk and vanilla. Beat in flour, cocoa, baking powder and salt. Fol in caramel bits and 3/4 cup chopped pecans.
Chill dough in refrigerator for one hour.
Scoop chilled dough, by large tablespoon, onto a parchment paper lined baking sheet. Bake in a 375 degree oven for 10-12 minutes. Allow to cool on pan for 2 minutes, then remove to wire rack.
Drizzle cookies with melted semi-sweet chocolate and immediately sprinkle with remaining chopped pecans.
Enjoy warm for a fudgy, chewy cookie. Or allow to cool completely for a more stiff, rich and chocolatey cookie!
MAKING THIS RECIPE? Share it with me on Instagram using the hashtag #ShugarySweets so I can see what you're cooking up in the kitchen!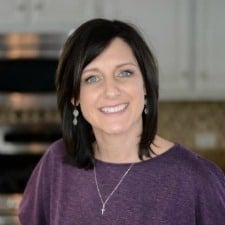 Aimee is a dessert lover (specifically rice krispie treats), workout enthusiast, self-taught foodie, and recipe creator. Her recipes have been featured in over 15 magazines, and her passion is to share her love of cooking with the everyday home cook! Learn more about Aimee.