Turtles, #topchef, and a Food & Wine giveaway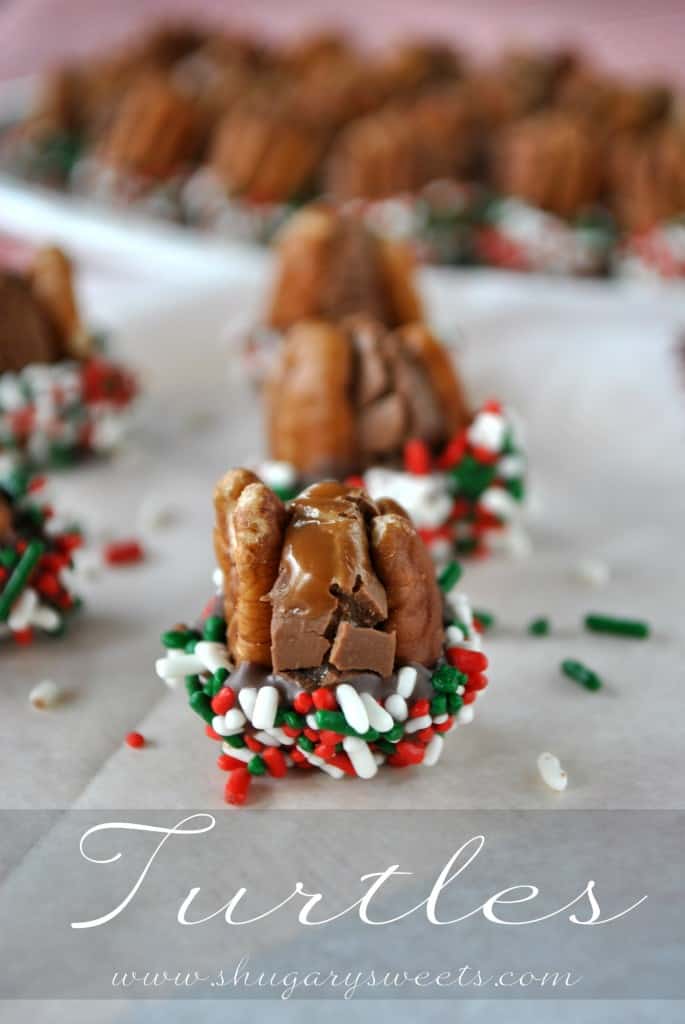 Here's the thing. I love TV. I love cooking shows. And I love cooking competitions!
(speaking of which, have you voted for my Chocolate Almond Fudge bites yet? Only takes one click, I'll still be here….GO. Now. Then come back!!)
Top Chef is one show that I watch each and every week. And each and every week I have no idea what they are making, but it looks and sounds beautiful. And I walk away from the show feeling like an incompetent cook. I mean seriously, 30 minutes to create those amazing foods? It takes me that long just to find my bowls, measuring cups, spoons, etc.
Anyways, yesterday the Quickfire challenge was brought on by Reynold's Wrap. And EVERYTHING in the pantry was covered in foil. Seriously, how fun would that be as an April Fool's prank to someone???
Any wrapped item in foil they chose (without looking obviously), they had to use in their recipe. No biggie right? Oh. Em. Geee.
One of the contestants made a sponge cake in a make-shift foil pan. I would never find myself picking the right ingredients for that. I would have grabbed scallops and had to figure out how to incorporate that into my cake.
They made some delicious food in such a short time, so I thought I would give you my version of a quickfire challenge. Yes, seriously, this is the best I could come up with. Totally high end baking right here!
But, it would be perfect for a gift, it's quick and easy, and did I mention delicious?
I used a bag of mini Rolos, but next time I think I'd like more caramel, so try it with full size rolos! The trickiest part is balancing the rolo on the pecan half and then carrying the tray to the oven. Amazingly, mine did just fine, no casualties!
Now, on to the giveaway…
I tend to hoard magazines like it's nobody's business. Food & Wine is one of my favorites too! It's so elegant. One lucky winner will receive a 12 month subscription to Food & Wine magazine. (I'm a bit jealous here)!
How to enter:
Easy. Just leave me a comment below letting me know your favorite Holiday recipe(s) or Top Chef challenge/moment. That's it. One winner will be selected by December 26th!
Content and/or other value provided by our partner, Bravo.
Watch Top Chef airing on Wednesdays 10/9c on Bravo.
In the interest of full disclosure, I am part of Bravo and Top Chef's A-Listers program in which I provide reviews of Top Chef. All opinions are 100% my own.
Turtle Bites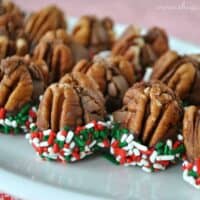 Ingredients
Pecans, halves
Rolos (unwrapped)
Chocolate almond bark (4oz), melted
sprinkles
Instructions
Line baking sheet with Reynold's wrap. Lay one pecan half with smooth side down on sheet. Top with a Rolo. Repeat for as many as you wish to make.
Place in a 225 degree oven for 4-8 minutes, until Rolos soften (not melt). Remove from oven and press each Rolo slightly with a second pecan half to top. Allow to cool (about 15 minutes).
Dip each turtle into melted chocolate, then immediately into sprinkles. I had a little assembly line with a bowl of the chocolate and a bowl of sprinkles.
Place upright on foil, allow to set. ENJOY!
One last thing…you can help Save a Chef! Go vote for your favorite Top Chef!
Who Stays? Who Goes? You Decide!
Content and/or other value provided by our partner, Bravo.