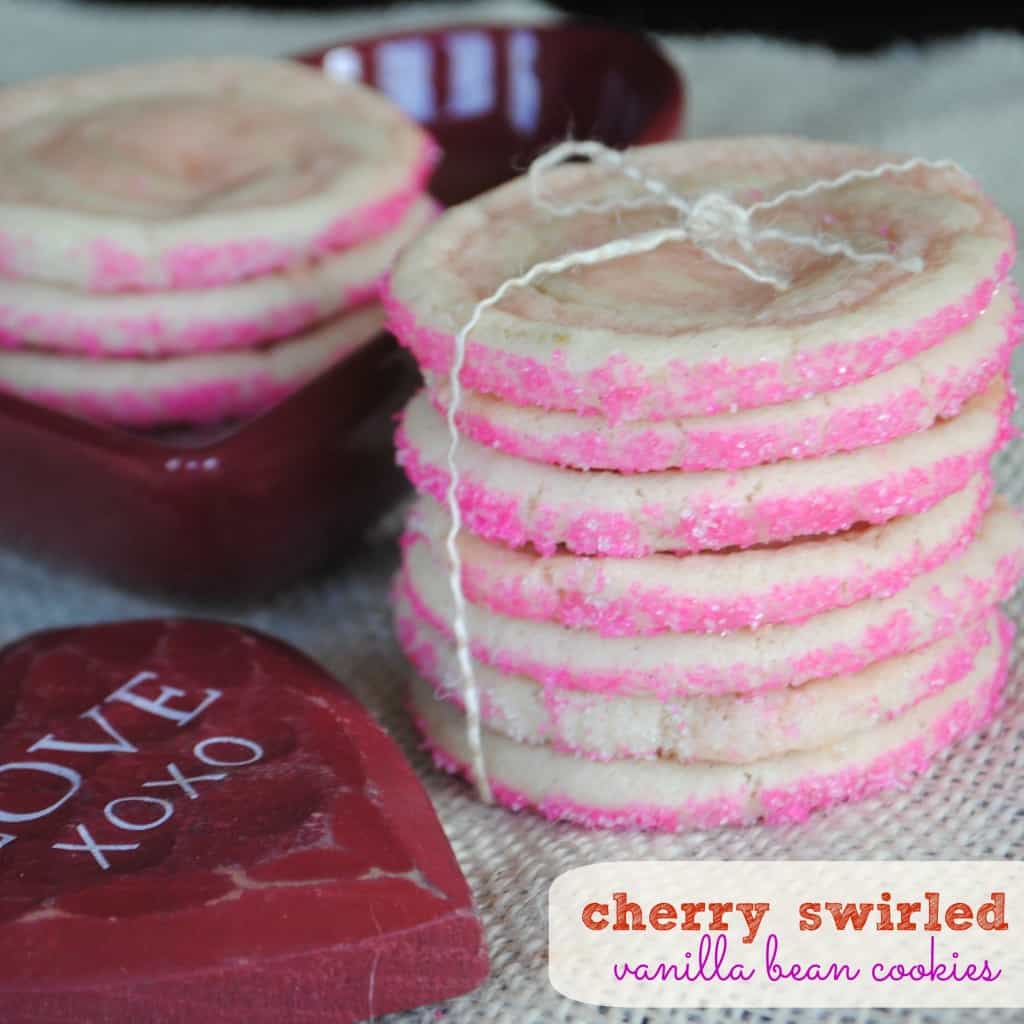 These cookies have an amazing depth of flavor AND a chewy texture.
However, don't let that fool you on their taste. I used a homemade vanilla sugar to add some deep vanilla flavor. You could just add some bean, or paste to the cookies, but I like to make vanilla sugar and keep it in  mason jars in my pantry.
I use it often, and just replace the sugar and not the beans. Every 5-6 uses I remove the beans and add fresh ones.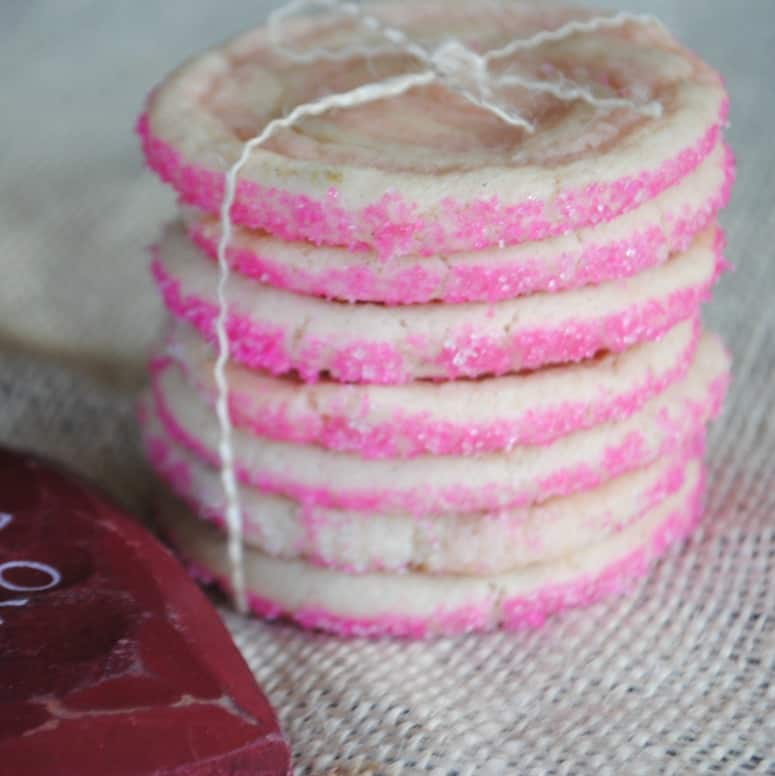 One of the best things about these cookies is you store them in the freezer wrapped in parchement or wax paper.
Then you slice and bake. Perfect to keep extra rolls stocked up for guests or a fun easy weeknight dessert. I like to make extra batches of these and store them just for that reason!
Yield: 4 dozen
Vanilla Bean and Cherry Swirled Icebox Cookies
Ingredients
2 cup flour, plus 2 Tbsp flour, divided
1/2 tsp baking soda
1/4 tsp salt
1/2 cup butter, softened
1 1/3 cup vanilla sugar (see recipe)
2 egg whites
1 teaspoon pure vanilla extract
5 Tbsp maraschino cherry juice (from jar of cocktail cherries)
1/4 cup sugar sprinkles
Instructions
In mixer, beat butter with vanilla sugar until fluffy, about 3-4 minutes. Add egg whites.
In separate bowl, mix 2 cup flour with baking soda and salt. Gradually add to butter mixture. Divide dough in half. To one half, beat in vanilla extract. To other half, beat in cherry juice with remaining 2 Tbsp flour.
Lay vanilla dough on large sheet of parchment paper. Shape into a 6 inch log. Using a second piece of parchment paper on top, roll to form a 12 inch square. Freeze for about 15 minutes. Repeat with cherry dough.
Remove dough from freezer (no longer than 15-30 minutes). Remove parchment paper and lay dough on top of each other. Roll combined dough into one log, re-wrap in parchment paper and freeze for at least 3 hours or until ready to slice and bake.
When ready to bake, pour sprinkles on a baking sheet. Unwrap frozen dough and roll in sprinkles. Slice dough about 1/4 inch thick. Bake on a parchment lined baking sheet in a 350 degree oven for about 7-9 minutes.
Notes
**note** If you don't have vanilla sugar, scrape one vanilla bean into your granulated sugar and continue the recipe as written. **note squared** Another great tip to rolling these out would be to press one layer into the bottom of a wax paper lined 13x9 freezer safe dish. Press the second layer on top. Freeze for 15 minutes, remove and roll. Return to freezer until ready to use.