Vanilla Bean Snickerdoodles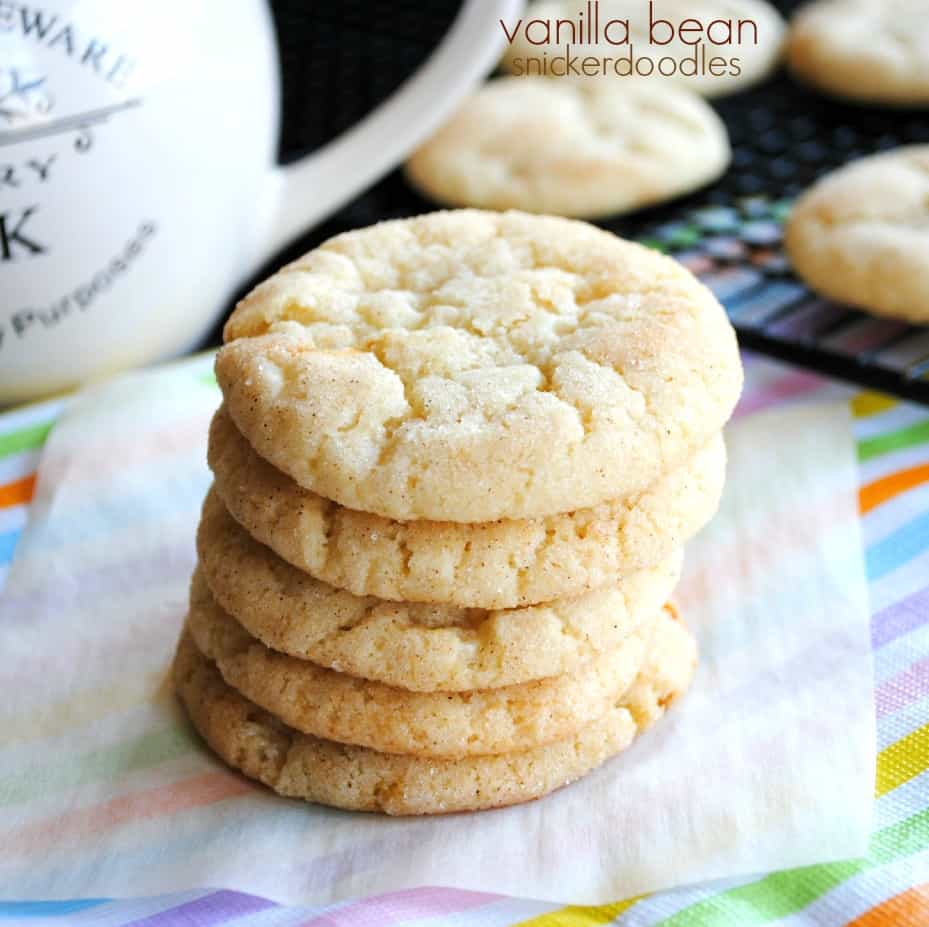 Not only do I have a fantastic cookie recipe for you, but today is my last installment of my Joy the Baker Cookbook series.
First, let's talk about this cookbook for a minute. I was so fortunate to be a part of a group of bloggers who received this cookbook before the rest of ya'll. Usually when I buy a cookbook I skip to sections I like, or flip to the index to find a certain type of recipe. Joy's cookbook I read from cover to cover. Like a book. Her stories before the recipes really give you a glimpse into her life. You trust her and when you make one of her recipes you KNOW she has tested it out. That's one of the best things about cookbooks written by bloggers!
I also love that Joy did all her own photography in this book. And her pictures are mouthwatering. Stunning. Photography is one area that I really need to put more of my attention. Joy, however, is quite skilled!
I highly encourage all of you to get this cookbook. And I don't say that often about cookbooks. There are very few that I would HIGHLY recommend. But this is one of them that I say, spend the money. It's worth it! Plus, you might get lucky and and live in a town along her book tour and get it signed. How cool would that be??
Now, I know, the recipe. I couldn't highlight her cookbook without sharing one more recipe with you all. And to be honest, I was very skeptical about making this one. I have a trusted snickerdoodle recipe that I love. That said, I gave this one a try. The only change I made was instead of using vanilla extract and vanilla beans, I use vanilla bean paste. I love this stuff and use every chance to incorporate it into recipes! I also added more cinnamon in my "topping" only because I didn't read the recipe so carefully and added in what I normally would have. It turned out fabulous!
In the cookbook Joy shares a picture of her snickerdoodles, mine looked nothing like those. Hers are very skinny. Mine ended up puffier! I made small one, but also made some larger sized cookies (like she recommended). Neither batch turned out thin like in her photo, but both batches were absolutely amazing. I am now making this my go-to snickerdoodle recipe, without question. Yeah, wow!!!!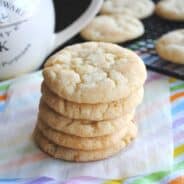 Vanilla Bean Snickerdoodles
Ingredients:
1 cup butter, softened
1 1/2 cup sugar
2 eggs
1 1/2 tsp vanilla bean paste
2 3/4 cup flour
2 tsp cream of tartar
1 tsp baking soda
1/4 tsp kosher salt
1/3 cup sugar
2 tsp cinnamon
Directions:
In mixing bowl, beat butter and sugar until thoroughly combined about 3 minutes. Add eggs, one at a time, beating for one minute between additions. Beat in vanilla bean paste.
Scrape down sides of bowl and add in flour, cream of tartar, baking soda and salt. Mix until just combined. Cover dough and refrigerate for at least 30 minutes.
Preheat oven to 350 degrees. In small bowl mix together the cinnamon and sugar. Scoop dough by large tablespoons and roll in cinnamon sugar mixture. Place on parchment paper lined baking sheets, several inches apart, and bake for 13-15 minutes, until edges are slightly browned. For smaller cookies, bake 12-14 minutes.
Allow cookies to set on cookie sheet about ten minutes before removing to wire rack to cool. Enjoy!
MAKING THIS RECIPE? Share it with me on Instagram using the hashtag #ShugarySweets so I can see what you're cooking up in the kitchen!