Chewy White Chocolate Cranberry Cookie Cups with a creamy, buttercream frosting swirl on top!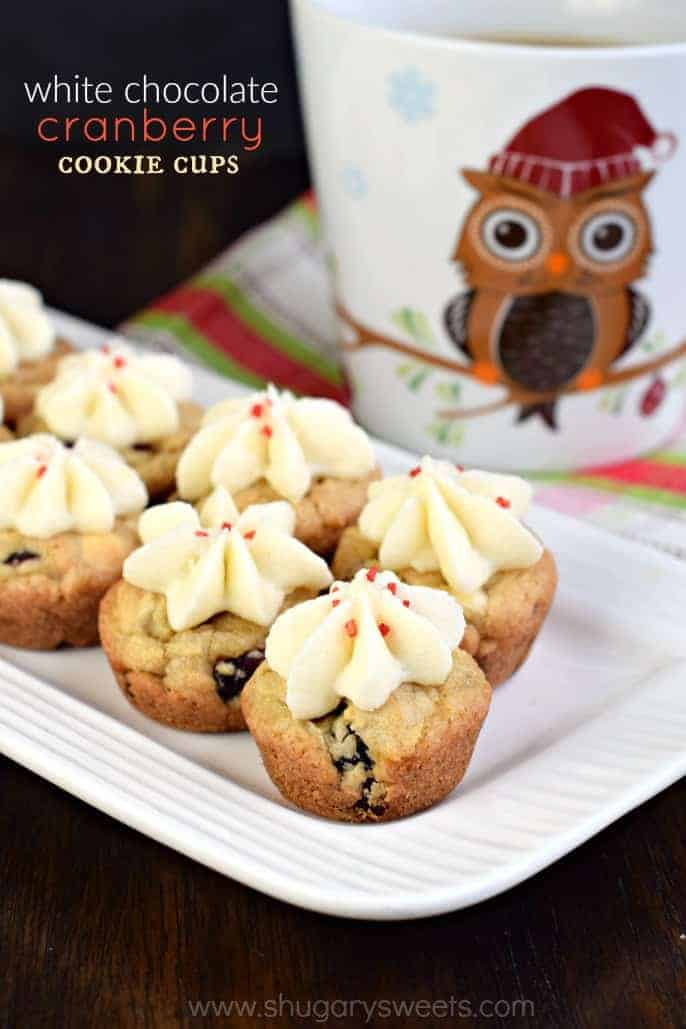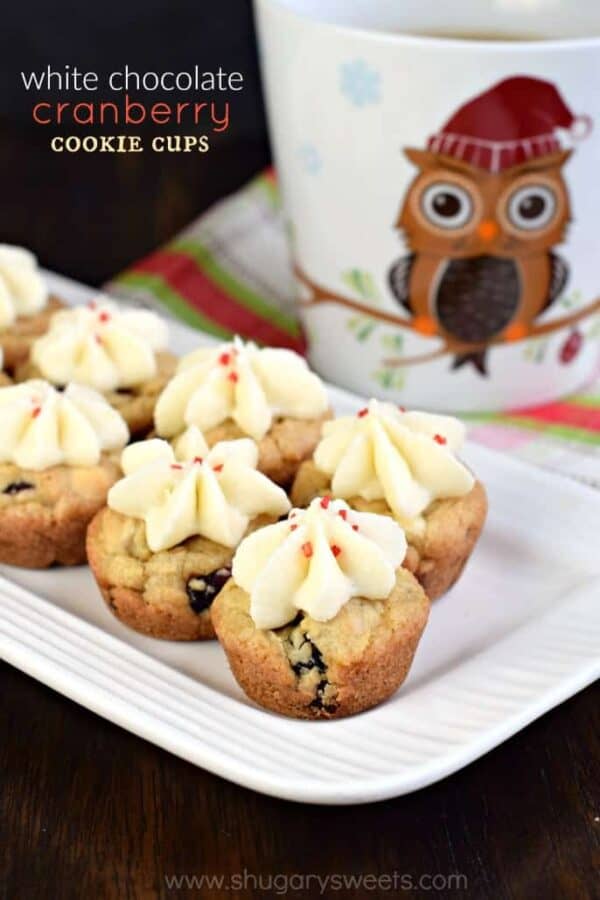 On the 12th day of Christmas my true love gave to me…..COOKIES!
Seriously, the words of the song need to change to reflect what we REALLY want. 5 hours of netflix, 4 cups of coffee, 3 shots of vodka, 2 cookie cups, and a clean house to relax in today.
Am I right?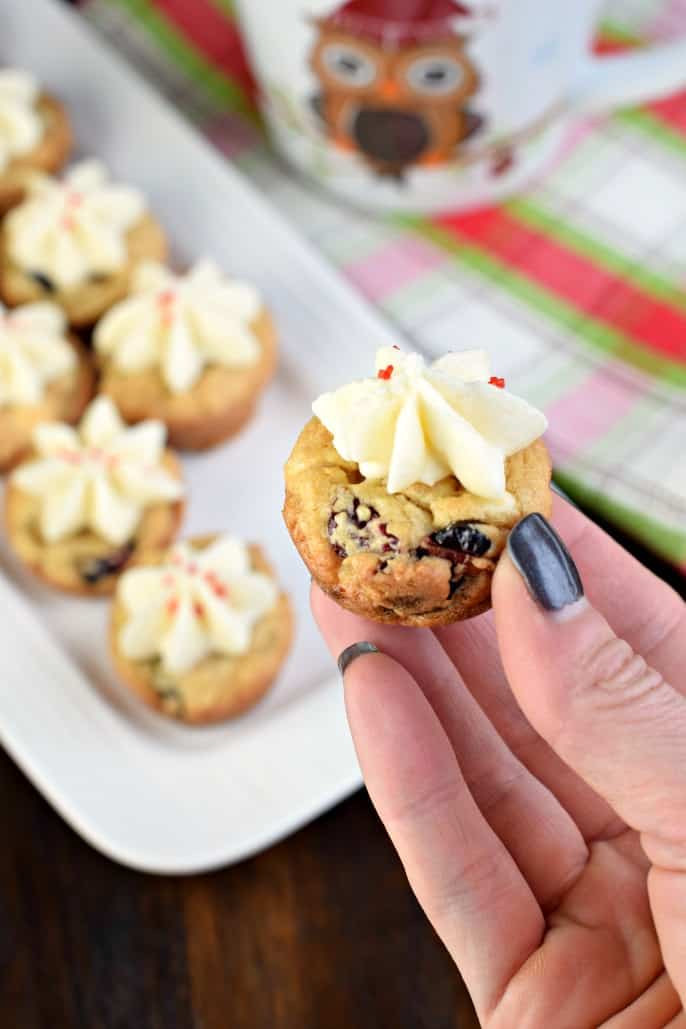 Last week I went to my CrossFit gym (or I guess they call it "the box"), and they thought they were really cute making a 12 Days of Christmas workout.
Guess what? Not cute. Not funny at all. 12 burpees, 11 kettlebell swings, 10 wall balls, 9 toes to bar, 8 pistol squats, 7 box jumps, 6 dead lifts, 5 slam balls, 4 thrusters, 3 reverse burpees, 2 push ups, and 1 wall walk. And just like the song, you start at one. One wall walk. Two push ups and 1 wall walk. Three reverse burpees, 2 push ups, 1 wall walk. Etc Etc..you get the point. PAIN my friends. My body is in pain.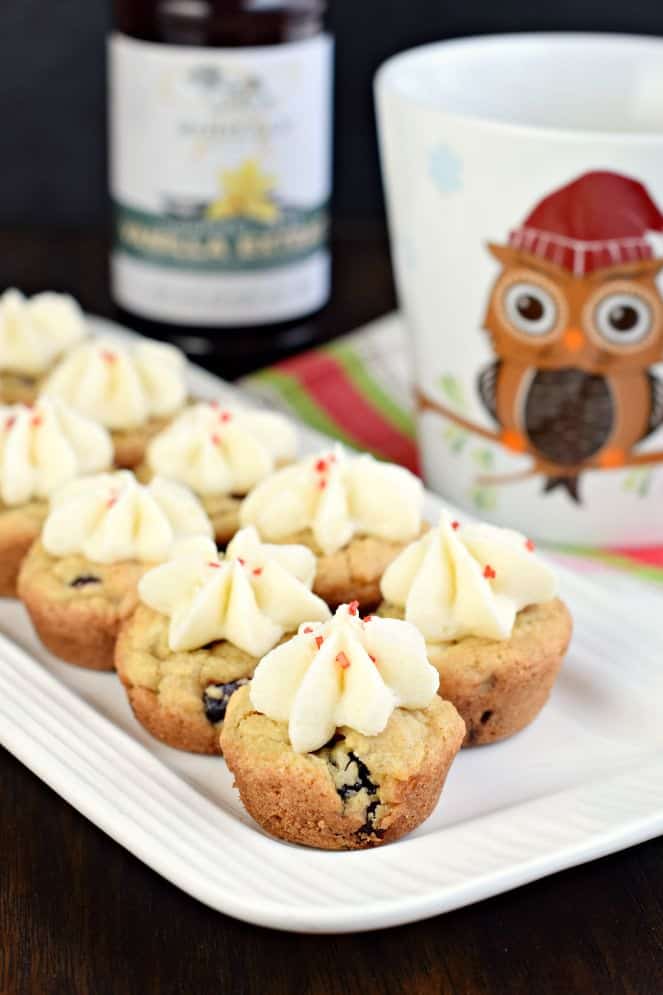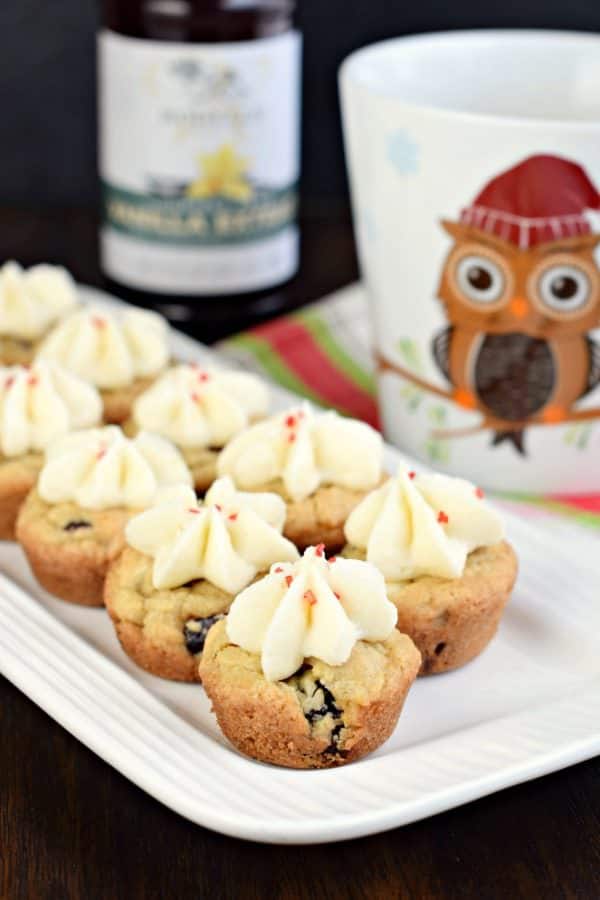 On the bright side, I think I earned myself a few cookies, yes?
When I first started baking years and years ago, I used to use the cheapest ingredients I can find. Margarine instead of butter and imitation vanilla. One thing I learned through the years, is quality matters. If you're going to indulge on a cookie, don't you want it to be worth it? Worth those calories? I want it to taste amazing!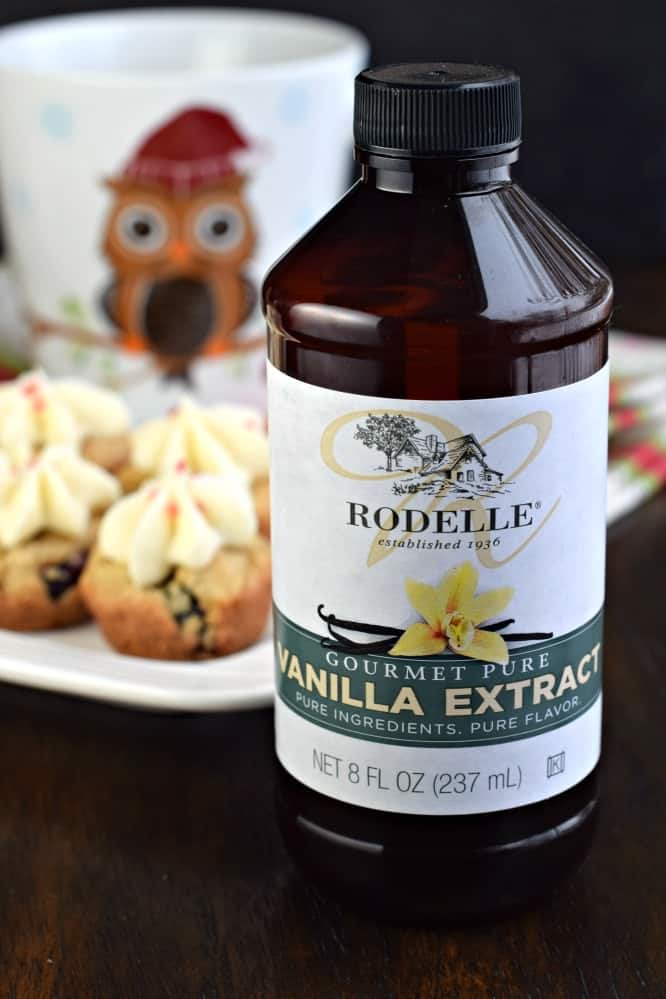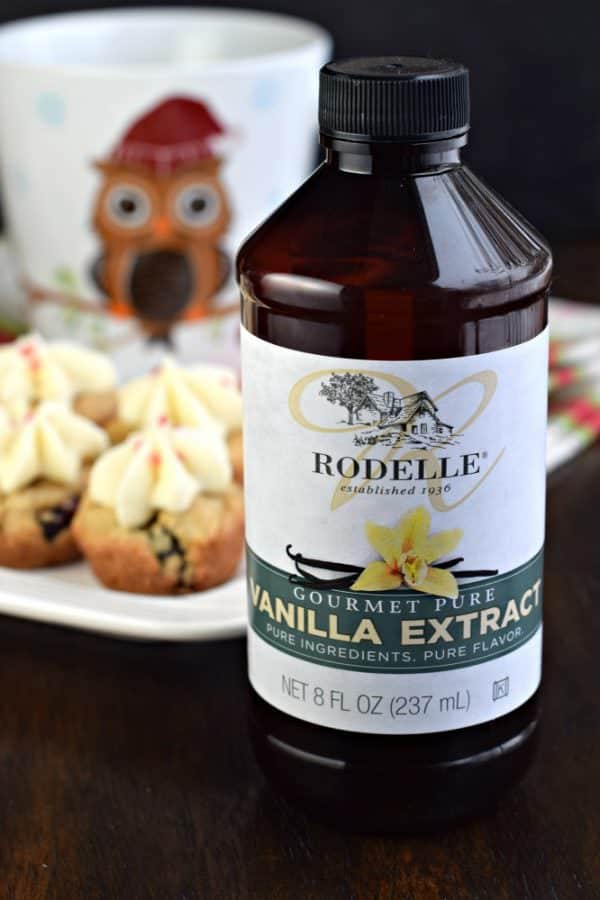 So, brands matter. I've been using Rodelle products for many years, and NOT because they sponsor me. Actually, the opposite. I was using them and sharing my love for their product, THEN they sponsored me, haha!
But really, I love their product and I think you will too. A good vanilla extract makes all the difference in baking. It adds a delicious, depth of flavor!
You may remember last year I teamed up with Rodelle for their holiday cookie campaign, and I shared my favorite cut out cookies, these Cream Cheese Sugar Cookies. The year prior I made these Vanilla Bean Shortbread Cookies, they are melt in your mouth delicious!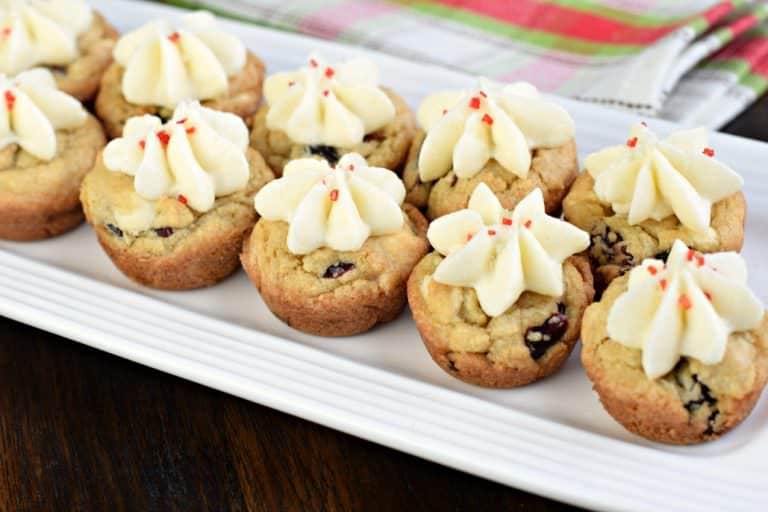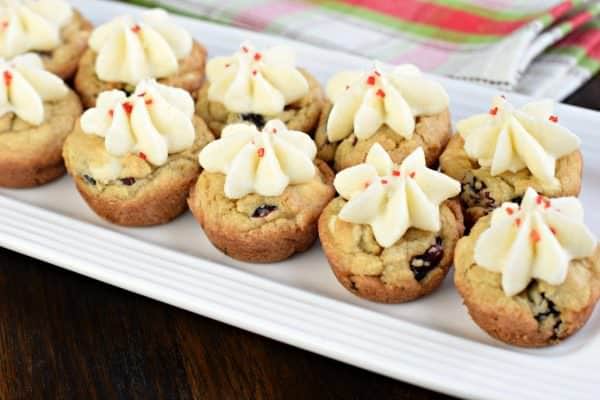 Today's cookie recipe is a white chocolate cranberry cookie cup! Perfect holiday flavor combination. I topped these with a creamy buttercream frosting, with a hint of orange. I think you'll love the fresh pop of flavor from the citrus in the frosting! Let me know if you try them!
Be sure to stop by Rodelle's 21 Days of Cookies for more baking inspiration!
website | facebook | pinterest
Yield: 6 dozen
White Chocolate Cranberry Cookie Cups
Chewy White Chocolate Cranberry Cookie Cups with a creamy, buttercream frosting swirl on top!
Ingredients
For the cookies:
3/4 cup unsalted butter, melted
1 cup light brown sugar, packed
1/2 cup granulated sugar
2 large eggs
1 tsp Rodelle Vanilla Extract
Rodelle Vanilla Extract
1 orange, zested (about 1 Tbsp zest)
2 1/4 cups all-purpose flour
1 tsp baking soda
1/2 tsp kosher salt
1 package (11 oz) white chocolate chips
3/4 cup dried cranberries (Craisins)
For the frosting:
3/4 cup unsalted butter, softened
3 cups powdered sugar
1 orange, juiced (about 3 Tbsp orange juice)
Instructions
Preheat oven to 350°F. Spray mini muffin tin with baking spray and set aside.
In a large mixing bowl, beat melted butter with sugars. Add in eggs, vanilla, and orange zest and beat until combined. Add in flour, baking soda, and salt. Mix until blended. Fold in dried cranberries and white chocolate chips.
Using a 1 Tbsp cookie scoop, drop dough into mini muffin tin. Bake for 9-11 minutes, until lightly browned. Allow to set about 10 minutes in the pan, then remove and cool completely on wire rack.
For the frosting, beat butter for 3 minutes until fluffy and pale in color. Add in powdered sugar and orange juice. Beat an additional 3 minutes. Using a decorator bag and tip, pipe frosting onto each cooled cookie cup. Add sugar sprinkles if desired!

**I've partnered with Rodelle Kitchens as a brand ambassador to create delicious recipes for you, my readers! I personally love their products, and all opinions are 100% my own. This post may contain affiliate links which won't change your price but will share some commission. See my disclosure policy for more info**