White Chocolate Pretzel Bars
Only two weeks left before Google Reader disappears! Make sure you follow me on Bloglovin'
Not sure if you're in the mood for sweet or salty? I've got you covered with these White Chocolate Pretzel Bars!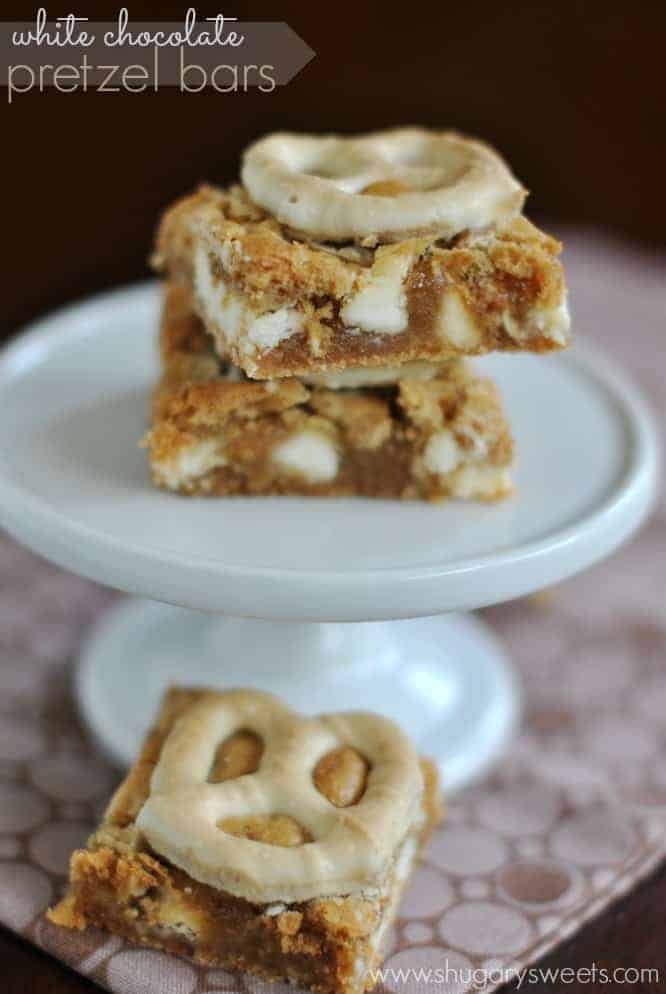 We don't pay our kids allowances. I know. We're the meanest parents ever.
Don't think we haven't heard that before (from our own children).
However, I do like to use their lack of financial means to encourage them to think outside the box when it comes to earning money. (Encourage…like that word??)
This week I took all four of my children to the grocery store. With them being school aged it's not something I do often. For obvious reasons. What started out as only needing a couple things ended up being a cart load of groceries. With many more wants and needs left on the shelves.
This trip inspired the "think outside the box" money making approach. Every time they kept asking for specific treats, I would say, "did you bring your own money for that?" So when we got home, I said, "who wants to make $10 today?"
Of course, my financially challenged children all wanted the money. But, they knew there was a catch. I told them they had to come up with a chore that they thought was worth $10. My son immediately volunteered to mow the front and back yard. Something he is usually responsible for anyways, but really needed to be done! Off he went.
My youngest volunteered to clean the garage refrigerator and freezer. This is the one that stores all our drinks and popsicles. Which, if you can imagine, was sticky and gross. Yeah, that chore deserved more money!
My last two girls came up with their own chores too. One cleaned my car, inside and out (and did an amazing job) and my other daughter cleaned the garage.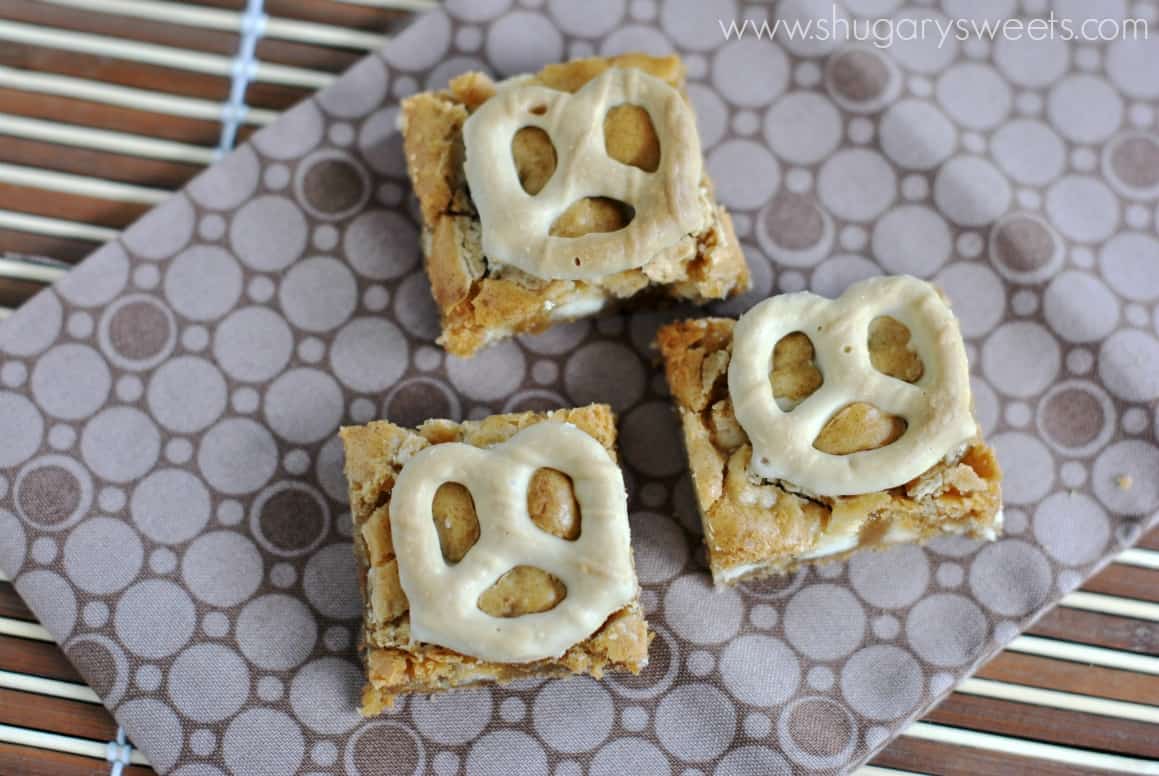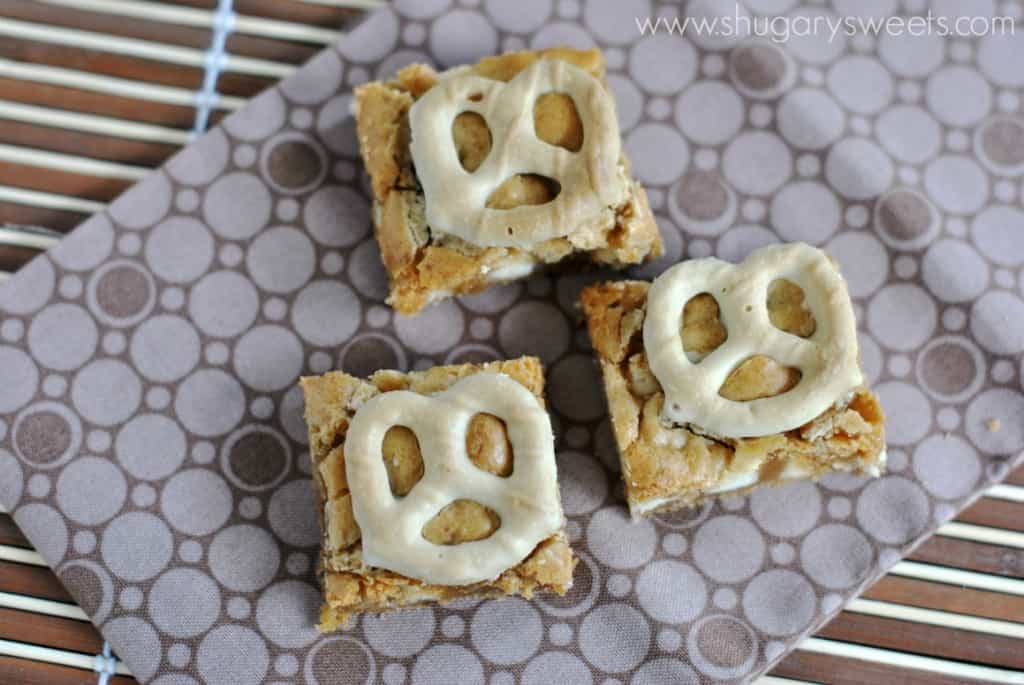 Me? I ate some white chocolate pretzel bars and thought up a bunch more chores I would pay money to have done!
To give these chewy bars a nice salty base, I ground up some pretzels to add into the dough. I then topped each one with a white chocolate covered pretzel. I used Flipz, but you can make your own if want! You can also use milk chocolate if you're not a white chocolate fan!
Connect with Shugary Sweets!  
Facebook | Twitter | Google+ | Pinterest | instagram | Bloglovin'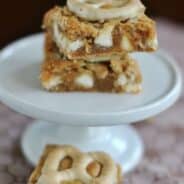 White Chocolate Pretzel Bars
Yield: 25 bars
Prep Time:2 hours, 10 minutes
Cook Time:25 minutes
Not sure if you're in the mood for sweet or salty? I've got you covered with these White Chocolate Pretzel Bars!
Ingredients:
1 cup pretzels, processed fine (yields about 1/2 cup crumbs)
1 3/4 cup all-purpose flour
1/2 tsp kosher salt
2 tsp baking powder
1/2 cup unsalted butter, melted
1 1/2 cup light brown sugar, packed
2 large eggs
1 tsp vanilla extract
1 cup white chocolate morsels
25 mini white chocolate covered pretzels
Directions:
Preheat oven to 350 degrees F. Line a 9inch square baking pan with parchment paper. Set aside.
Process pretzels in a food processor or blender until fine crumbs. Yields approximately 1/2 cup crumbs.
In a large mixing bowl, beat melted butter with brown sugar until smooth. Add eggs and vanilla. Add in pretzel crumbs, flour, baking powder and salt.
Fold in white chocolate morsels. Press dough into prepared pan. Place white chocolate pretzels on top in rows 5x5. Bake for 25-30 minutes.
Remove from oven and cool completely in baking pan. Refrigerate bars for a couple hours or overnight (after they have cooled). Cut and enjoy!
Store pretzel bars in air tight container at room temperature or in refrigerator for up to one week.
MAKING THIS RECIPE? Share it with me on Instagram using the hashtag #ShugarySweets so I can see what you're cooking up in the kitchen!
 Love sweet and salty? This Peanut Butter Nutella Pretzel Tart is sure to please! It's truly one of my favorite treats!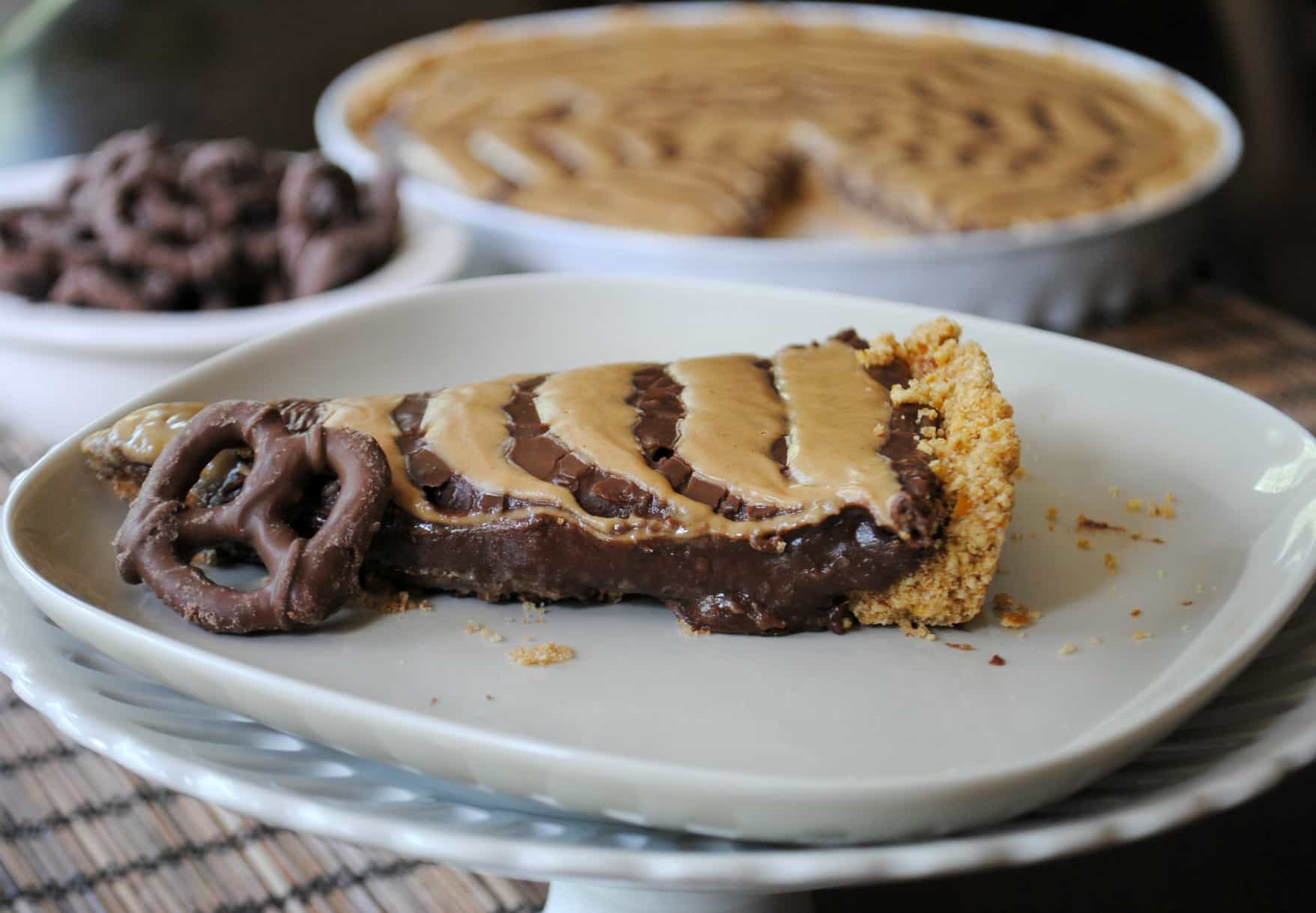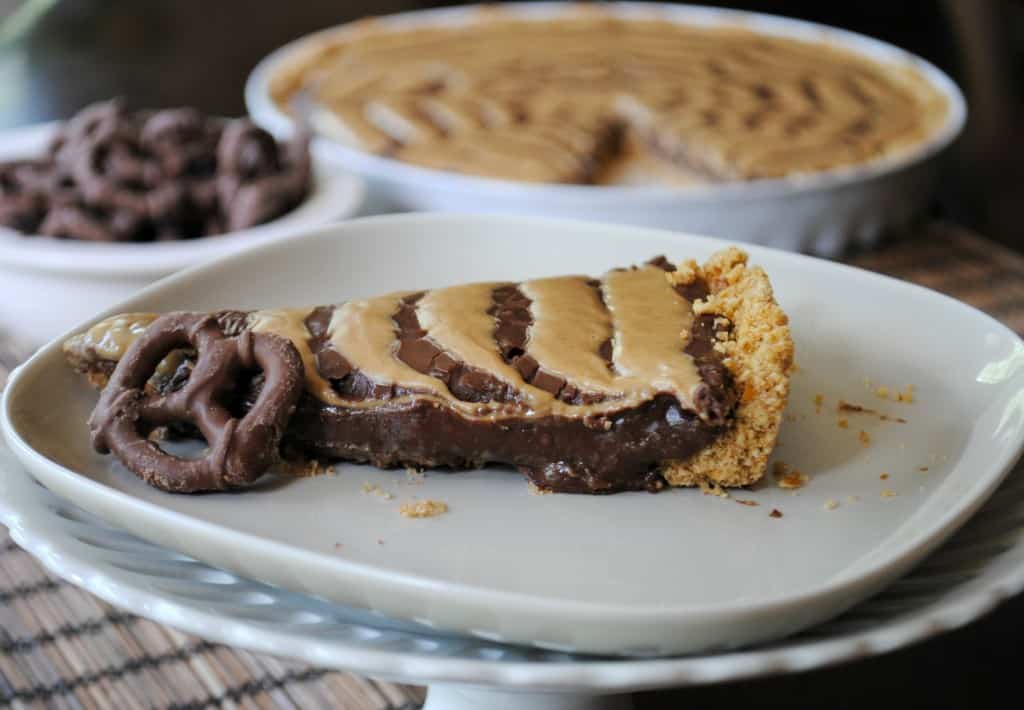 Maple Bacon Cookies are a delicious answer to that sweet and salty craving too!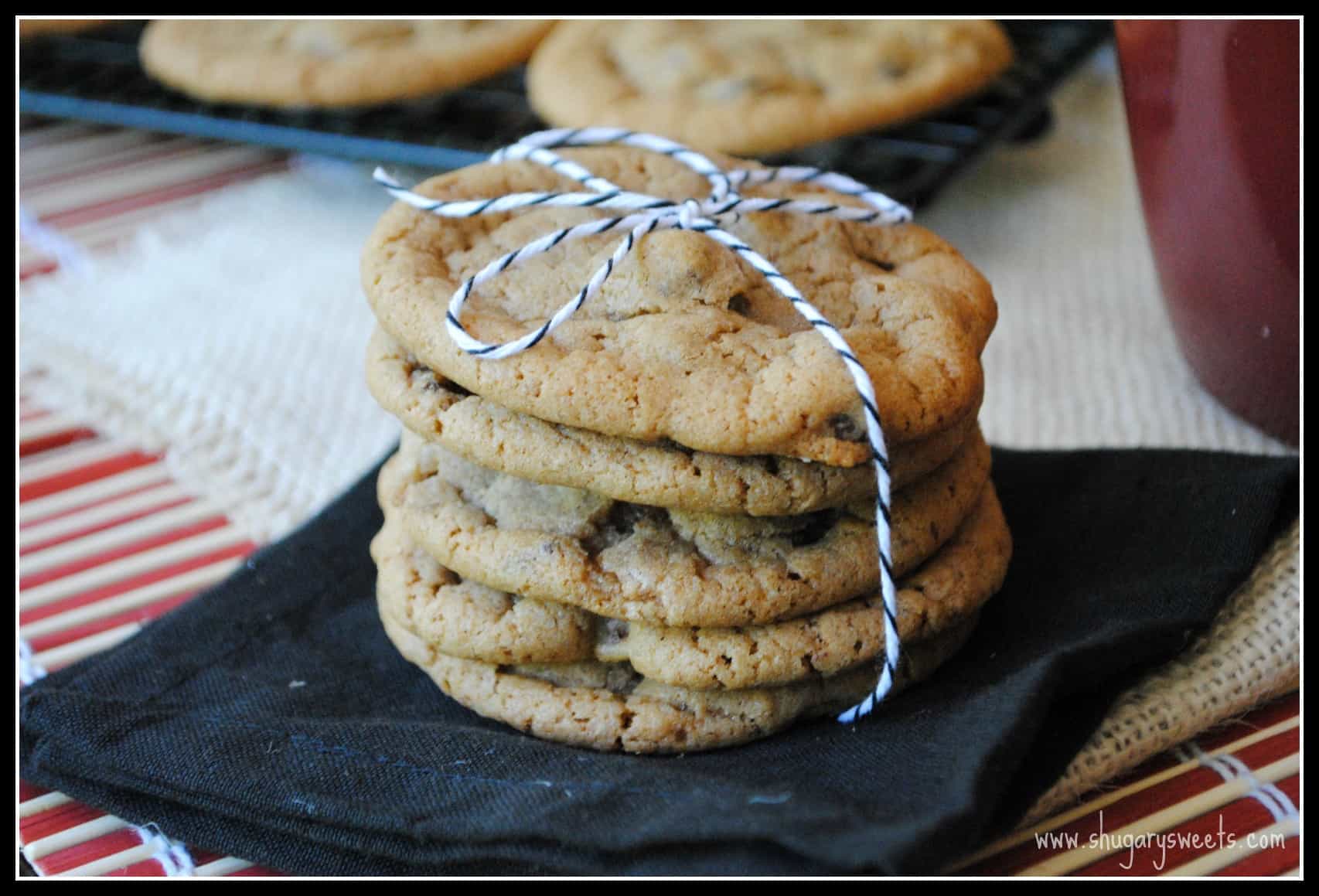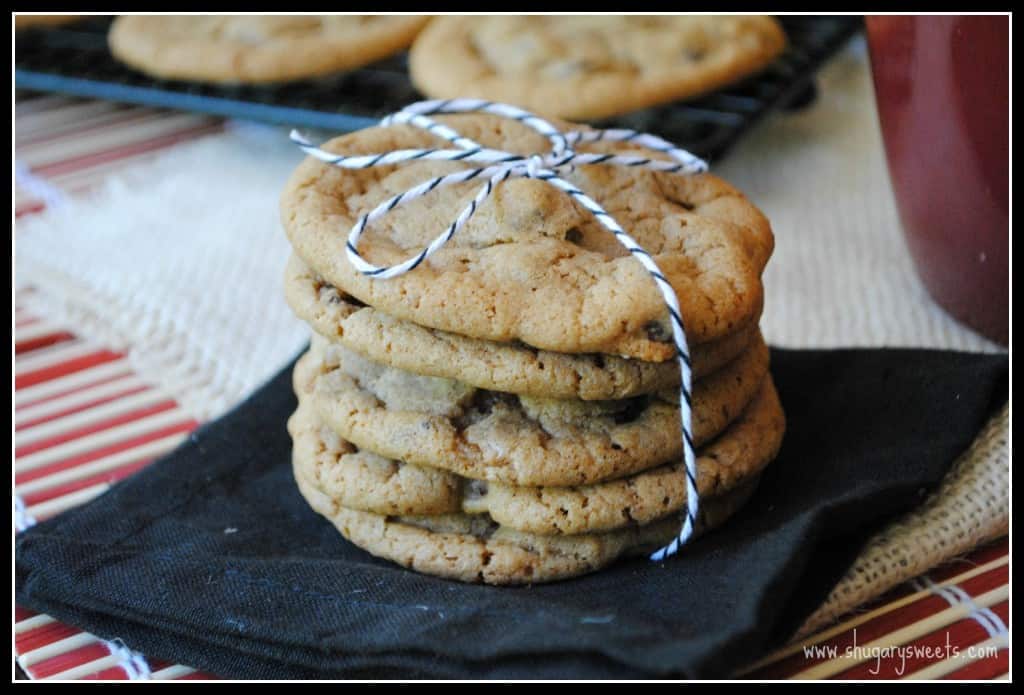 Last week I made some EASY 10 minute Microwave Peanut Brittle. Surely you can make that right??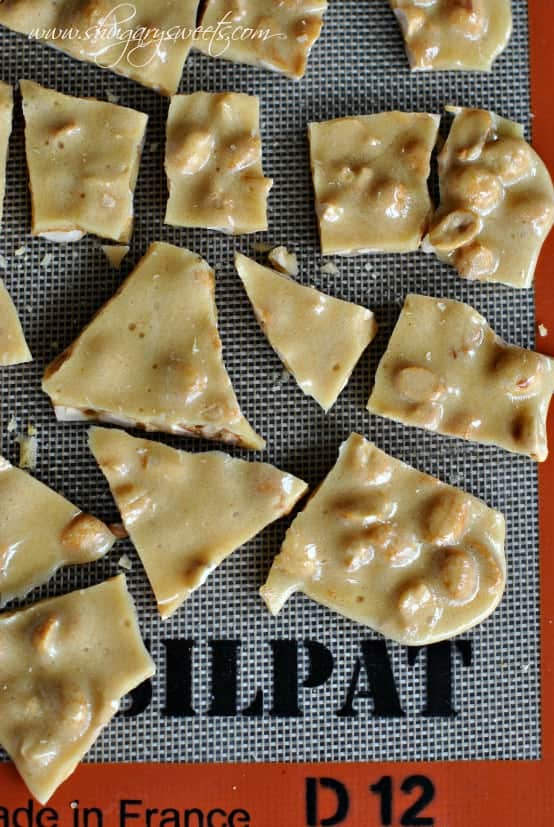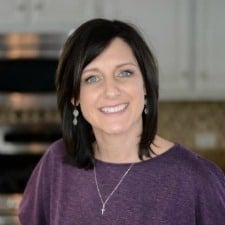 Aimee is a dessert lover (specifically rice krispie treats), workout enthusiast, self-taught foodie, and recipe creator. Her recipes have been featured in over 15 magazines, and her passion is to share her love of cooking with the everyday home cook! Learn more about Aimee.