Whopper Cookies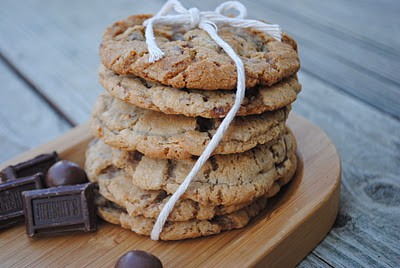 There are times as a food blogger when I feel uninspired. When I just don't know what to make. Now is NOT one of those times. I have a list so long of ideas and recipes, and I don't even know where to start.
I decided I needed to begin with these cookies. After all, are you even ready for the Christmas baking?
I opened my pantry the other day and a bag of whoppers fell out. The kind of bag you buy for trick or treaters. Yes, I had an entire bag that didn't get passed out. Seeing that my kids tend to "pass" on Whoppers, I thought I would try to fool them by sticking them in cookies.
It worked. They all loved these cookies. They are so chewy with a just a hint of chocolate malt. Enjoy!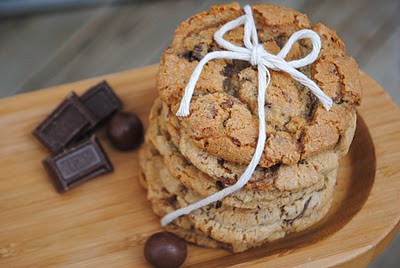 Ingredients
1 1/2 cup butter flavored Crisco
2 1/2 cup brown sugar
1/4 cup milk
1 Tbsp vanilla extract
2 eggs
3 cup flour
2 tsp salt
1/2 tsp baking soda
1 1/2 cup Whoppers, processed
1 cup Whoppers, lightly crushed
20 snack sized Hershey bars, chopped
Instructions
Process the 1 1/2 cups of Whopper candies in food processor until fine powder. Set aside. 
In mixer, beat crisco and brown sugar. Beat in milk, vanilla and eggs until thoroughly combined. Add in flour, salt and baking soda. Beat in processed whoppers. Fold in remaining whoppers (that have been lightly crushed) and chopped Hershey bars. 
Drop by large scoop onto parchment paper lined baking sheet. Bake in a 375 degree oven for 10-13 minutes. Will appear slightly underdone, allow too cool on cooling rack. Enjoy!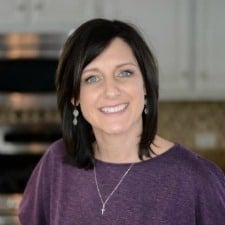 Aimee is a dessert lover (specifically rice krispie treats), workout enthusiast, self-taught foodie, and recipe creator. Her recipes have been featured in over 15 magazines, and her passion is to share her love of cooking with the everyday home cook! Learn more about Aimee.