Brownie Bites with Root Beer Frosting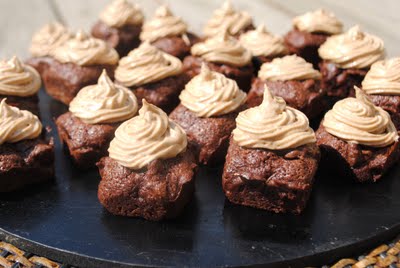 Yeah, I'm on a root beer kick. I mean, really, to me, it's summer. It may be Labor Day, and September, but it's still summer. And root beer means summer in my book. The rich chocolate in the brownies paired with the creamy root beer flavored frosting is pure goodness. Enjoy, because I'm sure there are more root beer recipes coming in the future.
Maybe even in the winter, when I wish it were summer.
Yield: 48 brownie bites
Brownie Bites with Root Beer Frosting
Ingredients
for the brownies:
1 1/2 cup sugar
¾ cup flour
¾ cup unsweetened cocoa
3 eggs
¾ cup butter, melted
1 cup semi-sweet morsels
for the frosting:
½ cup butter, softened
½ cup butter flavored Crisco
5½-6½ cup powdered sugar
⅓ cup water
2½ tsp rootbeer concentrate
1½ Tbsp meringue powder
Instructions
In large bowl, mix all ingredients until thoroughly combined. Pour into 13x9 baking dish (lightly greased) or 8x8 for real thick brownies (I prefer 13x9). Bake in a 375 degree oven for about 25 minutes.
Also can use silicone brownie bites pan (makes about 48). Bake for about 12 minutes.
In mixer, beat butter, crisco and 4 cups powdered sugar. Add water and remaining powdered sugar. Beat several minutes. Beat in root beer concentrate and meringue powder. Add more powdered sugar if necessary for desired consistency.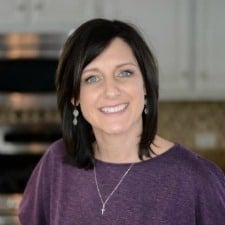 Aimee is a dessert lover (specifically rice krispie treats), workout enthusiast, self-taught foodie, and recipe creator. Her recipes have been featured in over 15 magazines, and her passion is to share her love of cooking with the everyday home cook! Learn more about Aimee.