Looking for a delicious, easy weeknight dinner idea? This Instant Pot Stuffed Pepper Casserole recipe is the perfect comfort food, and ready in under 30 minutes!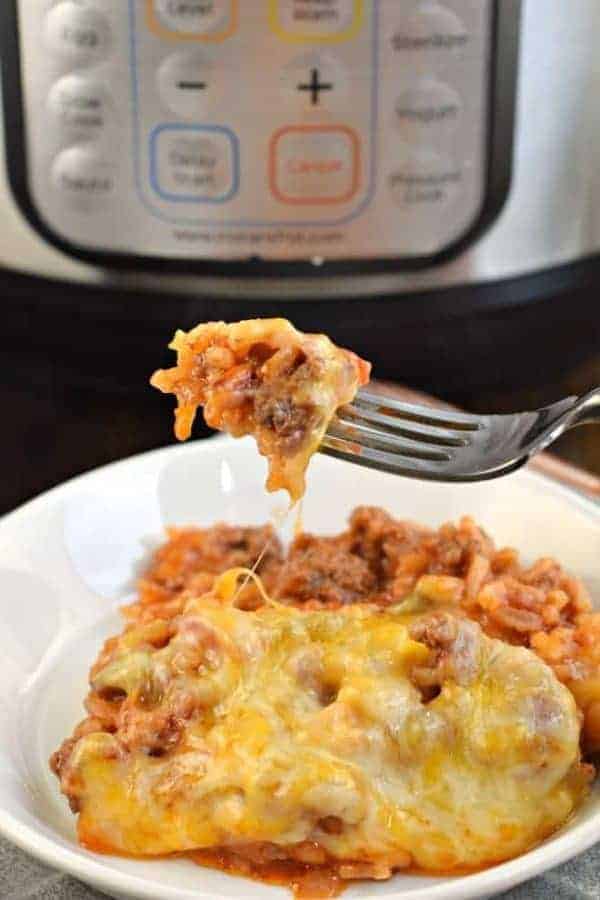 Click HERE to save recipe to Pinterest!
So earlier this year I bought myself an Instant Pot and I had every intention of sharing lots and lots of recipes with you guys.
But then I got busy making coffee cake, and cupcakes, and cookies that dinner recipes just seemed, boring.
As I was debating what to share this week, I realized this Instant Pot Stuffed Pepper Casserole was just sitting there…pictures and recipe done, just waiting for you, my readers to read about it.
I think my problem is, I don't like taking photos with my Instant Pot. I just can't seem to capture how delicious the food is when it comes out! As a huge stuffed pepper fan, I was a little worried about this one not tasting like my favorite dinner…but it exceeded my expectations. If you haven't picked up "The Electric Pressure Cooker Cookbook" from Barbara Schieving, you better get on Amazon now!
Every dish is amazing, and they are all classics…not fancy recipes that nobody will actually make or eat.
Today's Stuffed Pepper Casserole recipe is easy! And you can brown your meat right in the instant pot so that you don't have to dirty another dish! From start to finish this dinner was on the table in well under 30 minutes! And even grandma would approve of the flavor of this classic dish!