Dinner on the table in 30 minutes with this Instant Pot Chicken Cordon Bleu Pasta. Easy pasta casserole packed with chicken, ham, swiss cheese, and more!
Love easy chicken recipes? Our Instant Pot Chicken and Rice Soup is a family favorite. So easy and so hearty, the perfect weeknight dinner. Or try this delicious Ham Casserole to use up that leftover ham from the holidays.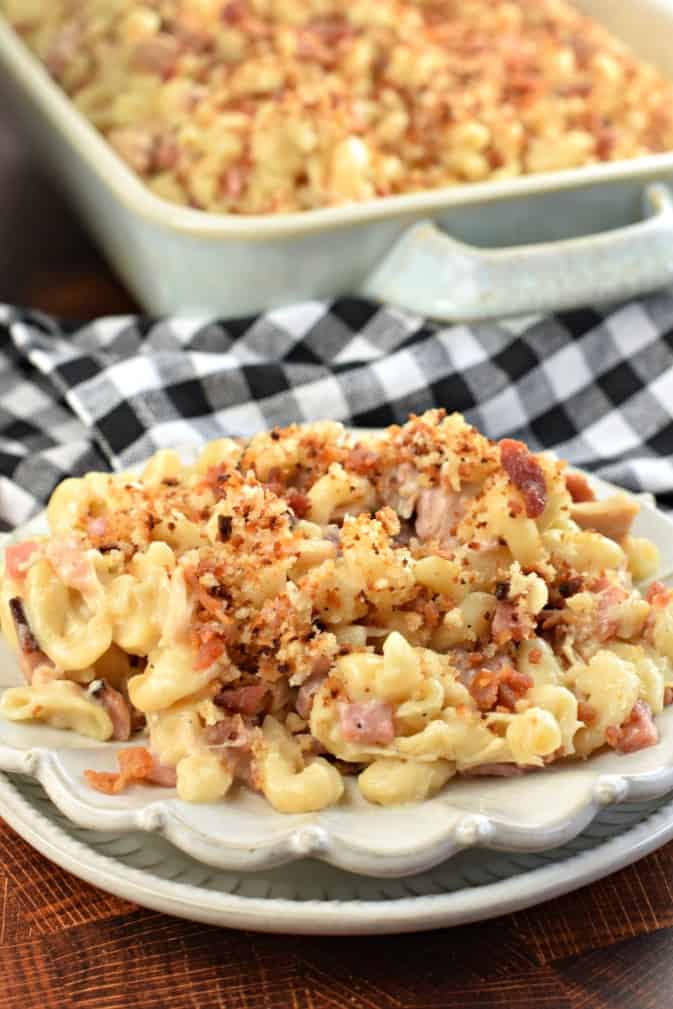 Easy Weeknight Casserole
One of the things I love about using an Instant Pot is that I can have all of my favorite comfort foods on a weeknight.
No more waiting until a Sunday dinner for pot roast or lasagna!
Using the Instant Pot not only cuts down the cook time for most recipes, but the flavors meld and infuse together as if it's been cooking all day long!
Today's recipe for Chicken Cordon Bleu is an easy casserole. Instead of rolling chicken breasts with the ham and cheese, we're cooking them together in one pot for the perfect balance of flavor!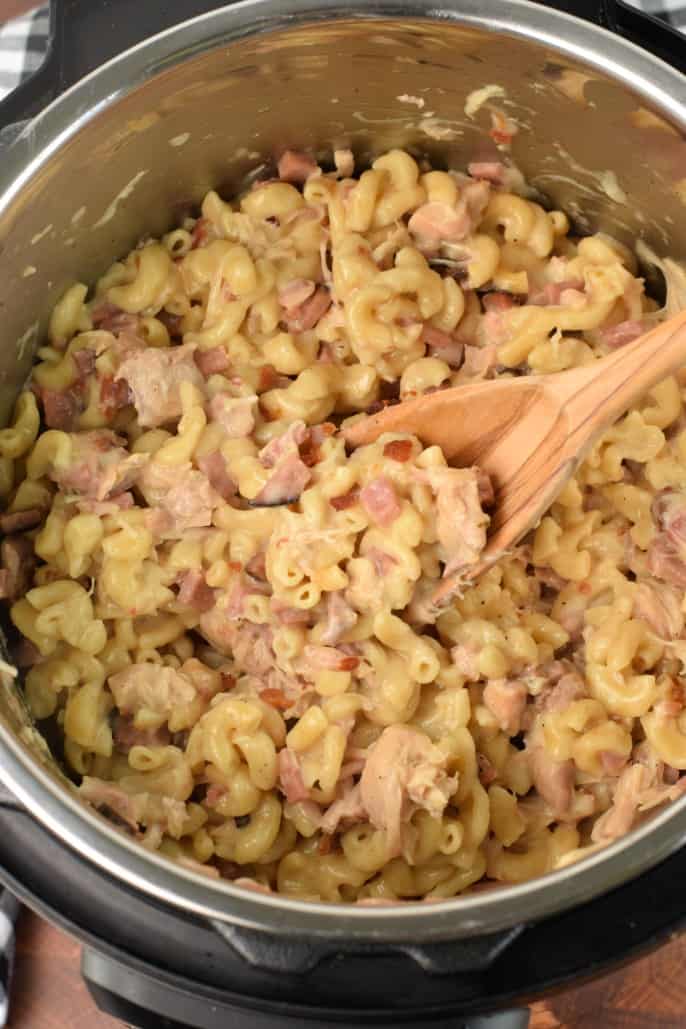 What you'll Need
Chicken. For best flavor, I use boneless skinless chicken thighs. I think they stay moist without drying out.
However, you could use chicken breasts if you prefer! You can also swap out the uncooked chicken and toss in rotisserie chicken at the end of the cook time.
Ham. We eat ham several times a year. Then I take that leftover ham and cut it into slices and/or cubes and freeze for dinners. (We also love the leftover ham cubes in egg bites and omelettes too).
The type of ham we enjoy best is a honey baked ham with a brown sugar glaze. But you can also buy pre-diced ham at most grocery stores in the lunchmeat section (or the meat section).
Bacon crumbles. I added some COOKED and crumbled bacon at the END of the cook time (this way it stayed crunchy and didn't get chewy and soft).
Cheese. You can't have a casserole without CHEESE!
To stay with the classic flavor of chicken cordon bleu, I used shredded swiss cheese. You can swap out some or all of it for mozzarella if you prefer.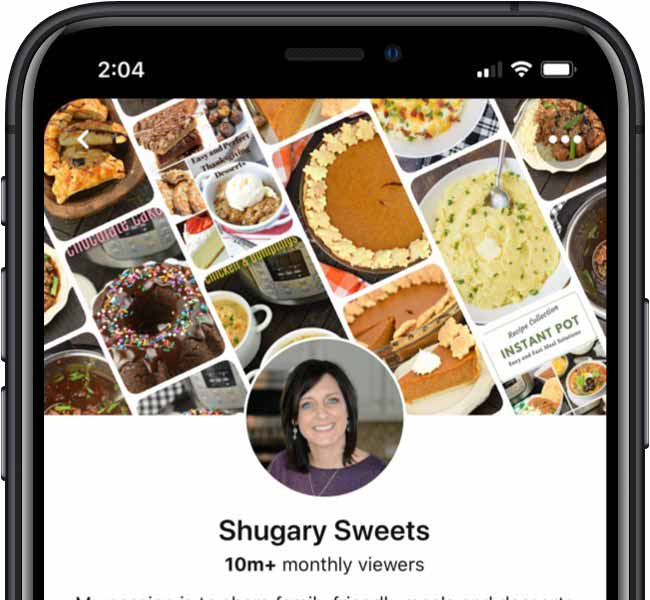 Pasta. Use what you have and you really can't go wrong. I love using elbow macaroni, but I've also tried cavatappi and rotini noodles. All varieties worked great.
What did NOT work out? Gluten free pasta. It was far too gummy in texture in the Instant Pot. I would recommend cooking the pasta separately (and remove 2 cups of the broth from the recipe). Add the pasta at the end of the cook time and serve.
Seasonings. We've all eaten a bite of food and thought "wow that's bland." Don't let it happen. SEASON your food.
Today's recipe I use a combination of onion powder, garlic salt, kosher salt, black pepper, and crushed red pepper flakes. Adjust more or less to YOUR taste buds.
Liquids. In order to cook the meat and pasta properly in the pressure cooker you need liquids.
First you'll start with 3 cups of chicken broth (or chicken stock). At the end of the cook time, when you open the lid, add in an additional 1/2 cup of heavy whipping cream (or whole milk). YUM.
Bread Crumb Topping. This step is completely optional, but it really makes the casserole taste amazing and oven baked!
You'll only need two slices of bread and 2 Tbsp of butter! If you choose, you can swap out the bread for already processed panko crumbs.
How to Make Instant Pot Chicken Cordon Bleu Pasta
STEP 1. Add ingredients IN THIS ORDER to the Instant Pot. DO NOT STIR.
Chicken Broth
Chicken (cubed into 1-inch pieces)
Pasta
Ham
Seasonings
STEP 2. Secure the lid and make sure the valve on top is set to "SEALING". Select HIGH PRESSURE and a cook time of 9 minutes (this does not include the time it takes to come to pressure).
When the cook time ends, allow to naturally release for 10 minutes (this means don't touch it). After ten minutes, move the valve on top to "RELEASE" and allow any remaining pressure inside to release.
Open the lid and stir in the heavy whipping cream, bacon crumbles, and cheese. Stir well until everything is combined and cheese is melted! Serve and enjoy!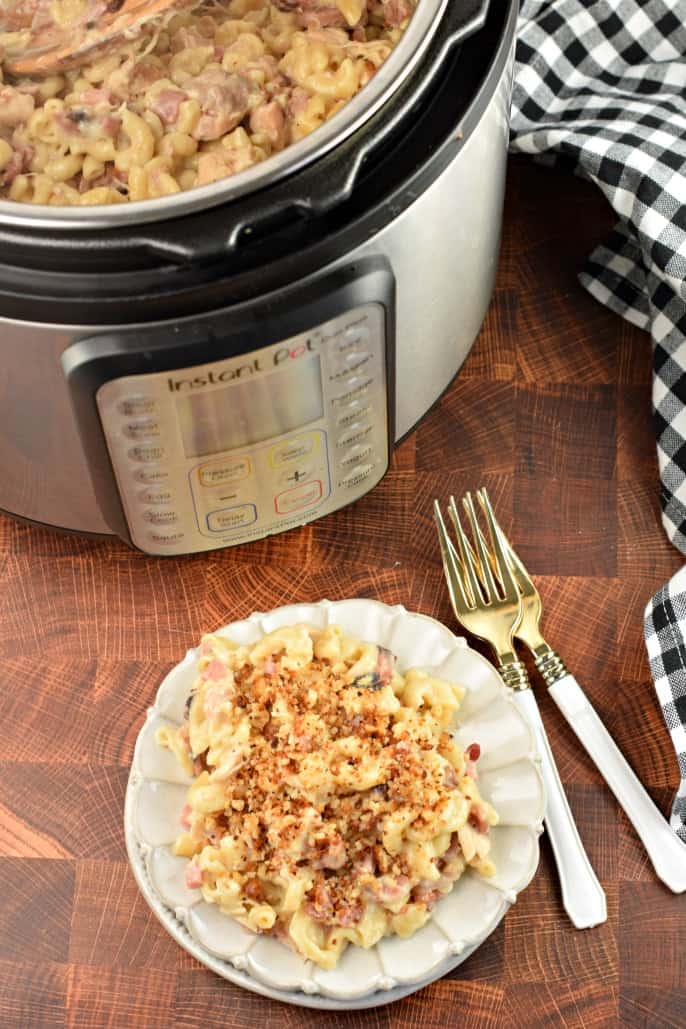 To Make the Breadcrumbs
This is completely optional, but it really does make it taste amazing (like putting cracker crumbs on Mac and Cheese or cornflakes on Hashbrown Casserole)!
While the chicken cordon bleu is cooking in the pressure cooker, take two slices of white bread and process them into crumbs in a food processor (or blender).
In a skillet, melt 2 Tbsp of unsalted butter. Add bread crumbs and stir constantly, until crumbs are golden brown (about 5-6 minutes).
Season breadcrumbs with salt and pepper and set aside until the pasta is cooked.
Sprinkle over cooked casserole.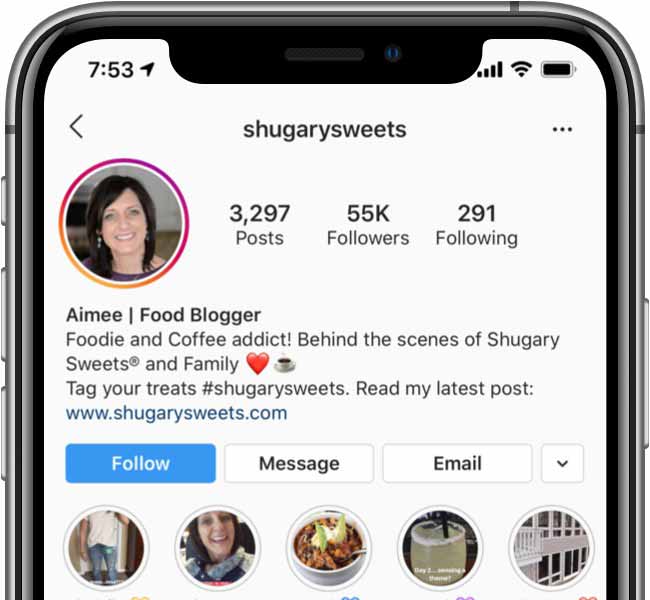 Recipe Tips
Make it creamier by adding 4oz of cream cheese with the heavy cream!
Use rotisserie chicken instead and add it at the end with the cheese!
Add frozen broccoli with the pasta before the cook time for a little extra veggies!
Top the casserole with toasted stuffing mix or pork rinds instead of breadcrumbs.
Serving Suggestions
THis casserole has everything you need in one dish. Pasta, Chicken, Dairy. The only thing missing is vegetables!
We serve this dinner with a big Italian Salad (like Olive Garden) and my kids love dinner rolls too.
Don't forget the thick and creamy Rice Pudding for dessert!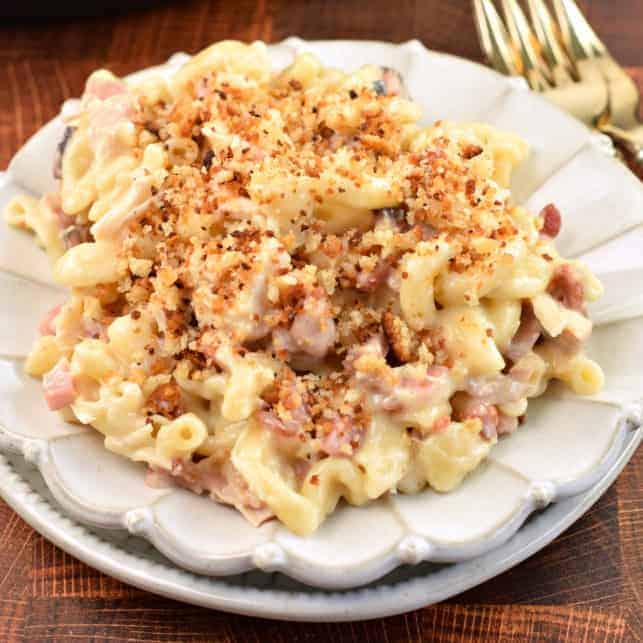 No hassle Chicken Cordon Bleu Pasta made in the Instant Pot. Easy weeknight dinner recipe that the whole family will love!