Chicken and Rice Soup – Make this classic soup in your Instant Pot or on the stove. With tender chicken and rice cooked to perfection, this soup is just what you need for a cozy meal!
If you love my Instant Pot Chicken Noodle Soup recipe, this Chicken and Rice Soup needs to be in your rotation too.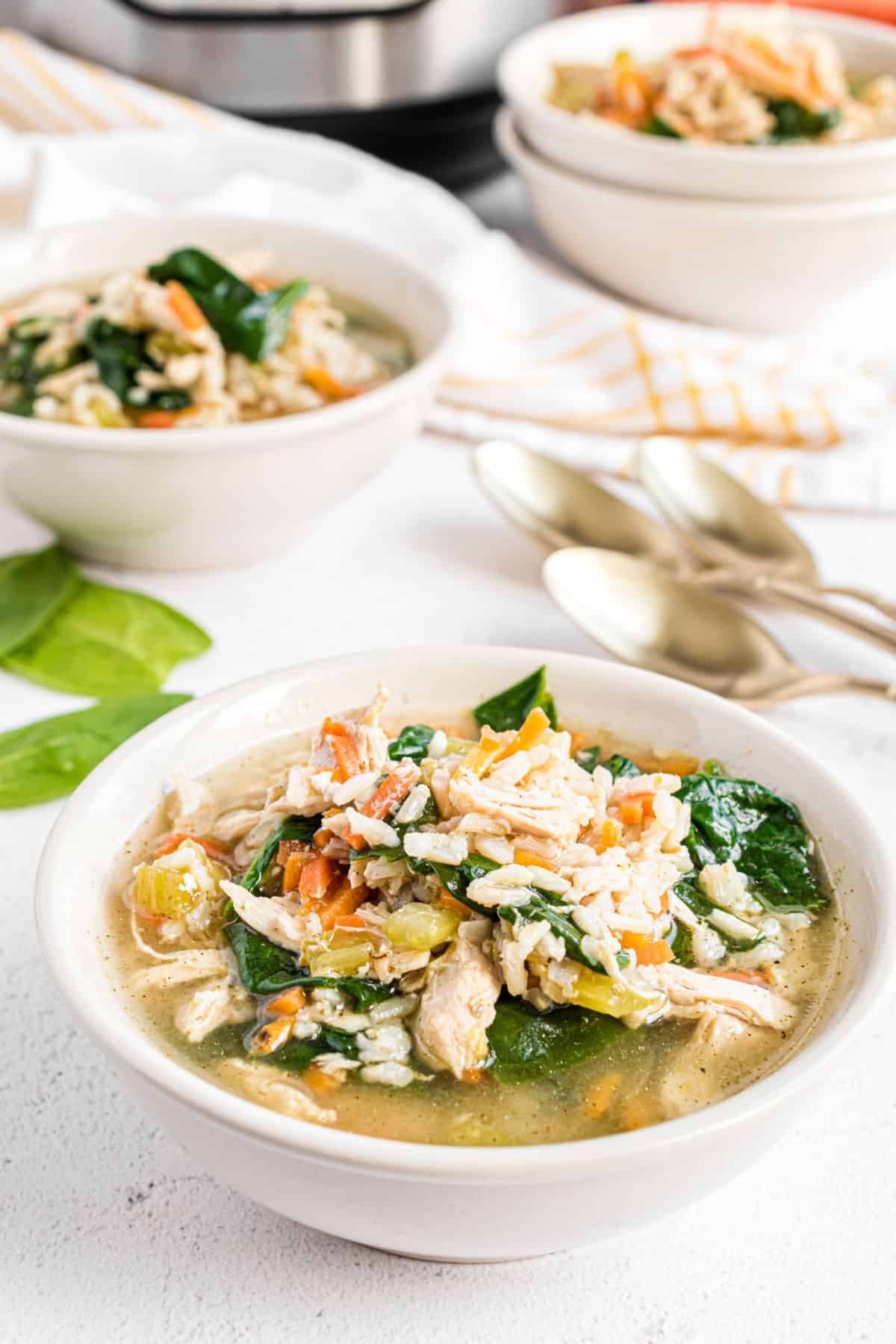 Why this Recipe Works
Nothing hits the spot on a chilly evening like a great bowl of chicken soup. I love a great chicken enchilada soup or chicken fajita soup, but sometimes you want something a little less spicy.
This Chicken Soup Recipe is just that. Simple, straightforward but still bursting with flavor. With garlic and a pinch of thyme, the brothy soup gets a mouthwatering aroma as it cooks.
The hardest part of making a great chicken and rice soup is often getting the rice the right texture. Cook it too long and it gets mushy. Don't cook it long enough and you end up with unappetizing hard grains.
With this recipe, the long grain brown rice comes out perfectly every time. Tender with enough structure to keep it dissolving into the broth.
When you need a comforting homemade meal, this Chicken and Rice Soup is quick and easy without sacrificing taste.
Best of all you can make it on the stove OR in the Instant Pot!
Ingredient Notes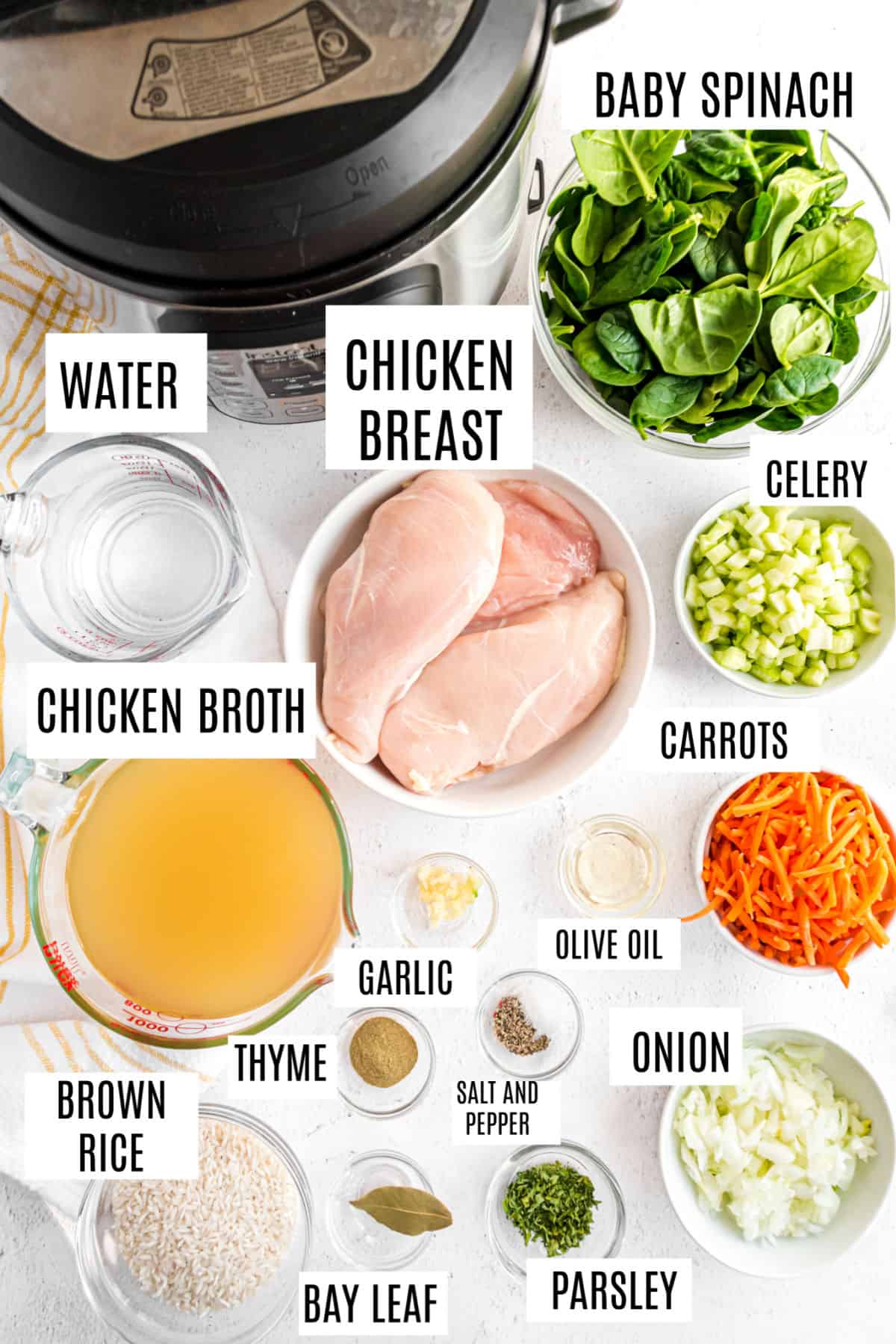 Chicken breast. Chicken thighs can be used instead, but be sure they are boneless and skinless.
Long Grain Brown rice. Do not substitute white rice in this recipe or even jasmine rice.
Carrots. The ones cut into matchsticks work best. You can buy them already cut and ready to eat at the grocery store. Or shred your own and that will work too.
Seasoning. Hearty, earthy flavors you would expect, including thyme, garlic, and a bay leaf (remember to remove this before eating)!
Spinach. Fresh spinach is best in this recipe. Frozen spinach leaves CAN be used, but will take a little longer to cook. Do not use the frozen spinach that is in a block shape.
Instant Pot Instructions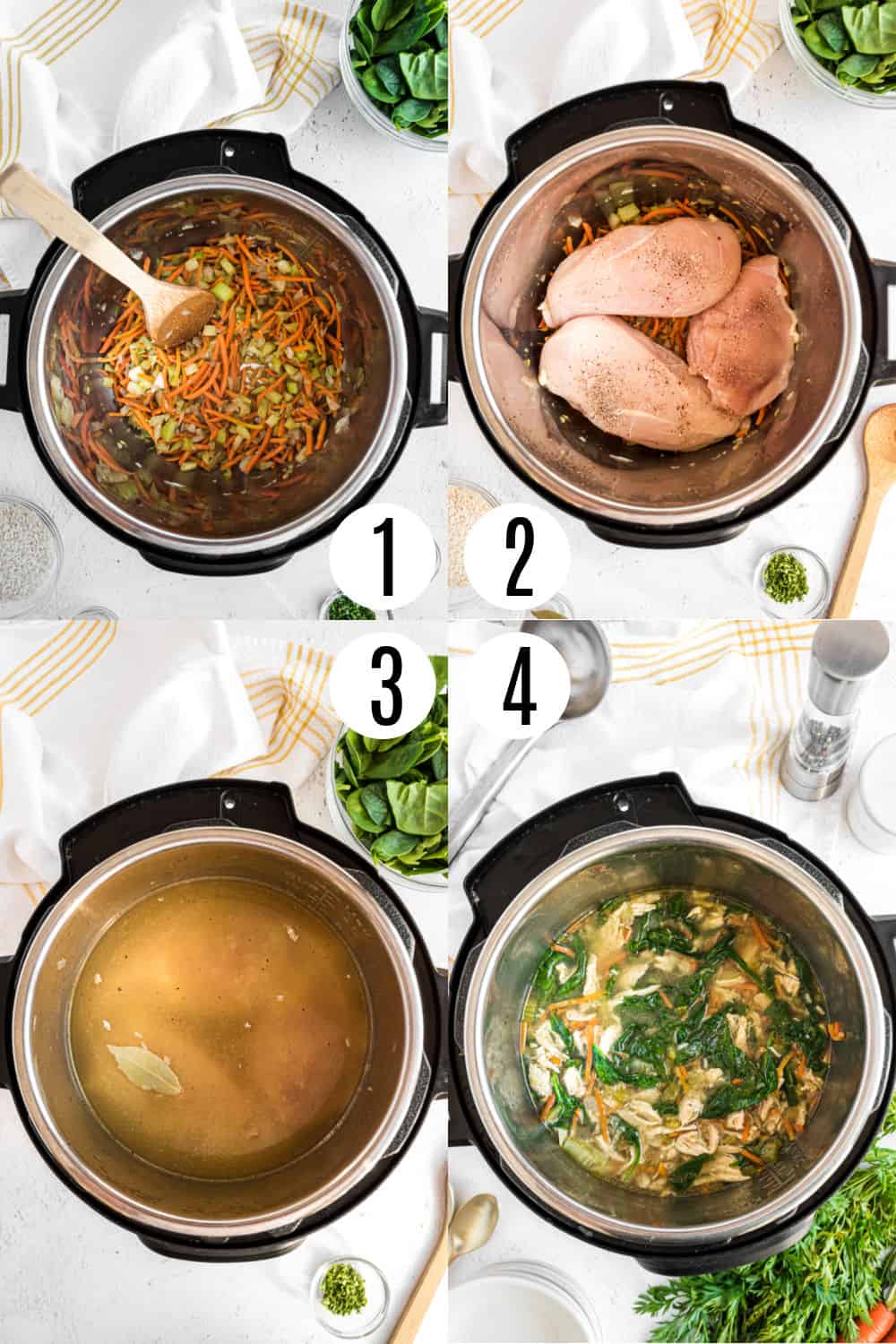 STEP 1. Saute the vegetables
Set your Instant Pot to SAUTE and add oil, onion, carrot and celery. Cook until the carrots are soften and the onion is translucent.
Stir in the garlic and time and cook another minute.
STEP 2. Pressure Cook
Add chicken, broth, water, rice and a bay lead to the Instant Pot. Sprinkle in salt and pepper.
Lock the lid and set the valve to SEALING. Cook on HIGH PRESSURE for 11 minutes.
STEP 3. Shred Chicken
When the cook time ends, do a quick release of the pressure. Remove the bay leaf and the chicken. Shred or cut the chicken on a cutting board.
Add the chicken back to the Instant Pot and stir in the spinach. Ladle chicken and rice soup into bowls and serve!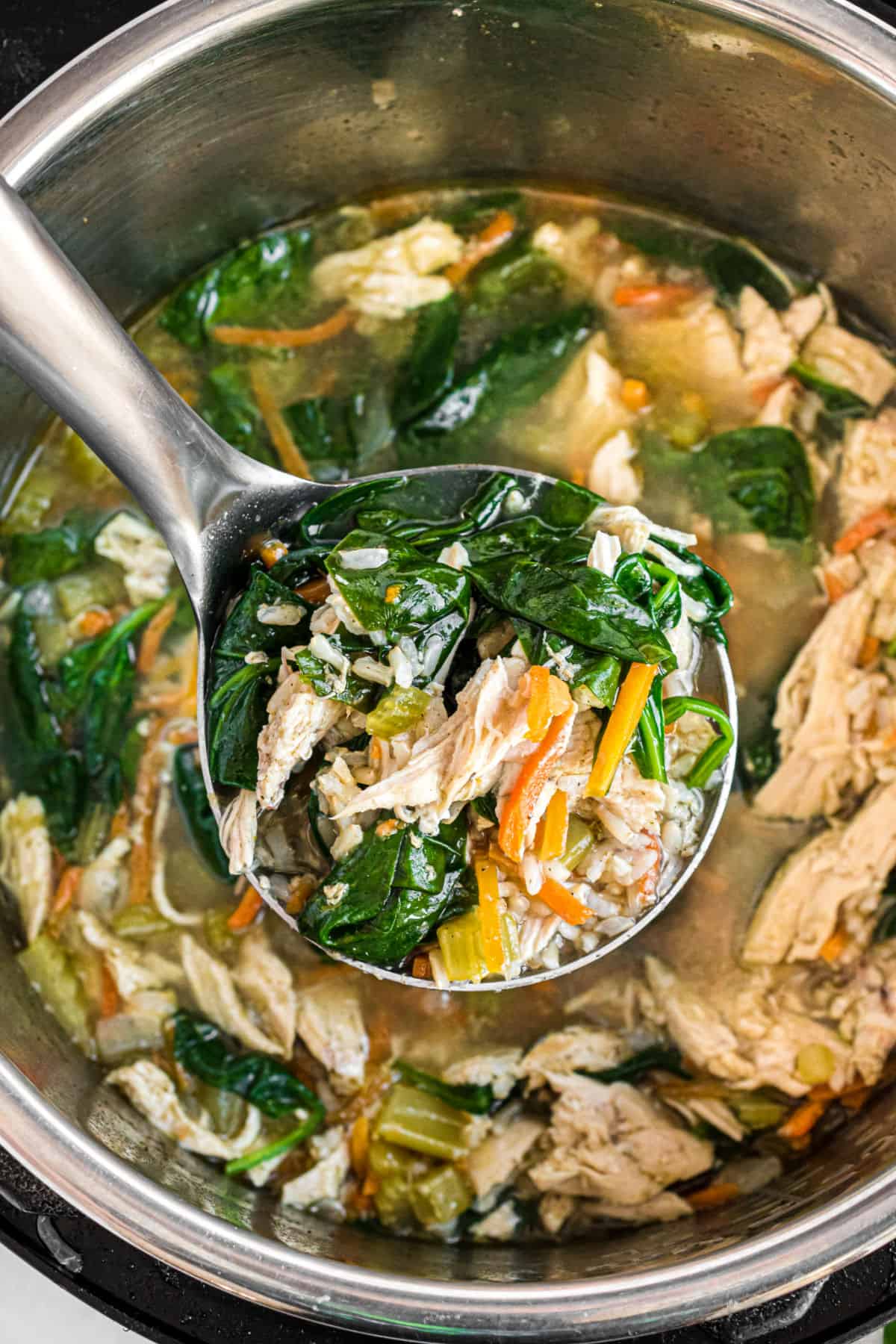 Stove Top Instructions
If you haven't gotten on board with the Instant Pot craze, you can still make this recipe the old fashioned way.
STEP 1. Saute the vegetables
Heat olive oil in a large soup pot. Saute until the onions are translucent and the other veggies soften.
Add the garlic and thyme. Saute until fragrant (about 1 minute).
STEP 2. Simmer
Add the remaining ingredients (except spinach) to the pot. Bring to a simmer, cover and let the soup cook for 30 minutes.
Stir the Chicken and Rice Soup every so often as it cooks. When the chicken is tender and fully cooked, transfer it to a cutting board. Cut into bite sized pieces OR shred.
Remove the bay leaf from the soup. Stir the chicken back into the pot, along with the baby spinach. Serve and enjoy.
Tips and Tricks
For the Instant Pot method, make sure to allow time for the pot to come to pressure.
Do not let the Instant Pot naturally release. This may result in overcooked rice. We use the quick release for this recipe.
Before cooking, be sure your brown rice is labeled "long grain." Smaller grains will get overcooked.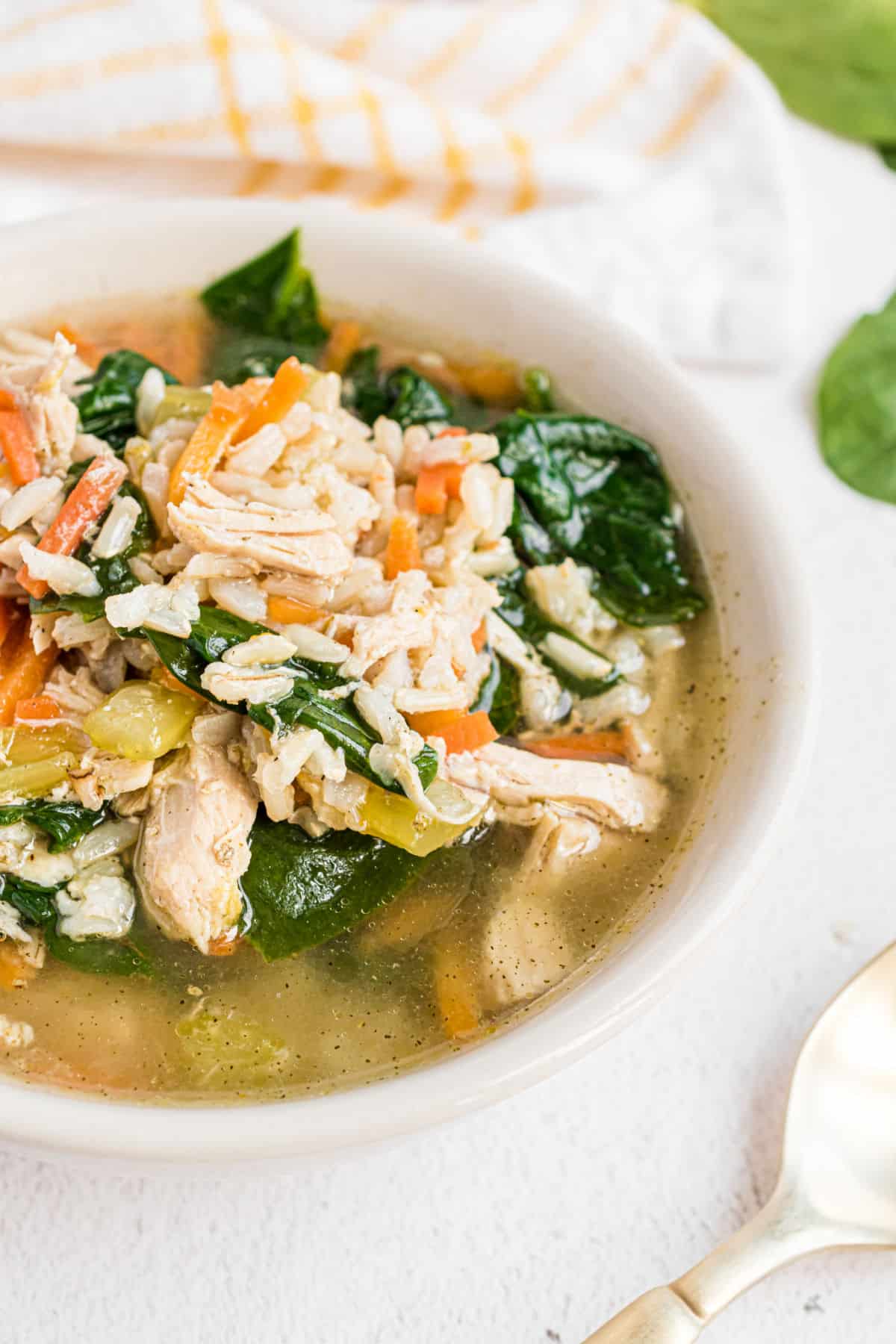 Recipe FAQs
Why is my rice overcooked?
Your rice may be overcooked because you used a different variety than specified in this recipe. We tested this recipe with numerous varieties, and long grain brown rice worked best. If using the stove top method, rice can get mushy if the heat is too high. You want the soup to cook at a gentle simmer (not a rolling boil).
What can I serve with Chicken and Rice Soup?
Every soup goes well with a loaf of fresh baked Homemade Bread or Dinner Rolls. Oyster crackers or biscuits would also be delicious with this soup.
Can you freeze chicken and rice soup?
No, this is not a soup I would recommend freezing. The starch in the rice doesn't hold up well to thawing and reheating. Leftover soup can be stored in the fridge and is best enjoyed within 2 days. If your family loves soup as much as mine, there will hardly be a drop leftover!
Whether you make it on the stove top or the Instant Pot, this Chicken and Rice Soup is ready to eat in less than 45 minutes. Old fashioned comfort food at its best!