Old Fashioned Chicken Noodle Soup is hearty and delicious, and now easy to make in the Instant Pot or on the stove! The savory broth with delicious chicken, noodles, and vegetables is perfect for dinner or lunch!
Love soup? Try our reader favorite Chicken and Rice Soup (also made in the pressure cooker)! Hearty and delicious. Or give this easy Instant Pot Tomato Soup recipe a try instead.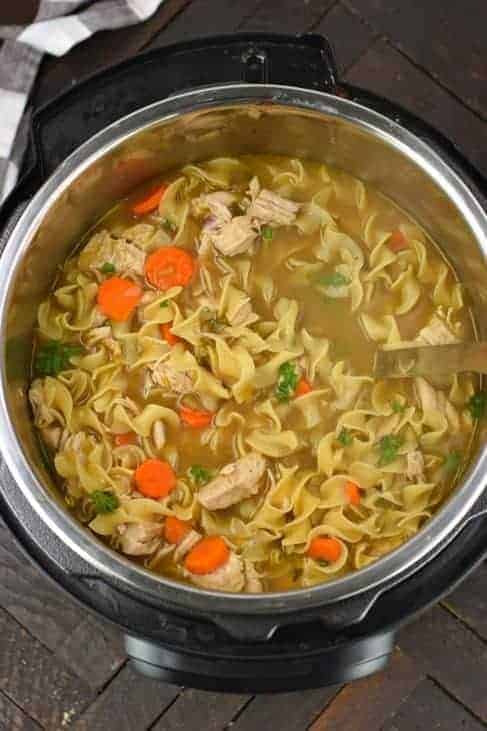 Is Chicken Noodle Soup good for you?
Nothing says comfort food like a bowl of classic chicken noodle soup.
One of the best memories of childhood was coming home in the cold weather to a warm bowl of homemade Chicken Noodle Soup.
And let's not forget those times when we're feeling under the weather.
I don't know about you, but when I'm sick, I always want a big bowl of homemade chicken noodle soup.
Whether it's the warm broth to soothe the throat or the uplifting feeling I get while eating it, I think that alone makes me convinced it's GOOD FOR YOU.
Is chicken noodle soup healthy? Well, it's not loaded with fats and sugars, so I vote yes!
Plus it's an easy dinner recipe!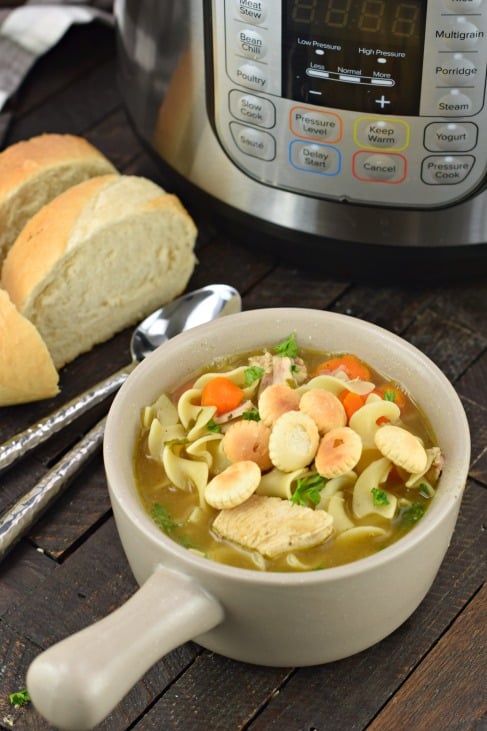 Ingredient Notes
CHICKEN. Bone-in split chicken breasts are my go-to choice when making a homestyle chicken noodle soup recipe.
Using bone-in chicken creates the best tasting broth, in my opinion! You can choose boneless, skinless breasts or thighs if you prefer.
BROTH. Speaking of the broth, if you're making this in the Instant Pot you'll want to use a combination of water and already prepared chicken broth.
Even if you choose bone-in chicken, it still cooks too fast to get the full flavor you want from bone-in chicken.
If cooking on the stove (see directions below), using just water is perfect because as you simmer the flavor will get stronger from the chicken!
NOODLES. I always choose an egg-heavy noodle so it stays firm and hearty. I love using wide egg noodles as my first choice for a noodle.
But there have been many times through the years that I just grab whatever is in my pantry…including spaghetti noodles!
VEGETABLES. Today's homemade chicken noodle soup recipe calls for the famous trio of veggies. Carrots, celery, and onion. You can't go wrong when the base of your soup starts with these!
SEASONINGS. I use as little herbs as possible, to keep it simple. You can add dried oregano, a bay leaf, and thyme. Or, keep it simple with just fresh parsley, salt, and pepper.
The more you make this soup, the more you can customize it to your taste buds!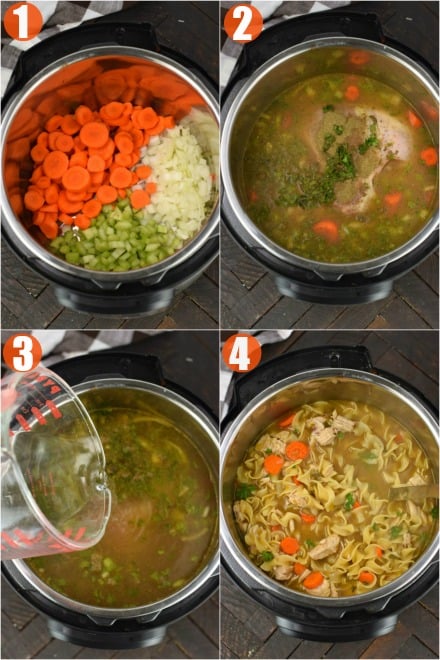 Easy Instructions
STEP 1. Using the "SAUTE" function you'll want to cook some olive oil with onion, carrots, and celery. Cook for about 3 minutes, until onions become translucent in color.
STEP 2. Add the bone-in chicken breasts, chicken broth, water, salt, pepper, fresh parsley (and optional seasonings, if you like). Secure lid and select HIGH PRESSURE. Add a cook time of 10 minutes.
When the cook time ends, allow a natural release of pressure for 10 minutes, followed by a quick release of remaining pressure. Open the lid and remove the chicken to a cutting board. Shred or cut chicken off the bone. Set aside.
STEP 3. Select "SAUTE" on in the instant pot and add your egg noodles. Cook until desired consistency (about 6-8 minutes). Return the shredded chicken to the pot and serve with more fresh parsley.
What to serve with Chicken Noodle Soup
Season your homemade chicken noodle soup with salt and pepper after cooking. Sometimes after adding the noodles to the pot, you'll want a little extra salt for flavor. A squeeze of a fresh lemon is also a nice addition!
Serve chicken noodle soup with oyster crackers or saltines.
We love soup and sandwiches together. These Turkey Sliders are a delicious sandwich to make while your soup is cooking.
Speaking of turkey, you can also add turkey to the soup instead of chicken!
Homemade no-knead dinner rolls or garlic bread are both wonderful additions to this meal, and perfect for dunking in the broth!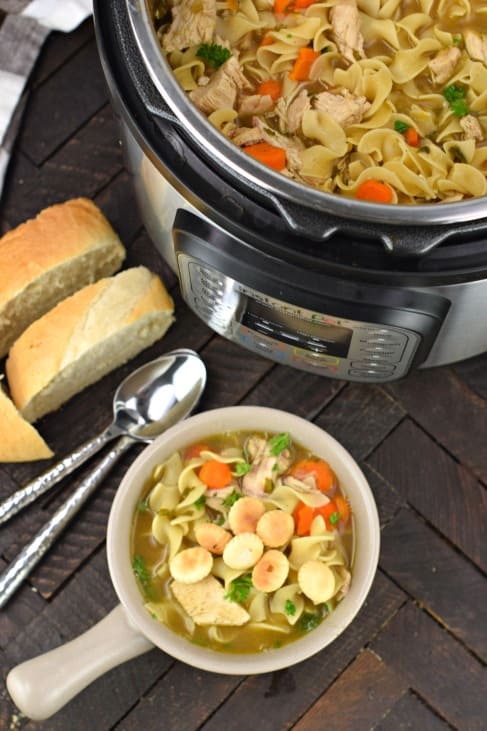 Can you freeze Chicken Noodle Soup
Yes. Absolutely.
For best results, if you're going to freeze this soup, DO NOT ADD NOODLES.
One thing we like to do if I know we'll be having leftovers, is I stop when I get to step 3 above. I cook my noodles separately in a pot of water on the stove. Then we serve our noodles in a bowl and ladle the warm chicken soup over the noodles.
By cooking the noodles separately, they won't get mushy and soggy when making leftovers or freezing.
If freezing, pour cooled soup into a ziploc freezer bag, or freezer safe container. Freeze for up to 3 months.
To serve, thaw in refrigerator overnight. Heat on stove top and add noodles. ENJOY.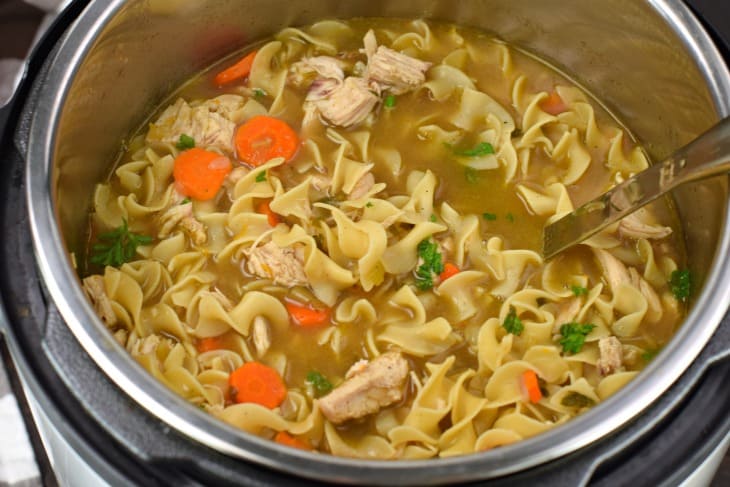 Stove Top Directions
Some of you may not have bought into the Instant Pot crazy, but still want a bowl of old fashioned chicken noodle soup.
To make this hearty soup on the stove, add the bone in chicken to a soup pot with 8 cups of water (you can use broth for half or all if you like, but not necessary).
Simmer over low heat, covered, for 3 hours. Remove chicken and shred on a cutting board.
Return chicken with vegetables to soup pot with seasonings. Cook for an additional 2 hours on low, covered. Add in noodles to the pot in the last 30 minutes. Increase heat to medium-low and cook uncovered until noodles are tender.
ENJOY!
Homestyle Chicken Noodle Soup recipe packed with flavor from chicken, vegetables, and broth! Made in the Instant Pot or on the stove!