This Easy Thanksgiving Turkey recipe takes the guess work out of cooking your holiday bird. Seasoned with a simple herb butter, this turkey roasts to golden brown flavorful perfection–no basting required!
Make your Thanksgiving dinner complete with side dishes like Homemade Cranberry Sauce and Green Bean Casserole Recipe. And don't forget the Pumpkin Pie !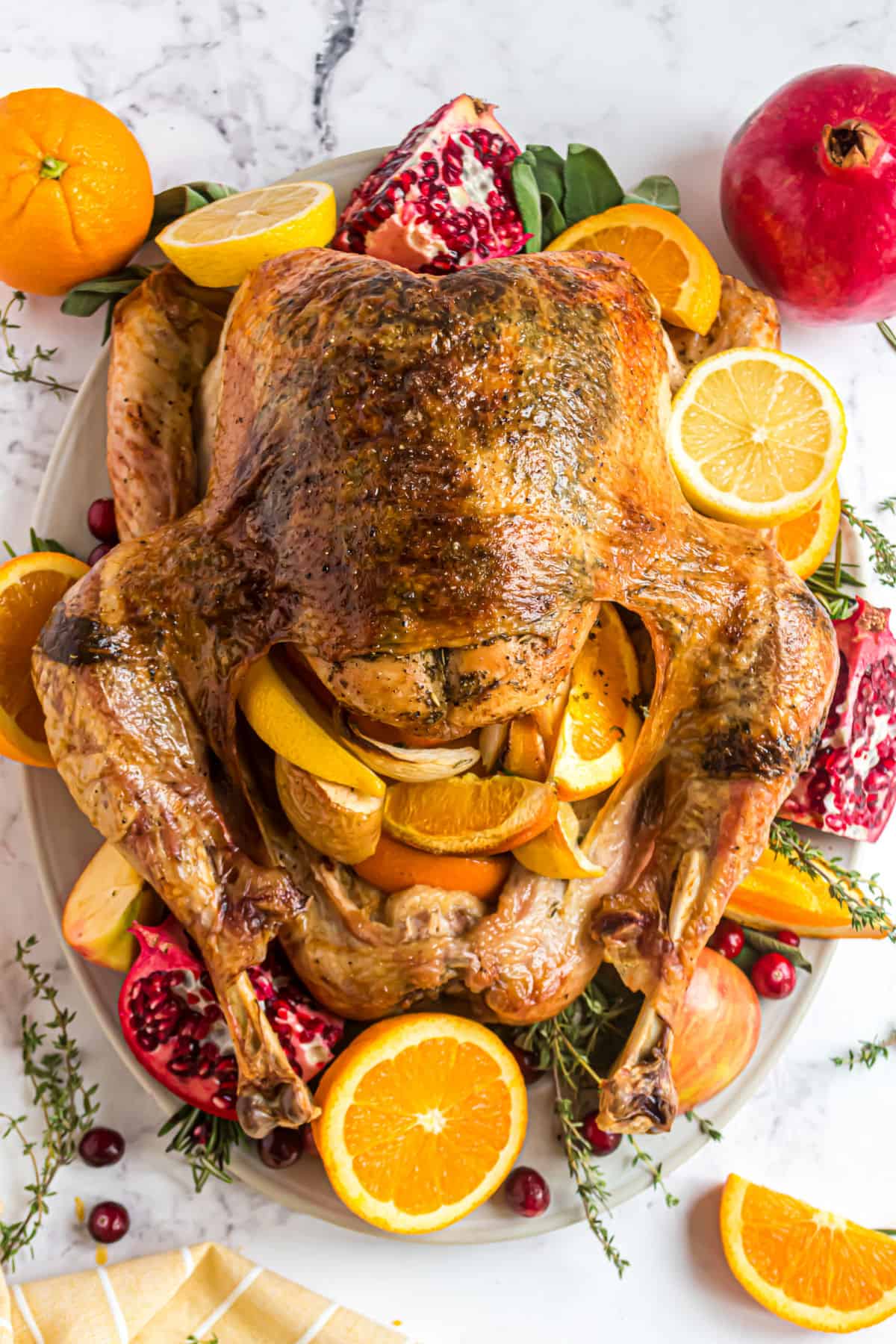 Why this Recipe is Best
Hosting the holidays this year and need the PERFECT turkey recipe? I've got you!
By eliminating the need for basting, this recipe creates juicy turkey with less effort and time than traditional recipes.
How much turkey do I need
To figure out how much turkey you need, consider both the total number of guests at your meal and how many leftovers you want.
If you want enough leftover turkey to make dishes like Turkey Noodle Soup or Turkey Tetrazzini over the weekend, cook 1.5 pounds of turkey per person.
Not interested in leftovers? One pound of turkey per dinner guest should be plenty.
How to make herb butter for turkey
Here's what I use to make the herb butter in this Thanksgiving turkey recipe:
Combine all the ingredients in a bowl. Then, rub the herb butter under the turkey skin. This locks in moisture as the bird cooks and makes the skin beautifully browned.
Instead of needing to constantly open the oven door to add juices to the bird (basting), you can focus on preparing your side dishes and desserts. Or just relaxing with your guests!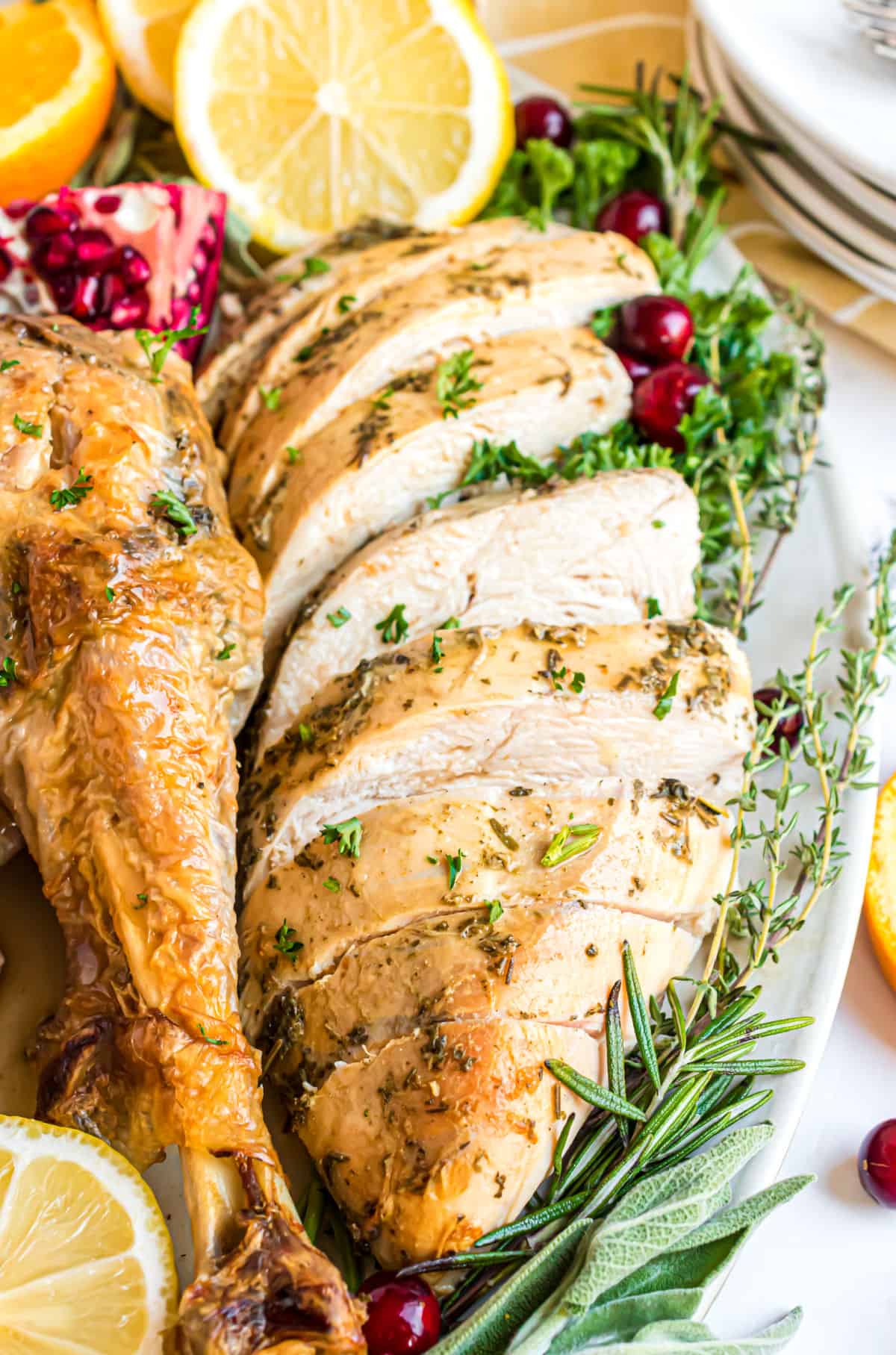 Tips and Tricks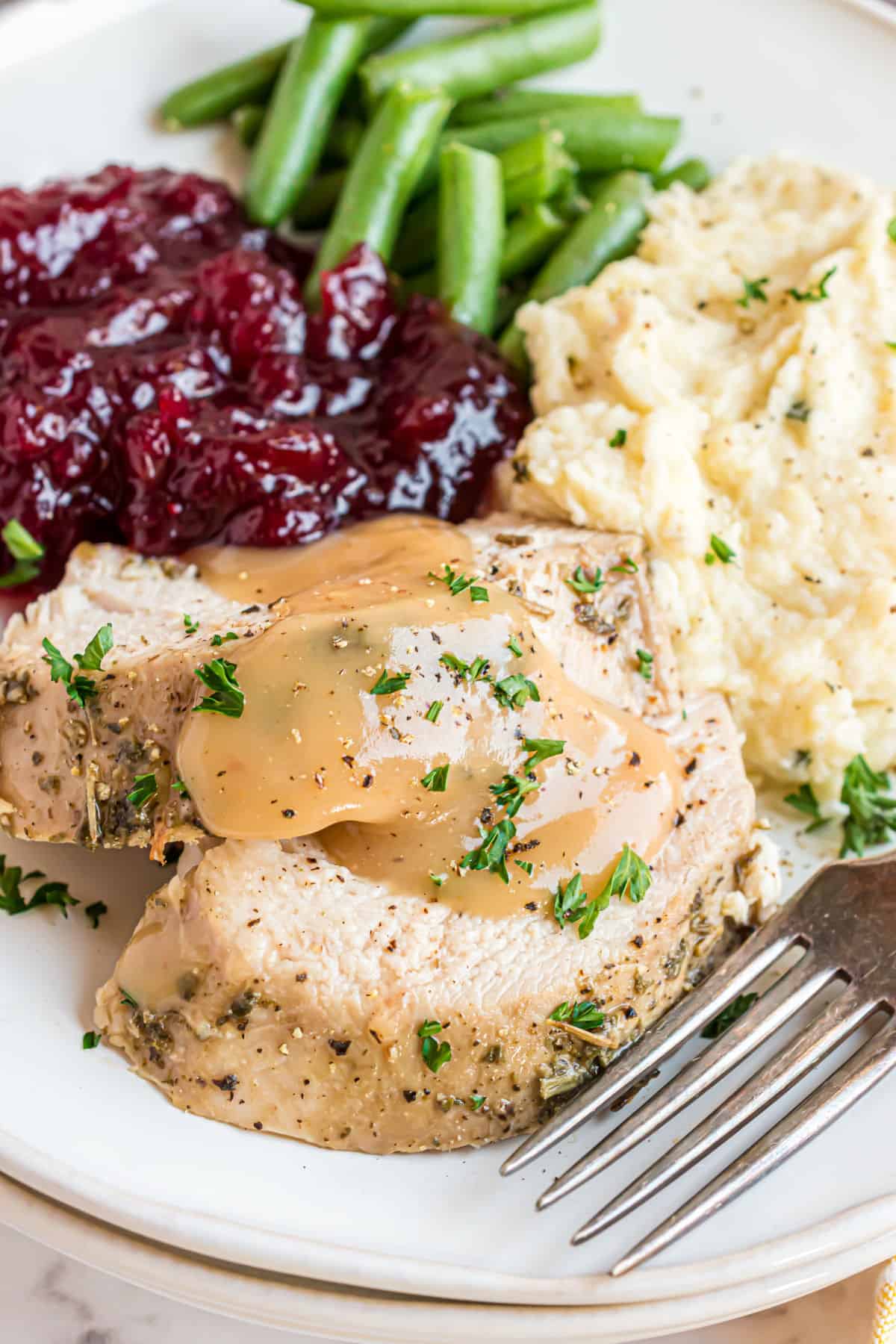 Recipe FAQs
What's the best way to thaw a turkey?
The best way is to loosen the wrapping and place the frozen turkey breast side up on a large rimmed baking sheet. Place in the refrigerator to thaw. Keep in mind that a a frozen turkey needs 24 hours thawing time for every four pounds of turkey. Plan ahead of time to ensure your bird is thawed completely by Thanksgiving day!
Do you put stuffing in this turkey before cooking?
There is no stuffing in this recipe. Stuffing your turkey with stuffing lengthens the cooking time makes the turkey dry. Instead, we fill the cavity with citrus and fresh herbs, which help flavor our turkey gravy too!
How do you know when turkey is done?
Use a meat thermometer to check the internal temperature of the thickest part of the thigh meat. It should register 180 degrees F when fully cooked. Many turkeys come with a built in thermometer to make checking the temperature easy.
What do I do if my turkey is browning too quickly?
If your turkey skin is turning brown long before the insides are cooked, create a foil tent to cover about 2/3 of the turkey for the remaining cooking time.
Why does turkey need to rest after cooking? And how long does it need to rest?
Resting the turkey for 30 – 45 minutes before carving allows the juices to redistribute. This makes the turkey juicier and more tender when carved. While the turkey is resting you can make your gravy or prep your side dishes.
How do you reheat cooked turkey?
To reheat leftover turkey, place it in a baking dish and cover with a small amount of broth. Reheat in a 325 F oven until the turkey reaches 165 F. Don't let any of that delicious bird go to waste! Save some of these ideas for recipes to make with leftover turkey to enjoy your homemade roast turkey for days!
More Thanksgiving Dinner Sides
The easiest Thanksgiving Turkey Recipe you'll ever make! Impress your dinner guests with beautiful, juicy turkey–made from scratch with love.