No Thanksgiving table is complete without a classic Green Bean Casserole. Save time and oven space by making the traditional side dish in your Instant Pot this year!
Today's recipe started with my favorite French's Green Bean Casserole recipe that I make in the oven! Pair it with a pan of sweet potato casserole and you have my two favorite side dishes!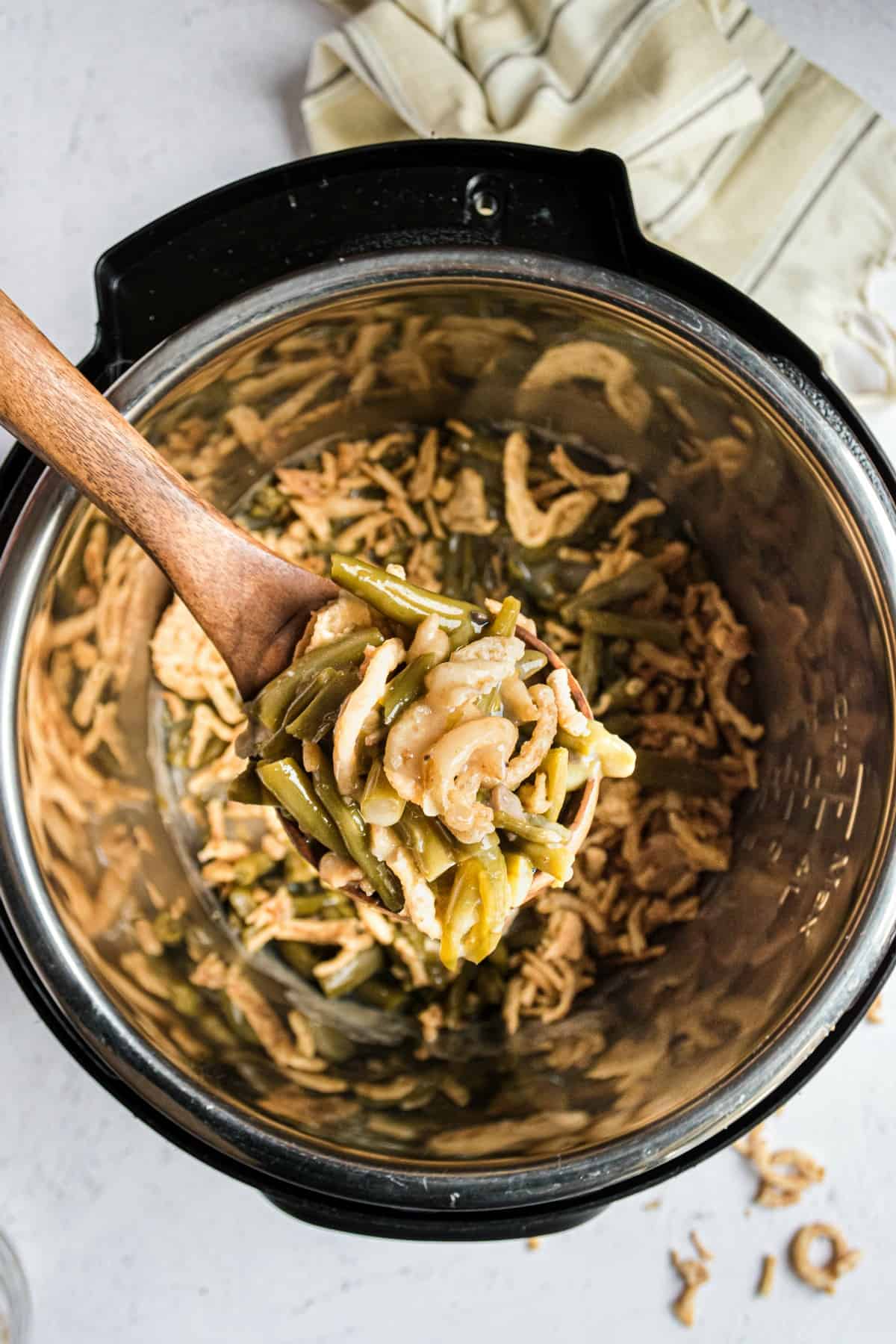 Why use your Instant Pot
Gearing up for the biggest food holiday of the year means my oven is getting ready for some non-stop action. Between the turkey, the pumpkin pie and pecan pie, and the Dinner Rolls, it seems like everything needs to go in the oven at the same time on the big day!
Enter: the Instant Pot.
You can use this nifty appliance to make so many of your favorite must-have Thanksgiving side dishes, leaving your oven free for more pies.
(And we all need more pies, right?)
Instant Pot Green Bean Casserole is ready to serve in just a few minutes. So quick, easy and delicious!
I also love how consistent this Instant Pot recipe is. While different ovens can vary in precise temperature or evenness of cooking, the Instant Pot delivers the same results time after time, even if you're in someone else's kitchen.
So, if you've been tasked with making the casserole for Thanksgiving this year, get out your Instant Pot and save this recipe!
PRO TIP: No Instant Pot? Use your crockpot and make our slow cooker green bean casserole instead!
Ingredient Notes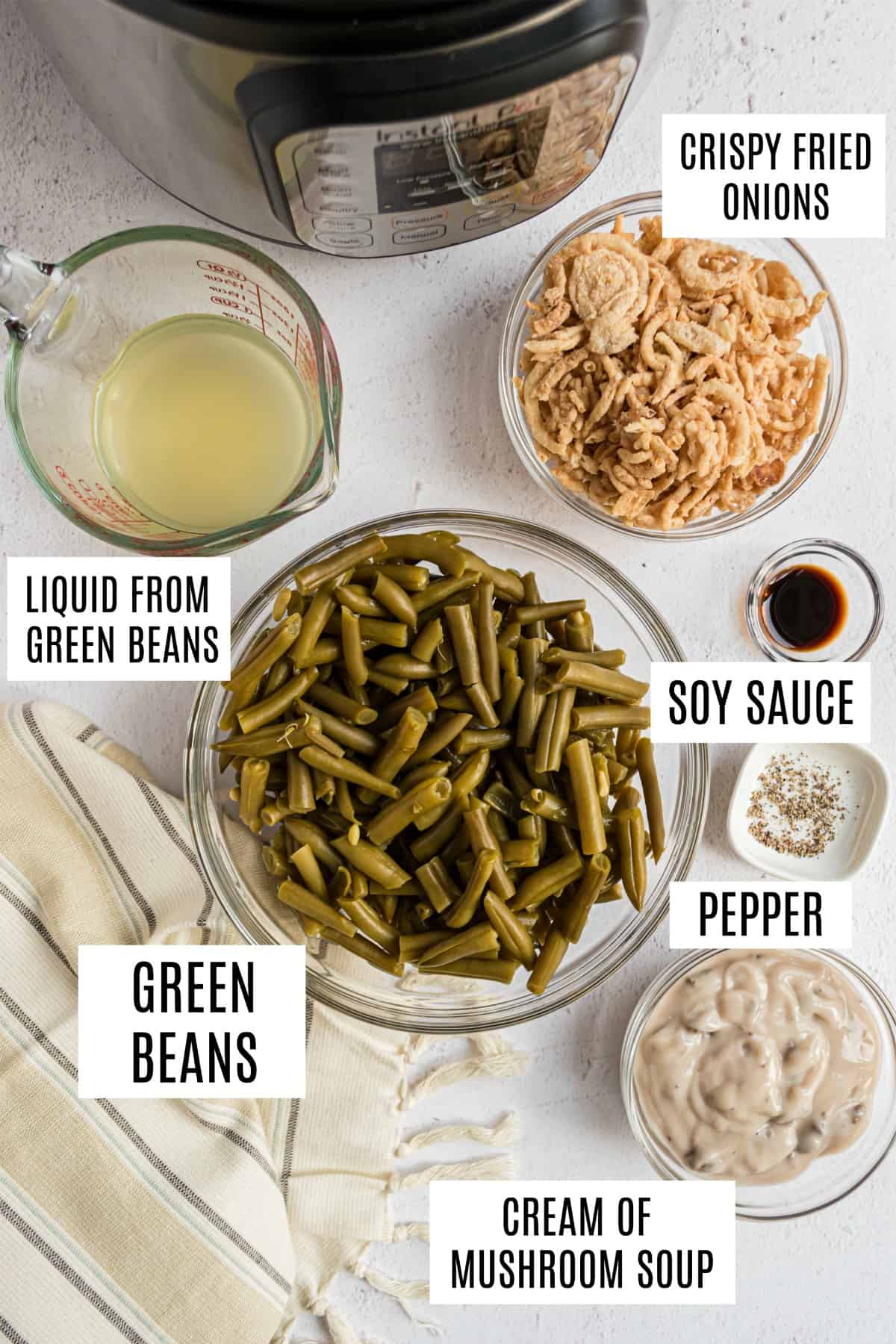 Canned green beans – or sub 5 cups of frozen green beans
Liquid from green bean cans – If using frozen green beans, substitute with 2/3 cup of vegetable broth or water.
Cream of mushroom soup – Use the canned, condensed kind (like Campbells)
Soy Sauce & Black Pepper- add the perfect flavor and salt to the recipe
French's crispy fried onions – No green bean casserole is complete without them. Sub another favorite brand of fried onion topping if you prefer.
Step by Step Instructions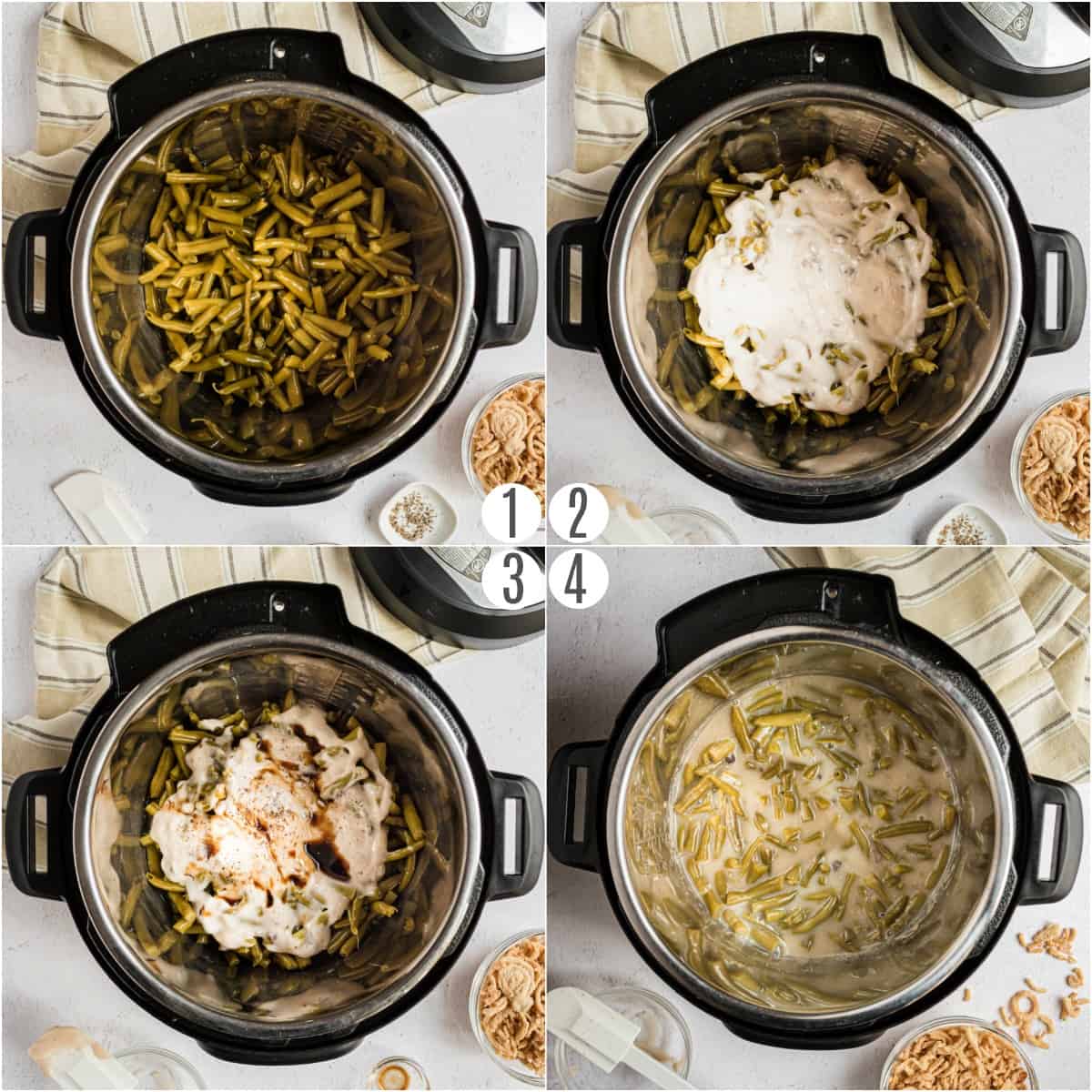 STEP 1. Add ingredients
Put the ingredients in your instant pot in this order: water (or vegetable broth), green beans, soup, soy sauce and black pepper. Do NOT stir!
STEP 2. Pressure Cook
Put the lid on the pot, set the valve to sealing and select high pressure for a cook time of 2 minutes. Once the cook time ends, do a quick release of pressure by setting the valve to "venting" then open the lid (away from your face!).
Give the casserole a stir to make sure the soup combines with the green beans. Let it sit for a few minutes before serving to let the casserole thicken.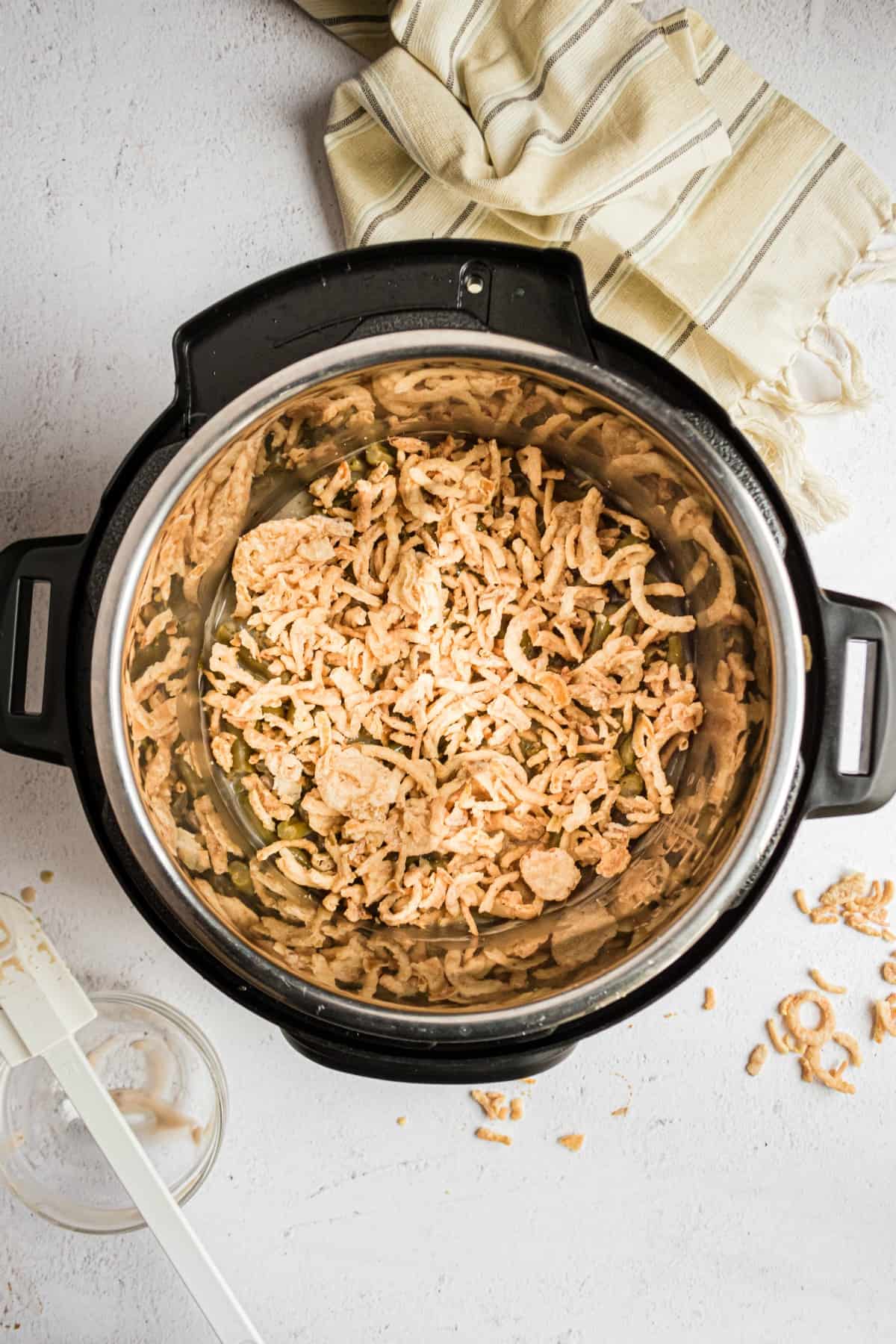 STEP 3. Serve
Sprinkle the crispy fried onions on top of the casserole before serving!
Recipe FAQs
How do I transport this Green Bean Casserole?
If you're taking this dish with you to a Thanksgiving gathering elsewhere, you can transfer it to a disposable baking pan or tupperware container. I'd wait to add the fried onions on top until shortly before serving to make sure they stay crispy!
Can you use fresh green beans in Green Bean Casserole?
The amount of water in fresh green beans vs. canned or frozen is different, so the casserole recipe won't work the same way. This is one instance when canned or frozen are best!
What size Instant Pot do you need for this recipe?
I tested the recipe in my 6 quart Instant Pot.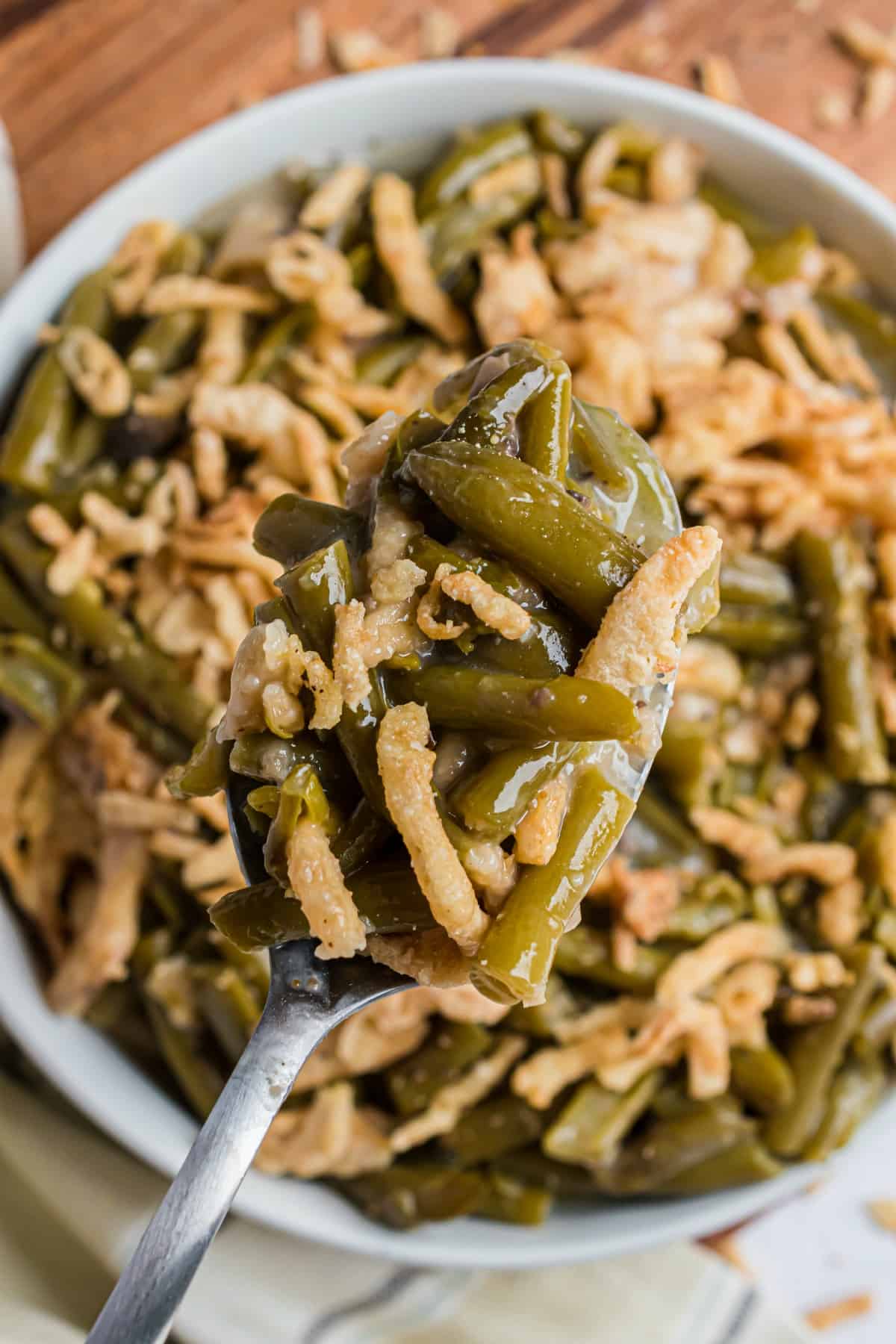 Serving Suggestions
A big helping of Green Bean Casserole pairs perfectly with all your favorite holiday dishes!
Try it along side some Crockpot Turkey Breasts and Stuffing and a pile of Mashed Potatoes with a ladle full of gravy. We always include something with cranberries, like this Frozen Cranberry Salad.
Save time–and energy–this Thanksgiving with a delicious classic Green Bean Casserole made in the Instant Pot. Happy feasting!