Easy Copycat Panda Express Orange Chicken Recipe. Crispy chicken in a sweet and tangy glaze, perfect for weeknight dinners!
It's no secret we're huge fans of "fake out, take out" dinners. Try this irresistibly easy Sesame Chicken as well as my favorite Beef Broccoli dish.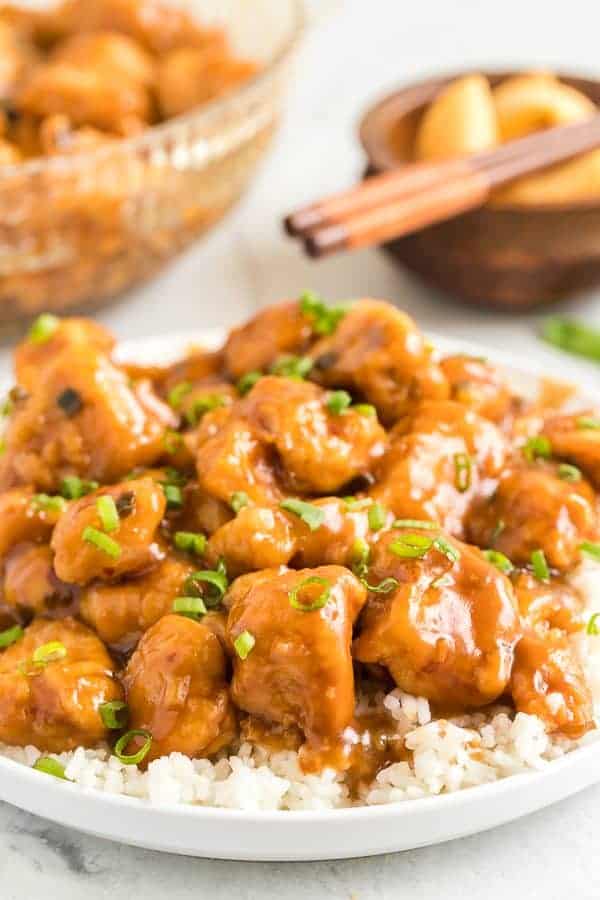 Why this Recipe is Best
My family loves Chinese takeout. The cute little containers. The egg rolls. And reading the fortune cookies at the end of our meal. We love it all.
My husband and I even have a tradition of ordering Chinese takeout every year on our wedding anniversary. And we always make sure to include orange chicken in our order.
I used to struggle with cooking Chinese food.
Every time I made fried rice it wasn't nearly as good as Chinese takeout. It always took me more work than it was worth and didn't turn out how I wanted.
But one day I decided to make this orange chicken recipe and my Chinese food cooking skills soared.
This easy orange chicken recipe tastes just as good as Panda Express orange chicken, and other Chinese food takeout! The orange chicken sauce has a sweet, savory flavor with a crunch from the deep fry goodness.
This is a perfect recipe when you're craving takeout but want something easier on the wallet. And, if you love Orange Chicken you've GOT TO TRY this Mongolian Chicken recipe!
I've even made an Instant Pot Orange Chicken recipe if you're in a hurry!
Step by Step Instructions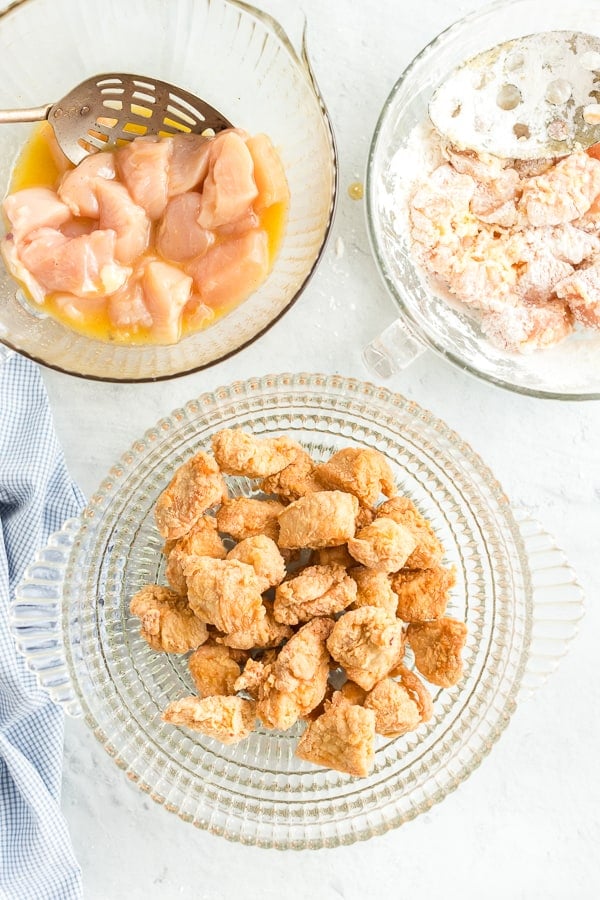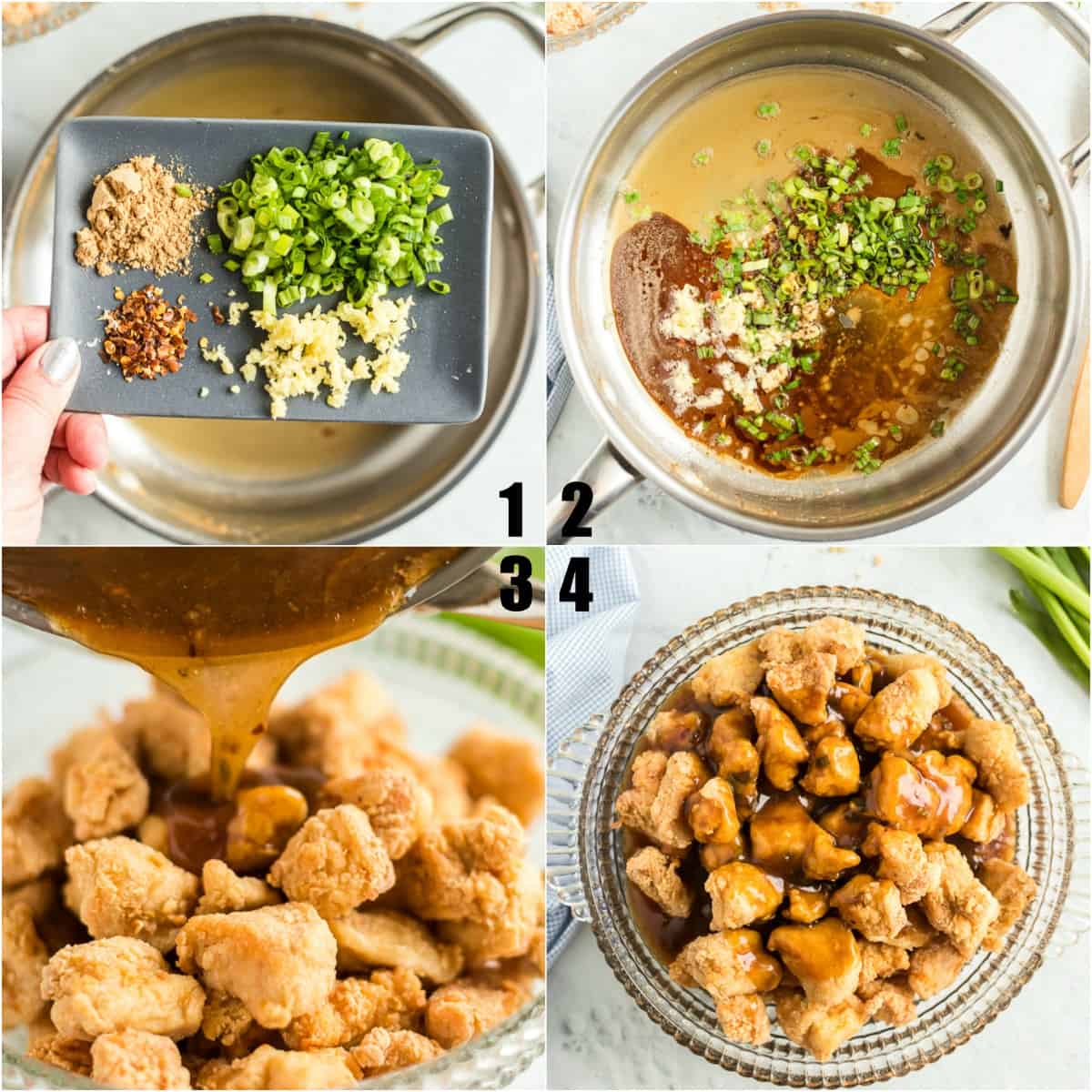 Step 1: Mix the egg, salt, white pepper, and 2 Tbsp vegetable oil in a bowl. In another bowl mix 1 cup cornstarch and 1/2 cup flour. Coat bite size pieces of chicken first in the egg mixture and then in the flour mixture.
Step 2: Heat vegetable oil on medium high heat in stainless skillet (you will need enough oil to fill the skillet about 1/2 inch deep, or use a fry daddy or air fryer).
Fry chicken in oil until completely cooked, several minutes on each side. Remove chicken into serving bowl with paper towels to sop up grease. Drain all but 2 tbsp of the remaining oil.
Step 3: With the remaining 2 Tbsp of frying oil, heat ginger, garlic, red pepper, green onions, sesame oil, and two Tbsp soy sauce. Heat for 2 to 3 minutes, until onions soften.
Step 4: In a small bowl, mix 1/4 cup soy sauce, 1/4 cup water, brown sugar, white sugar, orange juice, and rice vinegar.
Add to onion mixture in skillet. Bring to a boil. Mix cornstarch and cold water in a small bowl. Add to boiling mixture and return to boil until thickened.
Step 5: Pour hot glaze over chicken, mix and serve with rice. Garnish with fresh green onions slices if desired. ENJOY.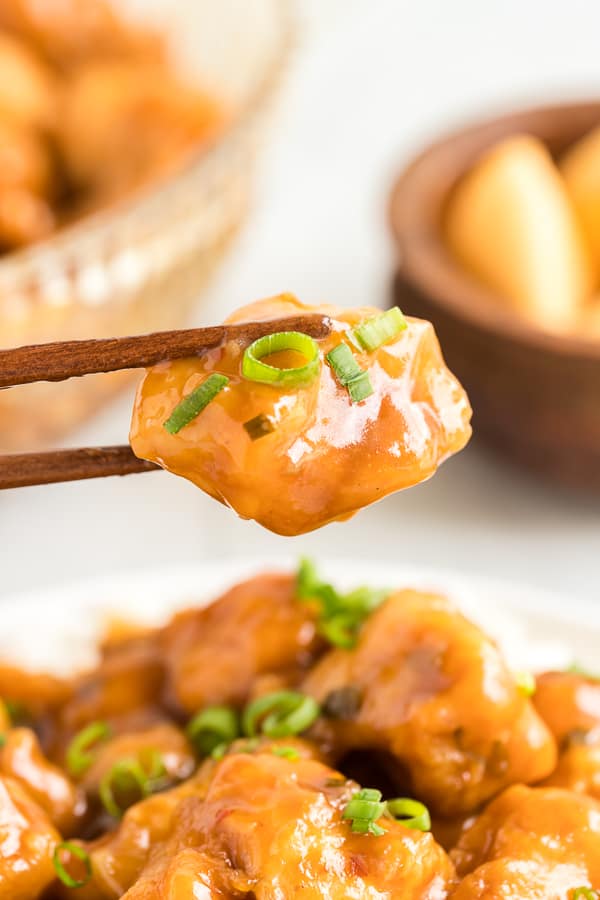 What to serve with Orange Chicken
Orange Chicken goes really well with rice! The rice sops up all the extra orange chicken sauce and gives it a great tangy flavor.
You can make traditional white rice or chicken fried rice to serve with this dish. My crockpot PF Changs lettuce wraps also pair really well with this orange chicken.
You could even whip up a batch of this egg roll skillet. All the flavor of egg rolls, without the extra carbs (or hassle of making them)!
Can Orange Chicken be made in the Slow Cooker?
I have a modified version of this orange chicken recipe that you can make in the slow cooker.
The chicken breast cooks in the Crock Pot all day, giving you a tender and flavorful chicken that is just as easy as takeout!
However, be warned, it's not as authentic as today's version. But, if you're looking for something delicious and flavorful…and VERY EASY, my Slow Cooker Orange Chicken Recipe might be for you!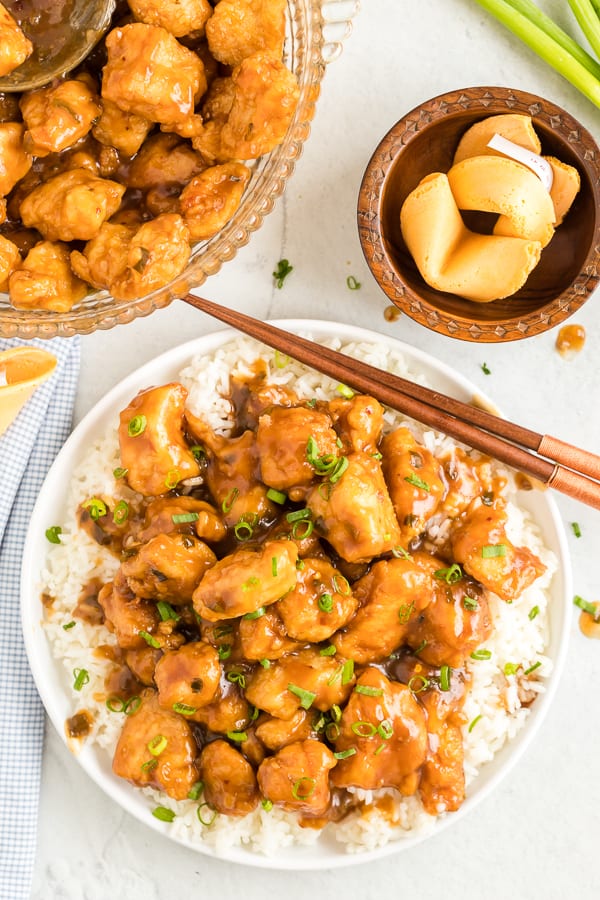 Tips for making the best Orange Chicken Recipe
The best type of oil to use for orange chicken is vegetable oil. I use vegetable oil in my egg mixture and for frying the chicken.
You can use a skillet or saucepan to fry the chicken. You don't need a deep fryer for this step.
You can use boneless chicken thighs or boneless chicken breasts for this orange chicken recipe. I prefer thighs because they tend to be a little juicer, but breasts would work too.
You can make this dish without stir frying it in a skillet by using your air fryer. To do this, dredge your chicken in the egg and flour mixture, and put it in the bottom of your air fryer. Cook for 25 minutes or until the chicken reaches 180 degrees. Make your glaze and pour it over your chicken once it's done cooking.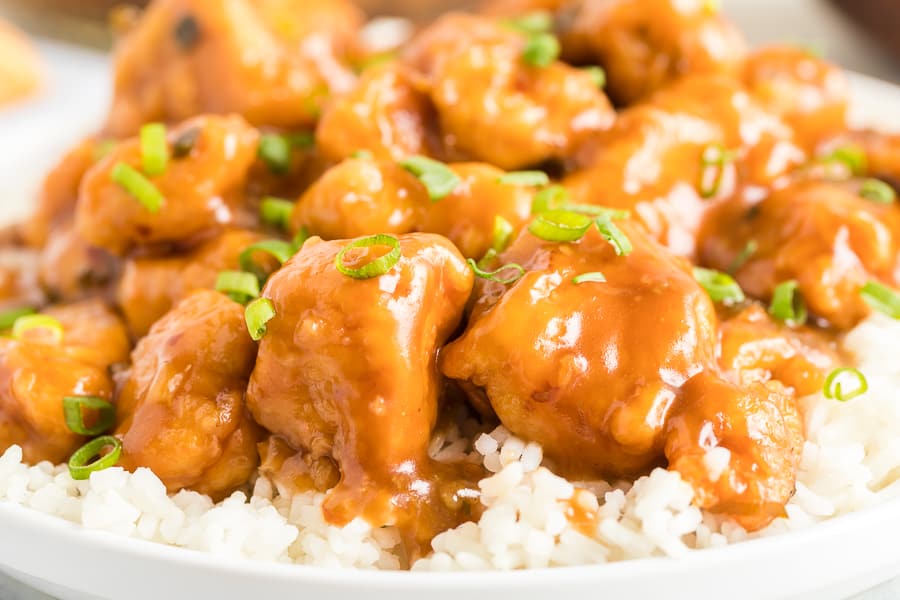 Recipe FAQs
Is General Tso's Chicken the same as Orange Chicken?
Although the dishes are cooked similarly, have many of the same ingredients, and include an orange flavor component (orange zest, juice, or other) General Tso's chicken tends to have a more spicy flavor, while orange chicken has a more sweet savory glaze.
Can Orange Chicken be made ahead of time?
You can make this 24 hours ahead of time. Just reheat when ready to serve.
Can Orange Chicken be frozen?
You freeze orange chicken for up to three months. When you're ready to serve, thaw it in the refrigerator overnight and then reheat chicken in a frying pan. You can add a little chicken broth if it needs more liquid.
More Chicken Recipes:
Easy Copycat Panda Express Orange Chicken Recipe. Crispy chicken in a sweet and tangy glaze, perfect for weeknight dinners!