Looking for an easy, family friendly meal idea? Look no further! This Chicken Fried Rice recipe is ready in under 30 minutes, and is kid approved!
For more easy chinese "fake out" recipes be sure to try my Beef Broccoli and homemade lettuce wraps for a complete meal!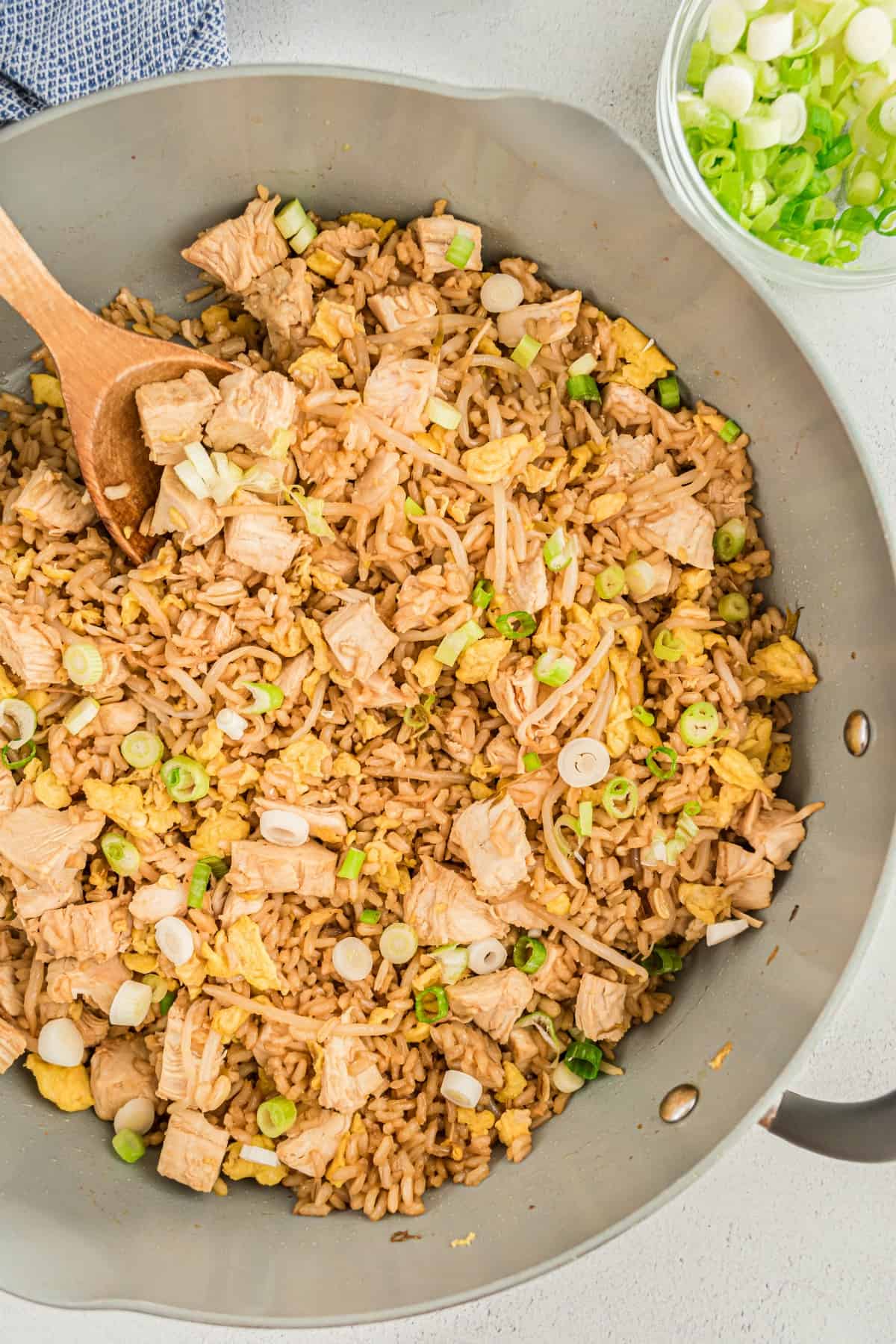 Why this Recipe is Best
With teenagers in the house, working adults and an endless to-do list, we have some busy nights. Everyone has their own non stop schedule, even when we're home, it seems!
But a family dinner is important to me, which is why I try to include many easy to prepare easy dinner ideas here on the blog.
I firmly believe in making the time for a meal together, even if it's a quick one.
Today's fried rice recipe is a keeper! Perfect for when you need to whip up something quick that's nutritious, filling and picky eater approved.
When we order Chinese food, we always get an extra order of fried rice to share. It pairs perfectly with Orange Chicken, Mongolian Chicken, Sesame Chicken, and Bourbon Chicken!
Some of us prefer pork, while others like shrimp or veggie but there's one protein we can all agree on: CHICKEN!
With this easy Chicken Fried Rice recipe, we can skip the takeout and have something equally delicious that's a little healthier too.
Made with affordable ingredients, it's easier on my wallet than ordering out, too!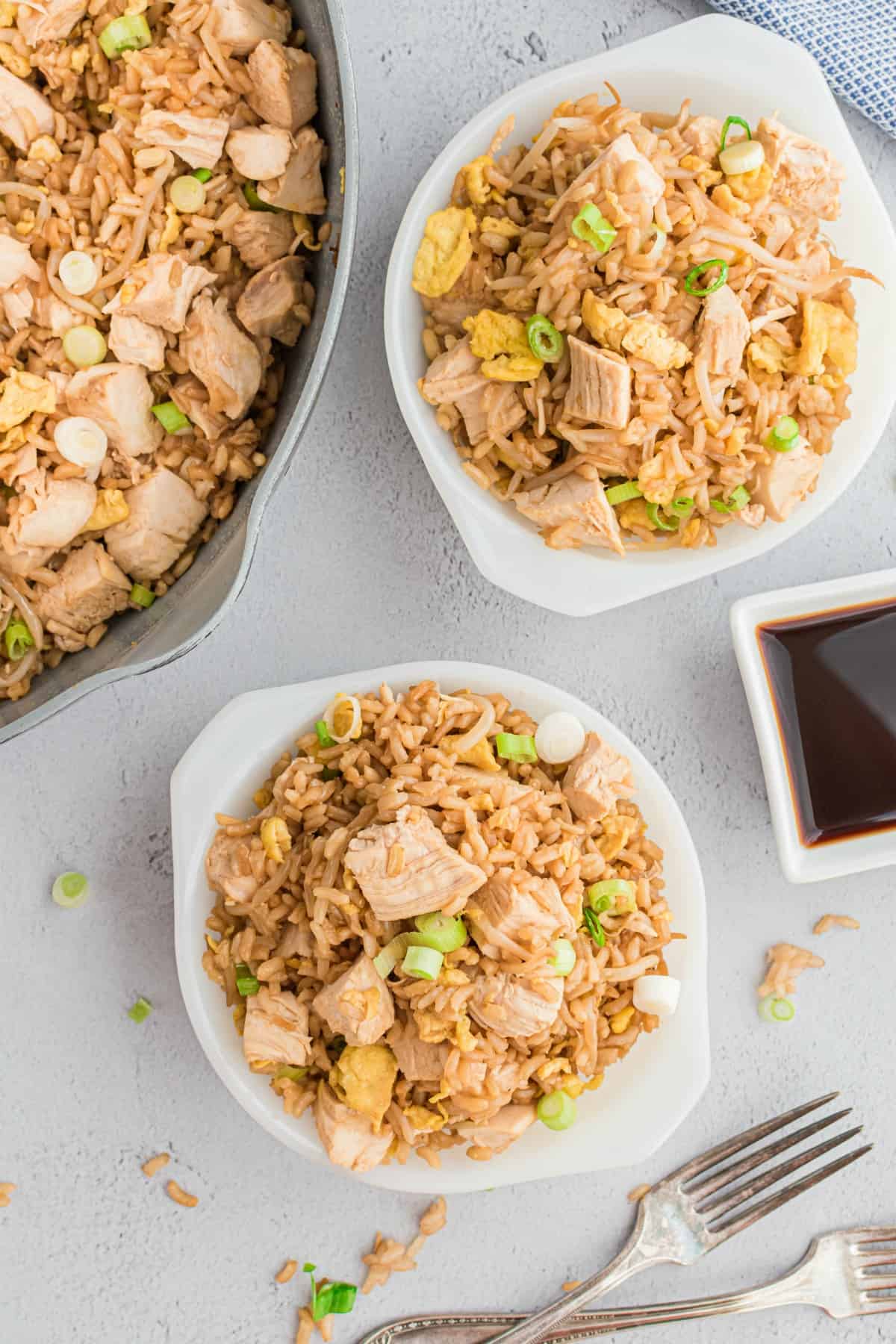 Over the years, I've figured out a few hacks for making cooking easier when life gets hectic.
When you learn how to plan ahead, prep for more than one meal at once and mix and match ingredients, you never have to get bored eating the same dinners over and over.
PRO TIP: My number one tip for creating easy meals on busy weeknights: cook more protein than you need.
For instance, if we are making tacos, I cook extra ground turkey and freeze the cooked portion for a later meal. Then, I can use the same meat for taco soups, enchiladas, nachos, salads, you name it.
I use the same approach whenever I'm cooking chicken! Take a little time on your weekend (or any day) and cook up some extra roasted chicken or make a batch of shredded chicken (in the instant pot or slow cooker). Dice it up and freeze it for busy nights.
My favorite way to use that extra chicken is in this easy, tasty fried rice recipe!
Ingredient Notes
Chicken Breasts – Cooked and diced
Cooked Brown rice – I used Uncle Ben's Instant Brown Rice this time. So fast and easy!
Bean sprouts – We opted for canned sprouts this time, but fresh would work as well.
Eggs
Olive oil – Or another vegetable oil like canola oil or peanut oil
Soy sauce – Low sodium if you have it
Green onions – Sliced from white to green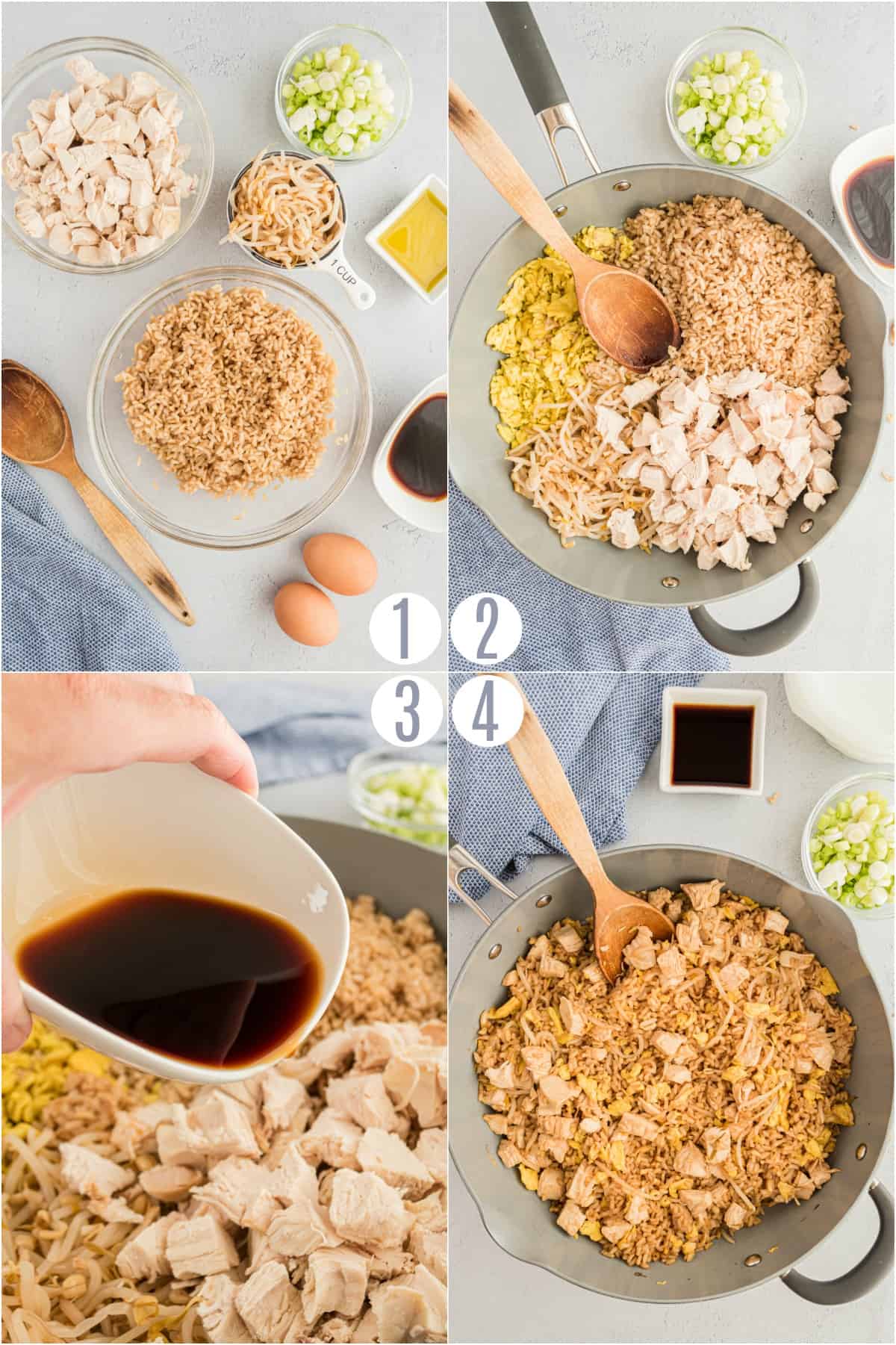 Step by Step Instructions
We used some chicken that was seasoned with salt and pepper for today's meal. It was cooked last week, then we diced it up and froze it.
We took it out of the freezer right before preparing the rice, as it didn't take long to cook it up in the skillet. Once the rice is cooked, you're just a few steps away from perfect homemade fried rice.
STEP 1. Add olive oil to a skillet on medium-high heat. In a small bowl, whisk the eggs with a fork. Pour into the hot skillet. Using a spatula, stir the eggs until cooked and scrambled. Push eggs to side of pan. Add cooked chicken, bean sprouts and rice to pan.
STEP 2. Pour soy sauce over everything. Using a spatula, gently saute ingredients until combined, and hot. Add more soy sauce if desired.
STEP 3. When everything is hot (about 3-4 minutes), remove from heat. Add sliced green onions and serve. ENJOY!
Tips and Tricks
Fried rice is infinitely customizable and adaptable. You can use this recipe as a starting point and add your own ingredients for your liking.
Carrots and peas would be delicious in this fried rice recipe. So would some chopped broccoli. My kids love the bean sprouts in this!
More tips for easy fried rice:
Don't have any cooked chicken? Grab a ready made rotisserie chicken from the grocery store. Dice it up and add it to your fried rice. If serving this fried rice as a side dish, you can also feel free to just omit the chicken.
Leftover rice: Fried rice is a great way to use up that leftover rice from last night's dinner. It'll be drier than fresh cooked rice which means you may need to add a bit more soy sauce to the pan to keep it from sticking.
What to serve with fried rice: We served our Chicken Fried Rice with a fresh salad and of course had a few store bought fortune cookies for dessert. It also pairs great with Orange Chicken or Beef Broccoli.
There you have it! Another fast weeknight dinner to add to the rotation that even the pickiest eaters will give two thumbs up.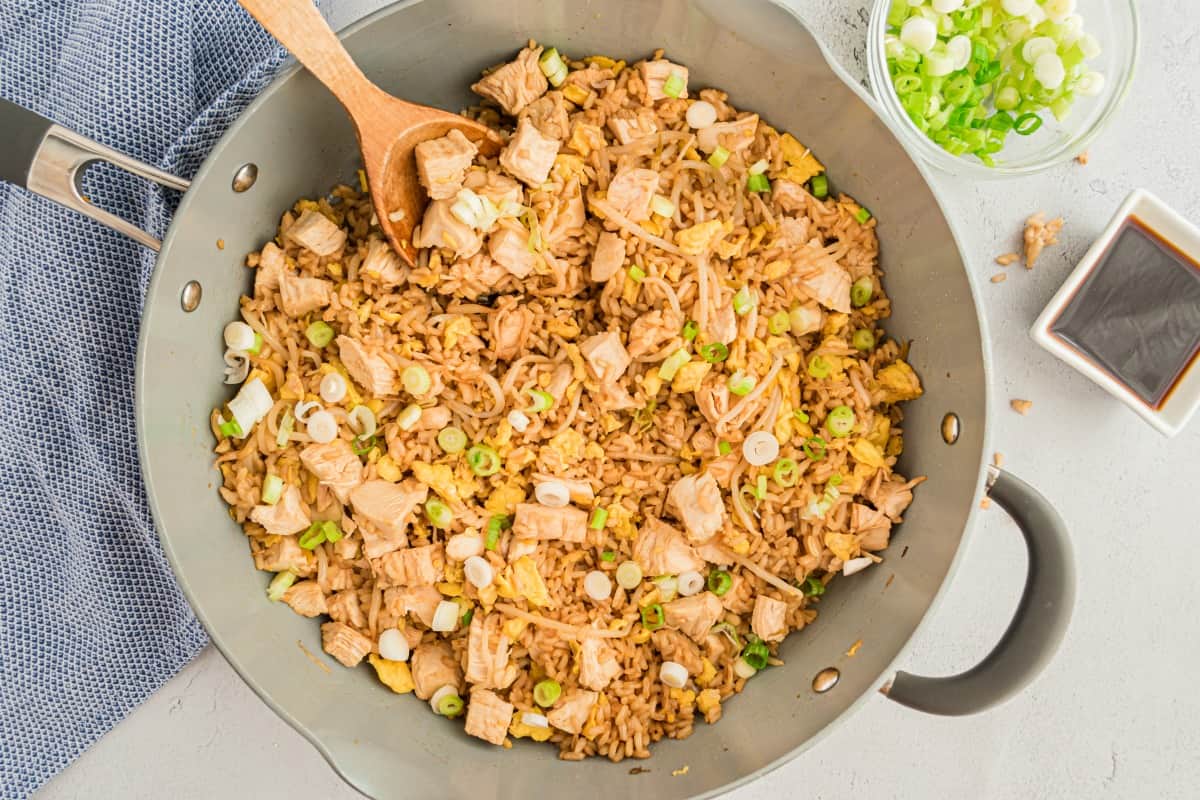 Recipe FAQs
What do you serve with fried rice?
Fried rice can be considered a side dish or a complete meal. Serve it up with egg rolls, dumplings, and wonton soup!
What type of rice is best with Chicken Fried Rice?
Typically I love using brown rice (to keep it healthier) but Jasmine rice is also a delicious choice.
How do you store leftover chicken fried rice?
Place leftover fried rice in an airtight container and refrigerate for up to three days. Reheat in a skillet or microwave.
More Easy Dinner Recipes
Learn how to make chicken fried rice and you'll never be stuck in a dinner rut again!