If you're looking for a 30-minute meal idea, these Chicken Avocado Enchiladas are the answer! Packed with flavor and loved by all!
Readers are obsessed with our enchilada recipes. Including this favorite Enchilada Mac and Cheese recipe. It's the perfect comfort food! Serve it up with a side of our easy Mexican Street Corn!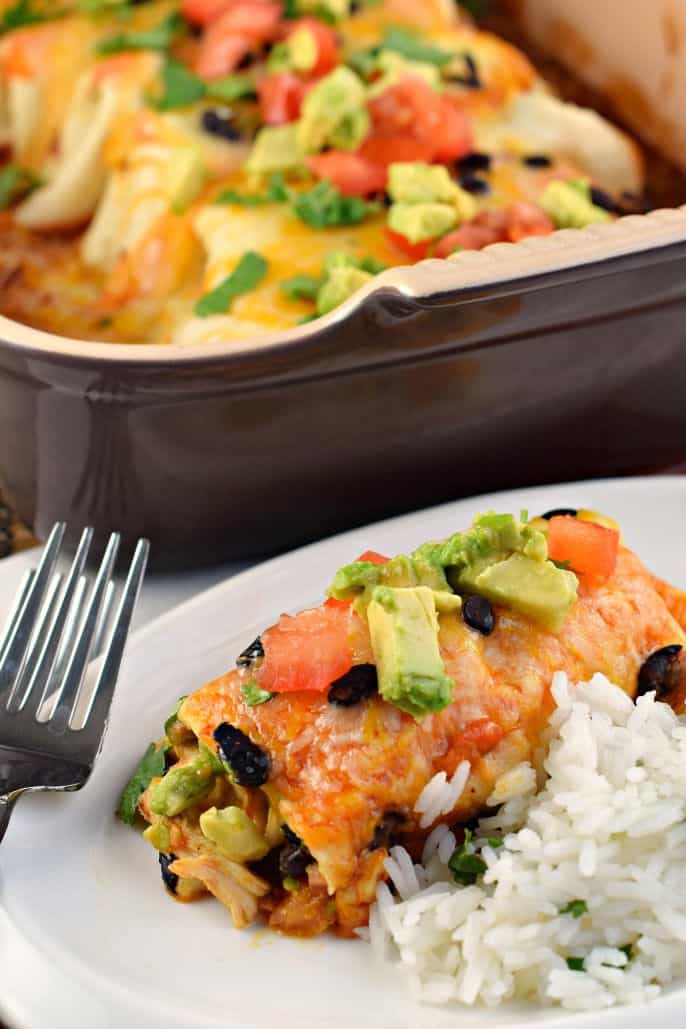 Why this Recipe is Best
I love how easy these Chicken Avocado Enchiladas are to prepare, thanks to a few easy swaps in the recipe!
One of the best things about this dinner recipe is the ability to assemble ahead of time.
It also makes 12-14 enchiladas, which means I can prepare two dishes in one day, and freeze one for another time. With my crazy, busy life, I love having dinners in my freezer ready to go!
These enchiladas pack in a lot of flavor in one dish. I love the creamy touch the avocado adds to the saucy chicken and cheese.
For today's recipe, I used rotisserie chicken as one of my time saving tips. It's quick and convenient. My grocery store also sells the rotisserie chicken already shredded and off the bone…even easier!
Ingredient Notes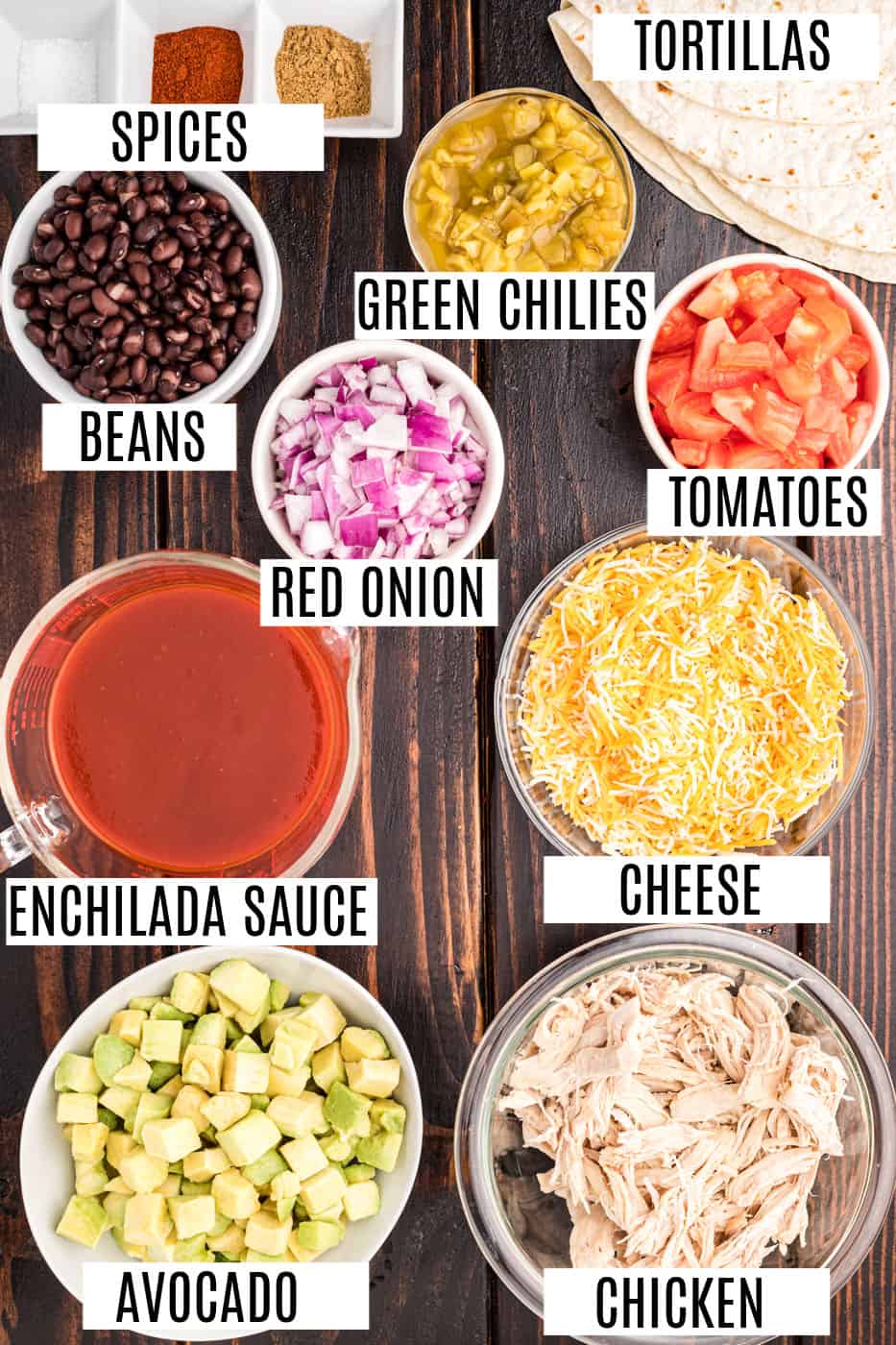 Cooked Chicken – Like I mentioned above, rotisserie chicken works great here and you can't beat the convenience. It's also a great use for any leftover cooked chicken you have in the fridge!
Cheese – The recipe calls for Jack Cheddar cheese, but feel free to substitute your favorite Mexican Cheese blend.
Tortillas – My family prefers flour tortillas for enchiladas instead of the traditional corn. Use the fajita style tortillas to make 12 – 14 enchiladas or the large burrito tortillas to get about 6 – 8 giant enchiladas instead.
Avocado- got a few over-ripe ones? Add them to the inside of this enchilada. Nobody will know there were some brown spots after cooking.
Red Enchilada Sauce- you can easily substitute green if you prefer. Or make this homemade enchilada sauce instead!
Easy Instructions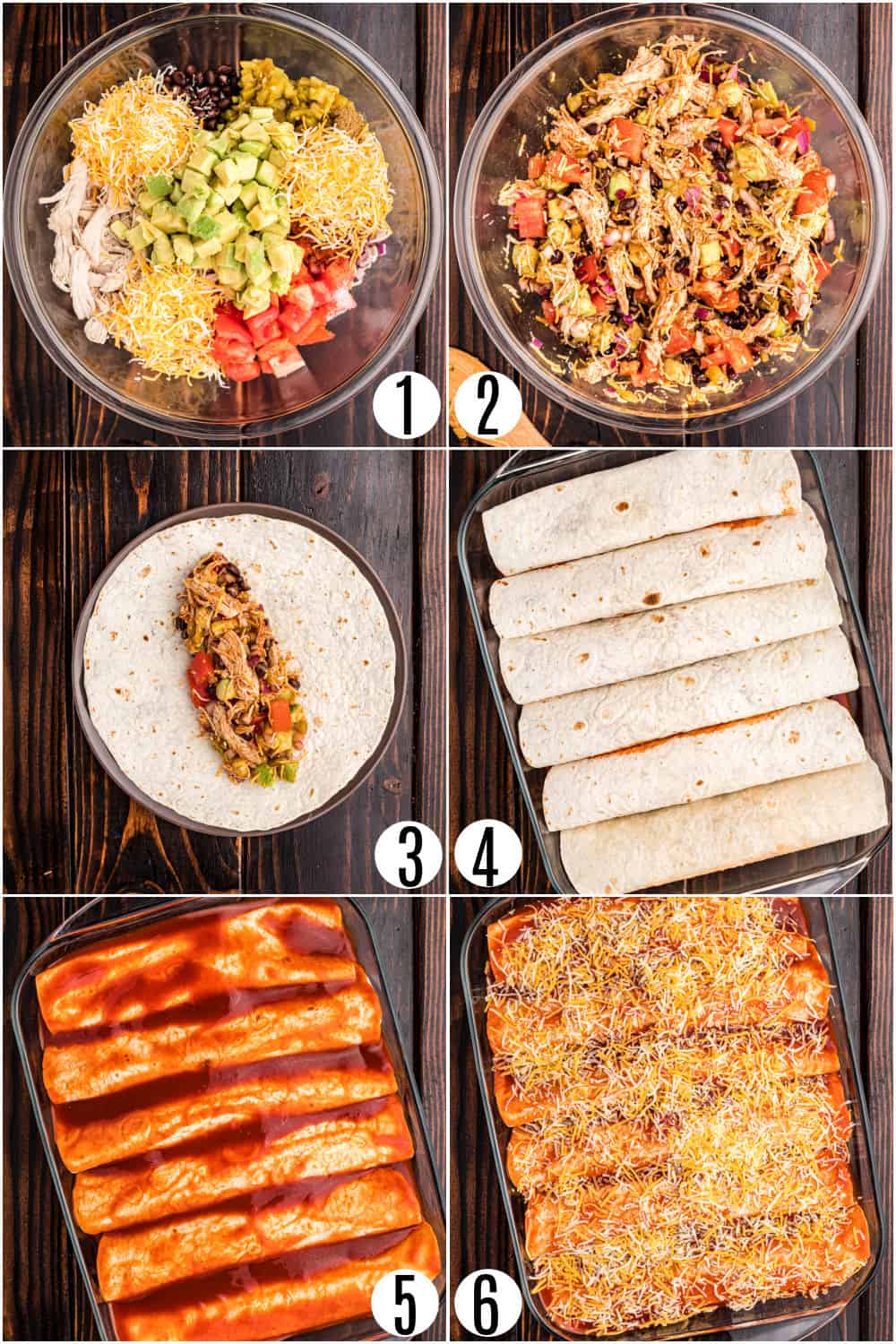 Baking Dish. You can use a 13×9 dish, or two 9-inch baking dishes to make this recipe. One goes into the oven for tonight's dinner and the other gets stashed in the freezer.
Mix the Filling. Start by tossing together the beans, chicken, avocado, chiles, onion and cheese in a large bowl with the spices. Spoon the filling into the tortillas and roll.
Assemble. Pour half the enchilada sauce into the bottom of the baking pan and place the filled tortillas seam side down in to the pan. Pour the rest of the enchilada sauce on top, sprinkle more cheese over everything, then cover the pans with foil.
Bake the enchiladas covered for about 15 minutes then uncovered for another 5 minutes so the cheese gets bubbly and brown! Enjoy plain or top with fresh toppings like diced avocado, tomato, lettuce and salsa.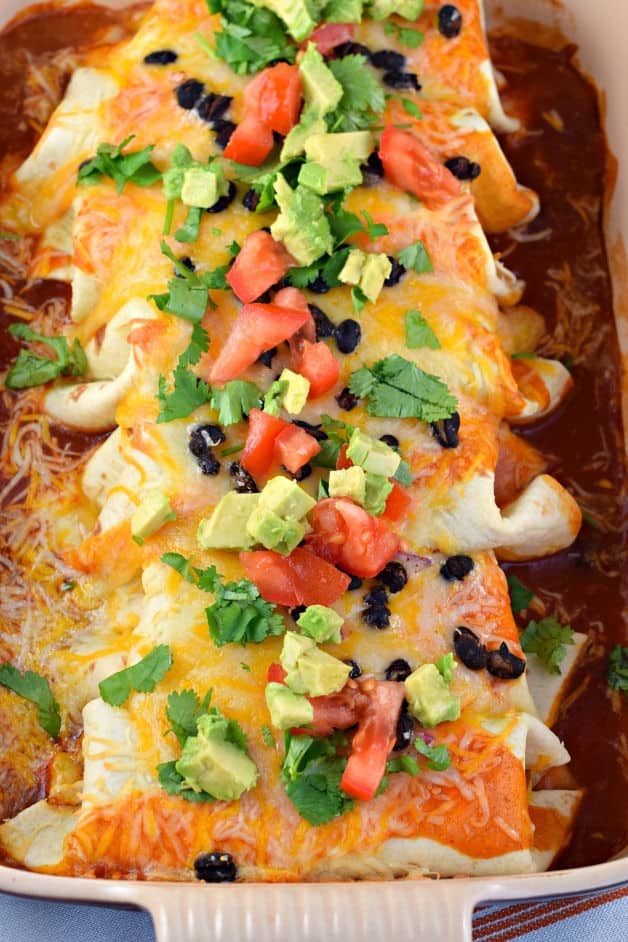 Tips and Tricks
Make ahead: You can assemble the enchiladas in the morning then refrigerate until dinner time.
Freezer meal: Once you've assembled the enchiladas, cover with foil and freeze. The day you're ready to eat the enchiladas, take the pan out of the freezer in the morning to let it thaw. Then cook according to the directions at dinner time.
MEATLESS meal: Leave out the chicken for an easy vegetarian option. It's still fantastic with all the beans and avocado making the enchiladas satisfying and hearty.
More veggies: For even more vegetable goodness, add in any veggies you love. This is great with canned corn, butternut squash, and more!
Recipe FAQs
How long can you store this in the freezer?
I would thaw and heat the freezer enchiladas within one month for best quality.
Can you make this with corn tortillas?
Definitely! Corn tortillas are usually smaller than flour so you'll be able to fit more of them into one pan.
How do you keep the tortillas from breaking?
Flour tortillas hold up better to rolling than corn because they're thicker, but breaking can still happen. When it does, it's often because you're rolling a cold tortillas OR you used too much filling.
To soften tortillas and make them easier to roll, cover with a paper towel and microwave for 5 to 10 seconds.
What side dishes go with enchiladas?
These enchiladas are perfect with a side of cilantro lime rice!
More Easy Recipes