This easy, stove top Chicken Enchilada Mac and Cheese is ready in 30 minutes and packed with flavor! The perfect weeknight dinner recipe that's family-friendly and easy to adapt with pantry-friendly ingredients.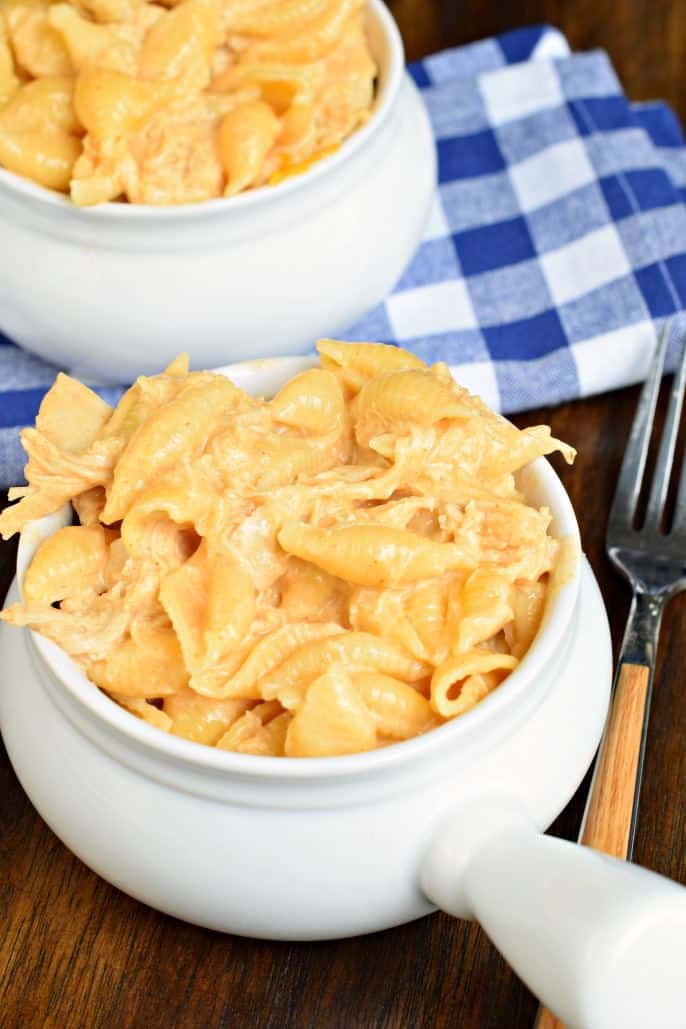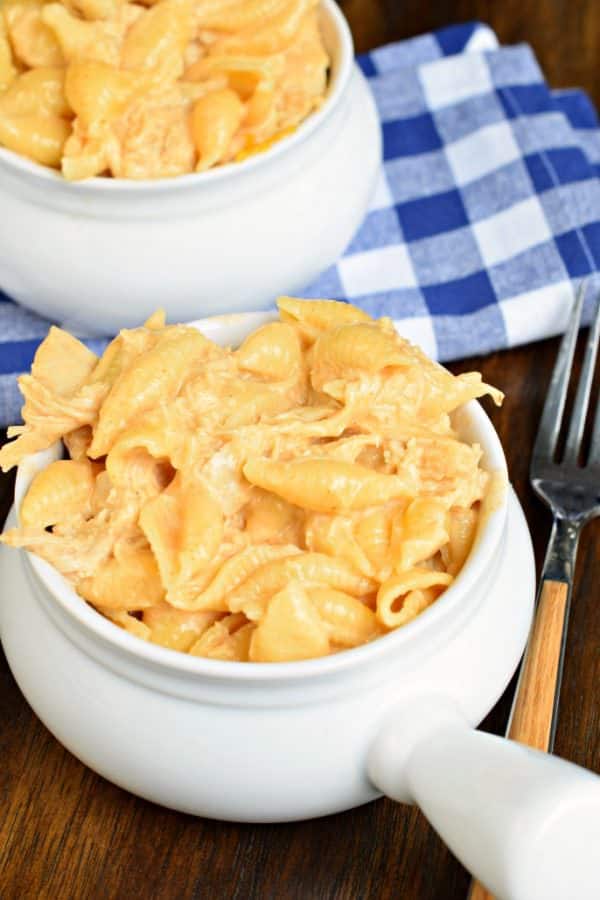 I am all about quick and easy dinner recipes. More often than not I have ideas of making enchiladas, or lasagna, or fish tacos…but then my afternoon gets busy and before I know it my family is hungry for dinner!
Say hello to your new best friend. Easy and versatile, you'll love this Chicken Enchilada Mac and Cheese recipe!
Why this recipe works
From start to finish you can be enjoying dinner in under 30 minutes! Use a rotisserie chicken or leftover cooked chicken from your weekend meal.
While you're making the sauce, you can have your pasta cooking! It comes together so easily.
This Chicken Enchilada Mac and Cheese also works so well because you can truly adapt and adjust it based on what your family likes and what you have on hand.
All you need is a saucepan, a stove and a few ingredients and you're on your way to dinner!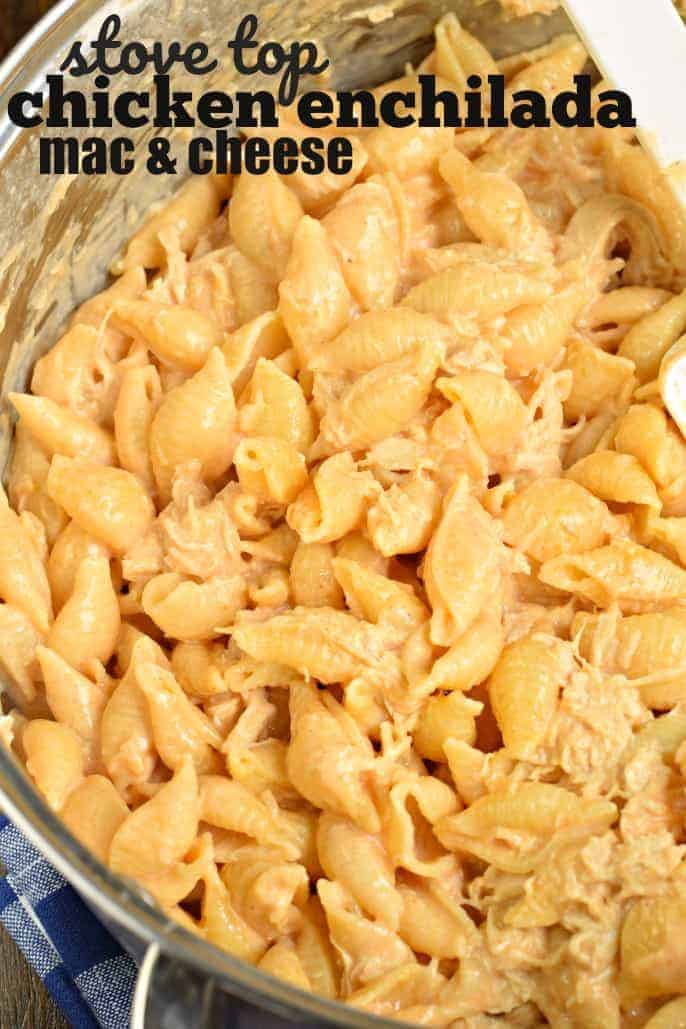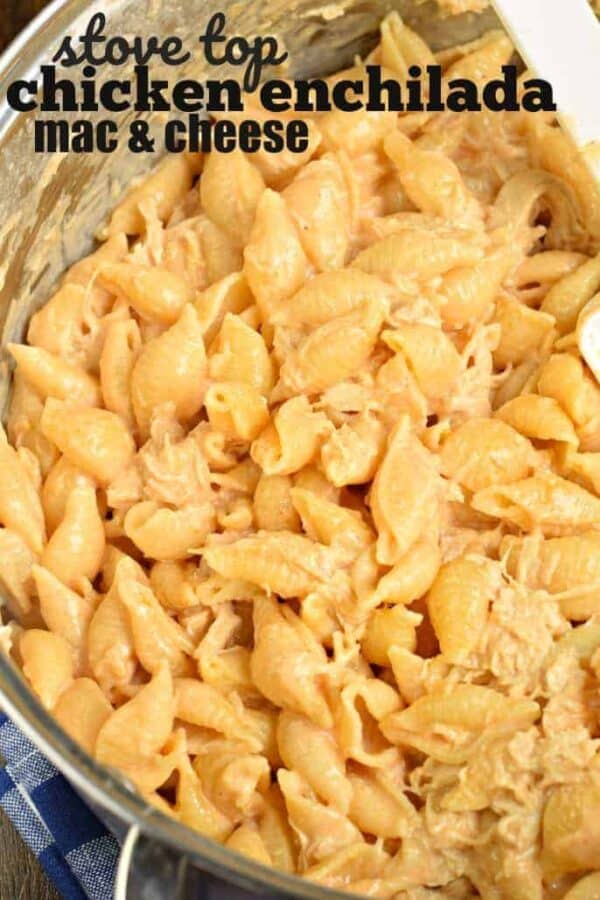 Ingredient Notes
Pasta shells – The shells hold the sauce perfectly in this dish, but seriously, any kind of pasta will work! Elbow noodles, rotini, bowtie. . .you get the point.
Cheese – Colby jack blend is my go-to for this mac and cheese. However, feel free to use your favorite like Sharp Cheddar or a Mexican shredded cheese blend.
Chicken – Cooked chicken can be diced or shredded for this recipe. Use leftover chicken OR make life easier by grabbing a rotisserie chicken from the grocery store on your way home from work.
Red enchilada sauce – I use the stuff straight from the can. Green sauce would make a tasty twist too!
Step by Step Instructions
STEP 1. Cook pasta
Cook and drain according to package directions. I like to get this going while I prepare the sauce.
STEP 2. Make the sauce
Add enchilada sauce, heavy cream and spices to a saucepan on medium heat. Whisk often, heating until the mixture just begins to bubble.
STEP 3. Add cheese
Lower the heat to a slight simmer and mix in the shredded cheese until smooth and melted. Add the cooked chicken and noodles and stir to combine, making sure the chicken is warmed through.
Serve hot!
Recipe FAQ
What do you serve with Chicken Enchilada Mac and Cheese?
We serve ours as a full meal since it has meat in it! Add a big salad on the side and some crunchy french bread, if you like.
Can this be made without meat?
Absolutely. Leave the chicken out for a vegetarian friendly meal. If you have members of your family who are vegetarian and others who are meat eaters, like my family does, serve the meatless version first, then mix the cooked chicken into the pot.
How do you store this?
Keep any leftovers in the fridge in a covered container. It'll stay good for about 2 days–leftovers are good reheated for lunch the next day!
Easy, delicious AND kid approved? Chicken Enchilada Mac and Cheese does it all! Add this to your dinner menu this week!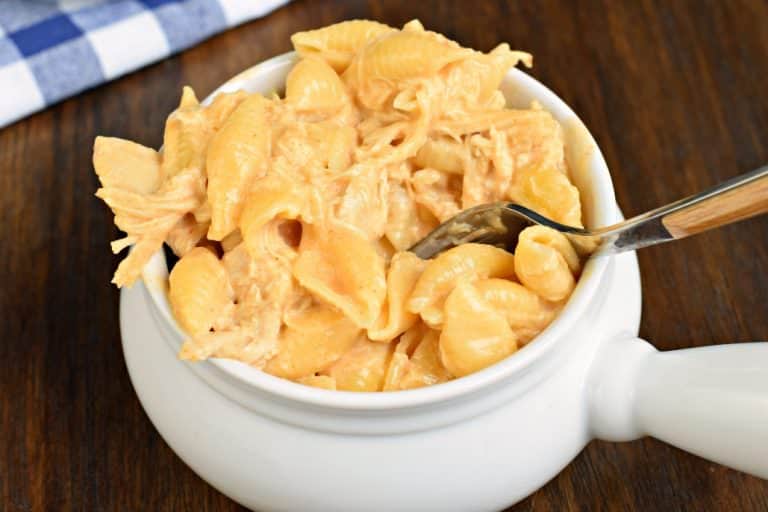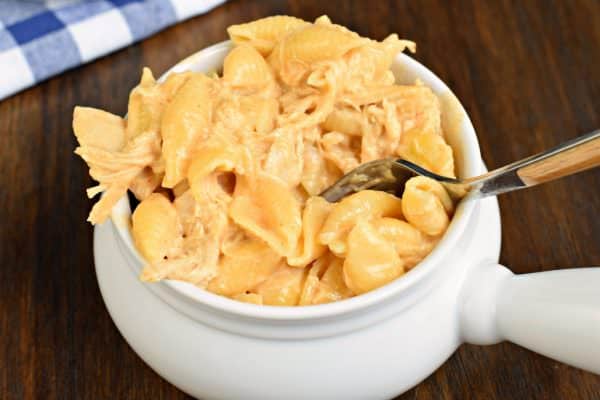 More Chicken Dinners