Fish Tacos with Avocado Sauce
I wanted to be sure you all had this recipe before Thursday. Cinco de Mayo! We had this for dinner last night, celebrated a bit early, as Thursdays are usually the one night we don't sit down as a family. With four children in sports, I'm amazed that we are able to sit down the other days…but in our house it's a priority. So, sometimes we eat at 7pm, and sometimes we eat at 4:30pm!
I've never had authentic fish tacos. I've never even ordered a fish taco from a restaurant. I think up until a few years ago, the thought outright disgusted me! I love tacos, with beef or chicken. But fish?
Then my brother moved to California and for a long time all he talked about was how good the fish tacos are out there. So, I made them. I've made quite a few variations, but this is by far my favorite! It makes about 15 large tacos too, which in my family is important. Especially since there is usually an extra body at the table (friends of my kids).
So if you've never had a fish taco, try it. Trust me. Oh, and the avocado sauce? It's a must! My husband doesn't like avocados so he puts salsa on his, but this sauce completes the taco. He doesn't understand food. He eats to live, I live to eat. That's why we love eachother, we are a pair.
Fish Tacos with Avocado Sauce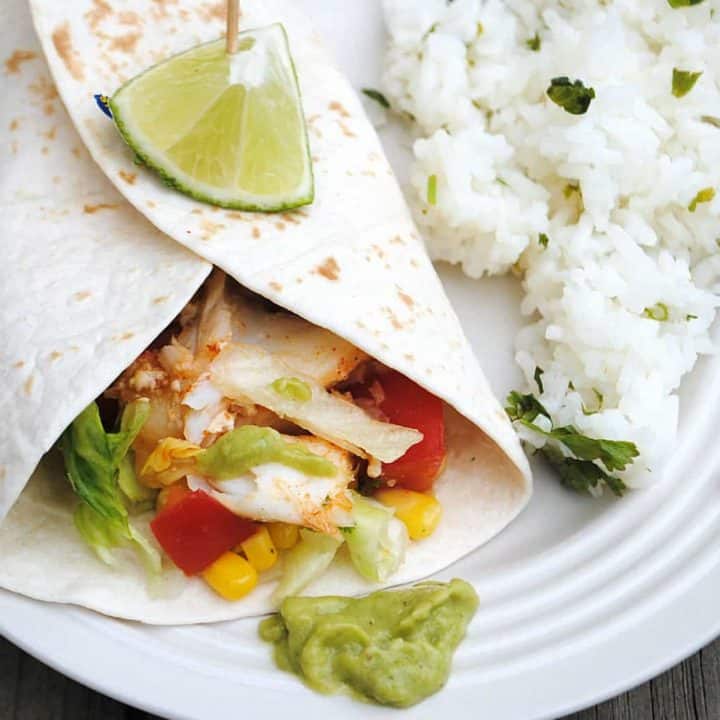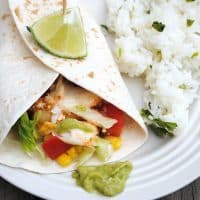 Ingredients
6 fresh cod fillets (about 4-6 oz each)- tilapia would be great too, the cod was on sale
8 Tbsp olive oil (divided)
1 Tbsp chili powder
½ tsp salt
2 limes, zested and juiced (divided)
½yellow onion, medium, diced
4 cloves garlic, pressed
1 jalapeno pepper, seeded and diced
16 oz bag frozen corn
½ cup chicken stock
¼ head of iceburg lettuce
½ cup cilantro (divided)
2 roma tomatoes, diced
2 avocados
1 Tbsp red wine vinegar
2 Tbsp plain greek yogurt
salt and pepper
3 drops tabasco sauce
15 6-inch flour tortillas (warmed, in microwave)
Instructions
In ziploc bag, mix 4 Tbsp olive oil with chili powder, juice of one lime, a pinch of salt and the fish. Let marinate while you heat the skillet and start cooking!
Heat skillet (12 inch) with 2 Tbsp olive oil. Add onion, garlic and jalapeno. Saute and cook about 3 minutes. Add chicken stock and frozen corn, continue to cook on medium for another 5 minutes.
While corn mixture is cooking, shred lettuce and place in large bowl with ¼ cup of cilantro, snipped. Pour heated corn mixture over lettuce, and allow to wilt while cooking fish.
Using same skillet, add 2 Tbsp olive oil and heat over medium high heat. Add fish to skillet and cook on each side about 5 minutes, until cooked thoroughly. Flake fish into large chunks and add to corn and lettuce mixture. Add diced tomatoes on top.
While fish was cooking, mix up avocado sauce. Cut and pit both avocados, placing flesh into a bowl, Add zest of 2 limes and the juice of one lime. Mash avocado until near creamy, mix in yogurt, red wine vinegar, and salt and pepper. Add tabasco sauce. You can add more of that if you like a little kick.
To serve, place large scoop of fish mixture onto warmed tortilla. Top with avocado sauce and garnished with remaining cilantro. Enjoy! I like to pair this with my Cilantro Rice (you can even put that on the tortilla too).