The best Fish Tacos made even tastier with the addition of creamy avocado sauce. Shake things up at your next Taco Tuesday night by surprising everyone with these delicious tacos made with fresh cod.
If you love putting food on tortillas, try this delicious Carne Asada. Paired with cilantro lime rice, dinner never tasted better!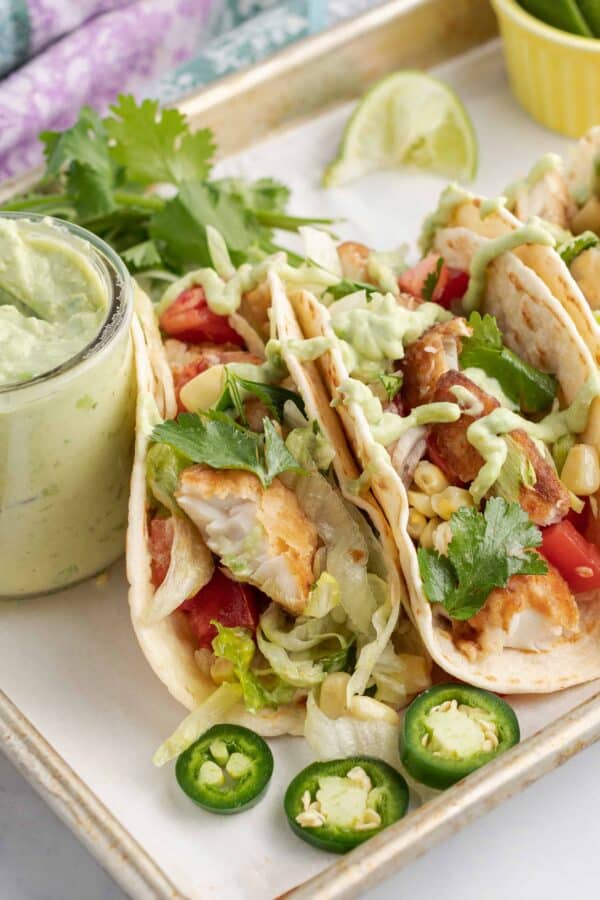 Why this Recipe Works
The easy chili lime marinade adds so much flavor and zest to the fish. It also marinates in just a few minutes while you cook the other ingredients, so you don't have to plan ahead.
(I ALWAYS forget to plan ahead when I want to make a recipe that requires marinating something for a long time! Anyone else?)
It makes about 12 large tacos too, which in my family is important. There are quite a few of us and we all know how to eat.
Add in an extra body or two at the table (my kids are forever having friends over to dinner) and recipes that make a LOT of food are necessary.
Every time I've made these tacos, they've received rave reviews from everyone, even the kids who aren't usually super into seafood.
So if you've never had a fish taco, try it. Trust me.
Oh, and the avocado sauce? It's a must! This is one of my favorite Cinco de Mayo recipes!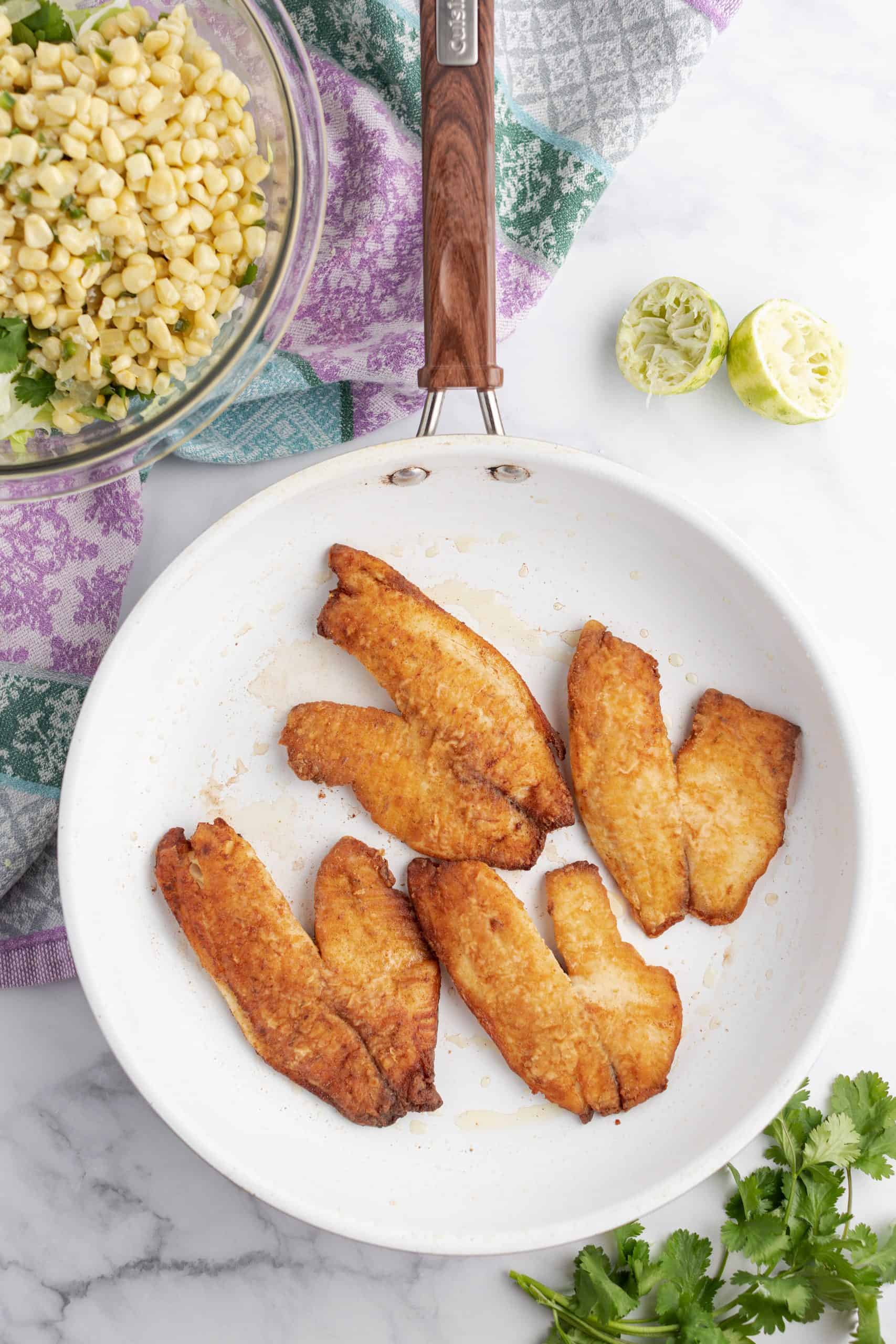 How to Make Fish Tacos
Marinate the fish. In a ziploc bag, mix olive oil with chili powder, juice of one lime, a pinch of salt and the fish. Let the fish marinate while you heat the skillet and start cooking!
Prepare the other ingredients.
Heat a 12-inch skillet over medium heat and add olive oil. Add onion, garlic and jalapeno. Saute and cook about 3 minutes.
Add chicken stock and frozen corn, continue to cook on medium for another 5 minutes.
While corn mixture is cooking, shred lettuce and place in large bowl with ¼ cup of cilantro, snipped. Pour heated corn mixture over lettuce, and allow it to wilt while you cook the fish.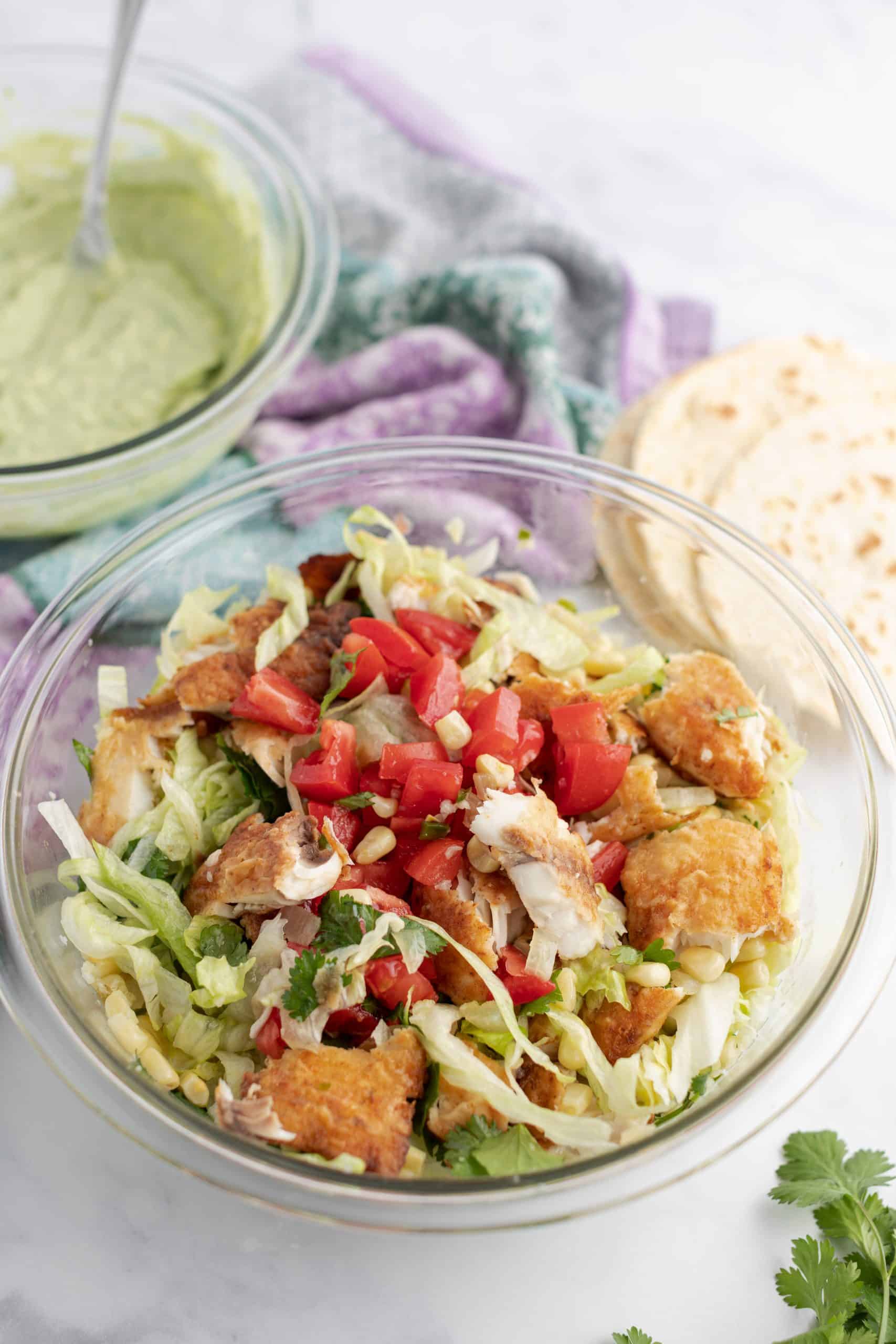 Cook the fish. Using the same skillet, add more olive oil and heat over medium high heat. Add fish to skillet and cook on each side about 5 minutes, until cooked thoroughly.
Flake fish into large chunks and add to corn and lettuce mixture. Add diced tomatoes on top and prepare the avocado sauce (see below).
Assemble the tacos.
Heat flour tortillas in the microwave for 20 – 30 seconds until slightly warm. Place a large scoop of fish mixture onto warmed tortilla. Top with avocado sauce and garnished with remaining cilantro. Enjoy!
I like to pair this with my Cilantro Rice either on the side or sometimes added right into the tortilla!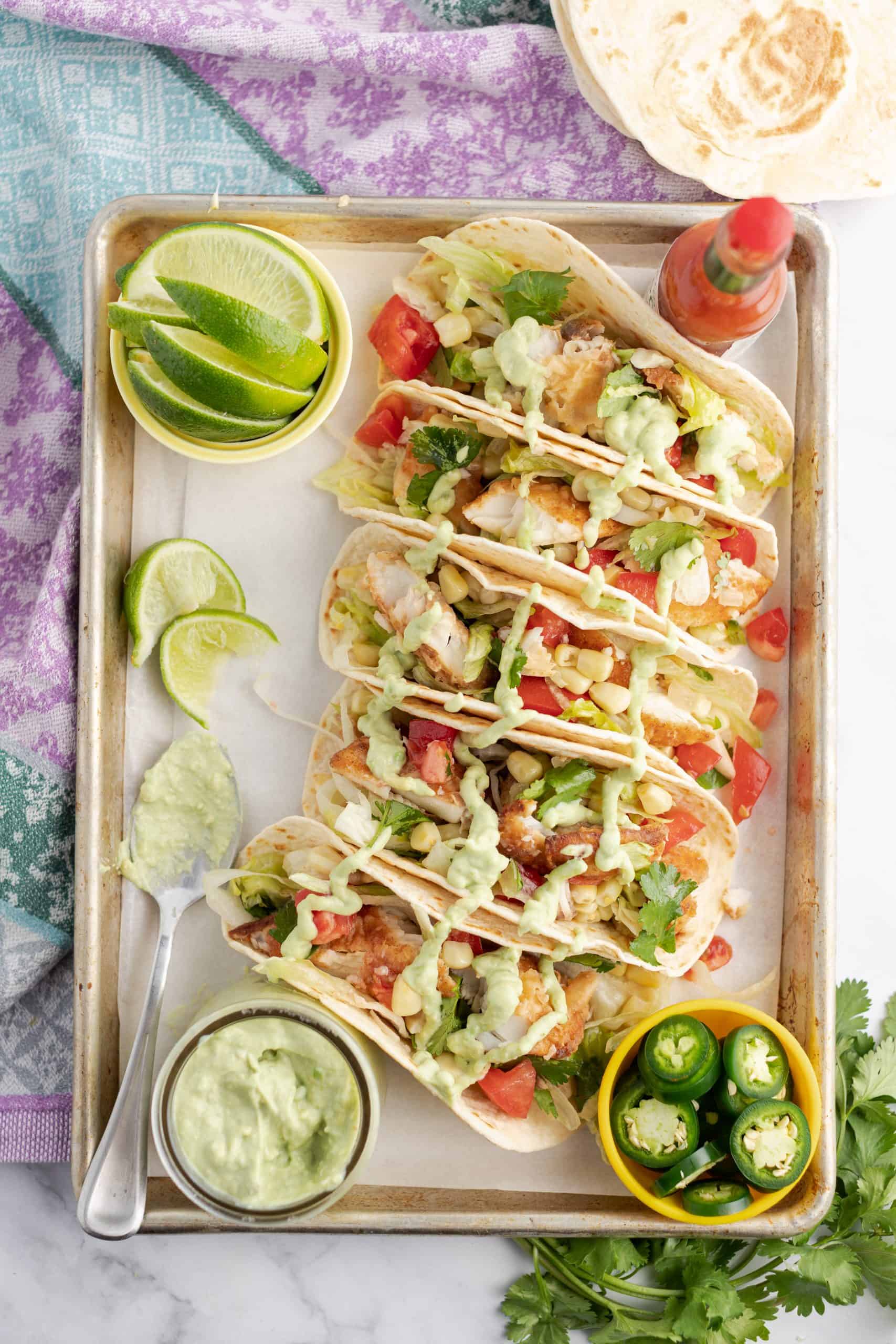 Fish Taco Sauce
I think the avocado sauce is non-negotiable on these tacos but word on the street is not everyone is wild about avocados.
If someone in your house doesn't like them, they can substitute the sauce for whatever kind of salsa they prefer.
My husband doesn't like avocados so he puts salsa verde on his and says it's good. (He doesn't understand food. He eats to live, I live to eat. That's why we love each other; we are a pair.)
STEP 1. Cut and pit both avocados, placing flesh into a bowl.
STEP 2. Add zest of 2 limes and the juice of one lime. Mash avocado until near creamy.
STEP 3. Mix in yogurt, red wine vinegar, and salt and pepper. Add tabasco sauce.
For a spicier sauce, add a bit more Tabasco sauce until you find the heat level you like. I love the kick the hot sauce gives these tacos!
You should also be sure to use plain, unsweetened Greek yogurt in this fish taco sauce recipe! Sugared or flavored yogurt will be no bueno here.
Store any leftover sauce tightly covered in the refrigerator. It'll keep for a couple of days. Everyone (except my husband) liked the avocado sauce so much that we rarely end up with leftovers!
You could also swap out the avocado sauce and just top them with pico de gallo and guacamole!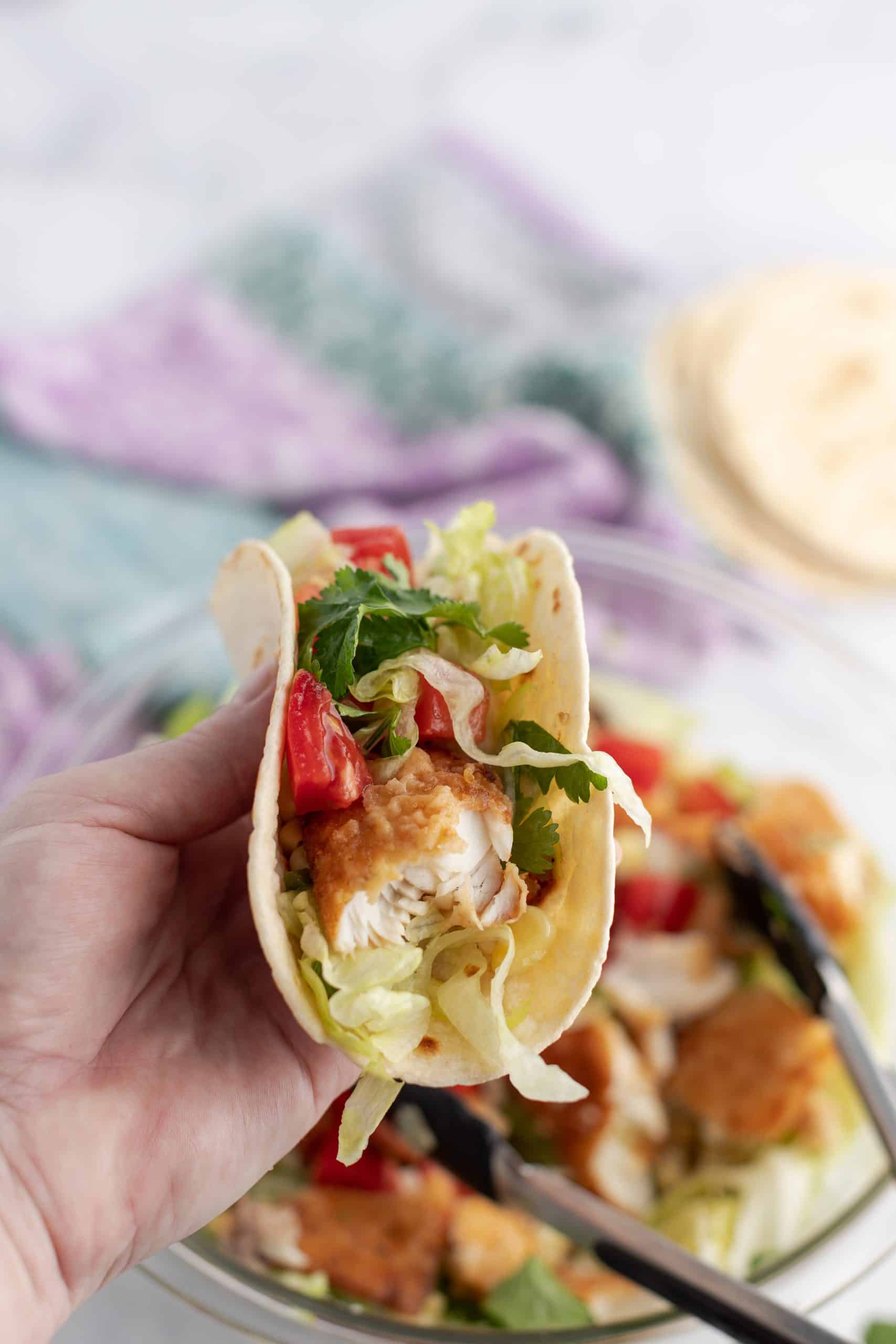 What kind of fish should you use?
These fish tacos are made with fresh cod fillets.
I typically use about 6 fillets that weight 4 to 6 ounces each. Make sure to use the freshest fish possible!
Serving Suggestions
Lettuce
Tomato
Shredded cheese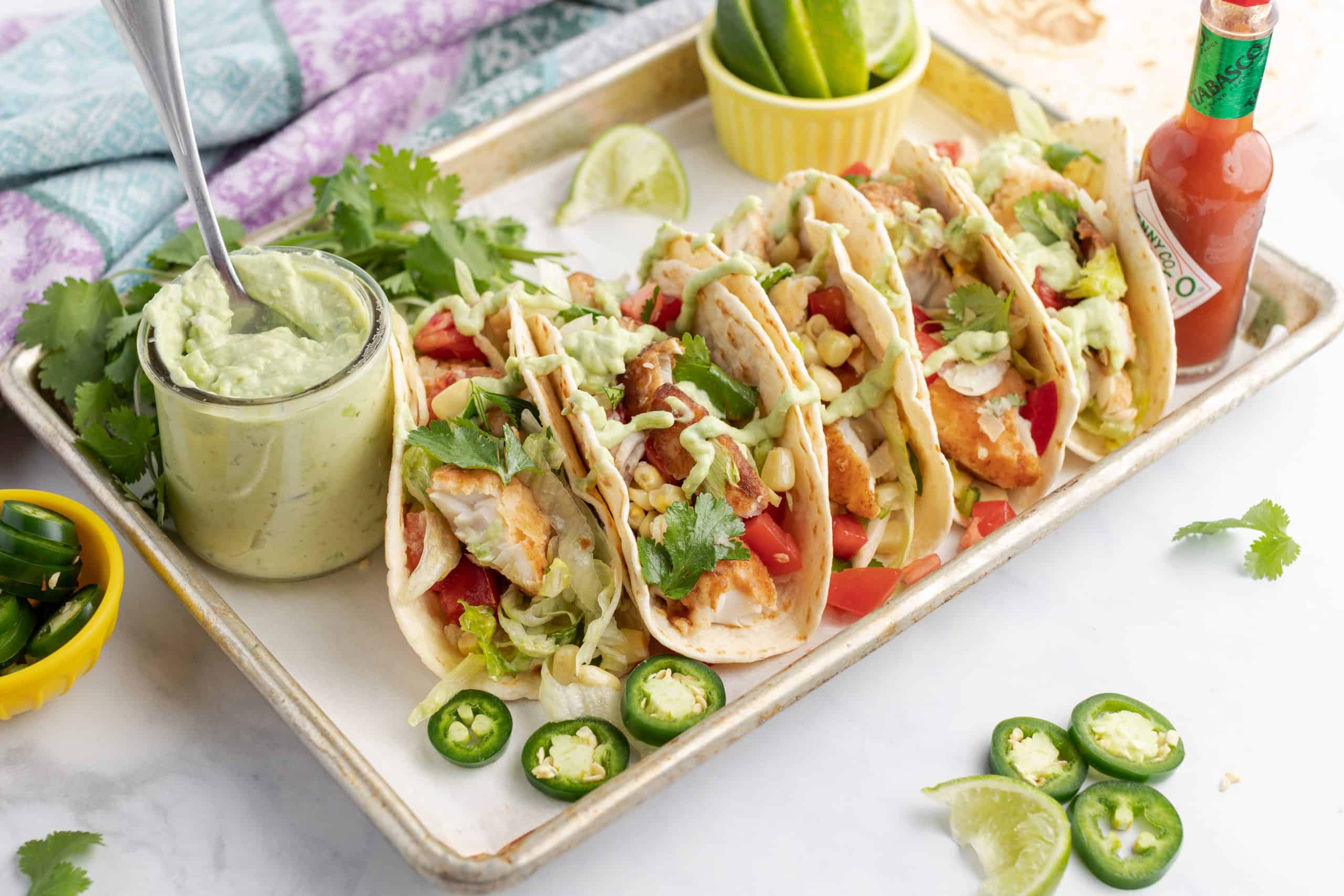 Flavorful marinated fish, plus corn, fresh lettuce and tomato, topped with creamy avocado sauce makes for one tasty taco! This is a great way to change up taco nights.