Tender, flavorful Instant Pot Mississippi Pot Roast is perfect for weeknight dinners or family gatherings. You'll love the simple, easy, dump and go Instant Pot recipe!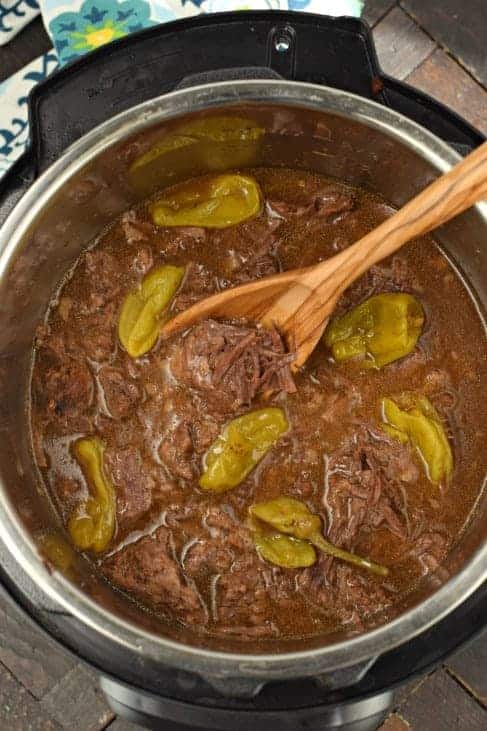 One of my goals here at Shugary Sweets is to help you enjoy dinner with your family by providing easy, no fuss meals.
While we can all agree, 3 course meals with all the bells and whistles can be delicious, in my family that's just not practical.
One of the reasons I love using my Instant Pot for dinner recipes is it allows me to continue cooking flavorful dishes in a fraction of the time.
You may have seen this pot roast recipe all over Facebook or Pinterest, but what exactly is a Mississippi Pot Roast?
This fork tender roast is juicy and buttery with tons of flavor (thanks to the au jus and ranch packets). Add a little spice (not heat) with the pepperoncini peppers.
What you'll need for Instant Pot Mississippi Pot Roast
Chuck Roast. Much like a traditional pot roast recipe, you'll want to choose a well marbled chuck roast. The chuck roast comes from the shoulder of the cow.
Find a chuck roast with many thin strands of white (connective tissue). These will melt away while your roast cooks, creating a tender cut of meat.
I use a 3-4 lb roast for a single recipe. Cut it into large chunks so that it will fit well in the bottom of the Instant Pot.
Seasoning. One dry packet of ranch seasoning and one dry packet of au jus provide the perfect pairing of seasonings to today's Mississippi Roast recipe.
Pepperoncini Peppers. These are the star of the show. Use either whole or sliced pepperoncinis to flavor the meat. While they have a little spice to them, it's mild not hot.
If you want to add even MORE flavor swap out some of the beef broth for extra liquid from the pepper jar.
Extras. You'll also need olive oil (to saute the beef), beef broth, and butter. This dish can get a little salty, so try to choose low sodium beef broth and unsalted butter. You can always add a little salt to the dish after tasting it!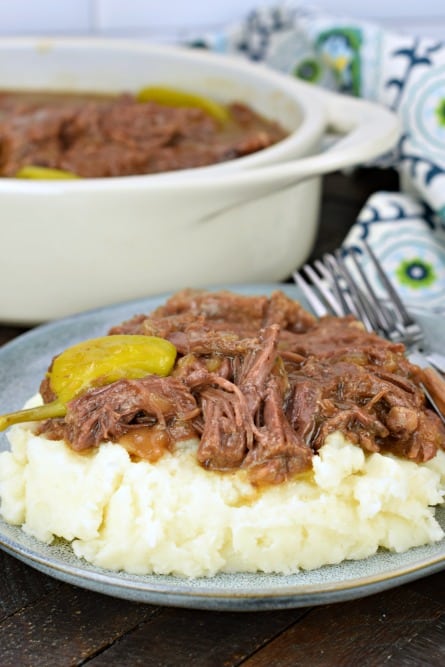 How to Make Instant Pot Mississippi Pot Roast
STEP 1. Sear the Beef.
Plug in pressure cooker and select "SAUTE." Add olive oil to the bottom of the pot. Add the chunks of chuck roast and saute 5 minutes on each side.
I don't add extra salt to the roast while searing, but I do sometimes sprinkle a little cracked black pepper on the meat.
When all pieces of chuck roast have been browned, remove and set aside.
STEP 2. Deglaze the pot.
While on saute, add in beef broth to the pressure cooker. Using a wooden spoon, scrape up as much of the browned bits off the bottom of the pan.
To avoid the dreaded "BURN" notice, deglazing the pot is an important step!
Once deglazed, hit the cancel button and add the au just packet, ranch packet, liquid from the pepperonicini pepper jar, the peppers, and butter. Give a quick stir, then return the roast back to the Instant Pot.
STEP 3. Pressure Cook.
Lock the lid in place and select "HIGH PRESSURE" for a cook time of 50 minutes. If your roast is closer to 4- 4 1/2 lbs, add an additional 10-15 minutes of cook time.
When cook time ends, allow pressure to NATURALLY RELEASE. This means you leave it alone until the silver valve drops. This will usually take about 20 minutes.
Allowing the roast to naturally release pressure helps keep your beef moist and tender and prevents it from drying out.
STEP 4. Thicken the Gravy (optional) and Shred the Beef
Depending on how you like your gravy, you can choose to thicken it in minutes.
First, remove the beef from the Instant Pot after it has naturally released pressure. Place on a cutting board and shred beef into desired size pieces.
While the beef is out of the pot you can make the gravy thicker.
In a small bowl, whisk together 1/4 cup cornstarch with about 1/4 cup of the hot liquid from the sauce.
Turn the Instant Pot on "SAUTE" and allow it to cook and bubble for about 1-2 minutes, until thickened.
Return the beef to the hot liquid and enjoy.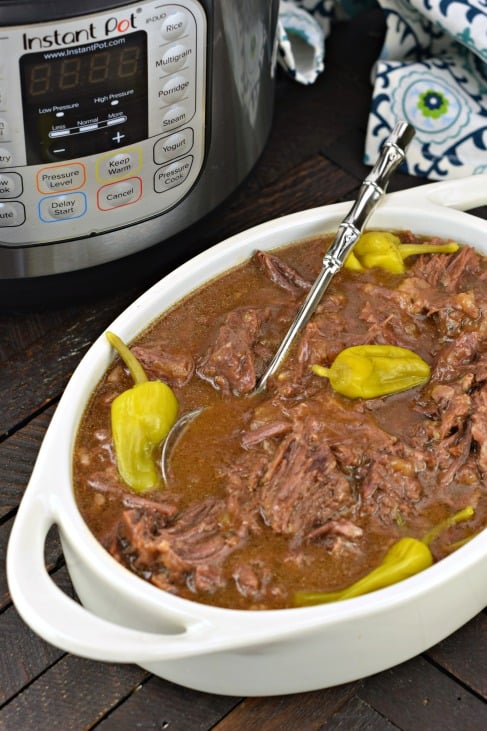 How to Serve Mississippi Pot Roast
This Instant Pot Roast recipe is naturally low carb and delicious served up on a plate, as is.
To keep it low carb, you could serve it with cauliflower rice or mashed cauliflower.
Use this homemade dry ranch dressing mix too!
The traditional way to serve this dish according to Robin Chapman, the original creator of Mississippi Pot Roast, is to put the meat on sandwiches.
My family, however, loves this dish served over Mashed Potatoes!
Here are a few of our favorite side dishes to enjoy with Mississippi Pot Roast
How to Store Leftovers
Let's assume first of all the you even have leftovers! Mississippi Pot Roast is the perfect pot luck and family dinner. It's easy, yet everyone loves it and it can serve a crowd too!
If you have leftovers, allow to cool in Instant Pot (or serving dish). Refrigerate for up to 4 days (reheating leftovers as needed in microwave or on stove top).
You can freeze leftovers by placing in a ziploc freezer bag or freezer friendly container for up to 3 months. Thaw in refrigerator overnight and reheat to serve.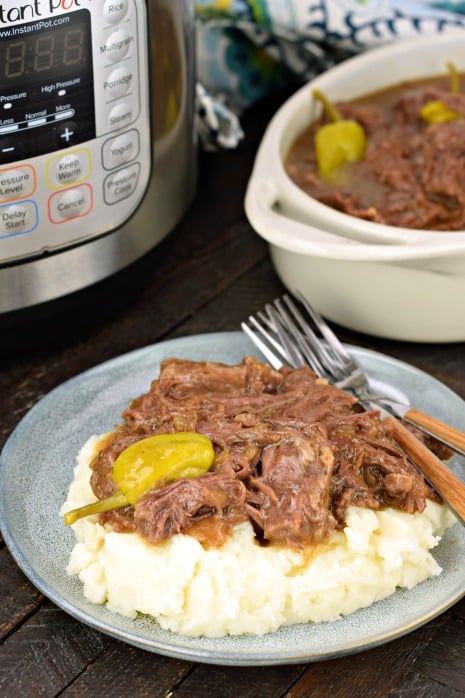 More Instant Pot Recipes
Tender, flavorful Mississippi Pot Roast is perfect for weeknight dinners or family gatherings. You'll love the simple, easy, dump and go Instant Pot recipe!