Learn how to make perfect Shredded Chicken every time using your Instant Pot! This tender chicken recipe is endlessly versatile, and delicious in everything from tacos to salads to soups.
If you love fork tender meat, be sure to try my shredded beef in the Instant Pot as well as my shredded pork recipe!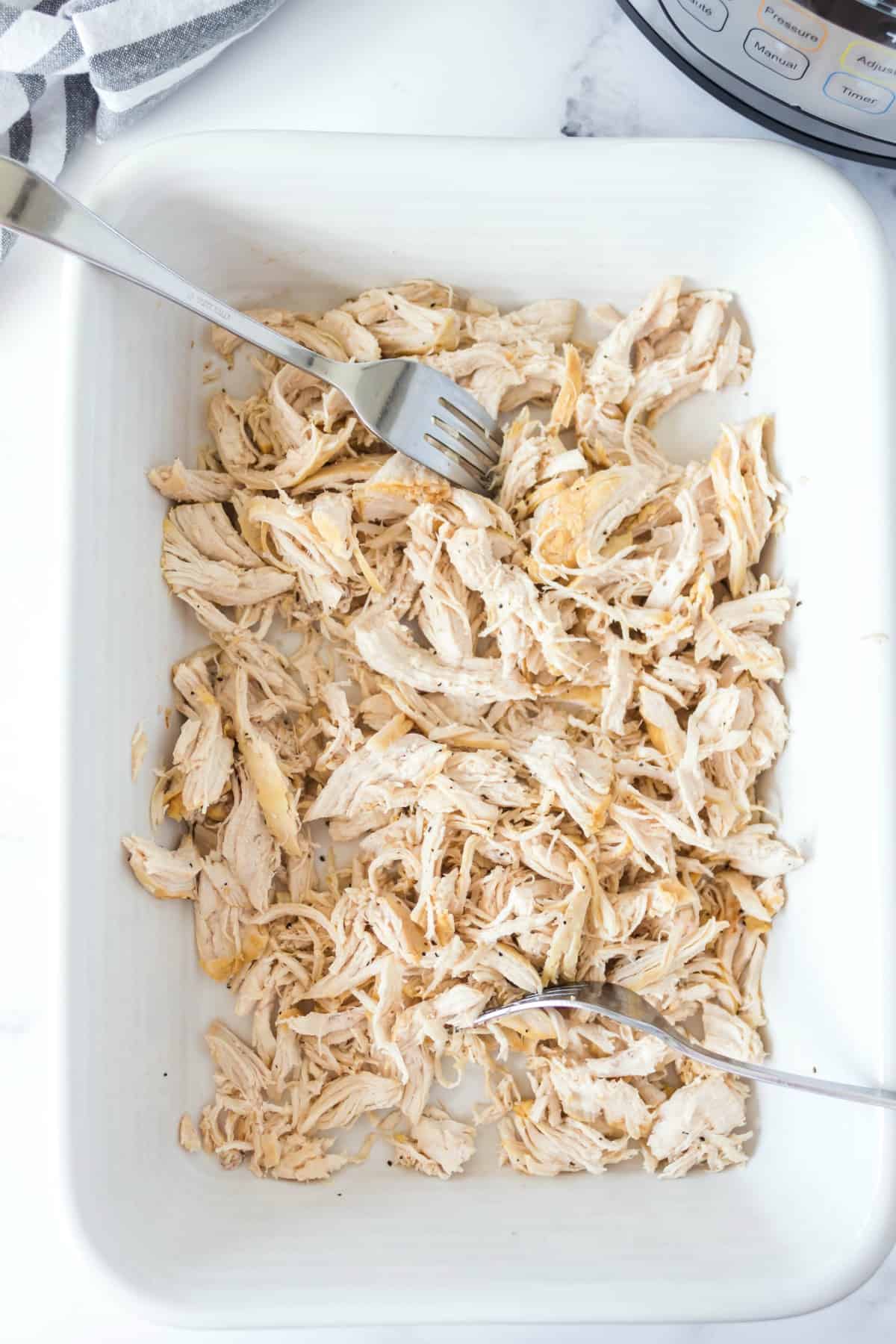 Perfect Shredded Chicken
Juicy, tender chicken that shreds easily at the touch of the fork is the key ingredient for dozens of my favorite easy weeknight dinners. We love it piled high in Chicken Tostadas and simmered in this Slow Cooker Chicken Enchilada Soup.
Often times, though, I'd find myself just wanting some already cooked shredded chicken to throw in a bowl of fried rice, wrap in a tortilla or mix into a chicken noodle soup.
I mixed up some seasonings and put the Instant Pot to work!
This chicken came out splendidly. Pressure cooked with a bit of sauce and some seasoning this chicken tastes good on its own but has a mild enough flavor that you can add it to just about everything!
You'll love all my instant pot recipes, but today's can be useful in a variety of ways!
Perfect in crack chicken and chicken tetrazzini!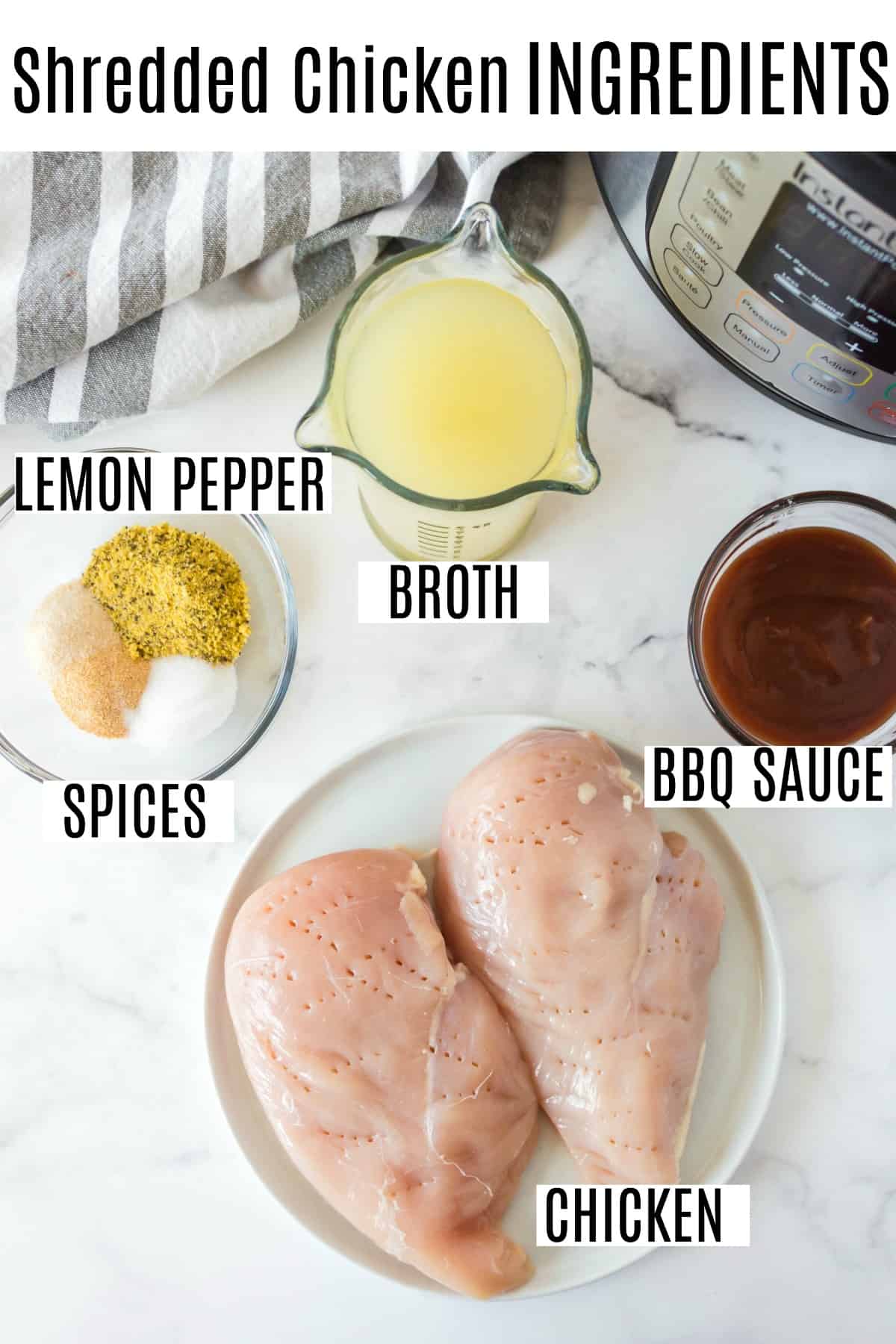 Ingredient Notes
Chicken – Use boneless, skinless chicken breasts in this Instant Pot recipe. You'll need 1 lb of chicken (about 2 breasts). You can easily add more if needed!
Chicken broth – Water can be substituted, but I would recommend adding a bit more salt to the recipe if you don't use broth. For a sweeter tasting shredded chicken, swap the broth for pineapple juice!
BBQ sauce – The recipe only uses half a cup of sauce, so it won't dominate the flavor of the chicken. Use any bottled BBQ sauce your family enjoys.
Seasonings – I used lemon pepper, garlic powder and onion powder.
Step by Step Instructions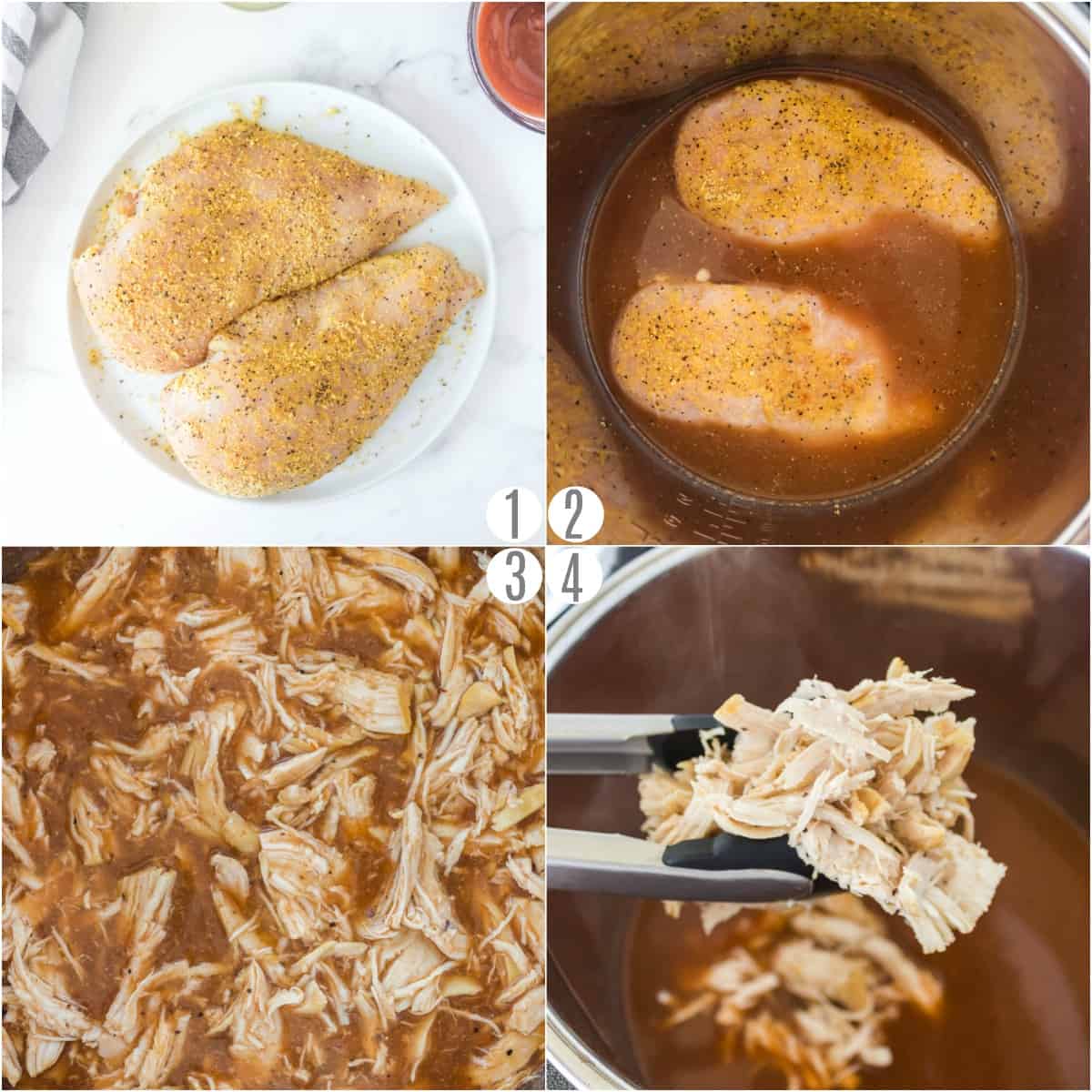 STEP 1. Tenderize the chicken
Pat the chicken dry with a clean towel or paper towel. Pierce each chicken breast with a fork a few times on each side.
STEP 2. Season
Combine the seasonings in a small bowl. Coat the chicken with the mixture and set asde.
STEP 3. Pressure cook
Add the broth and sauce to the Instant Pot, followed by the chicken. Seal the valve and set the pot for a cook time of 11 minutes on high.
STEP 4. Shred and serve
When the cook time ends, let the pressure release naturally for 10 minutes, then move the valve to venting to release the remaining pressure.
Carefully remove the lid and transfer the chicken breast to a bowl. Discard juices and use two forks to shred the chicken. It should come apart easily! Serve hot.
PRO TIP: No Instant Pot? Add all the ingredients to your slow cooker and cook on low heat for 6 hours. Shred and enjoy!
How to use shredded chicken
How CAN'T you use shredded chicken? Okay, I wouldn't recommend putting it in cupcakes, but aside from that there are so many delicious and easy ways to enjoy this chicken.
Try it in . . .
Just to name a few.
For an easy BBQ chicken sandwich, toss the shredded chicken with a little more BBQ sauce and pile on to dinner rolls with all your favorite sandwich toppings!
Make an instant taco salad by adding this chicken to a bowl with mixed greens, tortilla chips, salsa and some shredded cheese.
Stir into a pot of vegetable soup to turn a side dish into a full meal!
The options are endless.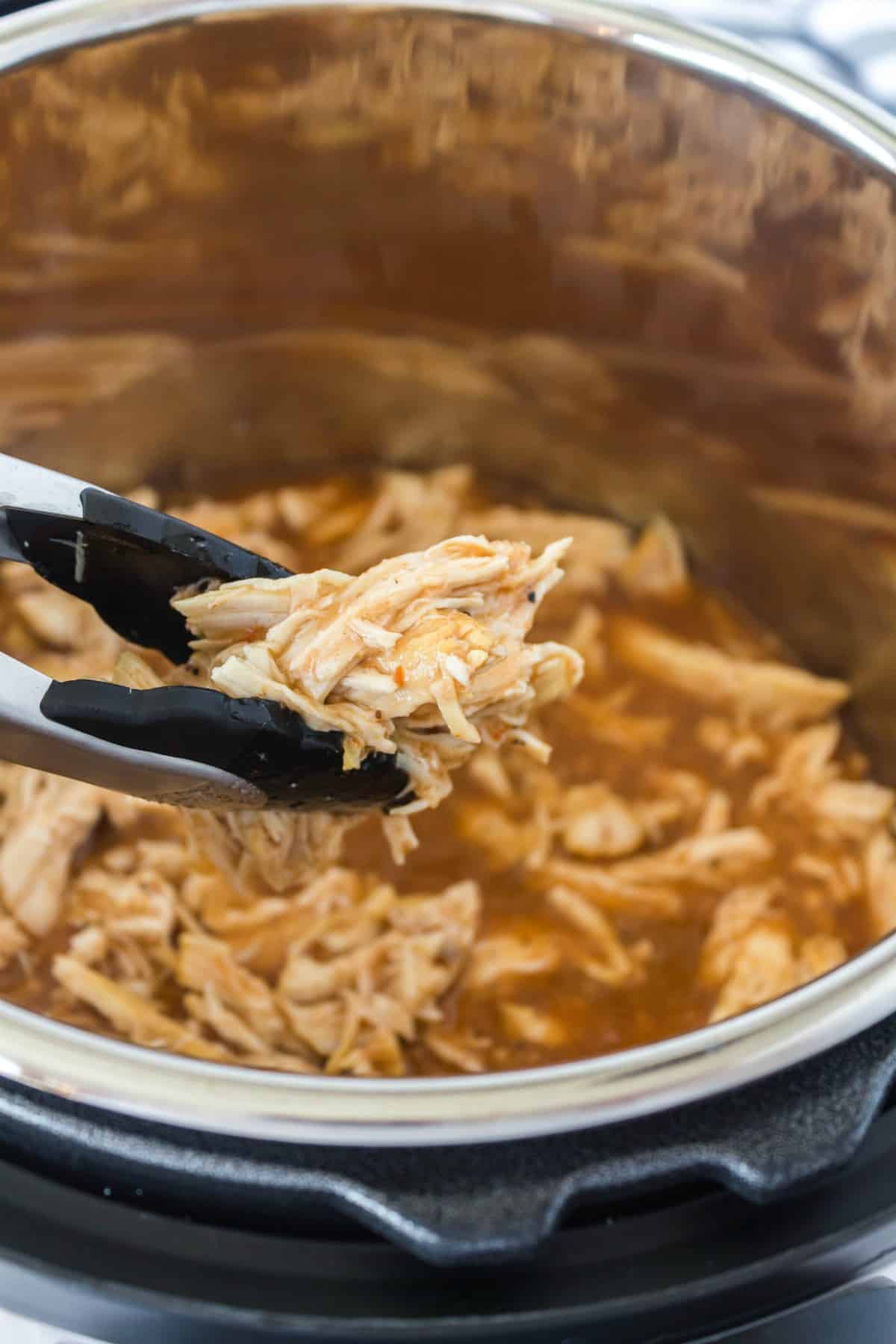 Tips and Tricks
Make this into Mexican Shredded Chicken by adding some taco seasoning before serving.
If using pineapple juice instead of broth, you can omit the BBQ sauce entirely, particularly if you don't want the chicken to have as much sweetness.
Store cooked shredded chicken in a tightly sealed container in the fridge and enjoy within 3 days.
Recipe FAQs
Can I use frozen chicken breasts?
Yes, but it will take longer to cook and you may need to add extra time to the pressure cooker.
Can I use water instead of chicken broth?
You can sub water, but may want to add a bit of salt to the recipe along with the other seasonings, since store bough broth has a lot of added sodium.
Does this taste like BBQ chicken?
No, the BBQ sauce and seasonings tenderize the chicken while adding flavor but it doesn't come out tasting like barbecue on its own. You can add more BBQ sauce to the chicken if you want a true BBQ shredded chicken.
What can I make with shredded chicken?
This is amazing in tacos, enchiladas, fried rice, BBQ pizza and chicken noodle soup, to name a few dishes.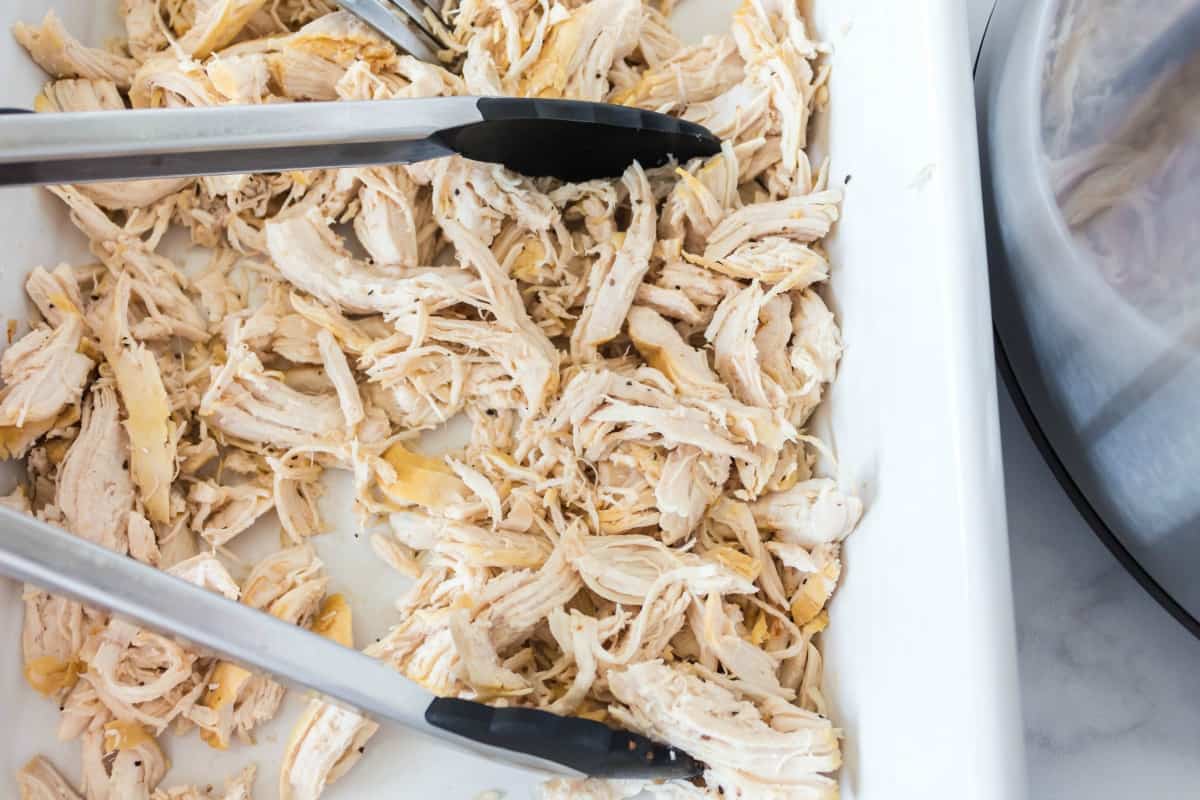 More Easy Weeknight Meals
Lightly seasoned, juicy shredded chicken is SO easy when you use the Instant Pot. How will YOU use this Instant Pot Shredded Chicken?