These delicious Buffalo Chicken Tacos are a cinch to put together! Cook up some shredded chicken in your slow cooker tonight, then whip up some of my homemade bleu cheese dressing!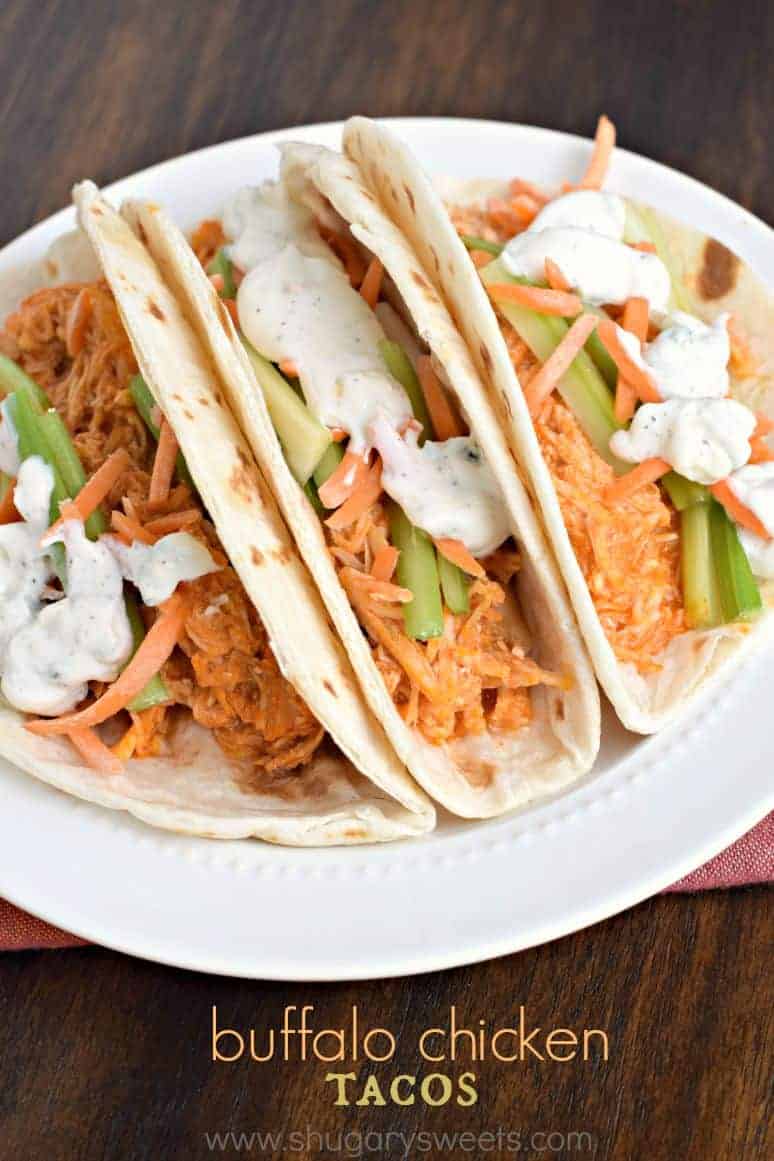 This Buffalo Chicken recipe is fun twist on a game day classic!
It's no secret that I love using my crockpot to make dinner. It doesn't matter the time of year. In winter I make tons of soups and stews in my slow cooker and in summer I'm all about the shredded chicken and pulled pork.
With so many ways to serve shredded chicken, we never get tired of eating it!
Tossing it with Buffalo sauce and scooping it into tortillas turns ordinary chicken into an exciting meal!
Buffalo Chicken
Most of you have eaten Buffalo Wings and Buffalo Chicken Sandwiches. Have you ever thought to put that delicious buffalo chicken into a taco?
The tangy, spicy Buffalo flavor works wonderfully in so many kinds of recipes, from Buffalo Chicken Dip to pasta. I'm happy to report that Buffalo Chicken Tacos are no exception!
With a little shredded celery and an easy homemade bleu cheese dressing, these spicy chicken tacos had everyone asking for seconds. Oh–and this Buffalo chicken recipe is ultra easy!
If you know how to make shredded chicken, you can make these tacos. And if you DON'T know how to make shredded chicken, I'm going to teach you!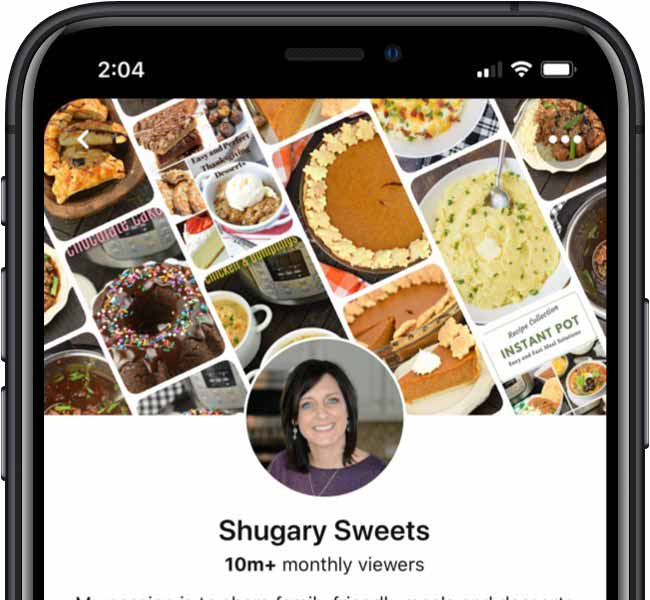 How to Make Shredded Chicken
For this recipe, I used my beloved slow cooker method for cooking the meat.
First, grab a few boneless skinless chicken breasts and stick it into your slow cooker. Put the lid on, set the cooker to "low" and let the chicken cook for 6 hours.
Then, it's time to shred the chicken!
Last year I learned a little trick about shredding chicken: After cooking it all day in the slow cooker until it's super moist and tender, you can toss it into your electric mixer with the paddle attachment for a minute or two.
Within a minute, you have perfectly shredded chicken! It's that easy.
Buffalo Chicken Tacos
For this recipe, I put my shredded chicken back in the crock pot and tossed it with a bottle of Sweet Baby Ray's Buffalo Wing sauce. You could certainly substitute a homemade Buffalo sauce you like; I just happen to enjoy the convenience of bottled sauce.
Let everything heat up for another 15 minutes or so and you're ready to assemble your tacos.
Heat the flour tortillas in the microwave or on the stove top, if you like, before adding a portion of chicken to each one.
I topped these tacos with some carrots and celery (for a little crunch) and some homemade blue cheese dressing to cut some of the heat.
Homemade Ranch Dressing would also be a delicious substitution! I know there's a lot of debate about bleu cheese vs. ranch on wings so feel free to use whichever dressing strikes your fancy.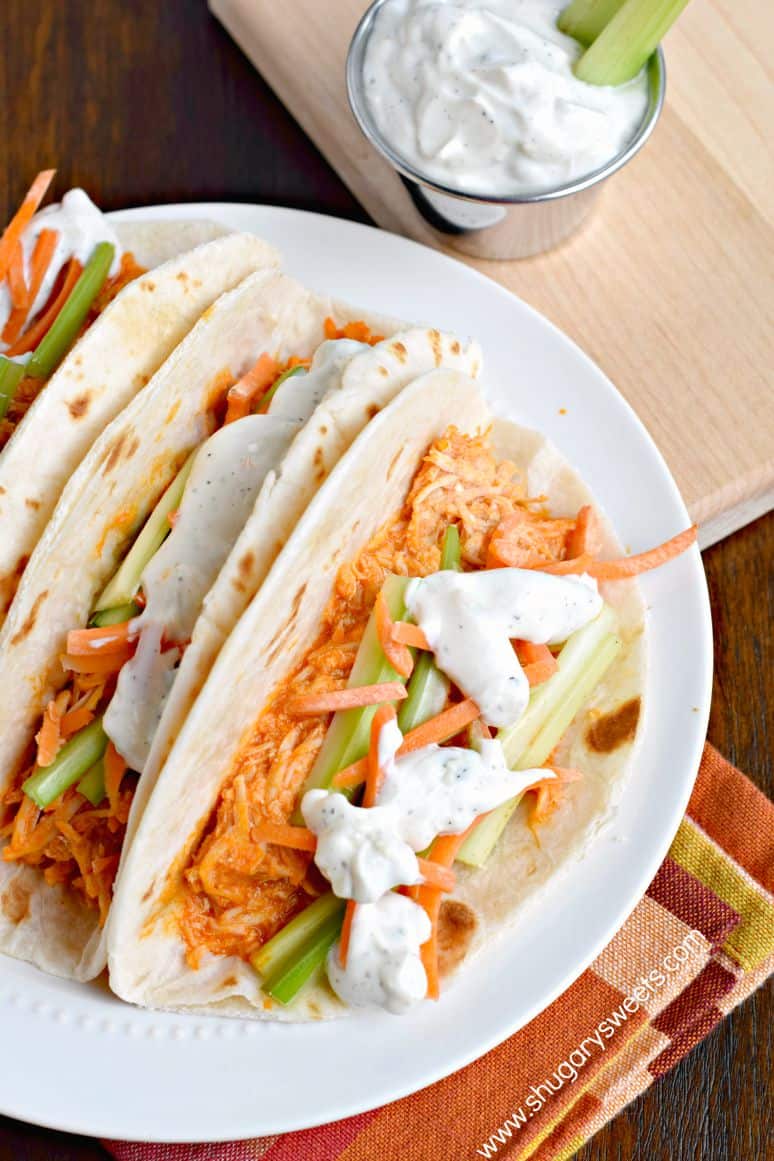 Bleu Cheese Dressing
When push comes to shove, I prefer Bleu cheese with my Buffalo Chicken. For this meal, I whipped together a quick and easy homemade dressing while the chicken was cooking.
Along with crumbled bleu cheese, I added mayo and sour cream with some salt and pepper. After a few hours in the fridge all the flavors melded together to make a creamy dressing ready to be drizzled over spicy chicken.
The creaminess of this dressing helps cut the heat of the Buffalo chicken a bit and brings the whole taco together.
Not in the mood for tacos? You can use this buffalo chicken recipe as a topping for nachos, a taco salad or on a bun for a tasty sandwich.
Make Ahead Meal
The bulk of the cooking time for Buffalo Chicken Tacos is hands off, making it a great choice for busy weeknights. Put the chicken in the slow cooker and mix together the dressing in the morning. By dinner time, the chicken is ready to shred and coat with sauce.
If you like to prep your meals for the week at once, shredded chicken is an ideal choice! Make a lot of plain shredded chicken over the weekend and keep it in the fridge to use in all kinds of recipes throughout the week.
When it's time to eat, you just warm the chicken with sauce and serve. Easy, homemade and delicious.
Storing Leftover Buffalo Chicken
Any chicken that doesn't get devoured in taco form right away can go in the fridge in a tupperware container. It'll keep for 3 or 4 days this way.
Reheat in the microwave or on the stove top. Leftovers also work well in burritos, sandwiches, and on salads for a hassle free lunch.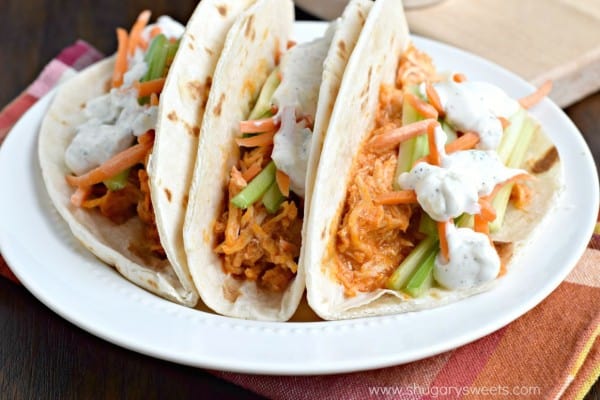 What are some of YOUR favorite slow cooker meals?
We also love this easy Buffalo Chicken Pasta Casserole for a fun, easy chicken dinner.