Easy, 4 ingredient Pistachio Fluff Salad, also known simply as Pistachio Salad! Best served with friends and family, this recipe makes a great potluck dish!
Love easy desserts? Our Ambrosia Salad could easily be a side dish too. Or try our cranberry fluff salad!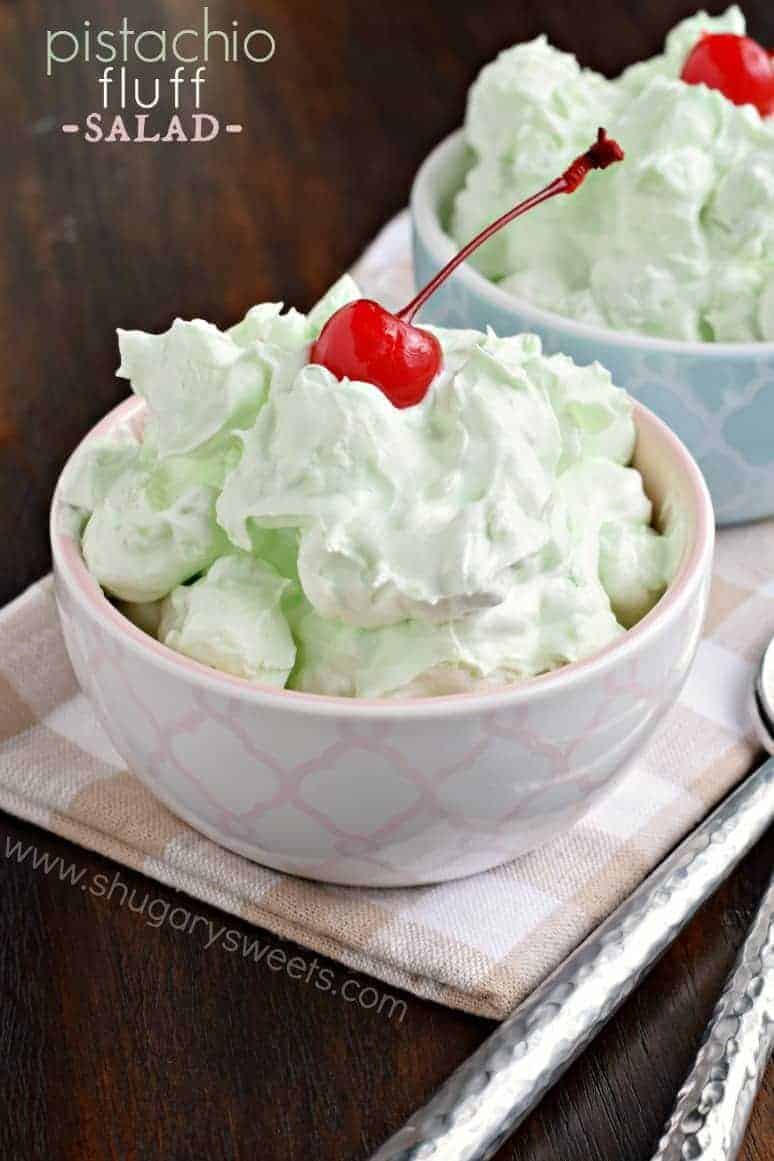 Why this Recipe is Best
You are living in a vacuum my friends, if you haven't yet tried this Pistachio Fluff Salad.
Some people call it simply Pistachio Salad, Pistachio Dump Salad, Pistachio Pudding Salad or Watergate Salad. Or Green Fluff. Or just the Green Goop.
Whatever you call it, it's a huge hit at all our family holiday parties and potlucks.
Pistachio Fluff Salad is seriously only 4 ingredients (5 if you count the cherries on top)! I know many people add extra nuts to theirs, but not us. Occasionally I'll swap out the mini white marshmallows and use the fruity, colored mini marshmallows instead.
Any party is a great time to whip up a batch of this pistachio salad. I know I keep calling this a salad when it clearly is more like a dessert. But after all, Mom always said to eat your greens, haha!!
Change things up and try our lemon fluff next!
Ingredient Notes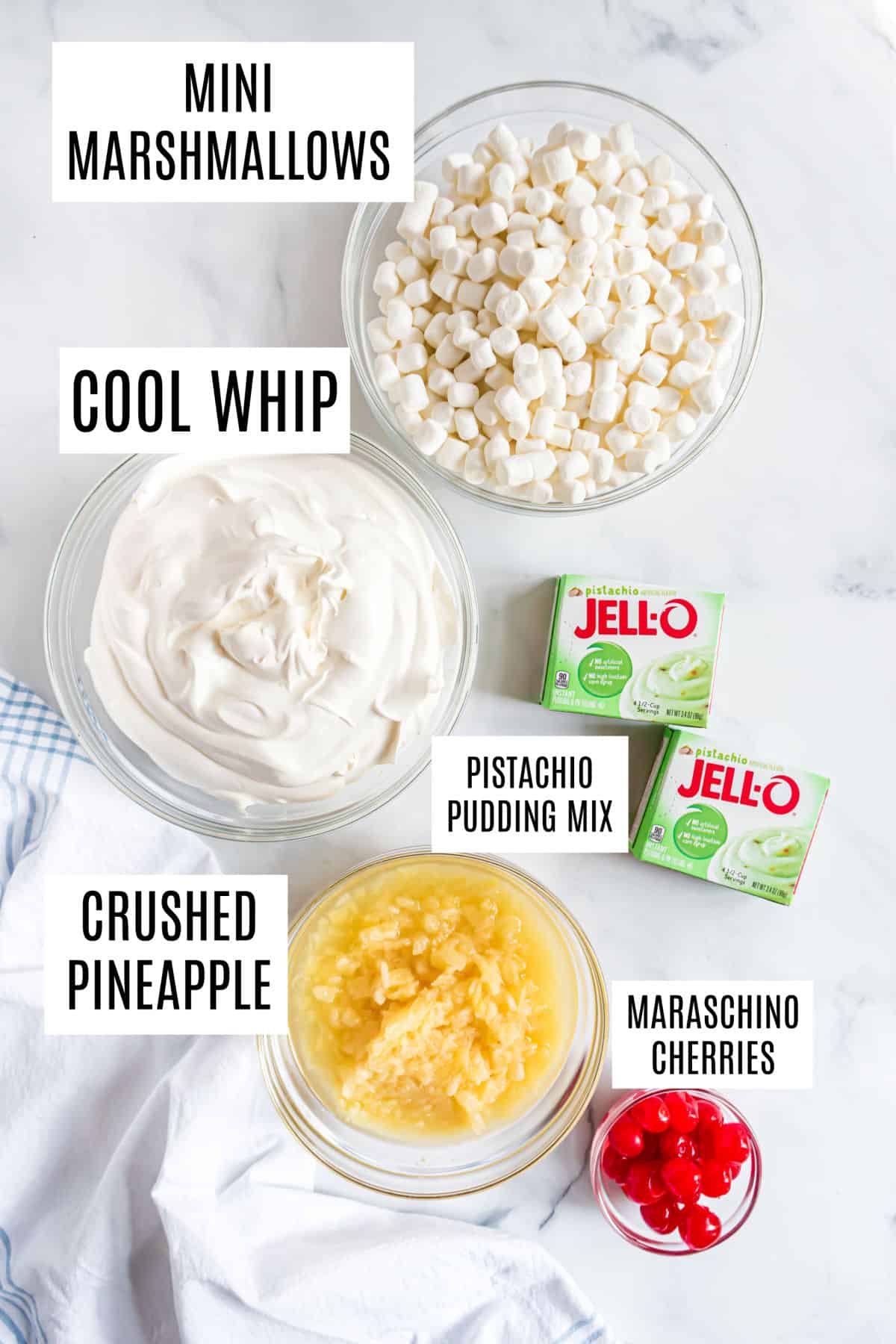 Easy as 1,2,3. And four if you're counting ingredients!
Crushed Pineapple- you'll need a can of this, with the juices (do not drain).
Pistachio Pudding Mix- two of the small boxes of instant pudding mix are perfect.
Cool Whip- you don't want to use homemade whipped cream here, as it will tend to get too weepy. However, if you don't want to use Cool Whip, try our stabilized whipped cream instead.
Marshmallows- these create the perfect texture. Whether you use plain mini marshmallow, or toss in the fruity colored marshmallows, either are delicious.
The hardest part of this Pistachio Fluff Salad recipe is giving everything time to mingle. Allowing it to thicken up. You can make it the night before, or whip it up at least 4 hours in advance, making it perfect for holiday gatherings.
If you don't want to put the cherries on top, you can toss them into the mix. This also makes a beautiful Christmas side dish or dessert with the red cherries and green pudding mixture!
How To Make Pistachio Salad
With only 4 ingredients, Pistachio Fluff Salad is as easy to make as you'd expect.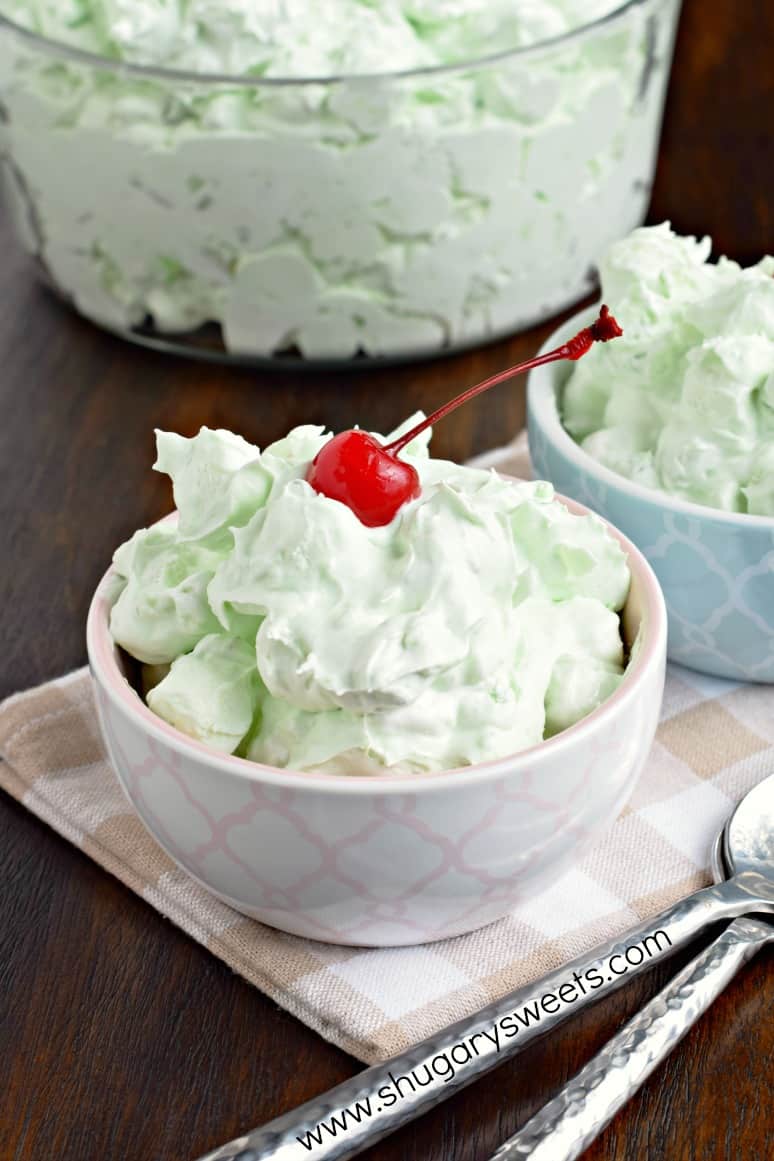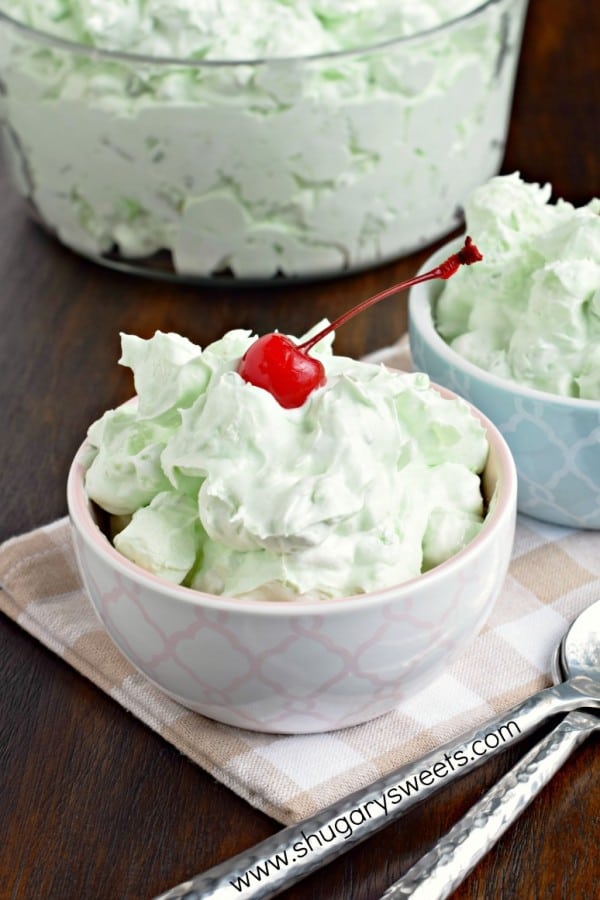 In a large bowl, combine your two boxes of instant pistachio pudding mix with your can of crushed pineapple. Do not drain the pineapple. Mix this together with a wooden spoon until the pudding mix is blended with the juice from the pineapple.
Add in the Cool Whip and mini marshmallows.
If you want to add in some chopped walnuts or pecans (like in a Watergate salad), go ahead and do so now.
Cover the Pistachio Fluff Salad and refrigerate 4 hours, or overnight. Serve with maraschino cherries as a garnish. Or, if desired, add the cherries into the fluff right before serving. ENJOY.
So, tell me, have you eaten pistachio salad before? Do you love it as much as I do?
Looking to use pudding mix in more recipes? Adding a box of pudding to cookies creates the most amazing, soft and chewy, Chocolate Chip Pudding Cookies.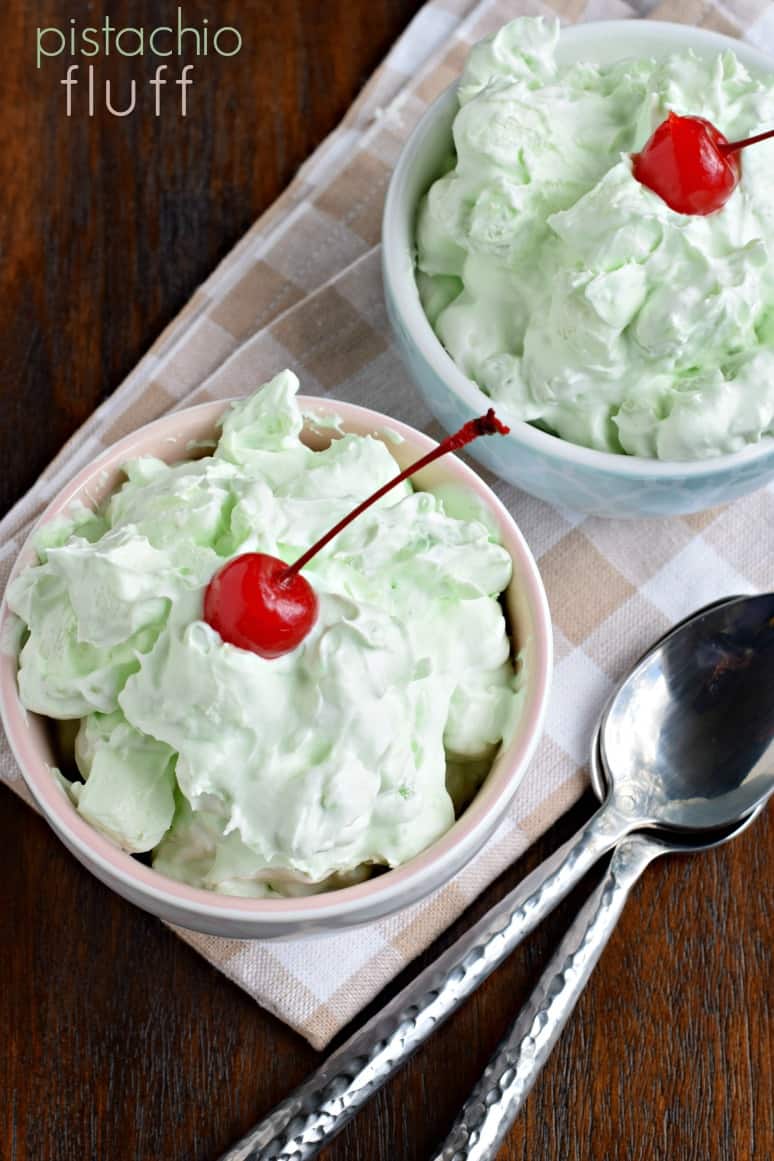 More Salad and Sides
Easy, 4 ingredient Pistachio Fluff Salad, also known simply as Pistachio Salad! Best served with friends and family, this recipe makes a great potluck dish!