Chewy and sweet, these Butterscotch Revel Bars are a wonderful dessert to make for your next potluck, bake sale or party. They are also a great treat to bake and freeze for school lunches!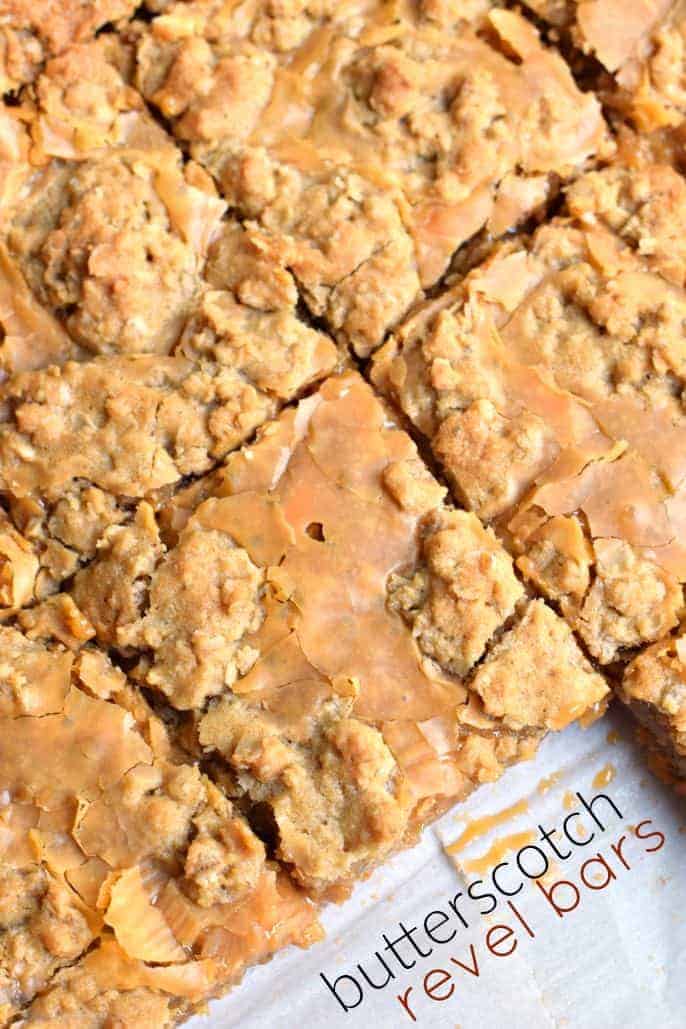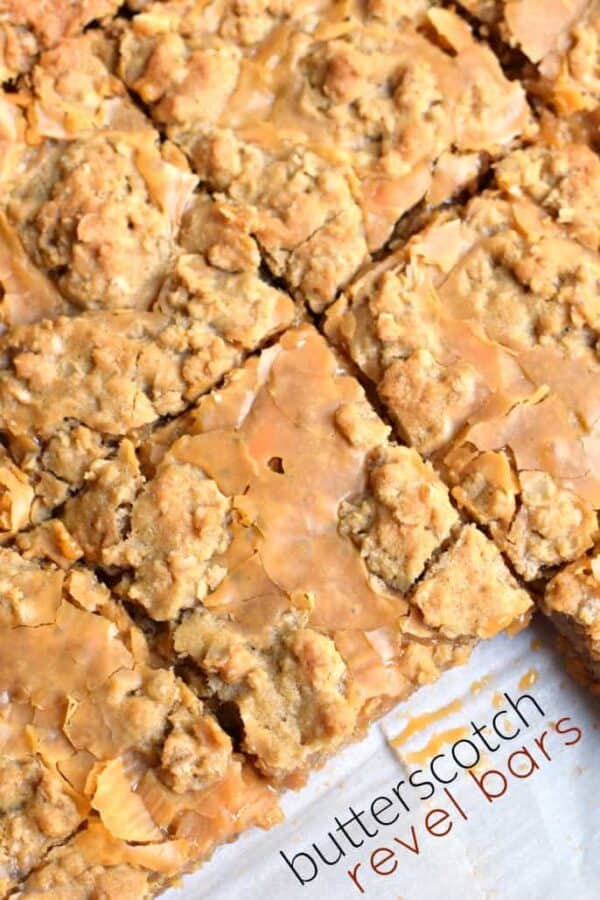 Why these Bars are Best
I interrupt this zucchini bread festival to bring you a delicious cookie bar. I mean, really, we can't live only on zucchini. There's got to be butterscotch in our lives too!
A few years back I made these Triple Chip Revel Bars. I forgot how amazing they were. As I was sharing them on pinterest, it occurred to me, I should totally give them a butterscotch makeover.
Using that recipe as a base, I swapped out the fudgy chocolate center and instead gave it a sweet butterscotch filling.
Want to know the secret to make these taste even more amazing? PUT THEM IN THE REFRIGERATOR after baking. Seriously. I love all my butterscotch treats cold. There is something about chilling it that brings out the flavor.
Ingredient Notes
Light Brown Sugar – The molasses in brown sugar makes for a chewy cookie layer and adds a hint of sweet caramel flavor.
Vanilla Extract – Be sure to use PURE vanilla extract, not the imitation kind. For even better flavor, make your own vanilla extract to use in all your baked goods.
Quick Cook Oats – Do not substitute whole rolled oats or steel cut. Those are not as processed so they won't work in the cookie dough.
Sweetened Condensed Milk – This helps create the fudgy butterscotch layer, doing most of the work for us!
Butterscotch Chips – You can find butterscotch chips in the baking aisle near the chocolate chips.
Easy Instructions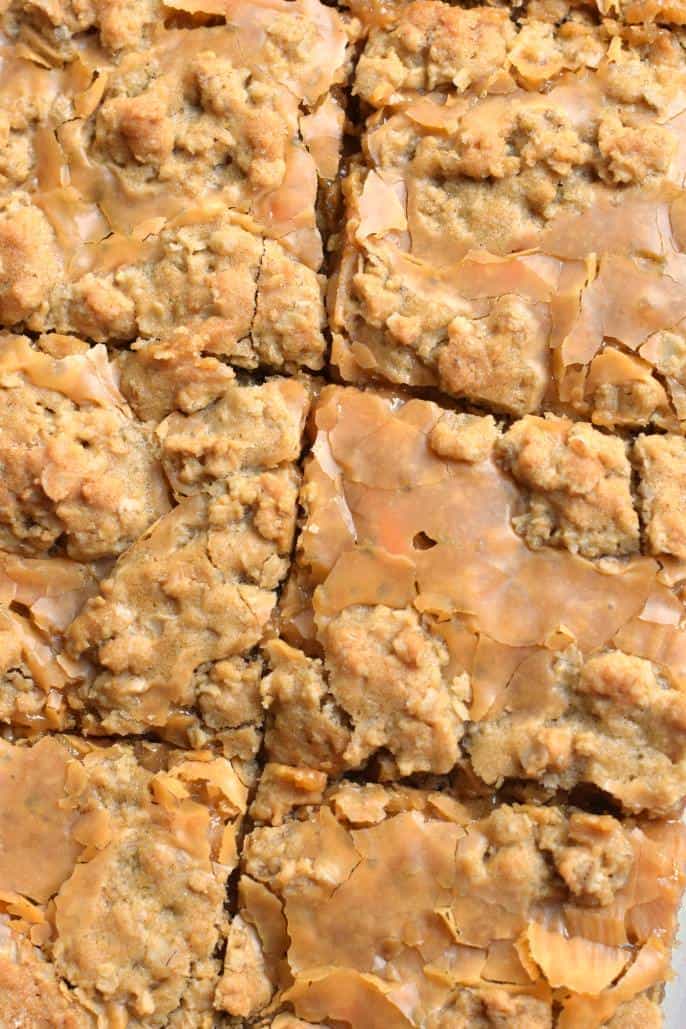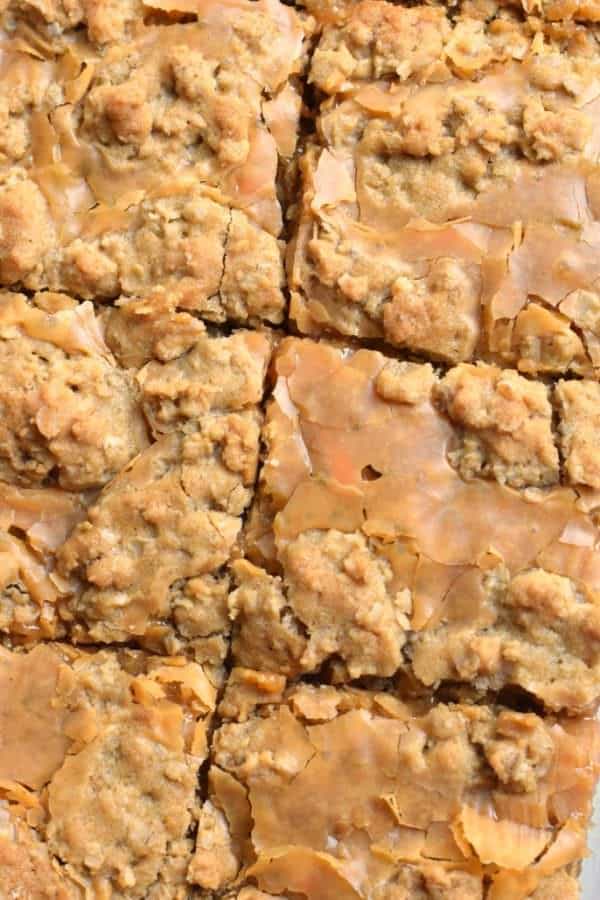 STEP 1: Preheat oven to 350°F. Line a 15 x 10 x 1-inch baking sheet with parchment paper. Set aside.
STEP 2: In a large bowl, beat softened butter and brown sugar until well blended. Add in baking soda, eggs and vanilla extract. Beat until combined. Add flour and oats and mix until blended. Set aside.
STEP 3: In a small saucepan, combine sweetened condensed milk and 2 Tbsp butter. Heat over low heat until butter is melted. Fold in butterscotch morsels and stir constantly until morsels are melted and smooth.
STEP 4: Press 2/3 of cookie dough into bottom of baking sheet. Keep pressing with your fingertips, it will fit, honest!! Pour butterscotch mixture over top of cookie dough and spread evenly. Drop remaining dough by teaspoon over the top (will not cover completely, that's okay).
STEP 5: Bake for 25-28 minutes until browned. Cool completely. Cut and enjoy. Store in airtight container (best when chilled)!
Tips and Tricks
Use a 15 x 10 X 1 inch cookie sheet for this recipe to ensure you get an even layer of cookie dough base and that the pan can hold the layers. Line it with parchment paper to make it easy to remove the bars – and make clean up easy too!
Press out the cookie dough layer evenly.

Make sure to get the cookie dough base into all the edges and corners of your pan. Try to ensure the bottom layer is spread as evenly as possible, so your cookie base has an even thickness throughout.

Cool completely before you cut. This allows the fudgy layer to fully set up before you slice the bars.
Chill in the fridge before serving. They are SO good when chilled!
Recipe FAQs
Can I substitute another chip for the butterscotch morsels?
Sure. You could also use semisweet chocolate morsels, dark chocolate chips or a combination of the two for a different flavor in these bars.
How do I store butterscotch revel bars?
Once cooled, transfer the cookie bars to an airtight container and store them in the fridge for up to a week. You can also store them at room temperature, but I think they are best when chilled!
Can you freeze Revel Bars?
Yes! Absolutely. Once cooked and cooled, store butterscotch bars in a freezer-safe ziploc bag with parchment paper between the layers. Freeze up to 3 months. Thaw at room temperature overnight then enjoy!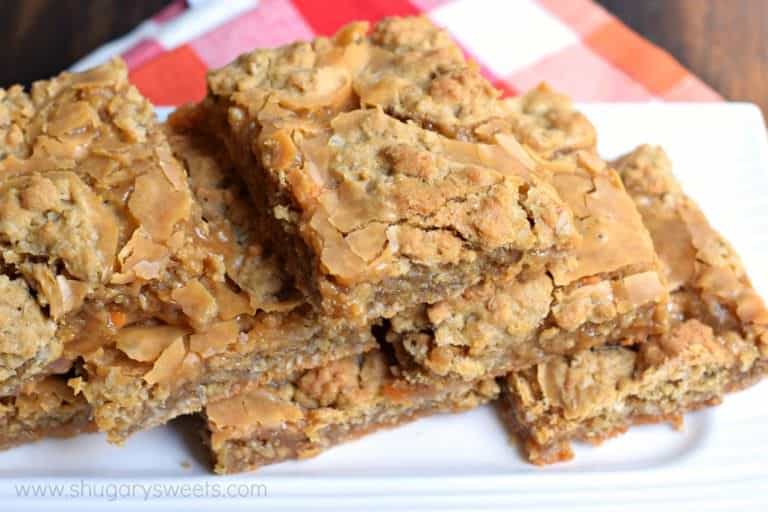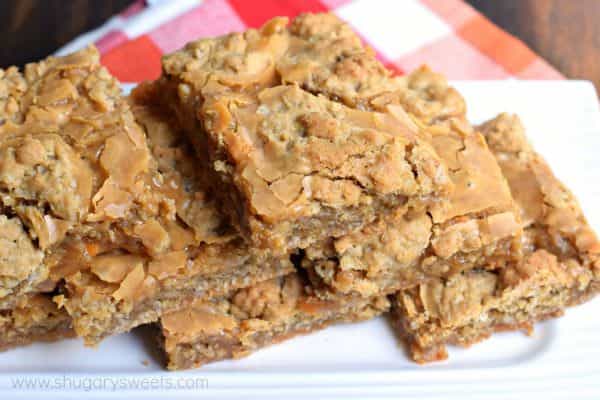 More Dessert Recipes
Butterscotch Revel Bars are the perfect dessert. Thick and chewy butterscotch cookie bars packed with oats and brown sugar!