No Bake Haystack Cookies are just the thing to satisfy your intense sweet tooth cravings. It's the ideal recipe for little hands to help, too!
Need a quick dessert? One idea would be to make some Rocky Road Fudge. It's super easy and only a couple ingredients needed. Easy, 4 Ingredient, No Bake Peanut Butter S'mores Bars are another favorite I love making when it's too hot to turn on the oven.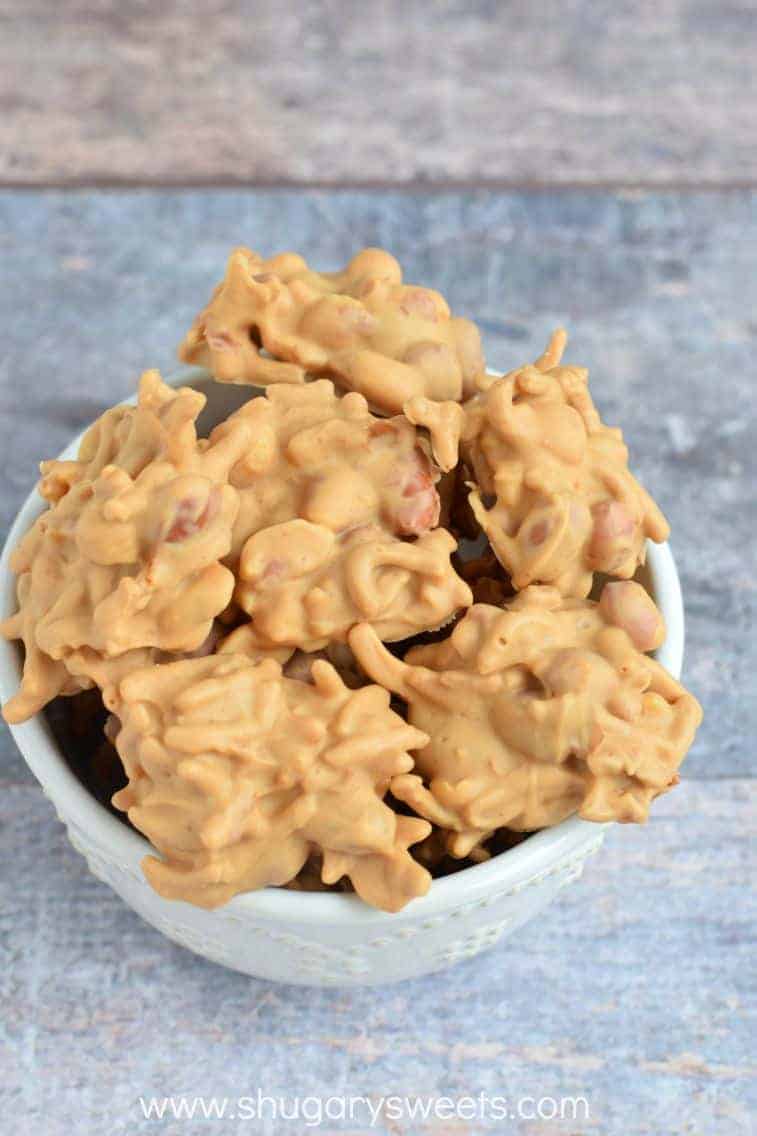 Why Haystack Cookies Are Best
Have you ever had No Bake Haystacks? In the Venn Diagram of "Cookies" and "Candy" these butterscotch haystacks are squarely in the middle.
These were inspired by the Spider Cookies I made earlier this summer. And while those cookies were a huge hit, I had some readers suggest that maybe I consider calling it candy.
They also suggested I make a butterscotch version. One that resembles haystacks. I love to make my readers happy, so this one's for you, Mary!
Just 5 ingredients needed for these cookies!
They take less than 20 minutes to put together! (And only another 15 or so to set up.)
The peanut, chocolate and butterscotch flavor combo is killer and the crunch just sends these right over the top!
This recipe makes A LOT of mini haystacks. Perfect for serving a crowd!
Ingredient Notes
Butterscotch Chips – These can be found in the baking aisle near the chocolate chips. They soften and add flavors of buttery, creamy heaven.
Peanut Butter Chips – Also found in the baking aisle, these add a distinct, sweet peanut butter flavor.
White Chocolate Chips – These add a great richness. You could substitute milk chocolate or semisweet chocolate chips if you want to change up the look and taste of these a bit. OR skip them and double up on the butterscotch chips for more butterscotch flavor.
Spanish Peanuts – These are the kind with the red skin. They have a little bit of a nuttier flavor than other kinds of peanuts. If you can't find them, feel free to substitute another kind of salted roasted peanut.
Chow Mein Noodles – Chow mein noodles can usually be found in the Asian or International foods aisle of the grocery store. If you can't find chow mein noodles, you can also substitute the small skinny pretzel sticks.
Easy Instructions
STEP 1. Melt the chips. Heat the butterscotch morsels, peanut butter morsels and white chocolate morsels in a large saucepan over low heat until melted and smooth.
STEP 2. Add the mix-ins. Remove from heat and fold in the peanuts and chow mein noodles. Stir until combined and well coated.
STEP 3. Make the haystacks. Using a small cookie scoop or small spoon, drop mixture onto parchment paper in small clumps, about 2 teaspoons each. Let set for 15-30 minutes then enjoy!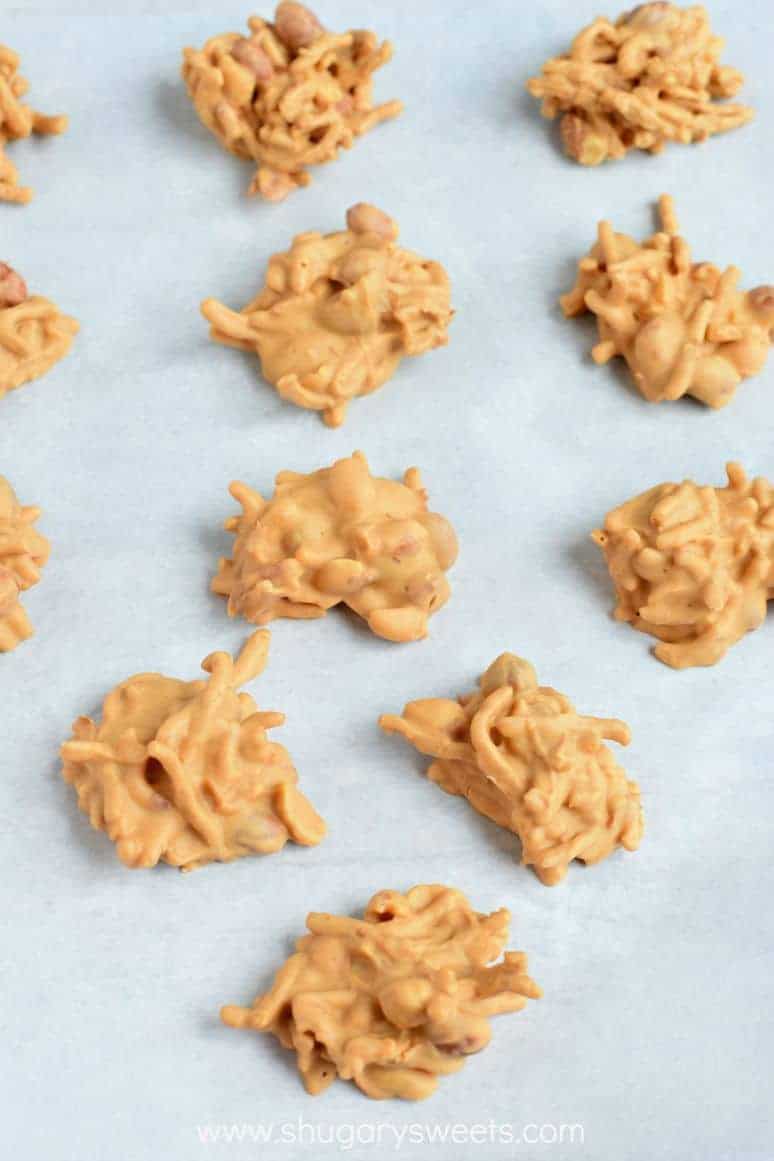 Tips and Tricks
Heat the morsels together just until melted and smooth then remove from the heat. You don't want to cook the mixture.
Skip the stove. You can also melt the butterscotch and peanut butter and white chocolate together in a microwave safe bowl. Then pour over your peanuts and chow mein noodles!
Pop the haystacks in the refrigerator. I love eating these chilled, it really brings out the butterscotch flavor!
Recipe FAQs
Can I make these ahead?
Yes! Because they need a little time to set up – at least 15-30 minutes – these are great to make ahead. Once set, store them in the refrigerator until ready to serve.
What can I use in place of chow mein noodles?
If you can't find chow mein noodles or don't want to use them, you can also substitute the small skinny pretzel sticks. I've done this multiple times and they're equally as delicious this way!
Can I make mine bigger?
Sure! I use a small cookie scoop or about 2 teaspoons each per haystack, but you could double that if you'd like. Just be sure to allow extra time for them to set up properly. (It might help to pop them in the fridge to set up fully before moving and storing them.)
How do I store Haystack Cookies?
The haystacks are best stored in the refrigerator. They will keep for up to 1 week. Bonus: They taste even better chilled!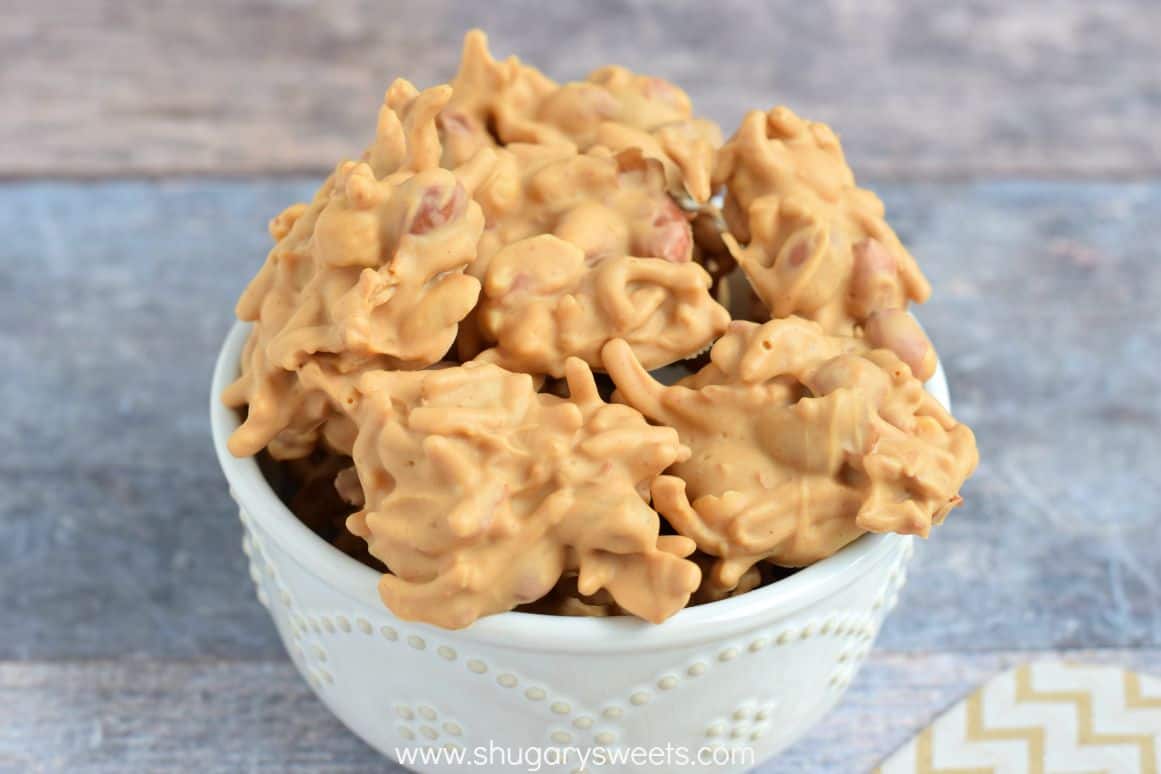 Recipe originally published October 1, 2015.