No Bake Haystack Cookies
No Bake Haystack Cookies are just the thing to satisfy your intense sweet tooth cravings. It's the ideal recipe for little hands to help, too!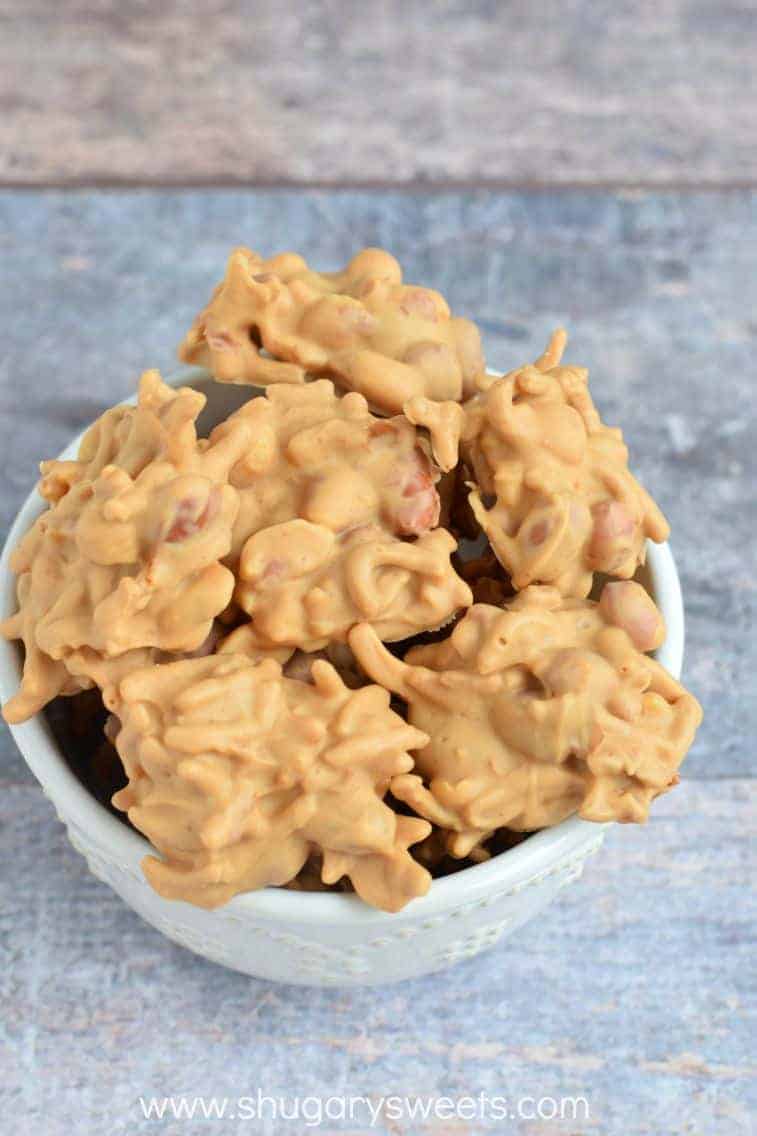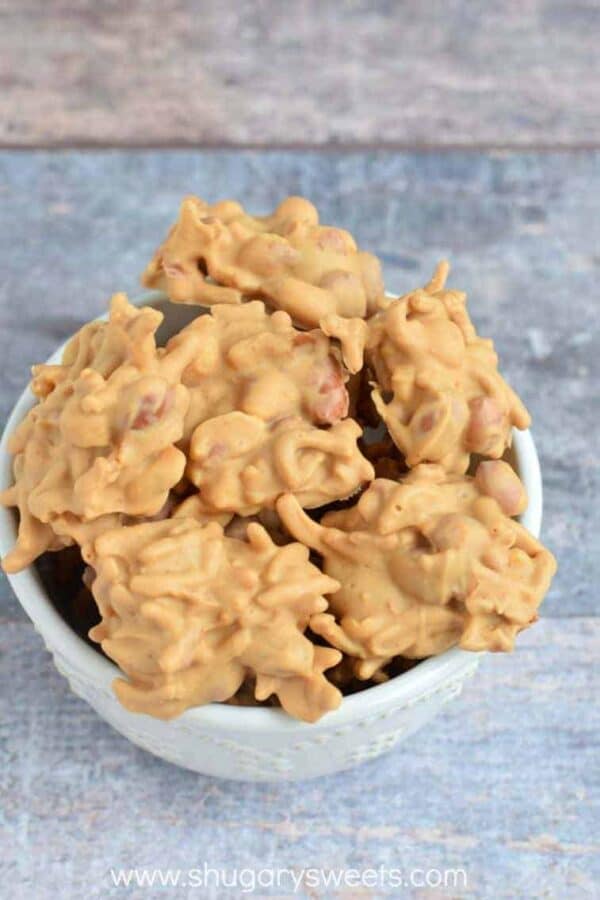 Do you ever just crave dessert, but don't want to turn on the oven? Or maybe you find yourself wanting to make a candy, but don't want the hassle of candy thermometers.
One idea would be to make some Rocky Road Fudge. It's super easy and only a couple ingredients needed.
OR, you can make these butterscotch No Bake Haystack Cookies.
Earlier this summer, I made some Spider Cookies. And while they were a huge hit, I had some readers suggest that maybe I consider calling it candy. Since it's really just melted chocolates, peanut butter and crunchy chow mein noodles.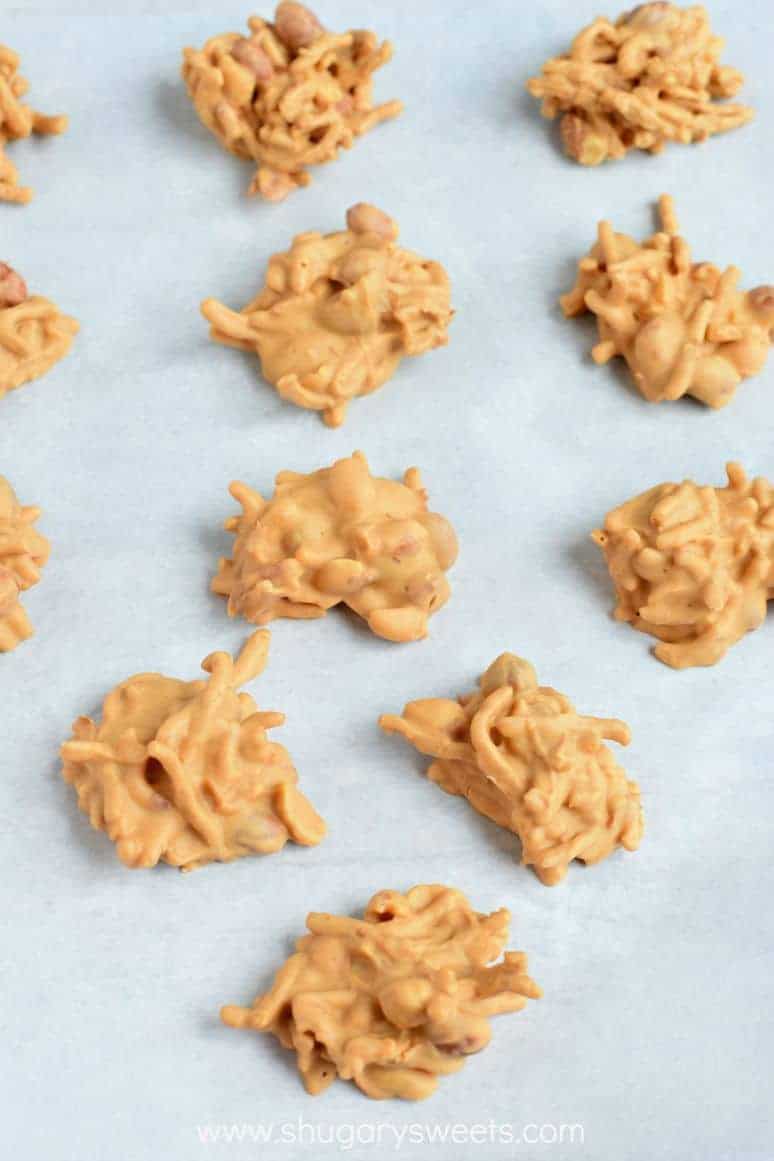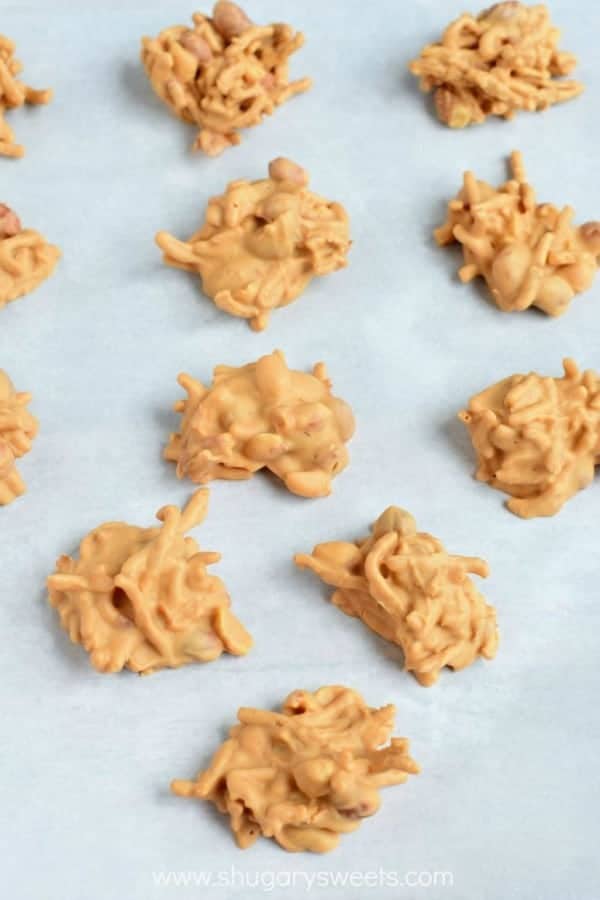 They also suggested I make a butterscotch version. One that resembles haystacks. I love to make my readers happy, so this one's for you Mary. You know who you are!!
I swapped out the milk chocolate in this recipe and subbed some white chocolate. If you want an even DEEPER butterscotch flavor, you can remove the white chocolate and use TWO bags of butterscotch instead. I've done this and it's just as amazing (and it becomes an even more tan/orange color).
I also prefer to eat these cold. I think any recipe with butterscotch tastes even better cold. Oatmeal Scotchies? LOVE them cold. But you decide. Make a quick batch of these and put some in the refrigerator. Have your own taste test!
These make a lot, so be sure to share with family and friends. They also make a great bake sale treat. You can put a few of them in a treat bag with ribbon. Or in a mason jar and give as a teacher gift or hostess thank you gift. Or just store them in the fridge and eat one every hour for the next several days. Not that I do that or anything!
The best part about these? No oven needed. You can also melt the butterscotch and peanut butter (and white chocolate) together in a microwave safe bowl. Then pour over your peanuts and chow mein noodles. If you can't find chow mein noodles (they usually sell them in the asian aisle) I have also substituted pretzel sticks (the small skinny ones). Hope this helps!!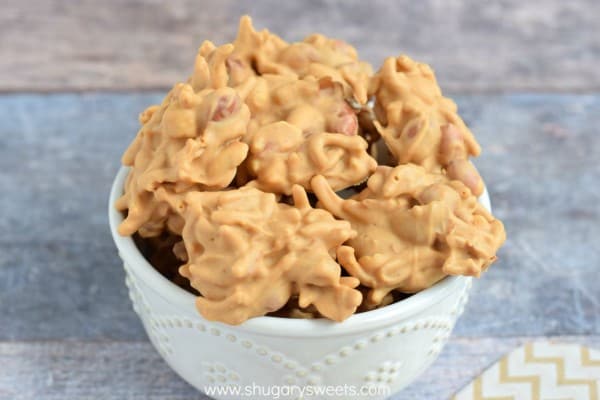 I shared this No Bake Haystack Cookies recipe over on Food Fanatic. Be sure to go check them out! So many other wonderful recipes over there!