Chewy and delicious, these brown sugar Butterscotch Blondies are the perfect dessert! Thick and full of flavor, one pan of these blondies are a true delight.
If you love Butterscotch desserts, be sure to try this classic Oatmeal Scotchies recipe. Oatmeal cookies packed with butterscotch morsels in a chewy molasses cookie.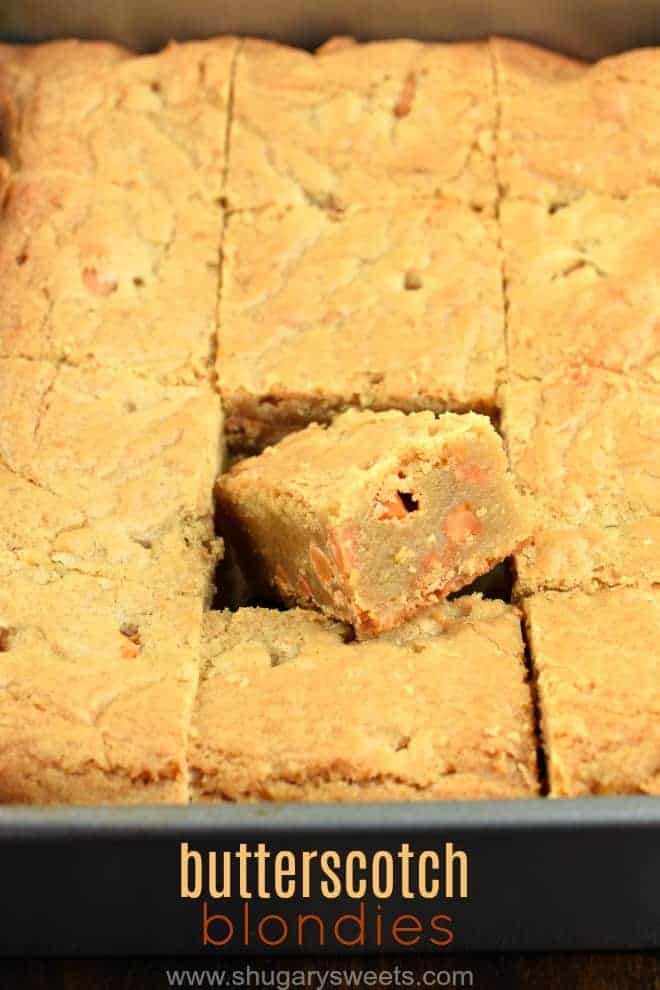 Why this Recipe Works
There's a lot of confusion when it comes to blondies. Some people claim they are just vanilla brownies. Some say they are just plain cookie bars.
Personally, I think they are their own unique dessert.
Made with brown sugar and vanilla, they have a very chewy texture. For today's recipe, I added in Butterscotch morsels to accentuate the caramelized flavor in these delicious treats!
My big question is just like with a brownie, do you prefer the chewy corner or the gooey center?
FAVORITE BUTTERSCOTCH RECIPE: Toffee Cookies | Pudding Cake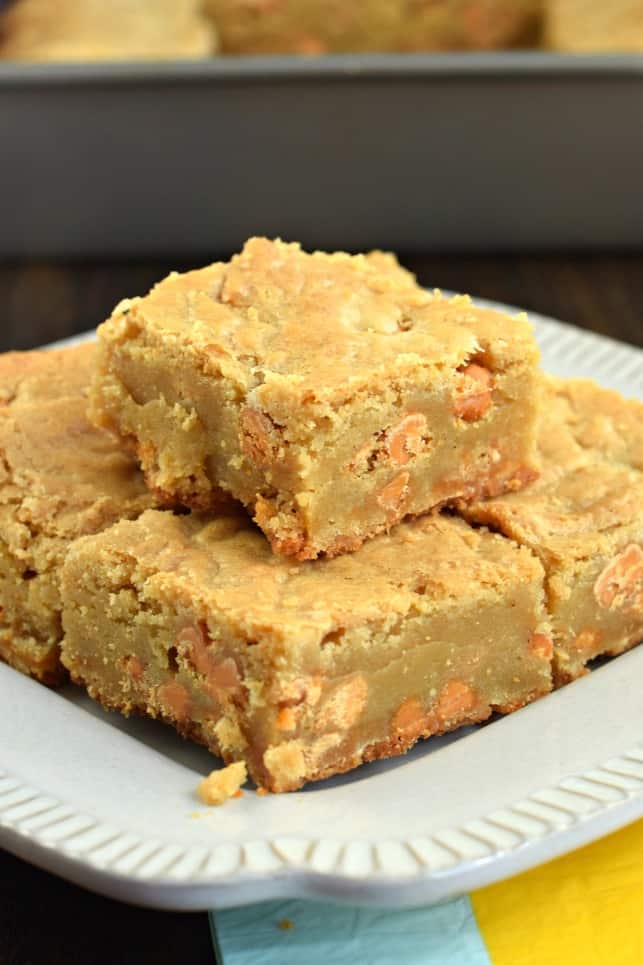 How to make Butterscotch Blondies
Preheat oven to 350 degrees F. Line a 9-inch square pan with parchment paper. Set aside.
In a large mixing bowl, combine the melted butter with brown sugar. Add eggs and vanilla. Slowly add dry ingredients and fold in butterscotch chips.
Bake for 35-40 minutes, until golden brown. Cool completely before cutting.
FAQ
Q: What makes blondies chewy?
A: Much like a brownie, blondies are made with brown sugar which adds the chewy texture to them!
Q: Can you freeze blondies?
A: Absolutely! After baking and cooling, lift the blondies out of the pan with the parchment paper. You can then slide the whole blondie into a gallon sized ziploc bag. Or cut it into pieces first.
Q: Can I make blondies without butter and use margarine instead?
A: Well, yes, but I wouldn't recommend it! I'm all for using generic or substitutions when possible…but the butter in a blondie gives it such a rich texture!
More Blondie Recipes