Chewy and delicious, these brown sugar Butterscotch Blondies are the perfect dessert! Thick and full of flavor, one pan of these blondies are a true delight.
If you love Butterscotch desserts, be sure to try this classic Oatmeal Scotchies recipe. Oatmeal cookies packed with butterscotch morsels in a chewy molasses cookie. Or give our fun and festive Easter blondies a try, loaded with pastel candy!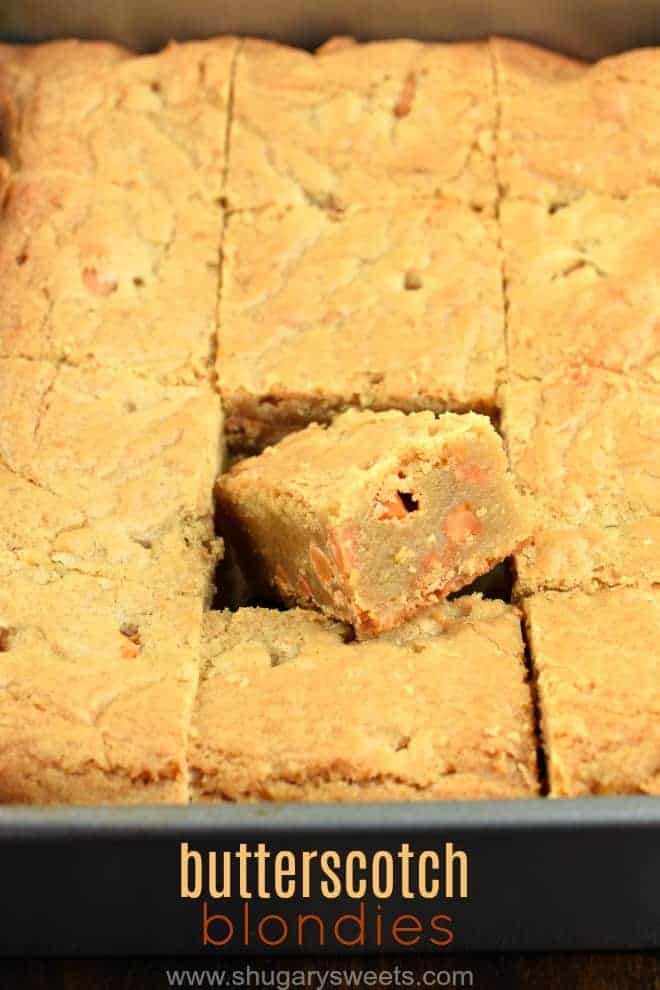 Why this Recipe Works
There's a lot of confusion when it comes to blondies. Some people claim they are just vanilla brownies. Some say they are just plain cookie bars.
Personally, I think they are their own unique dessert.
Made with brown sugar and vanilla, they have a very chewy texture. For today's recipe, I added in Butterscotch morsels to accentuate the caramelized flavor in these delicious treats!
My big question is just like with a brownie, do you prefer the chewy corner or the gooey center?
FAVORITE BUTTERSCOTCH RECIPE: Toffee Cookies | Pudding Cake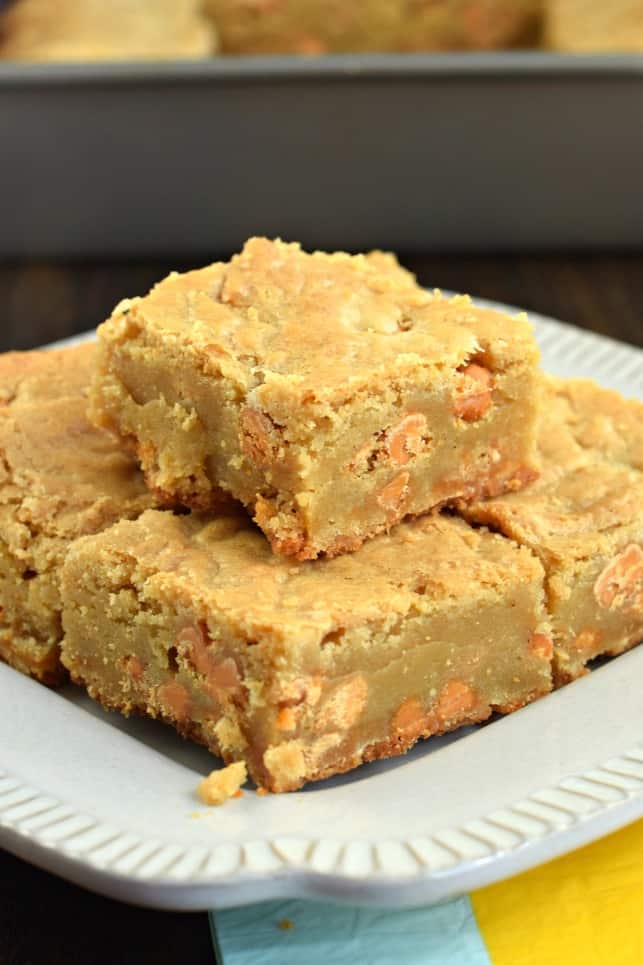 How to make Butterscotch Blondies
Preheat oven to 350 degrees F. Line a 9-inch square pan with parchment paper. Set aside.
In a large mixing bowl, combine the melted butter with brown sugar. Add eggs and vanilla. Slowly add dry ingredients and fold in butterscotch chips.
Bake for 35-40 minutes, until golden brown. Cool completely before cutting.
Recipe FAQs
What makes blondies chewy?
Much like a brownie, blondies are made with brown sugar which adds the chewy texture to them!
Can you freeze blondies?
After baking and cooling, lift the blondies out of the pan with the parchment paper. You can then slide the whole blondie into a gallon sized ziploc bag. Or cut it into pieces first.
Can I make blondies with margarine instead of butter?
Butter gives blondies their rich flavor and texture. Using margarine will change this texture.
More Blondie Recipes
Delicious, chewy Candy Bar Blondies! This easy dessert recipe is made in one bowl, no mixer required! Add in your favorite candy bars!
These White Chocolate Brownies are the opposite of a traditional Brownie, but different than a Blondie….see the recipe for yourself!
Chewy, nutty Pecan Pie Blondies are the perfect Fall treat! Or bake them all year long!
Blueberry White Chocolate Blondies Recipe from A Spicy Perspective- Decadent homemade blondies speckled with fresh blueberries and white chocolate chips.