Moist pound cake with a sweet buttery glaze puts a delicious spin on an old classic. With crunchy pecans on top and rich molasses flavor, this Brown Sugar Pound Cake recipe is as easy as it is delicious!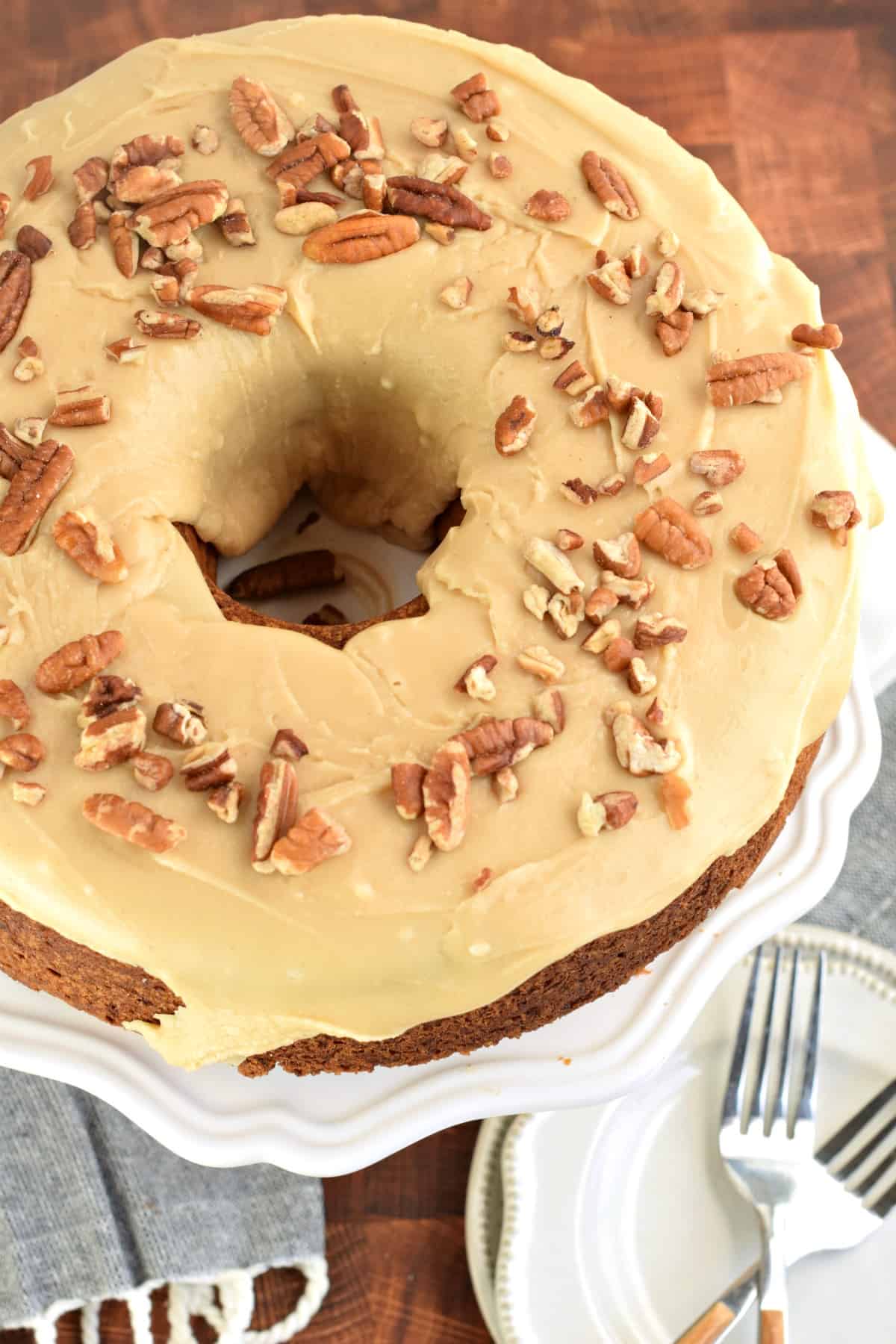 A good comfort food dinner should end with a comforting dessert.
Pound cake is the delicious old-fashioned cake, like Grandma used to make.
This version is made with lots of brown sugar, baked both into the batter and the glaze. The result is a moist, buttery pound cake that's almost caramel-like in flavor.
Sprinkle some candied pecan pieces on top and you have one irresistibly tasty pound cake!
Secret Ingredient
This cake uses one of my go-to (not so) "secret" ingredients for creating cakes that stay moist even days after baking. Sour cream.
I'm not sure when I first started adding sour cream to cakes and breads, but it makes such a big difference! The balance of fat and liquid really helps give the pound cake a tender crumb with rich flavor.
If you don't have sour cream or prefer to bake with a slightly healthier option, plain Greek yogurt works wonderfully as a substitute! When I've been out of both ingredients, I've also used milk in its place with good results.
Keep in mind, we're baking a CAKE here, folks, so why not be a little decadent?
Recipes with Sour Cream: Banana Bread | Cinnamon Coffee Cake
Wondering what makes a pound cake a pound cake?
Pound cake gets its name because it was originally made by combining a pound each of flour, butter, sugar and eggs. It doesn't get any easier to memorize a recipe than that!
This combination created a hearty cake that stayed moist and transported well. Over the years, bakers have tweaked that traditional approach to a pound cake to create even better tasting versions. A good pound cake is thick and more dense than many other cakes–but not heavy tasting!
I've added lots of pound cakes to my baking repertoire, like this fun Pina Colada Pound Cake and decadent Chocolate Pound Cake. They're ideal for so many occasions and I love how easy they are!
This Brown Sugar Pound Cake is moist, sweet and buttery, made even more delicious thanks to buttery brown sugar glaze drizzled on top!
Made in a bundt pan or loaf pan, it requires no special cake decorating skills or baking knowledge.
My whole family loves this cake and I get requests to share the recipe often. So–let's go make some pound cake!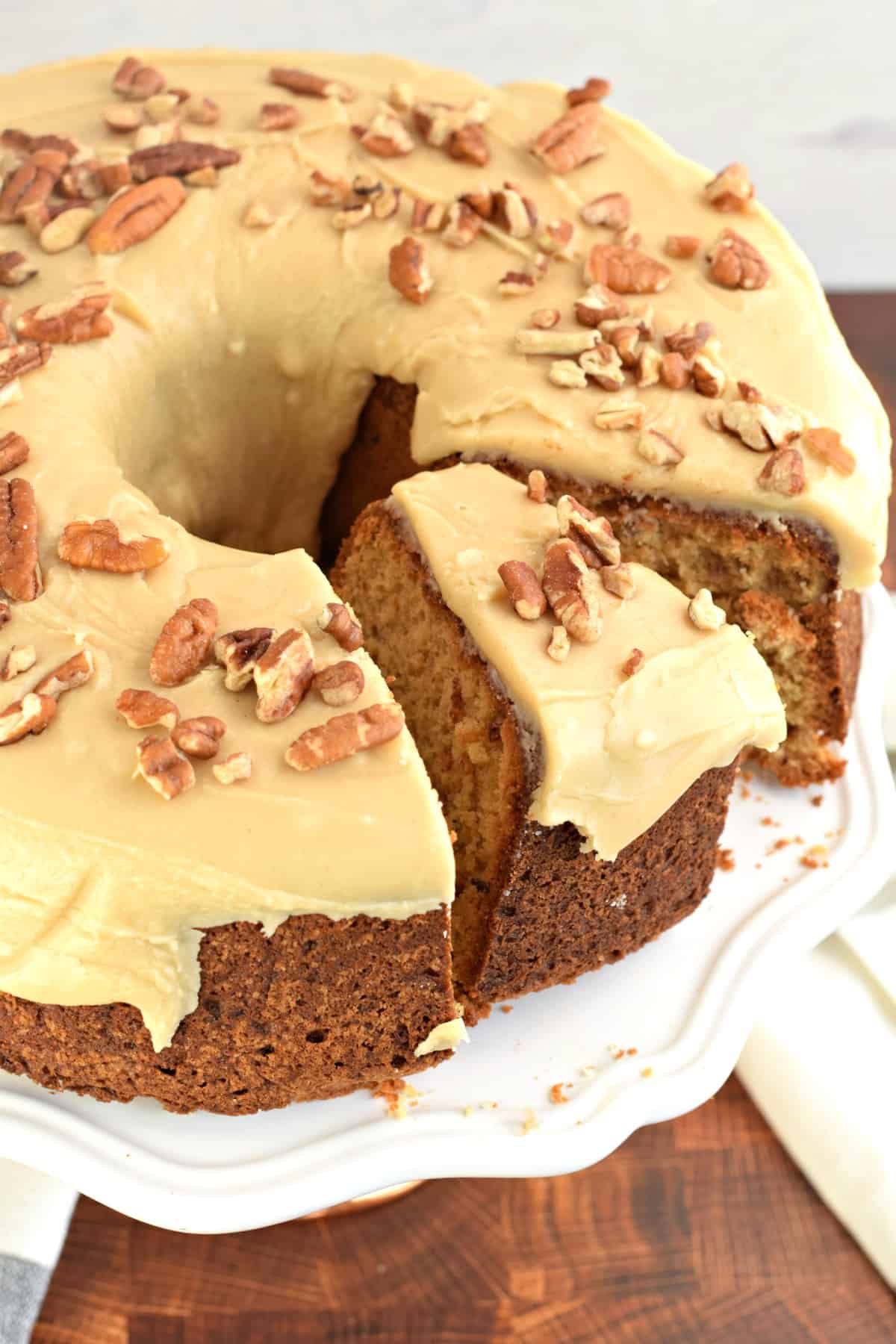 Ingredients You'll Need
Whether you've made a zillion pound cakes in your life or your brand new to cake baking, this recipe is straightforward and simple to follow.
Recipe and ingredients at a glance; scroll down for amounts and full recipe
For the cake, you'll need:
Butter
Brown and white sugar
Eggs
Flour
Sour cream (or Greek yogurt)
Vanilla extract
Pecans (chopped)
Baking powder and salt
For the brown sugar glaze, you'll need:
Butter
Light brown sugar
Milk
Vanilla extract
Powdered sugar
How to Make Pound Cake
Prepare the pan
Preheat the oven to 350 degree F and lightly grease a bundt or loaf pan. Use a baking spray or my homemade cake release.
Make the cake batter
In a mixing bowl, combine butter with sugars, and vanilla extract. Beat until fluffy for several minutes.
Add in eggs, one at a time, beating well after each addition. Add flour, baking powder, and salt to the mixer. Beat on low while slowly adding the sour cream, just until fully combined.
Fold in chopped pecans and pour batter in prepared pan.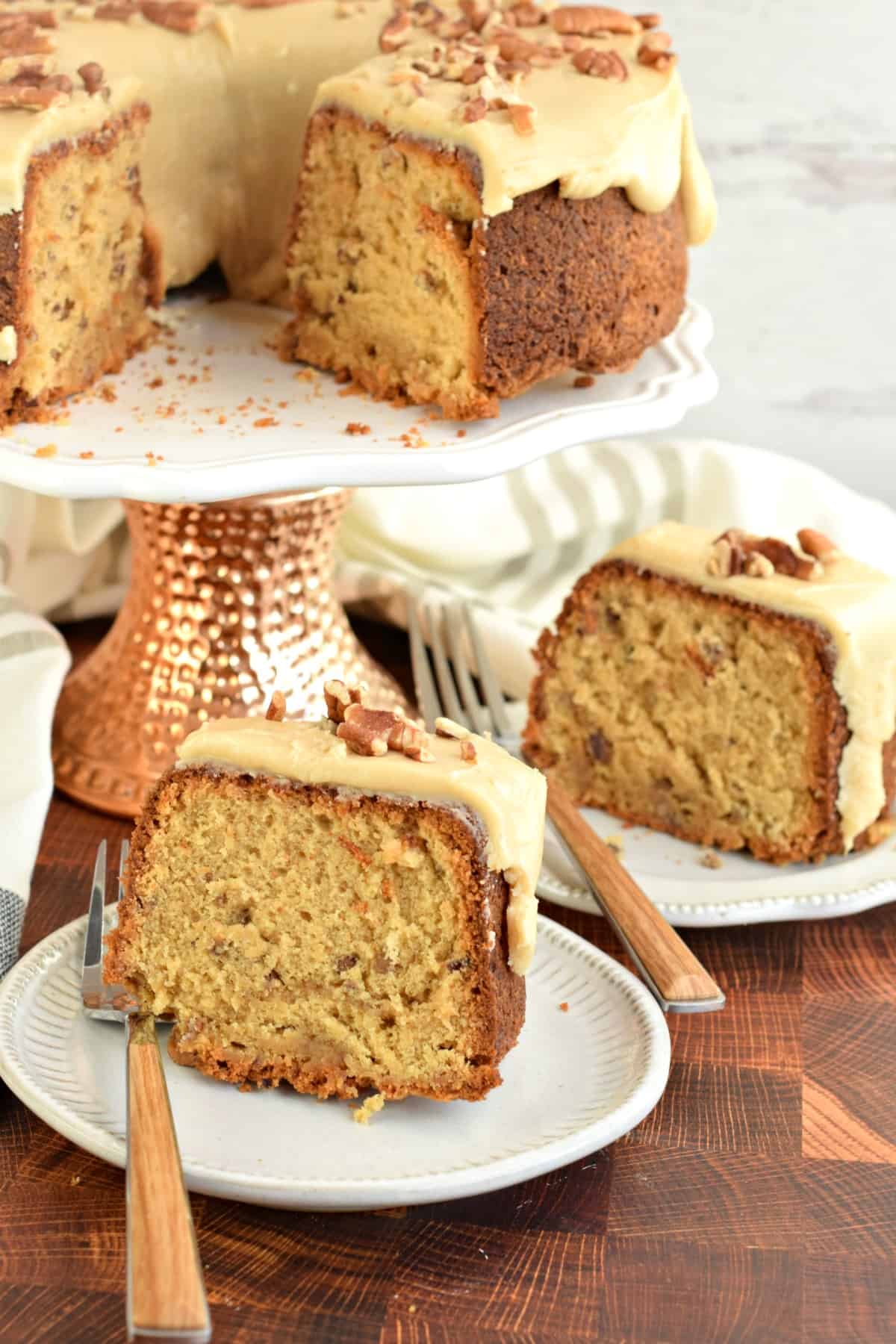 Bake the cake
Bake for 65 minutes, or until a toothpick inserted in the center comes out clean. Cool 10 minutes in the pan, then invert onto a wire rack or cake plate.
Make the glaze
In a small saucepan, over medium low heat, add butter. Stir until melted. Whisk in brown sugar, and cook for about 2-3 minutes. Add milk and bring mixture to a boil, stirring constantly.
When it begins to bubble and boil, remove from heat. Stir in vanilla, then add the powdered sugar, blending until smooth.
Pour over the cooled cake and sprinkle with pecans. ENJOY.
Tips and Tricks
Use light brown sugar in both the batter and the glaze! Dark brown sugar has a higher molasses content and will add bitterness to the cake.
Walnuts can be substituted for the pecans in a pinch, or try a mix of the two.
Greek yogurt and milk both make excellent substitutes for the sour cream in this cake.
Serve warm with a dollop of homemade whipped cream.
Store this cake covered at room temperature or freeze wrapped in at least two layers of plastic wrap and/or foil for longer storage.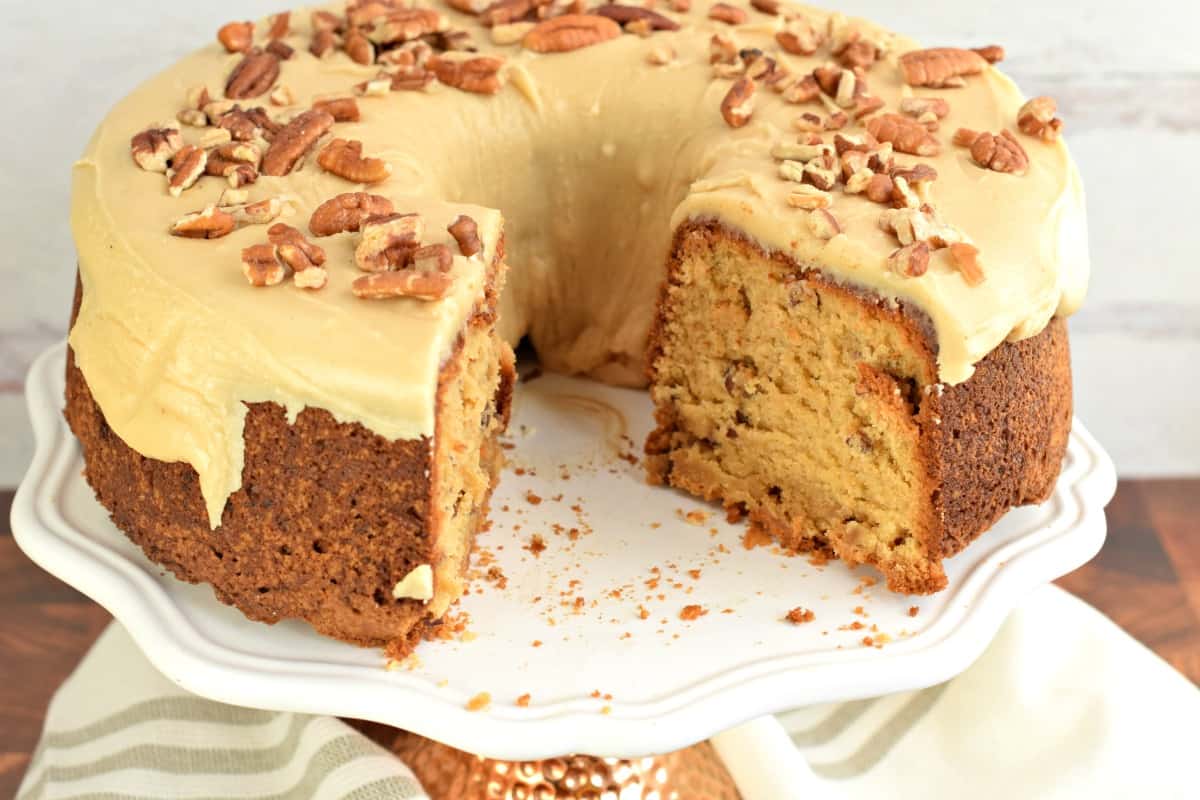 Everyone loves a freshly baked slice of this rich and buttery cake. Add Brown Sugar Pound Cake to your dessert menu this week!