The Best Cream Puff Cake recipe featuring a fluffy crust, easy vanilla filling, and of course, chocolate. You'll love this homemade version of a cream puff!
Love this recipe? You've got to try our reader favorite Boston Cream Pie next. Topped with a dreamy chocolate ganache too!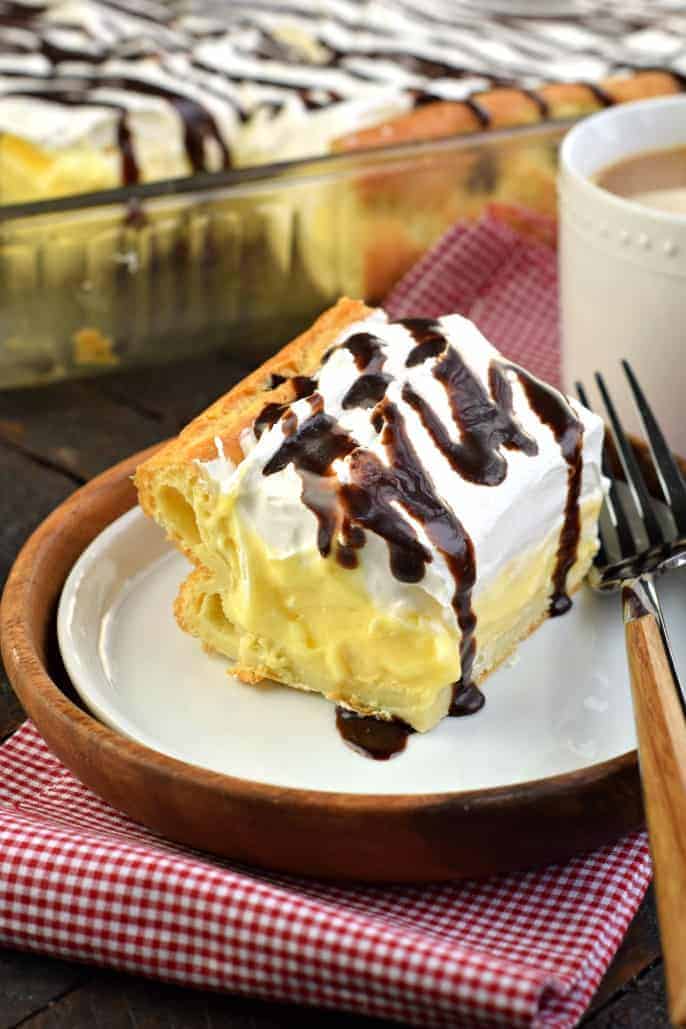 Why this Recipe is Best
If you've ever had the chance to enjoy a popular, delicious Cream Puff, then you know what I'm talking about when I say they are a delicious, indulgent treat.
The texture of the pastry is slightly chewy but delicious. And it's filled (traditionally) with a vanilla pastry cream.
Today's Cream Puff Cake recipe is an easy version of this traditional dessert, in a cake form that will feed a group!
If you love this spongy treat, you've got to whip up our tres leches cake next!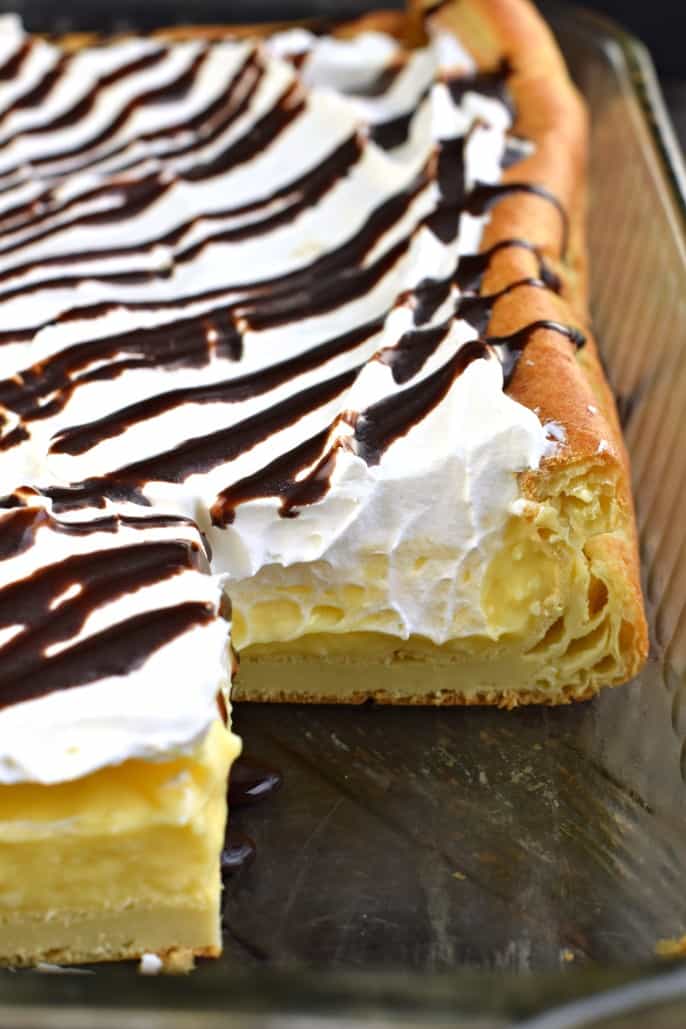 How to make Cream Puff Cake
STEP 1.
Start by making the puffy crust. You'll need a 13×9 baking dish for today's cake recipe. I sprayed mine with non-stick baking spray (but if you lightly grease and flour the pan that works too, or use my homemade cake release).
Preheat oven to 400 degrees F.
STEP 2.
In a small sauce, heat butter with water over medium high heat. Bring to a boil. Once boiling (and butter is melted), remove from heat. Whisk in flour and blend until it forms a ball.
In a large mixing bowl, add the flour mixture. Beat in eggs, one at a time. Finally, beat in 1 tsp vanilla extract.
Pour crust mixture into prepared baking dish. Spread evenly in pan and bake for 30 minutes.
Don't be alarmed when you pull it out of the oven and the sides are all puffed up. This is what is supposed to happen!
Allow the crust to cool completely before adding the filling.
STEP 3.
For the filling, whisk together 2 small boxes of instant vanilla pudding mix (3.4 ounce packages) with 2 1/2 cups of milk. Blend in softened cream cheese and beat until fluffy (about 3-4 minutes). Pour into prepared, cooled crust.
Top with homemade whipped cream or Cool Whip (whipped topping) and chill for at least one hour. Drizzle with chocolate syrup or top with chocolate chips before serving! ENJOY.
Can Cream Puff Cake Be Made Ahead of Time
Yes absolutely.
One of the things I love about this cake is you can make it a day or two in advance and it will still have the same texture and flavor as if you just prepared it!
More Easy Custard Recipes
If you love this cake with the creamy, custard like filling, here are a few of my favorite desserts that are similar: