You'll delight your friends and family with this recipe for Homemade Cream Puffs made with fresh choux pastry and vanilla custard filling.
Love these easy treats? Be sure to try our Boston Cream Pie next. We made homemade pastry cream and chocolate ganache to feature on our cake.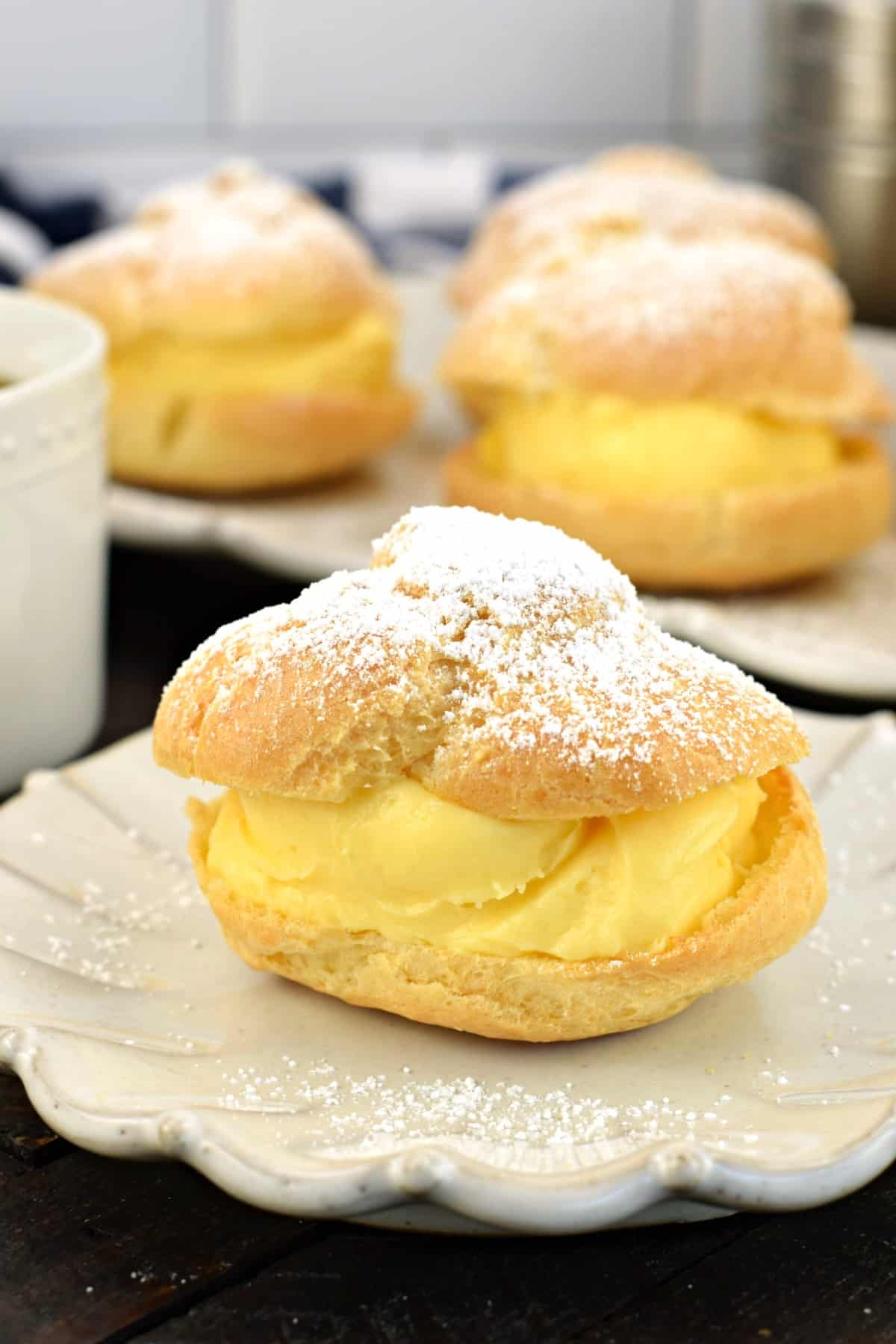 Why this recipe works
Whenever I visit a nice bakery, it can take me a while to finally decide what to order. So many delicious looking pastries, so little time, you know?
But there's one treat I can't ever resist: a Cream Puff.
If I happen to spot one of those puffed pastries stuffed with light sweet cream in the pastry case, you can bet I'm not walking away without one (or three). (same goes for Rice Krispie Treats!)
I like to nibble one with a cup of cold brew coffee, enjoying every bit of flaky choux pastry and cream puff filling.
Today, I'm delighted to show you how to make cream puffs at home. It's easier than you might think!
What is Choux Pastry
To make cream puffs, you start by creating a type of pastry called "choux."
Choux pastry is the classic light buttery pastry you think of in many french desserts.
It's made with only butter, flour, eggs and water and, unlike other kinds of dough, doesn't have any leavining agents at all.
Because of its high water and fat content it "puffs" as it bakings, creating a light and airy case for the delicious cream puff filling in this recipe.
For these Cream Puffs, I also added just a touch of Vanilla extract to the choux pastry recipe to complement the vanilla cream puff filling.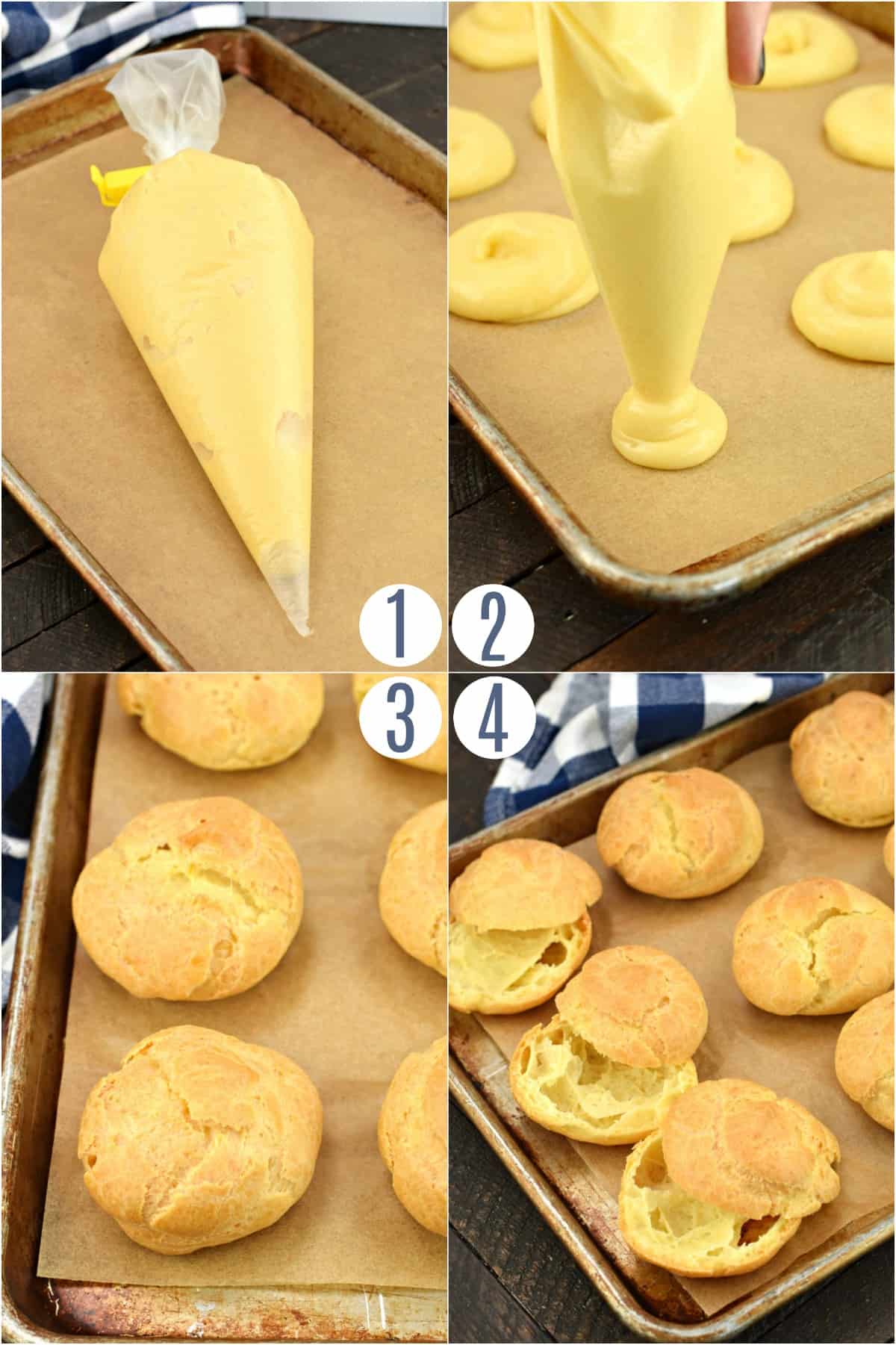 Here's what you need for the Choux Pastry Recipe:
Flour
Eggs
Butter
Water
Vanilla
Salt
How to Make Cream Puffs
STEP 1. Make the choux pastry dough
In a medium saucepan, add the butter and water. Bring to a boil over medium high heat. When it begins to boil, remove from heat and whisk in the flour and salt.
Pour flour mixture into a mixing bowl and add in eggs, one at a time, beating well after each addition. Add in vanilla extract at the end.
STEP 2. Bake the pastry
Spoon (or pipe) the choux dough onto parchment paper into small mounds (15 total).
Place in the 400 degree oven for 15 minutes, then, without removing them, lower the oven temperature to 350 degrees. Cook for an additional 25 minutes.
When done, prick the tops with a toothpick to allow the steam to release.
Place them back in the oven, turned off, with the door slightly ajar and allow to cool/dry for 15 minutes. Then remove the pastry puffs from oven and cool completely before filling.
While the pastry is cooling, get the filling ready.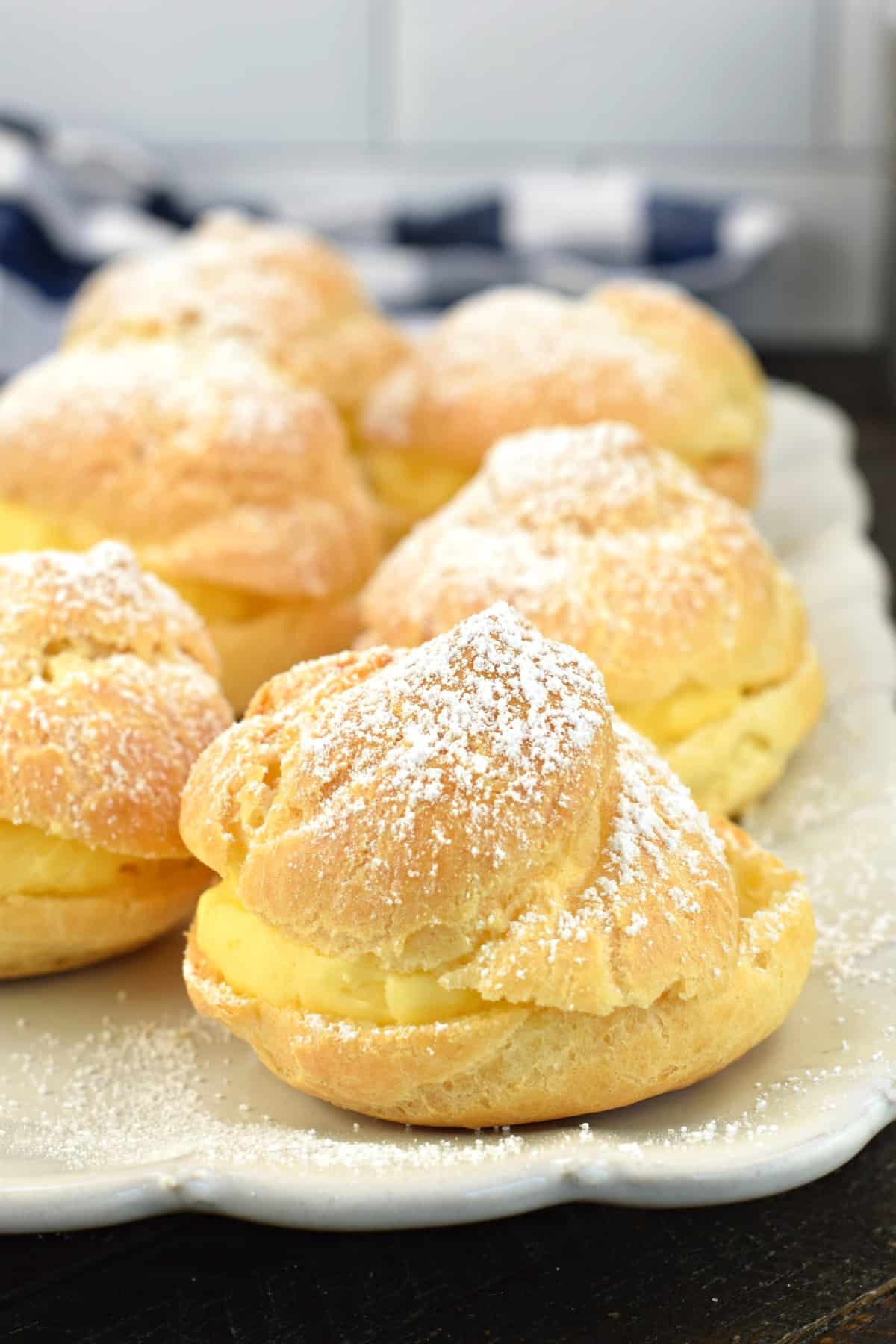 What is in Cream Puff Filling
I make my cream puff filling with vanilla pudding mix to make it quick and easy!
Along with the instant vanilla pudding mix, you need heavy whipping cream and additional vanilla extract.
Whisk everything together then refrigerate for an hour OR until the puff pastry shells are baked and fully cooled.
Did you know instant vanilla pudding mix is my "secret" to so many easy recipes? I use it to make Chocolate Chip Cookies extra soft and chewy and it's the starting point for my Banana Pudding Recipe too.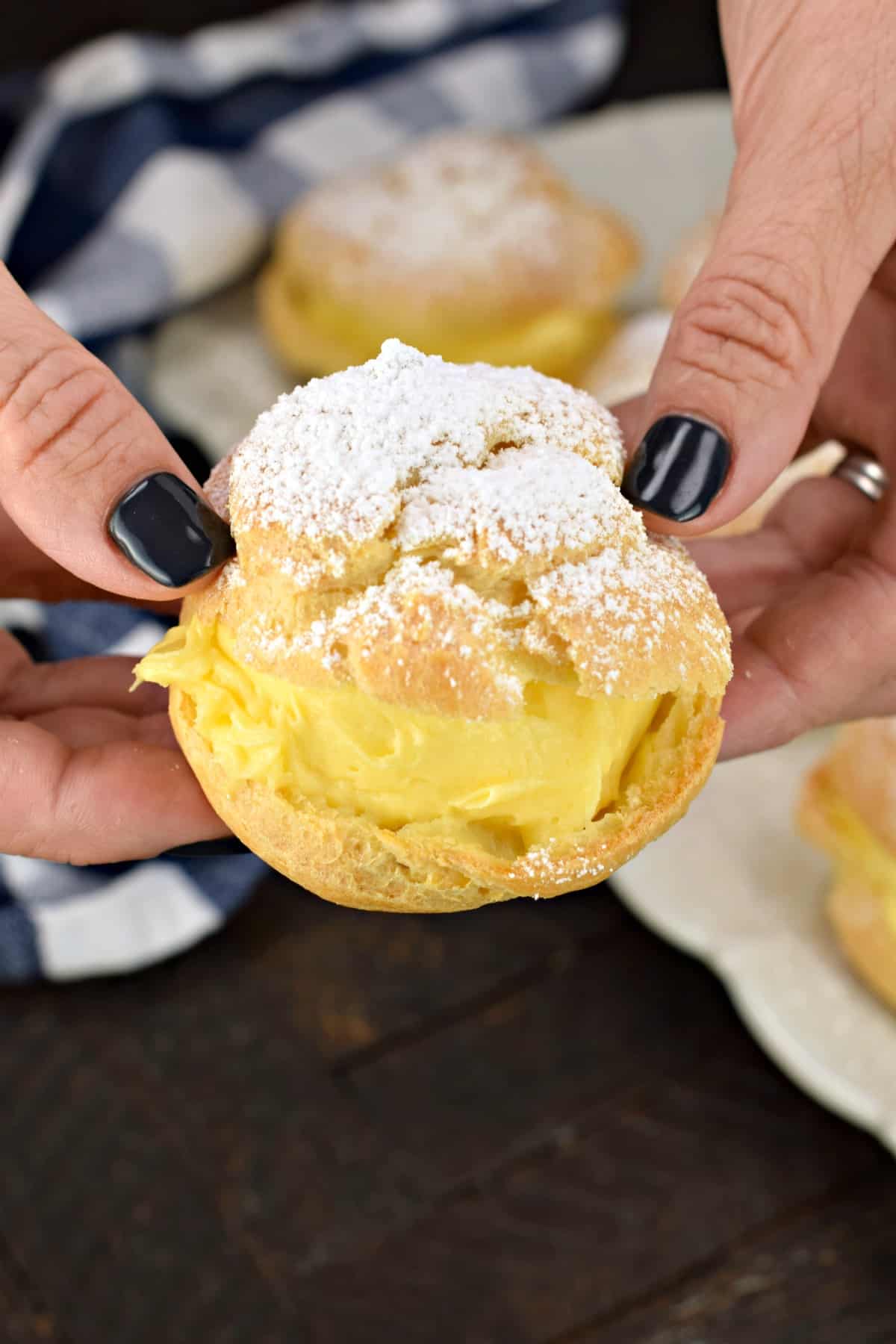 How to Assemble Cream Puffs
STEP 1. Slice each pastry in half.
STEP 2. Spoon or pipe the filling into each pastry shell.
STEP 3. Place the tops back on and sprinkle generously with powdered sugar.
Refrigerate the cream puffs until ready to serve!
OPTIONAL: Drizzle chocolate sauce over each cream puff before serving for extra decadence!
Serving Suggestions
Everyone's jaw will drop when you walk into the room holding a tray of homemade cream puffs!
These treats manage to be both decadent and delicate, making them perfect for birthday parties, an afternoon tea, and dessert.
These are best served the same day of baking.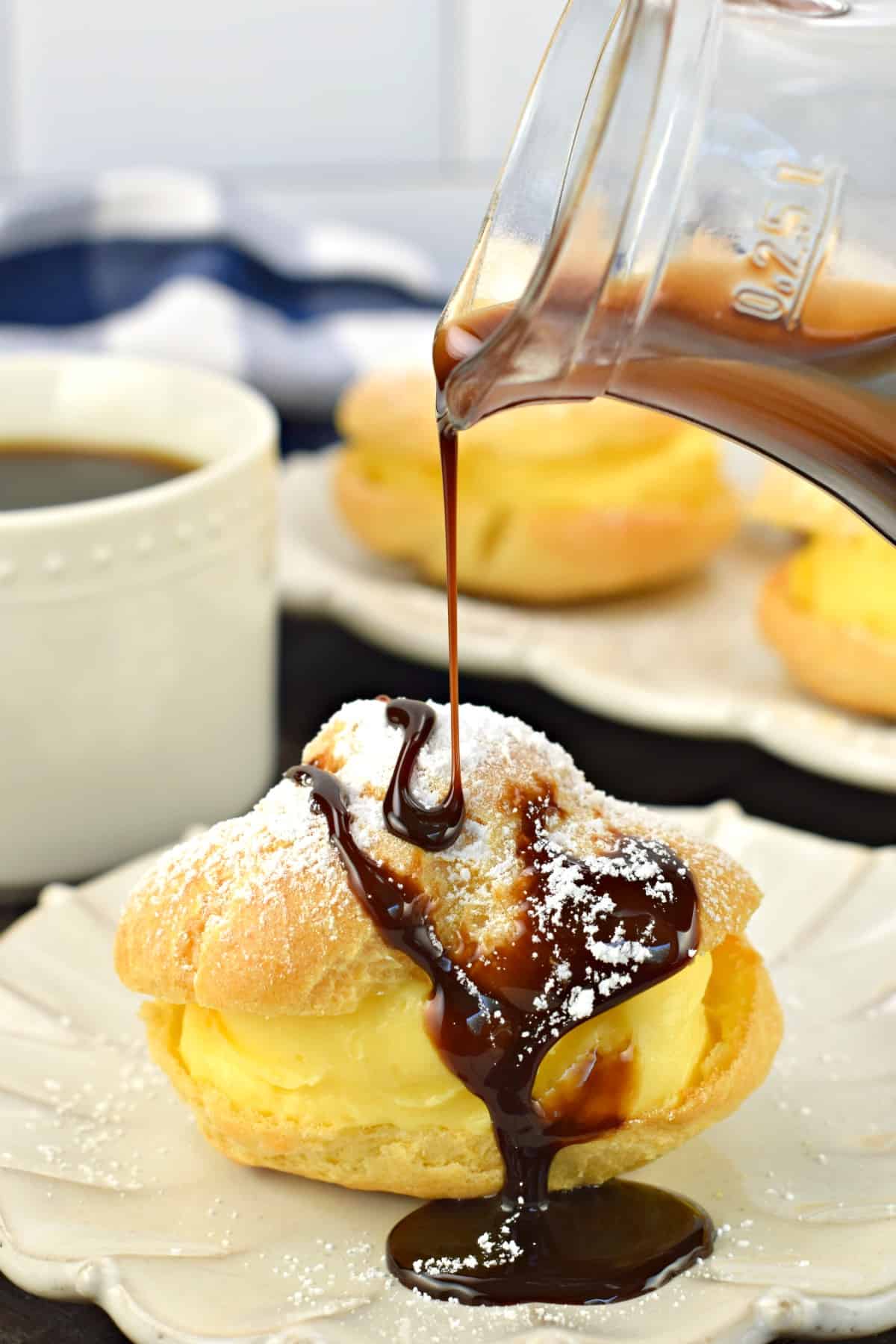 Top your cream puffs with a drizzle of chocolate syrup, or dunk the tops into melted chocolate. This will create a "boston cream pie" style of cream puff! (Mmm, did someone mention Boston Cream Donuts??)
This recipe makes 15 puffs which I found was just right for sharing with my family. We ate them for dessert one night then the kids and I enjoyed a cream puff as an after school treat the next day.
The contrast of light and creamy vanilla pudding with the flaky buttery pastry shell is out of this world. I've even been known to eat one of these pastries for breakfast! Served up with a cup of Dalgona coffee!
Once you try this classic cream puff recipe, you also need to check out the Cream Puff Cake recipe I've been baking for years!
Soft and chewy Peanut Butter Cookies are the perfect treat!
Sweet custard Rice Pudding is the classic dessert you crave!
Thank you Disney Parks for the delicious Churros recipe!
Whether you serve this as a breakfast cake, or for dessert, Swedish Almond Cake is a dense almond treat!
Make a batch light and flaky homemade Cream Puffs today. You'll be glad you did–and so will everyone who lives with you!