This creamy, rich Banana Pudding Recipe is a delicious, no-bake dessert! Perfect for weeknights or potlucks, everyone will LOVE this classic recipe! A delicious Paula Deen recipe featuring banana pudding and chessmen cookies!
If you love easy pudding desserts, have you tried these amazing Pudding Cookies? They stay soft for days! Or give this delightful chocolate Pudding Cake recipe a try soon.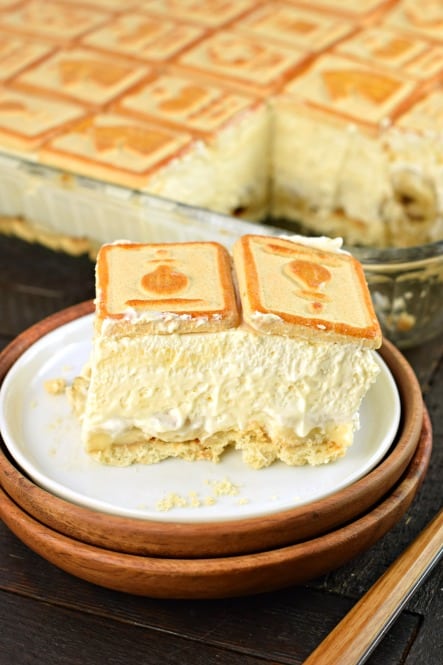 Why this Recipe is BEST
My family has been enjoying banana pudding for years, as I'm sure many of you have as well. I figured it was about time to share the recipe and photos with all of you!
When trying out different versions and variations through the years, the recipe that stuck is Paula Deen's Not Yo' Mama's Banana Pudding. She knows her banana pudding, for sure.
No Bake– sets up in 4 hours, firm enough to slice and serve
Looks beautiful in a trifle bowl, layered!
I changed the recipe so it's ONE BOWL. Easy to make, easy to clean.
Ingredient Notes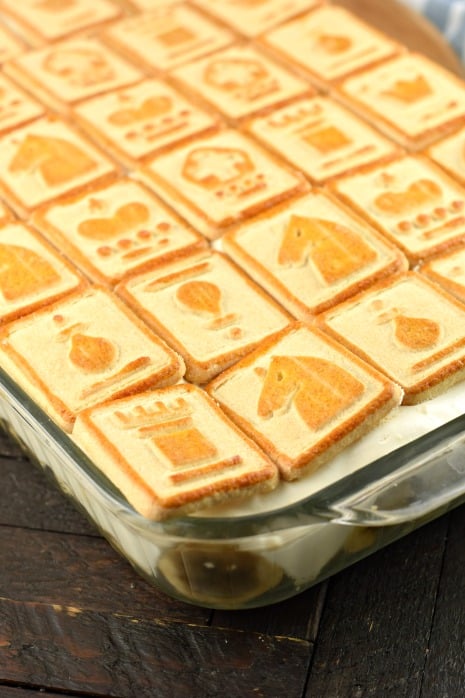 Bananas.
Start with fresh, ripened bananas. Preferably ones that are still firm, as the bananas will soften even more as this sits in the refrigerator.
Cookies.
Pepperidge Farm Chessmen Cookies are delicious shortbread cookies and make a great layering cookie. If you can't find them, butter cookies or Nilla Wafers will work too!
The cookies soften as this sits, much like in a Chocolate Eclair Cake or Icebox Cake. They become "cake-like" and amazing.
Pudding.
I opt for banana cream instant pudding mix. I think it intensifies the banana flavor to a delicious level. However, Paula Deen uses French Vanilla, and I think even plain vanilla would work too.
Be sure to use instant pudding for best results.
Whipped Cream vs Cool Whip
I chose to use Cool Whip for my banana pudding, but if you want to use a homemade whipped cream that would work too. It just might not be as stable. If serving in a trifle bowl, totally go for the whipped cream!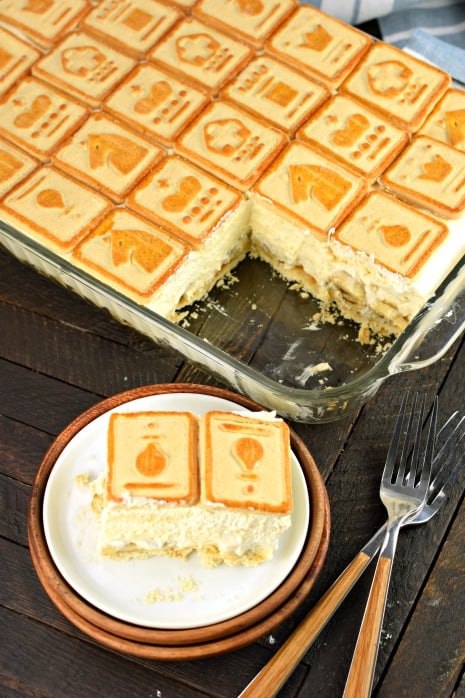 Step by Step Instructions
Bottom Layer. Line the bottom of a 13×9-inch baking dish with a single layer of cookies (it's okay if they overlap slightly). Use the deepest 13×9 you own.
Layer sliced bananas over the top. I used 6 medium size bananas, and they covered the bottom so you couldn't see any cookies (about 2 layers worth of banana slices).
Pudding Filling. In a mixing bowl, combine cream cheese with sweetened condensed milk. Beat until creamy, with no clumps! Add in pudding mixture, and milk, and beat again for several minutes, scraping down the sides of the bowl as needed.
Fold in the cool whip or whipped cream.
Final Layer. Pour pudding mixture over the top of the bananas and top with a layer of cookies.
Chill. Cover with plastic wrap and refrigerate for at least 4 hours.
Enjoy. To serve, slice and serve with an offset spatula. ENJOY.
Tips and Tricks
Use an electric mixer to get smooth pudding results. Make sure the cream cheese is softened to room temperature!
For best results, allow the banana pudding to chill for at least 4 hours, overnight is best!
Store banana pudding covered with plastic wrap in the refrigerator.
Make a cake! Our banana pudding poke cake is irresistible!
Recipe FAQs
How long does banana pudding last?
The bananas in banana pudding will begin to brown after two days.
Can banana pudding be frozen?
I don't recommend freezing banana pudding. The texture of the cookies will change, and the bananas will turn very dark and unappetizing.
Can banana pudding be made in advance?
Yes! This can be made up to 24 hours ahead of time, however for best results should be eaten within two days. Make sure to cover the bananas completely with pudding mixture so they are not exposed to air.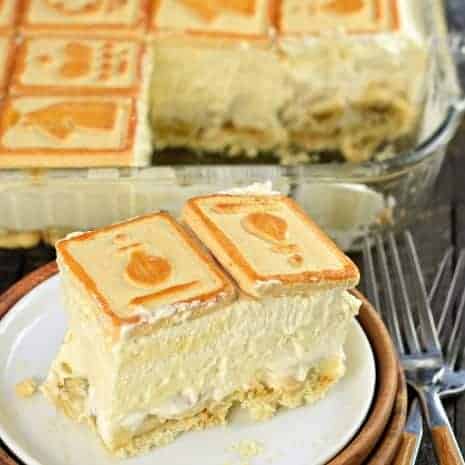 More Dessert Recipes
This creamy, rich Banana Pudding Recipe is a delicious, no-bake dessert! Perfect for weeknights or potlucks, everyone will LOVE this classic recipe!