This Copycat Hostess Ding Dong Cake recipe is a rich, decadent chocolate cake, with a creamy filling and chocolate ganache spread over the top! So easy, you'll love it!
Remember Hostess Suzy Q's? These Chocolate Whoopie Pies remind me of that classic treat! Or try our easy homemade hostess cupcakes next!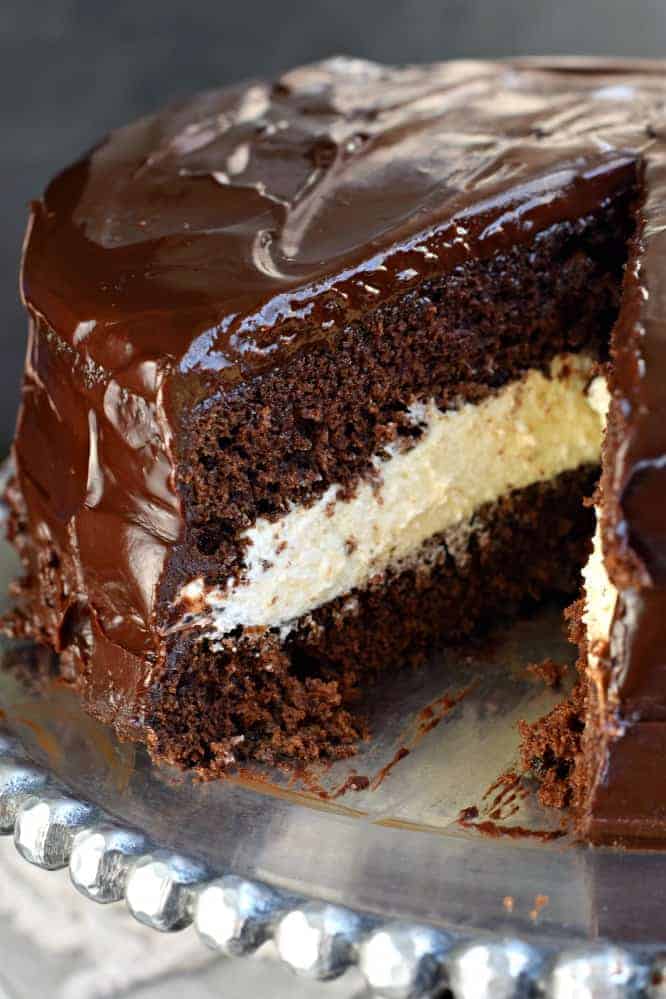 Why this Recipe Works
Growing up my mom would buy us Little Debbie snacks and Hostess snacks for our lunch boxes. We never knew what she would come home with, but I always got a little giddy when a box of Ding Dongs were in the cabinet.
Two layers or chocolate cake with a cream filling, all coated in chocolate ganache.
Look familiar? Today's Ding Dong Cake is just that, only….bigger!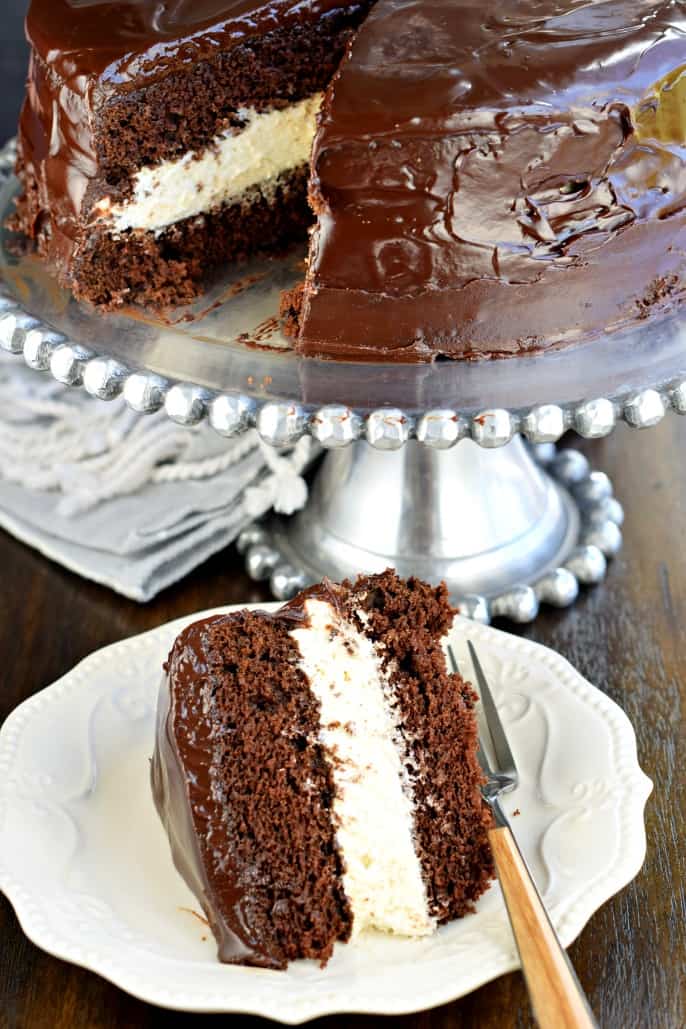 Step by Step Instructions
Bake the Cakes. Start by baking up two 9-inch chocolate cakes. I used my favorite chocolate cake recipe for this, so fudgy and perfect. If you choose to go with a boxed mix, make sure it's a rich and fudgy version, like a Devil's Food cake.
Cream Filling. Next you'll make the cream filling. It's a less sweet buttercream frosting, sometimes called Ermine frosting. A friend at our old church called it boiled milk frosting. But I think that sounds gross, so let's call it cream filling.
You'll first put your cold milk and flour in a small saucepan and whisk until the lumps are gone. Heat this up until thick, stirring the whole time. You want to keep stirring and heating until it becomes thick, almost like pudding. Be patient.
Once your milk mixture is thick, remove from heat and stir in the vanilla extract. COOL. Very important here. You don't want this warm and melting your butter in the next step.
In a mixing bowl, cream your butter and sugar until light and fluffy, about 4 minutes. Slowly add in the COOLED milk mixture, beating until it resembles a thick whipped cream or frosting. Don't be scared if it initially appears curdled, keep beating!
Assemble. Spread this thick layer of cream filling between your two cooled chocolate cake layers.
Cover in Ganache. Whip up some chocolate ganache (follow recipe instructions below) and pour it over the top and sides. Allow it set, and enjoy.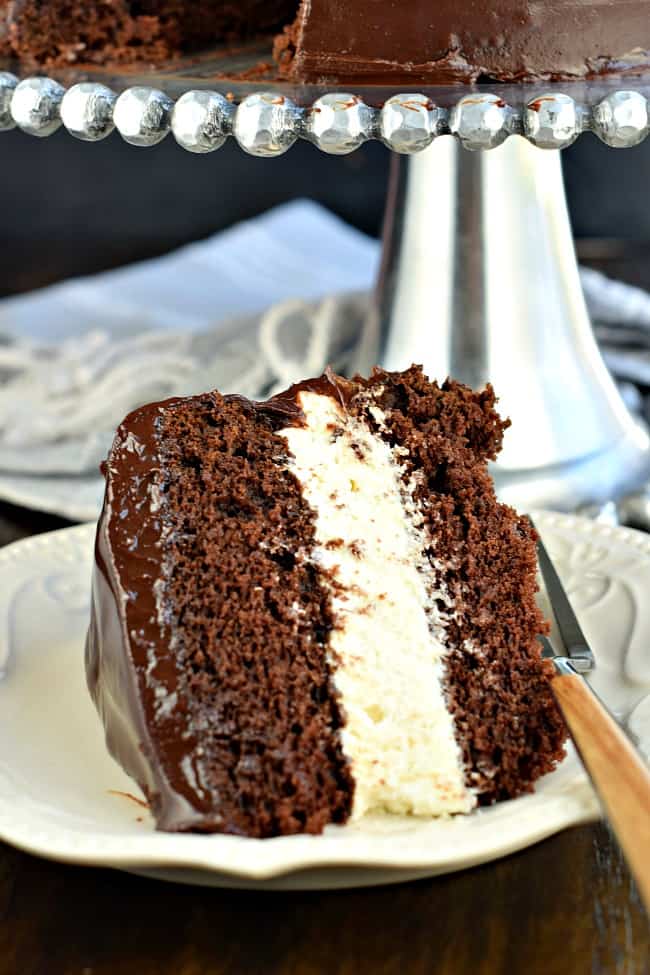 Can you freeze Ding Dong Cake?
Yes! Wrap slices of cake in plastic wrap and slide into freezer safe ziploc bag or airtight container. Freeze for up to 3 months.
Thaw in refrigerator and serve.
More Copycat Recipes
Decadent and delicious, these Copycat Hostess Cupcakes are better than the original! Fudgy with a cream filling, just like the original!
If you love those cute snack cakes from the grocery store, then these are going to tempt your taste buds! Homemade Little Debbie Snack Cakes
These Flourless Chocolate Cookies are a chewy cookie with a crunchy topping! You'll love the rich chocolate flavor in a unique cookie! Move over Starbucks, we've got a copycat recipe on our hands!
Making Homemade Cracker Jack popcorn is super easy and delicious! Sweet and crunchy, this addictive caramel corn is better than the original!
The BEST Red Velvet Cheesecake Cake recipe starts with two layers of homemade red velvet cake with a layer of cheesecake in the middle. Topped with delicious cream cheese frosting and white chocolate curls!
Delicious, easy, copycat Twinkie Cake recipe made with yellow cake and sweet whipped cream filling. The perfect, not overly sweet, cake recipe!
This Copycat Hostess Ding Dong Cake recipe is a rich, decadent chocolate cake, with a creamy filling and chocolate ganache spread over the top!