Learn how to make Homemade Cracker Jack popcorn that's even better than the original. Sweet and crunchy, this addictive caramel corn is just what your next movie night needs!
Love popcorn desserts? Try our homemade popcorn balls next!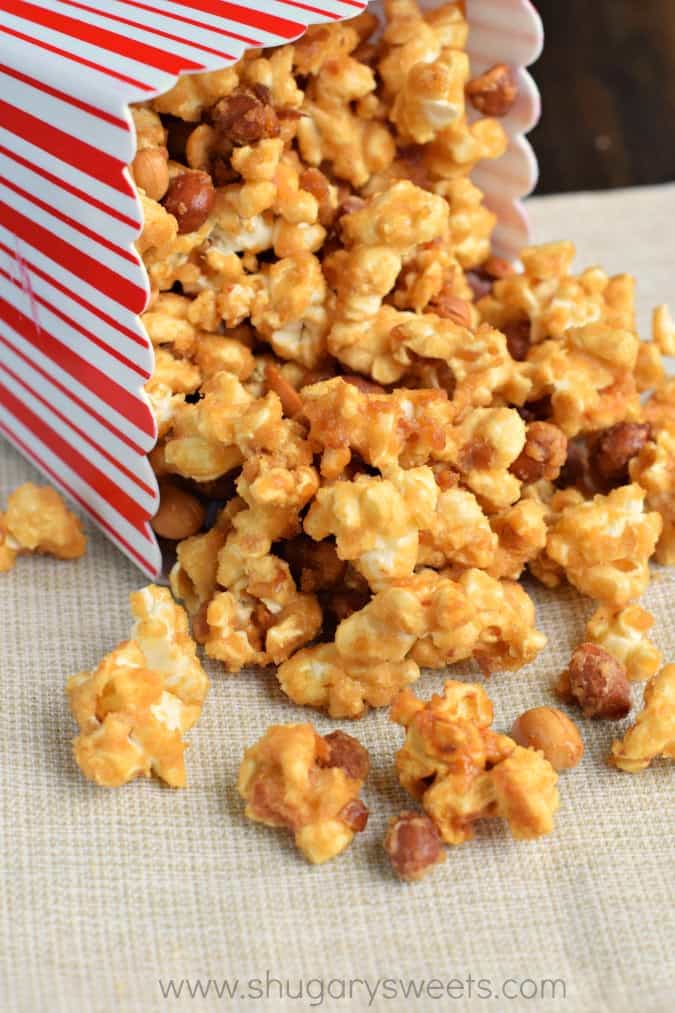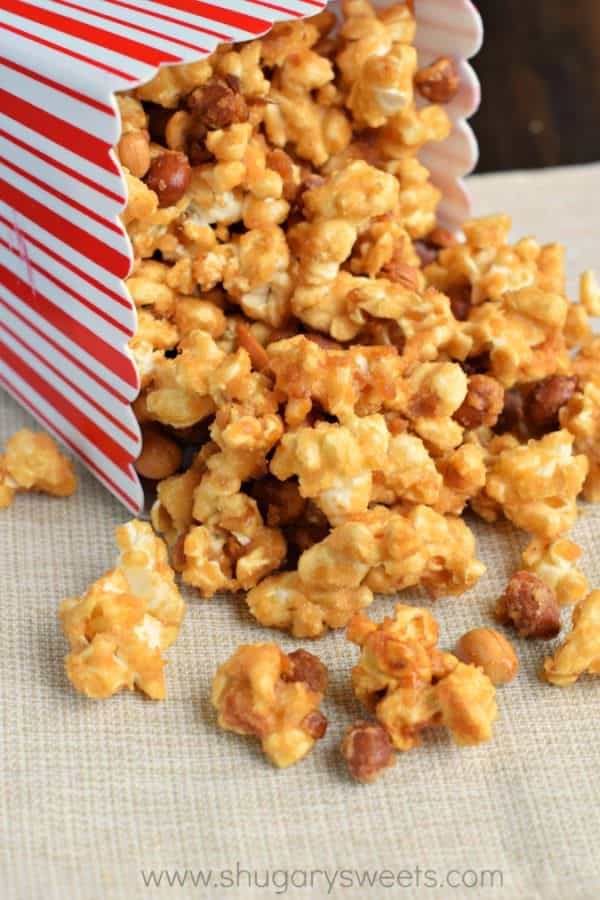 What is Cracker Jack
Cracker Jack is a sweet and salty combo of caramel covered popcorn and crunchy peanuts!
The packaged version of this snack has been around for over a century–popular at ball games and as an inexpensive treat for families to share. When I was a kid, the most important part of Cracker Jack was the prize that came inside the box. These days, what matters most to me is the TASTE!
This Homemade Cracker Jack may not come with a plastic ring or sticker, but it is full of rich buttery caramel flavor and a satisfying crunch. Made with real brown sugar, vanilla extract and Spanish peanuts, it's more cost effective by the pound than buying a bag at the store, too.
I love Homemade Caramel Corn of all kinds and Cracker Jack is no exception. Take it along to the ball game, munch on it by the handful during your family movie night or put it in a shiny tin to give as a gift!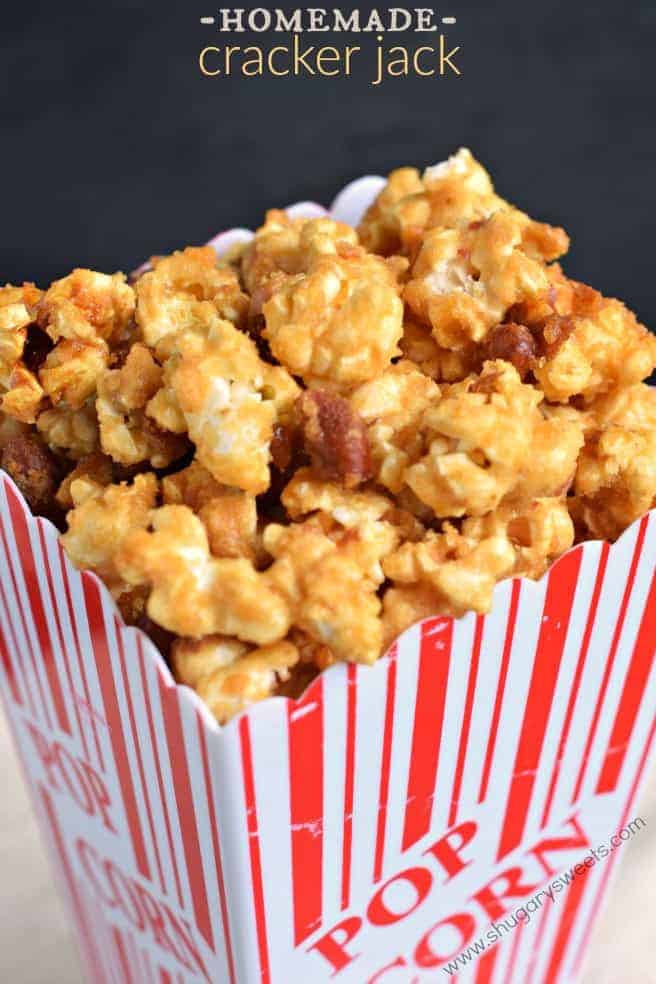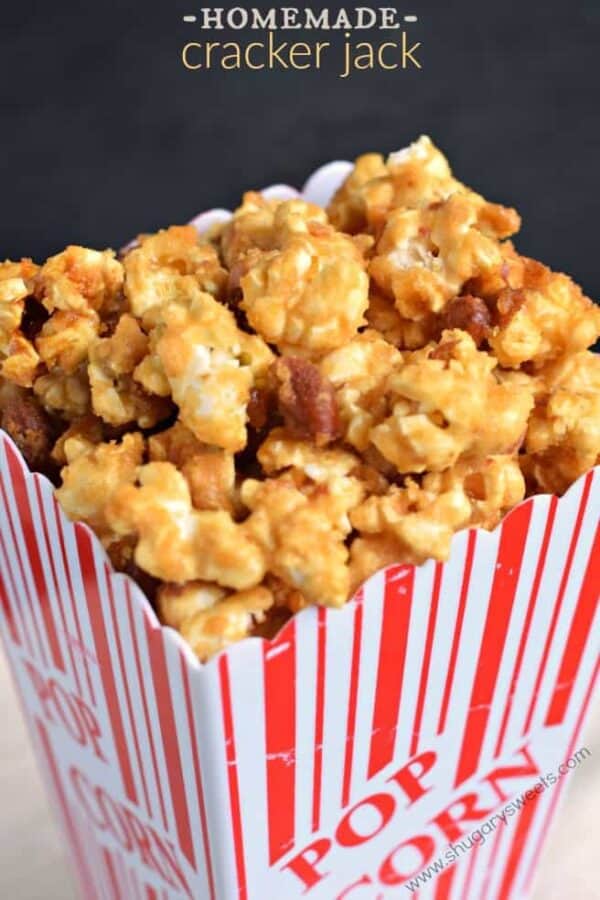 Ingredient Notes
Popped Popcorn – Bags of microwave popcorn are fine. Or make yours fresh using my favorite homemade microwave popcorn method!
Light corn syrup – Karo light syrup is my preference for achieving authentic cracker jack flavor.
Peanuts – Use Spanish red skinned peanuts if possible. If you don't have those, regular roasted peanuts will work in a pinch.
Vanilla – My homemade cracker jack has an irresistible hint of vanilla thanks to using homemade vanilla extract. Store bought works perfectly well too!
Easy Instructions
First, pop your popcorn kernels in the microwave, the popcorn popper or on the stove top.
Make the caramel coating by melting butter and combining it with brown sugar and corn syrup on the stove. Mix in vanilla and baking soda, then pour the caramel over the popped corn and peanuts.
Divide the coated popcorn into broiler pans, and bake for 1 hour. Stir the popcorn ever 15 minutes or so.
Take the pans out of the oven and let the popcorn cool completely before enjoying or storing!
Recipe FAQ
Do you use roasted and salted peanuts?
Yes, I use roasted and salted peanuts in this recipe. The Spanish redskinned variety are my favorite for appearance and taste but any salted peanut will do!
Can you make this without nuts?
You can make this without the peanuts. It won't quite be Cracker Jack but it'll be delicious classic caramel corn!
Can I substitute honey or maple syrup for the corn syrup?
No, I haven't found any substitutes that deliver the same caramel-y results that light corn syrup does. This is meant to be a sweet treat, not a health food, so I encourage you to try the recipe as written. It's delicious and well worth it for an occasional indulgence!
Tips & Tricks
Storing. Transfer the cooled Cracker Jack to an airtight container or ziploc bag immediately after it cools to ensure freshness and crunch. Store at room temperature for up to a week. Mine never lasts that long because we can't stop eating it!
Easy cleanup:.Disposable lasagna pans are perfect for baking this popcorn without having to scrub a broiler pan clean. If eating right away, you can even serve your cracker jack right from the pans.
Gift idea. Put the Cracker Jack in mason jars or decorative tins for an easy holiday gift or token of appreciation for a friend. Everyone loves Cracker Jack!
Take me out to the ballgame. . . but let me bring my own Cracker Jack! This candy-coated sweet and salty popcorn treat is perfect for snacking and sharing with friends.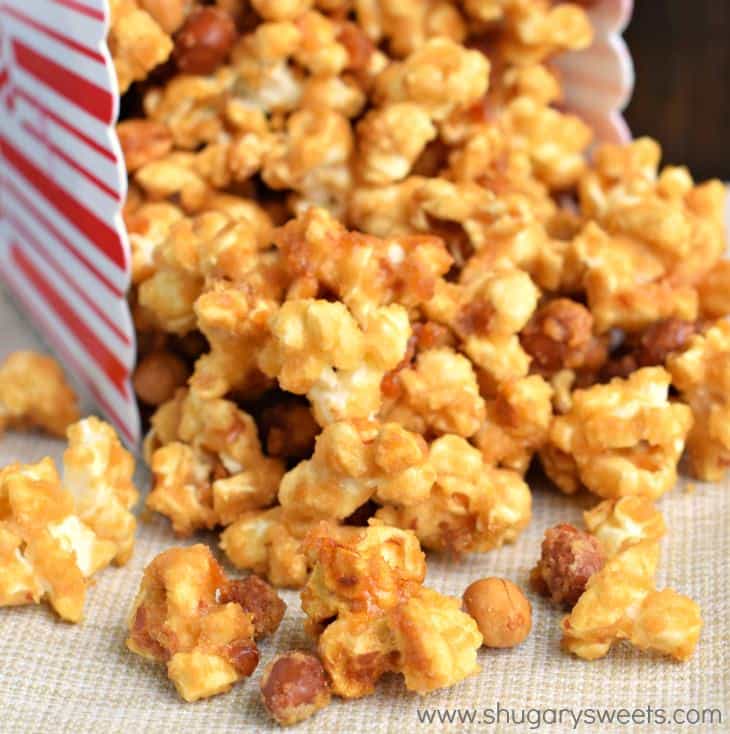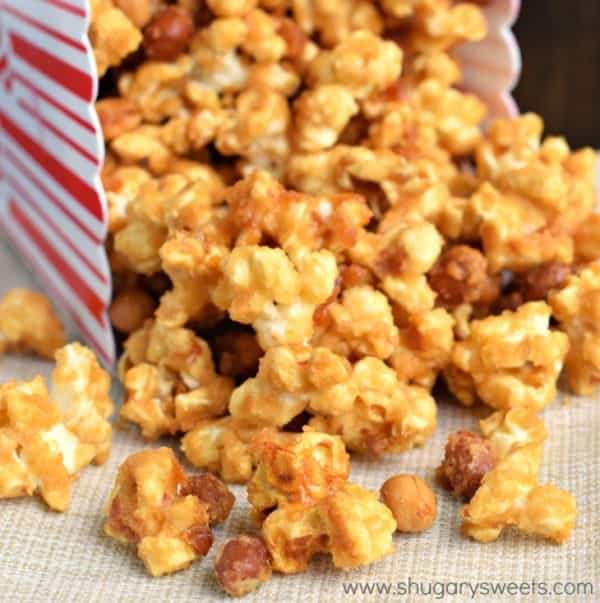 Easy Snack Recipes