Never overspend on Microwave Popcorn from the store again! Learn how to make popcorn in the microwave from scratch with these two easy methods. No popcorn popper needed!
Use this delicious popcorn recipe to make Chocolate Covered Caramel Corn. Or try a batch of Payday Caramel Corn for the holidays!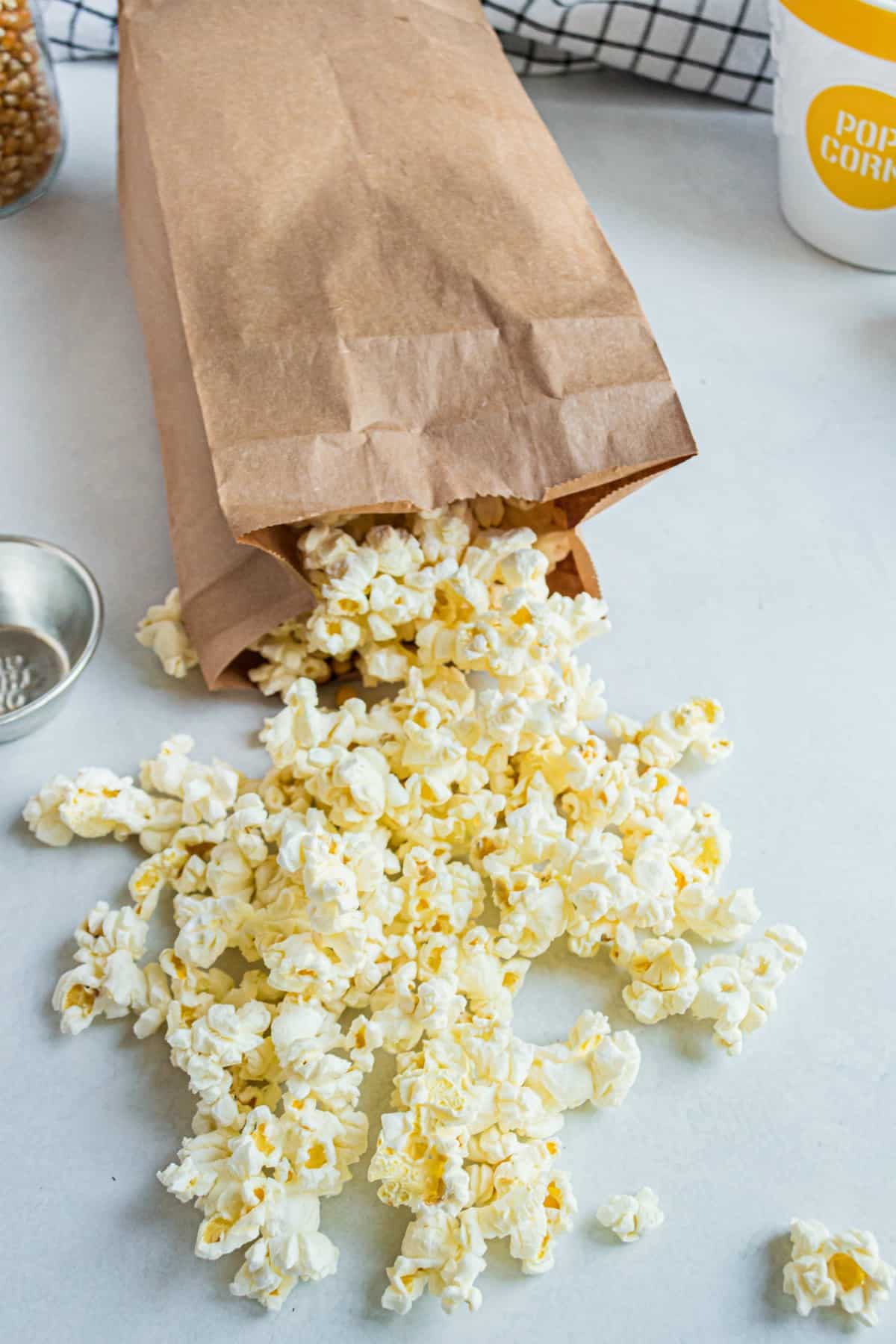 Why Make Homemade Popcorn
A bowl of freshly popped popcorn is a must have for movie night at my house. The store bought microwave popcorn bags never do it for me with all of that fake tasting "butter" topping.
Homemade popcorn is not only better for you, with lots of whole grains and no preservatives, it's way less expensive too! For the price of one store bought bag of microwave popcorn, we can have 5 bowls of the homemade stuff.
I have made–and loved–stove top popcorn before, but when I'm trying to make a quick snack, I far prefer this microwave popcorn method.
This popcorn recipe is oil free and has only one ingredient: popcorn kernels!
Once your kernels are popped, you can dress them up however you like with melted butter, sea salt, cheese and any other of your favorite popcorn toppings.
Use this guide for how to make popcorn in the microwave to make perfect popcorn every time. The popcorn is fluffy and slightly crispy, with no burnt pieces and without requiring anymore effort than the store bought bags.
I use this base recipe before making Homemade Caramel Corn! It comes out perfect. Also great for Cracker Jacks– I make my own version.
Healthy Snack
I love that I can control exactly how much butter and salt go onto my popcorn when I make it at home. You can even just sprinkle it with salt for a low calorie fat free treat.
Unlike stove top methods of popcorn making, you don't need any oil to make it in the microwave!
As far as snacks go, popcorn is a fairly healthy choice with lots of fiber per serving. Since I've never met anyone who doesn't love to snack on popcorn, it's always a good choice!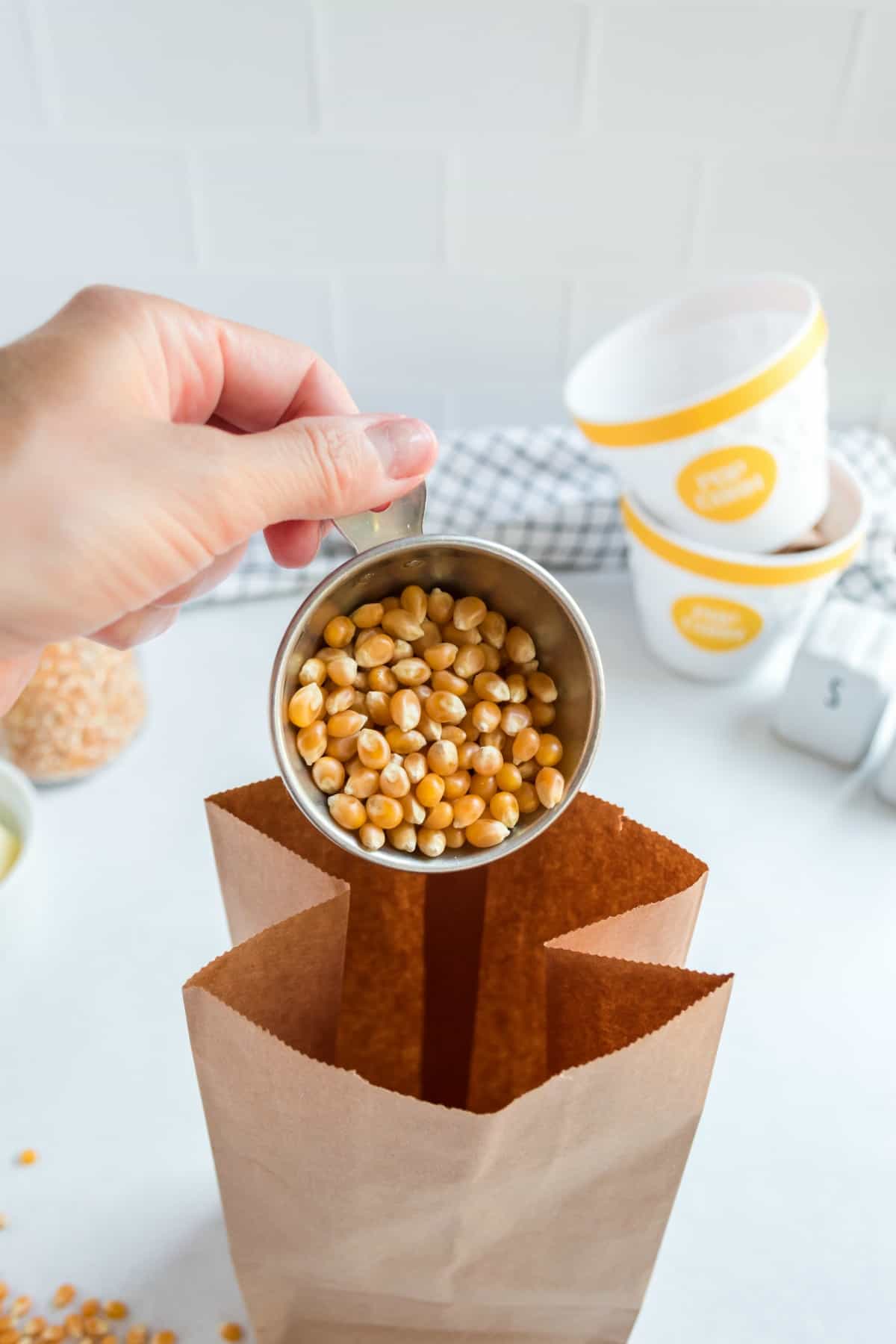 Two Methods for Microwave Popcorn
You can make popcorn in the microwave two ways:
With a paper bag
In a glass bowl
Which is better? I have used both methods several times and like them both just the same.
The glass bowl method is nice when I've run out of bags, and it also takes out one step between popping and serving. Some people are also nervous about cooking paper bagsin the microwave.
The paper bag method is amazing when I want to make popcorn we can take on the go. Or (real talk) if I've forgotten to wash the dishes and we have no more clean bowls. I'm only human.
How to make popcorn in a bag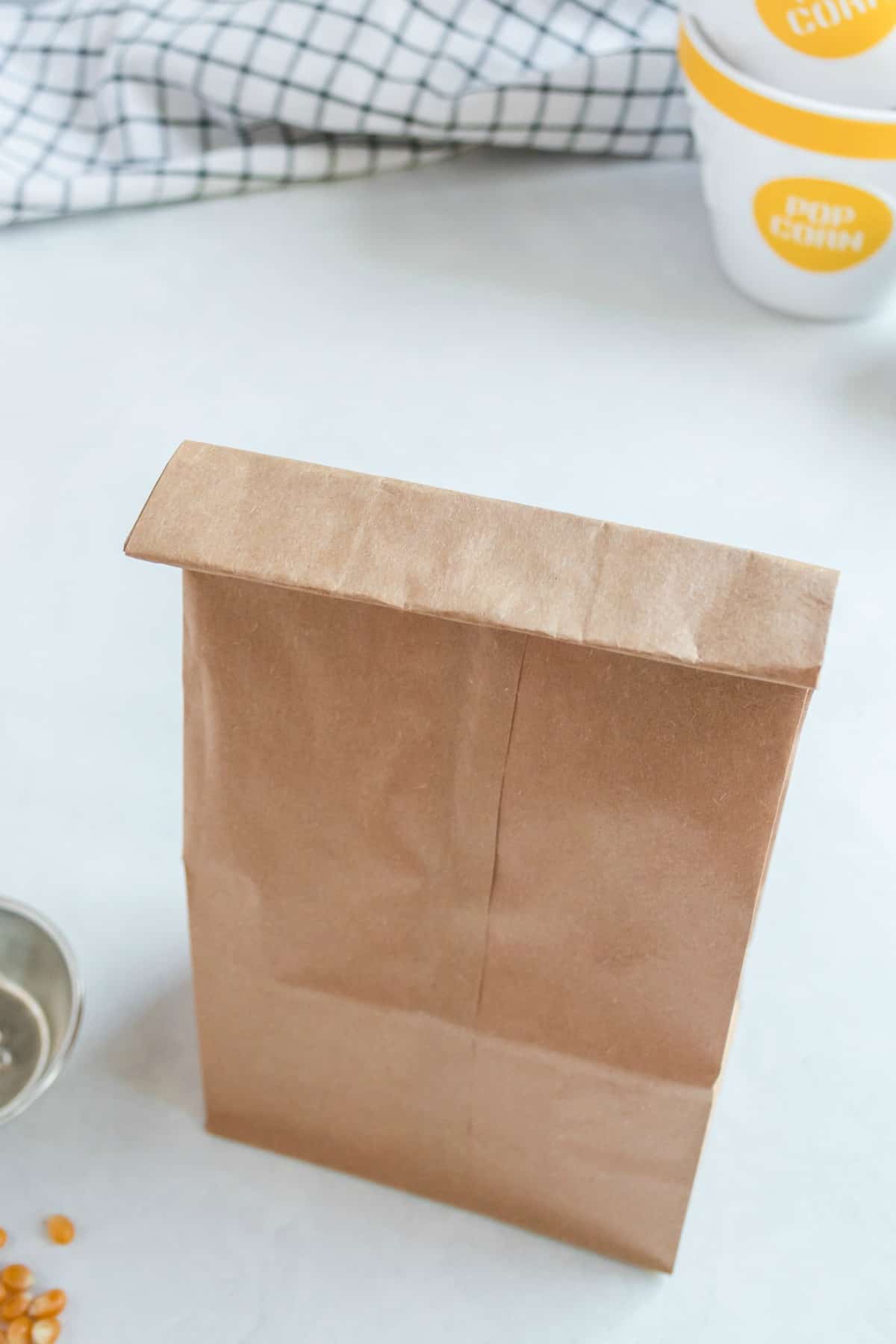 Grab an ordinary paper lunch sack and measure in 1/3 of a cup of popcorn kernels.
WARNING: Do not use paper bags that are made from recycled materials in the microwave!
Fold down the top of the bag twice to keep the kernels in while they pop.
Microwave for 90 seconds on high power. Listen to the popcorn as it pops and take it out if you start to notice more than one or two seconds between pops.
Remove the bag from the microwave and add any toppings you like. You can season the popcorn right in the bag or pour it into a serving bowl first.
Be careful when opening the bag as the steam escaping will be hot!
How to make microwave popcorn using a bowl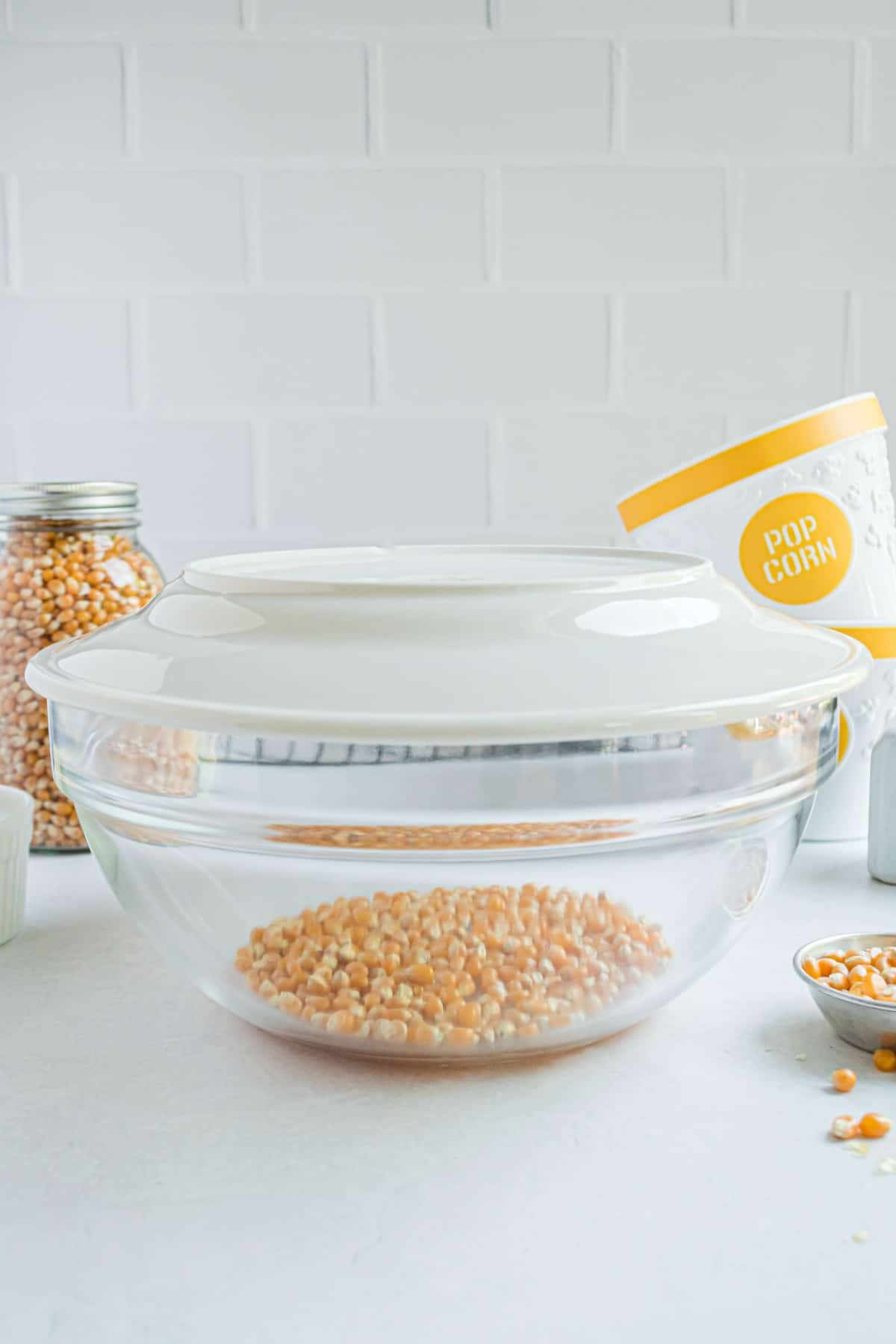 Add 1/2 cup of kernels to a glass microwave safe bowl.
Fit a microwave safe dinner plate over the top of the bowl, making sure it covers any gaps as well as possible.
Microwave for 5 minutes at full power or until you hear 1 – 2 seconds between pops.
Carefully remove the bowl and the plate (it will be hot!). Add desired toppings and serve!
Tips and Tricks
Keep a close ear on the popcorn as it pops. It's better to have a few unpopped kernels than a whole bowl of burnt popcorn!
Monitor the paper bag closely. It can catch on fire if you leave it in too long.
Adjusting serving size: This recipe yields 3 cups of popped corn. You can double this recipe using the bowl method, as long as your bowl is large enough–you may need to leave it in for a few more seconds.
Some stores also sell popcorn in the bulk bins which means you'll save even more on your snacking!
Use this recipe to make our soft and chewy popcorn balls!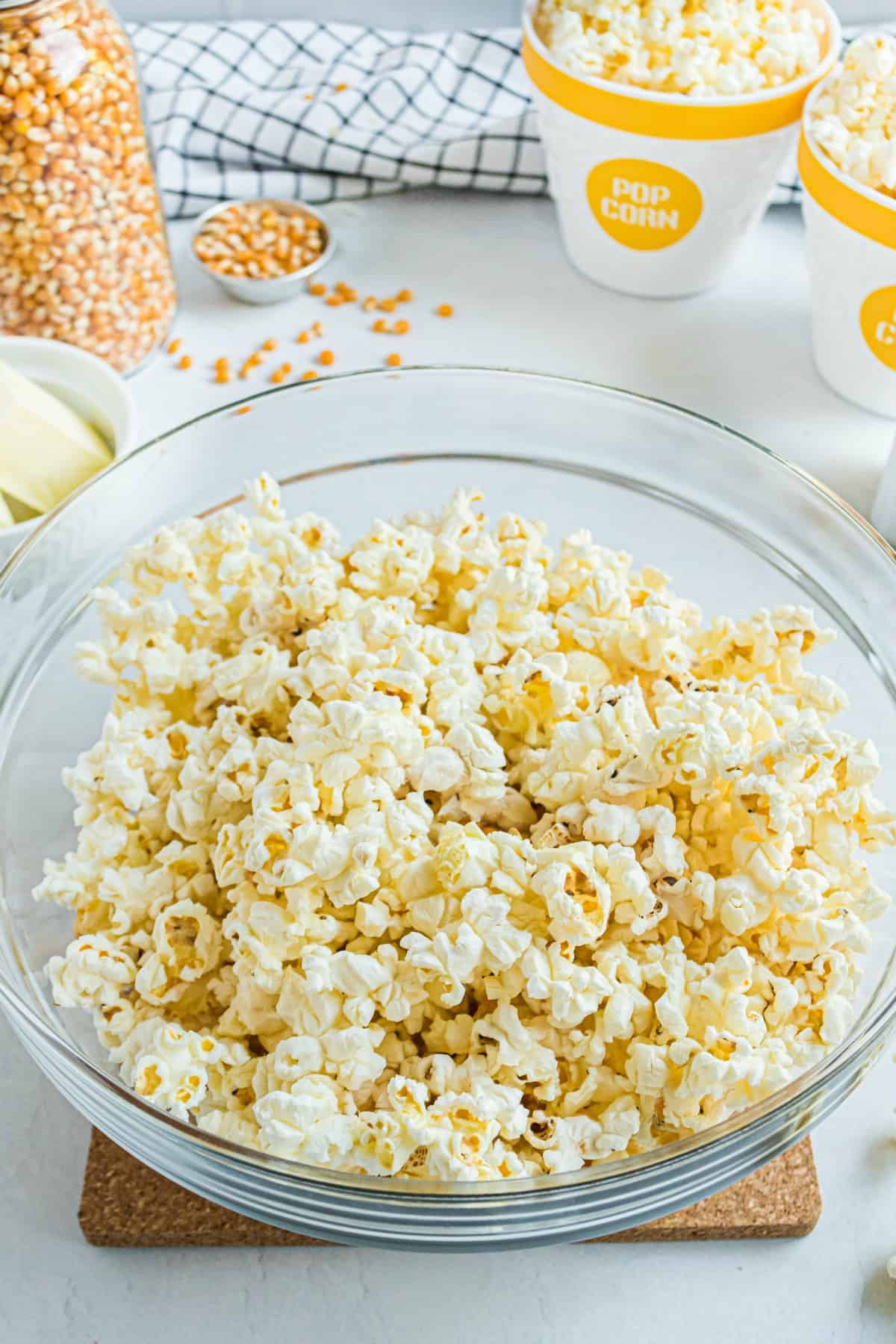 Recipe FAQs
What kind of popcorn do you use for microwave popcorn?
Use plain popping corn for this recipe. Look for either white popping corn or yellow kernel popping corn. You'll find it at the grocery store next to the microwave popcorn bags.
Is microwave popcorn healthy?
This microwave popcorn recipe is made with only one ingredient. Popcorn Kernels!
Is it safe to use a paper bag in the microwave?
Do not use paper bags in the microwave that have been made from recycled materials. These can be flammable. If unsure, use the glass bowl method described above.
Microwave Popcorn Toppings
Your popcorn is your canvas! Here are a few delicious popcorn topping ideas for how to dress up your popcorn.
Melted butter and sea salt
Olive oil or melted coconut oil with salt
Parmesan cheese
Garlic powder
Toss with chocolate chips and sea salt for a sweet and salty treat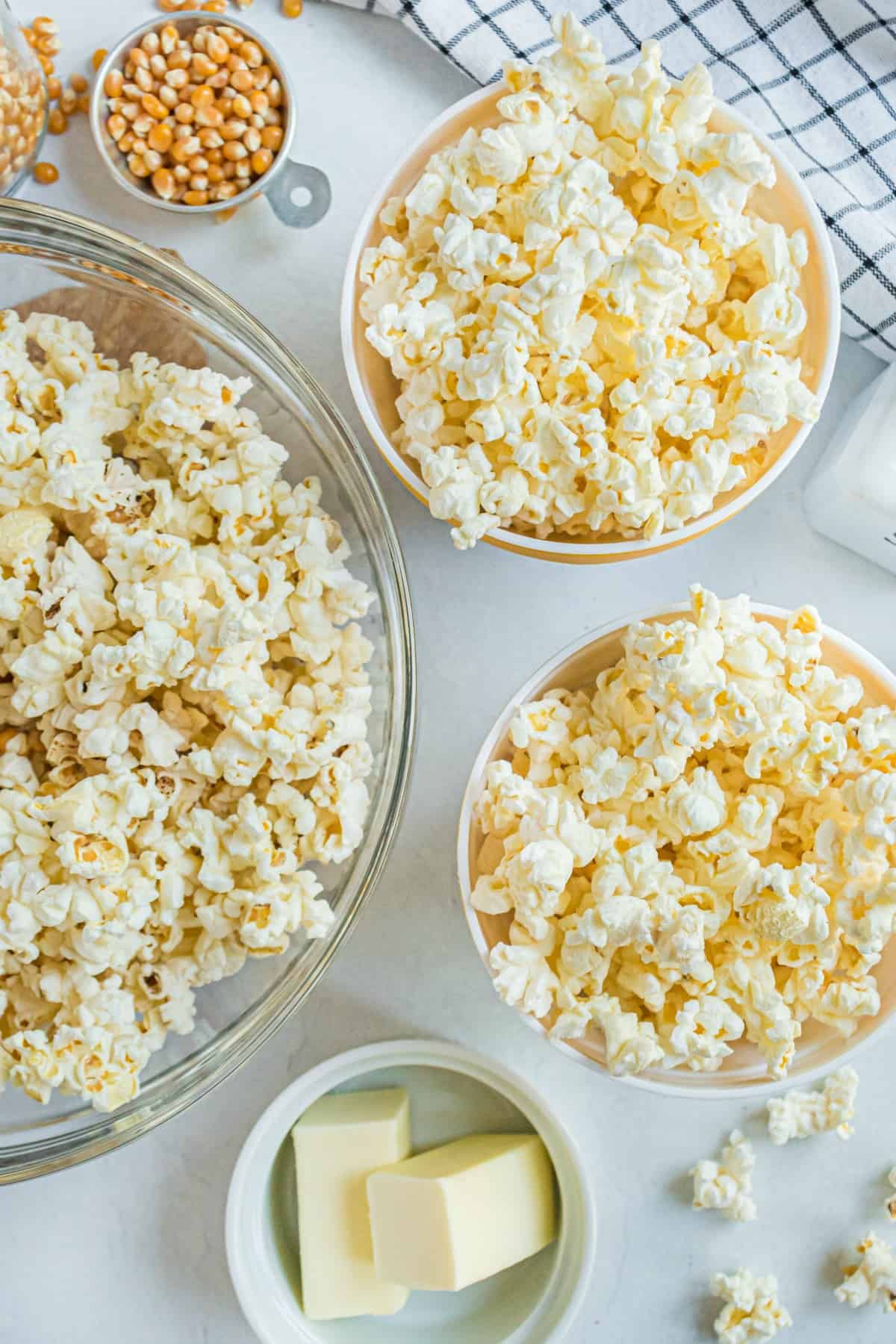 Skip the store bought preservative laden microwave popcorn and make your own healthier version for just pennies! Movie night just got a lot tastier.