Homemade Bagel Chips are a great snack to dip, scoop, or munch on with your favorite dip. These crispy chips are simple to make and yet so addictive to eat.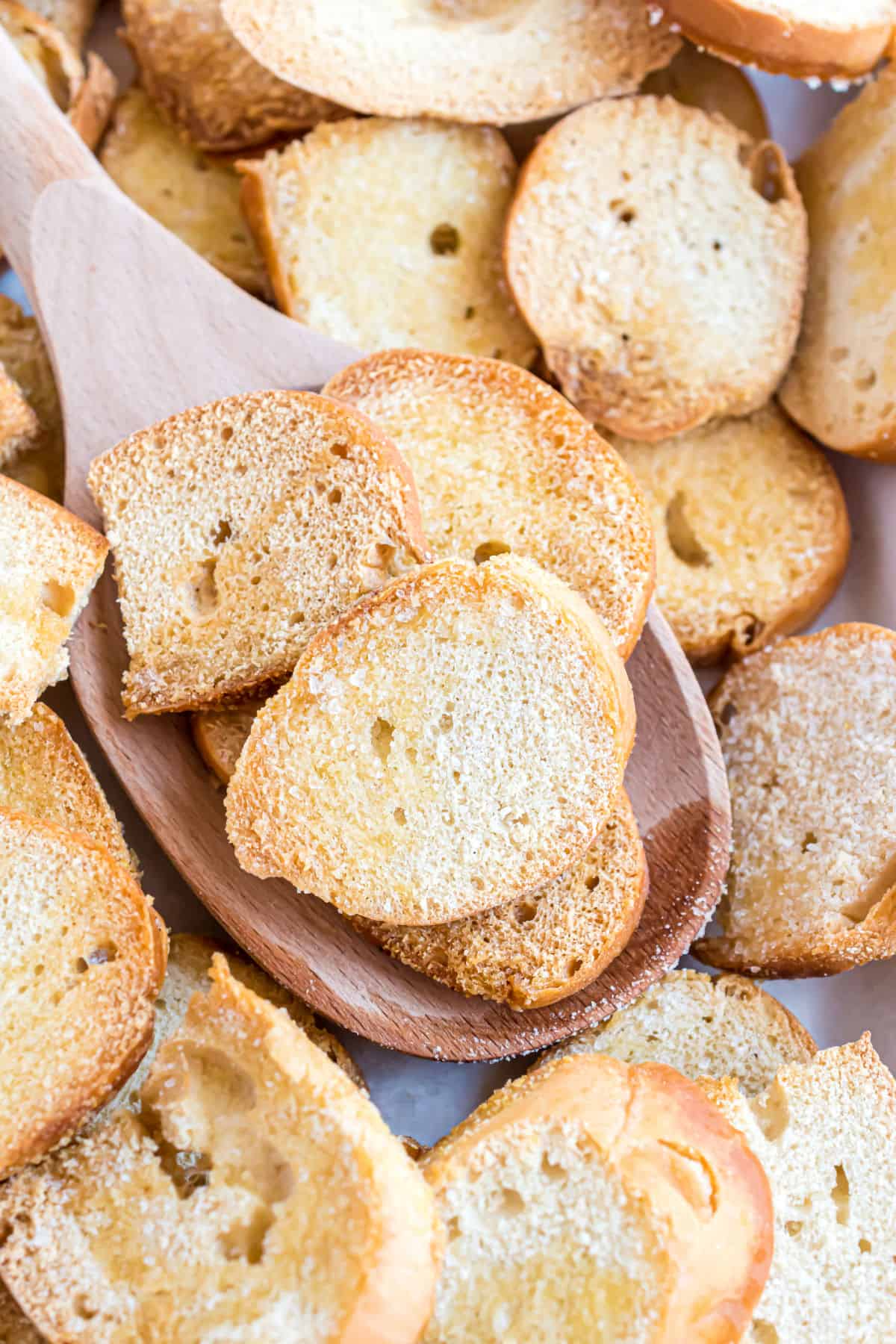 Why Make Homemade Bagel Chips
Traditional crisps and crackers are great, but these Homemade Bagel Chips have an edge over all of them.
If you think bagels are amazing, then the taste, crispiness, and simplicity of this recipe will blow your mind.
Here are a few reasons why these bagel chips are so great,
A budget-friendly snack. Can't you buy Bagel Chips in the store? Of course, you can. But those are unnecessarily expensive and too crunchy. Homemade ones are light golden and crunchy, with a slight chew in the center.
Quick to make. With only 5 minutes of hands-on prep and 3 ingredients, you can make these crispy bagel chips at home.
Gives the bagels a second life. Once you try this recipe, your leftover bagels will never go to waste. Surprisingly, these bagel chips taste better when made using older bagels than fresh ones.
Unlike my rice krispie treat recipe which REQUIRES you to use fresh ingredients…today's bagel chips are perfect because you can use LEFTOVER bagels that have slightly staled in the bag.
Ingredient Notes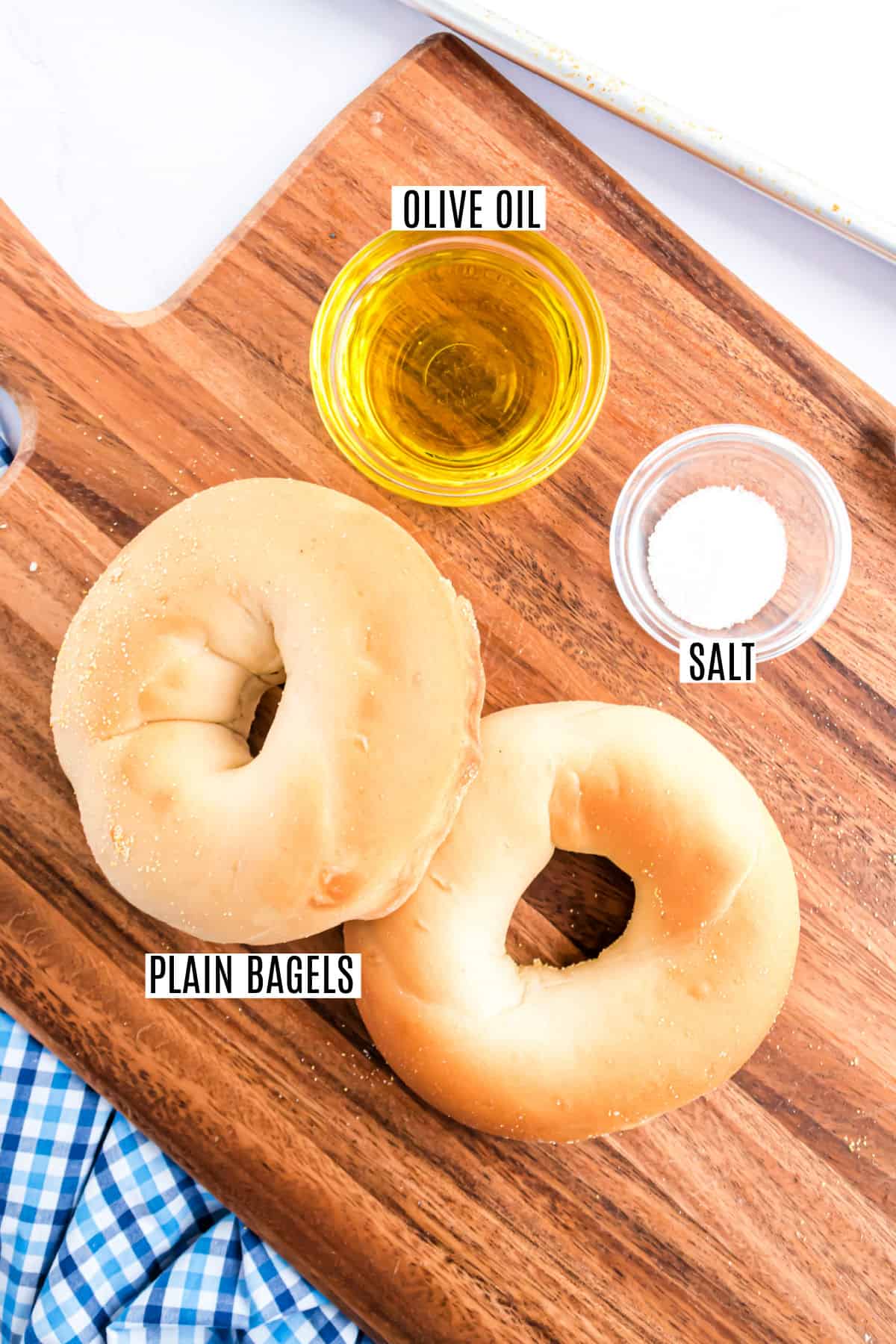 See the recipe card for full information on ingredients and quantities.
Plain Bagels – I like to use plain bagels, but the truth is that any flavor will do. You can also make gluten-free chips using gluten-free bagels.
Olive Oil – Oil selection is flexible, but I've found the flavor you get from extra virgin olive oil is tough to beat. Make sure to brush oil as it crisps up the bread.
Kosher Salt – Or any seasoning to make the bagel chips flavorful.
Easy Instructions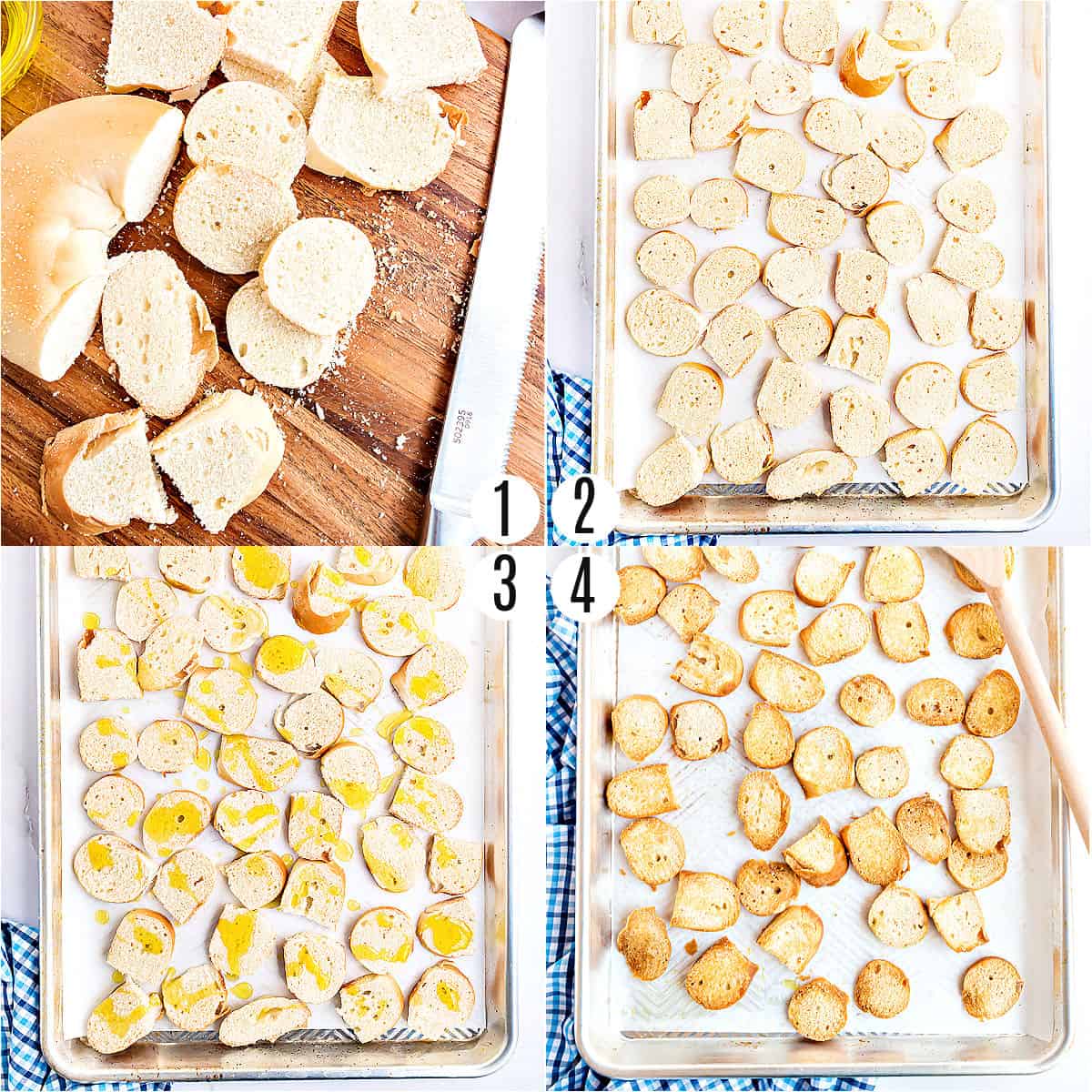 Prepare the bagel slices. Slice the bagel in half and cut it into ⅛-inch thick round cross sections.
Place in a single layer on a baking sheet.
Brush on olive oil and sprinkle salt.
Bake the chips. Bake at 350°F for 10-15 minutes and flip the pieces halfway. Cool completely and serve.
Alternative Methods
For most people, an oven is the most straightforward way to make bagel chips at home. After all, everybody's got one. But here are a couple of alternative options if you don't want to use the oven. The main challenge with these other methods is that the size of the cookers limits how many chips you can make in a single batch.
Air-fryer. Follow the same recipe and line your air-fryer basket with a single layer of bagel chips. Cook them at 350°F for 6-8 minutes and flip them halfway through.
Frying pan. Heat a pan on medium heat and place the prepped bagel chips in a single layer. Reduce the heat to medium-low and let them crisp up for a few minutes. Flip them and cook the other side once you're satisfied with the color.
Toaster. Instead of cutting the bagel into smaller slices, use a sharp bread knife and cut the bagel length-wise into four large slices. Prepare those slices and put them in the toaster at medium to low heat until they get the desired color and crispiness.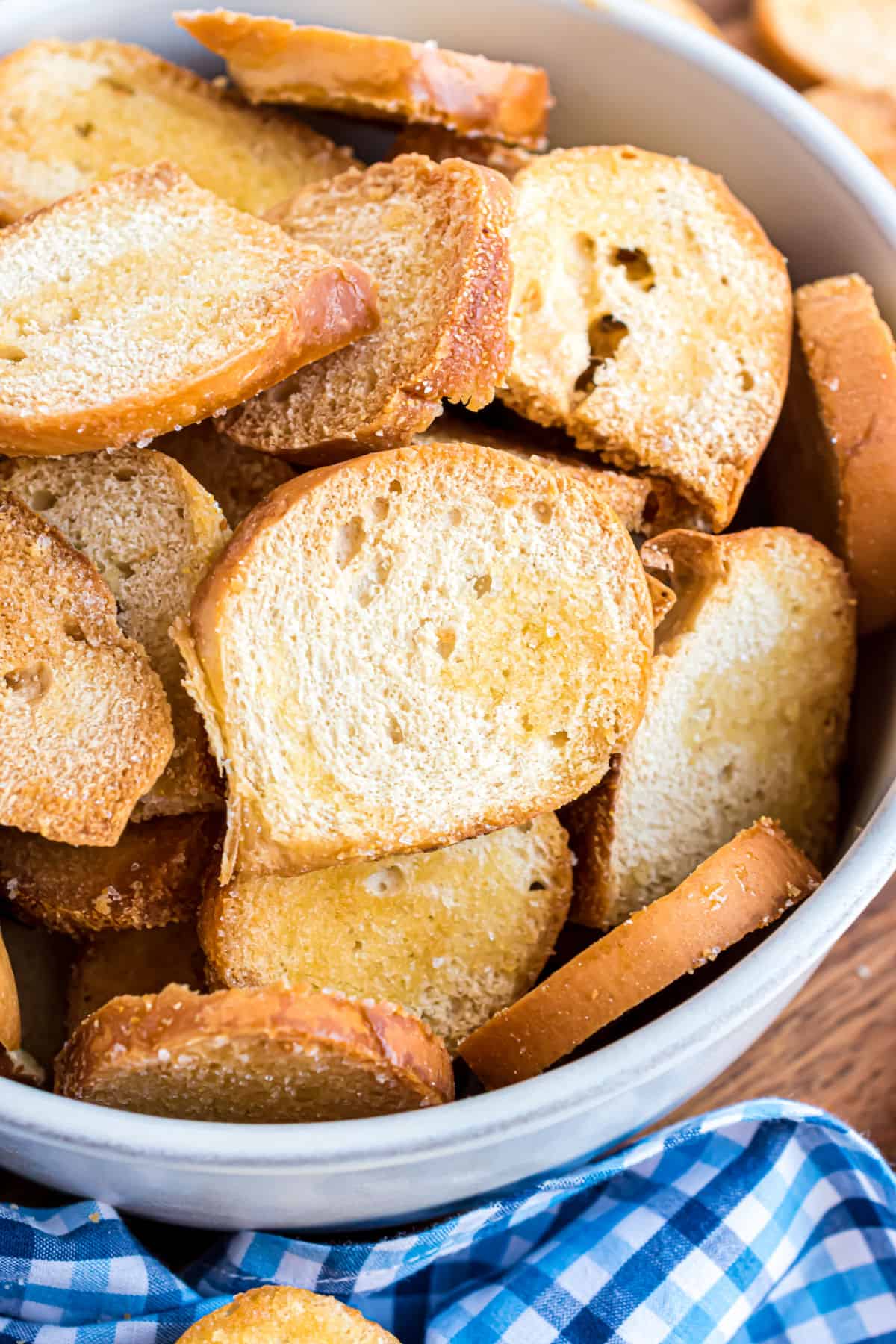 Tips and Tricks
Mix up the seasoning. Replace the salt with any seasoning you like. I enjoy everything bagel mix, BBQ seasoning, or oregano.
Or make it sweet. Savory seasonings are great, but I love combining cinnamon powder and sugar to make sweet bagel chips too, much like our baked cinnamon sugar tortilla chips.
Make it rich. Try using butter instead of olive oil, and add some freshly minced garlic and herbs to the butter. You can also sprinkle some parmesan cheese and put it back in the oven for an extra few minutes.
Don't use fresh bagels. Stale bagels take less time in the oven and turn out crispier than fresh ones.
Swap out the bagel flavor. Use a variety of flavored bagels for delicious results. Asiago cheese, everything bagel, and plain are my favorites.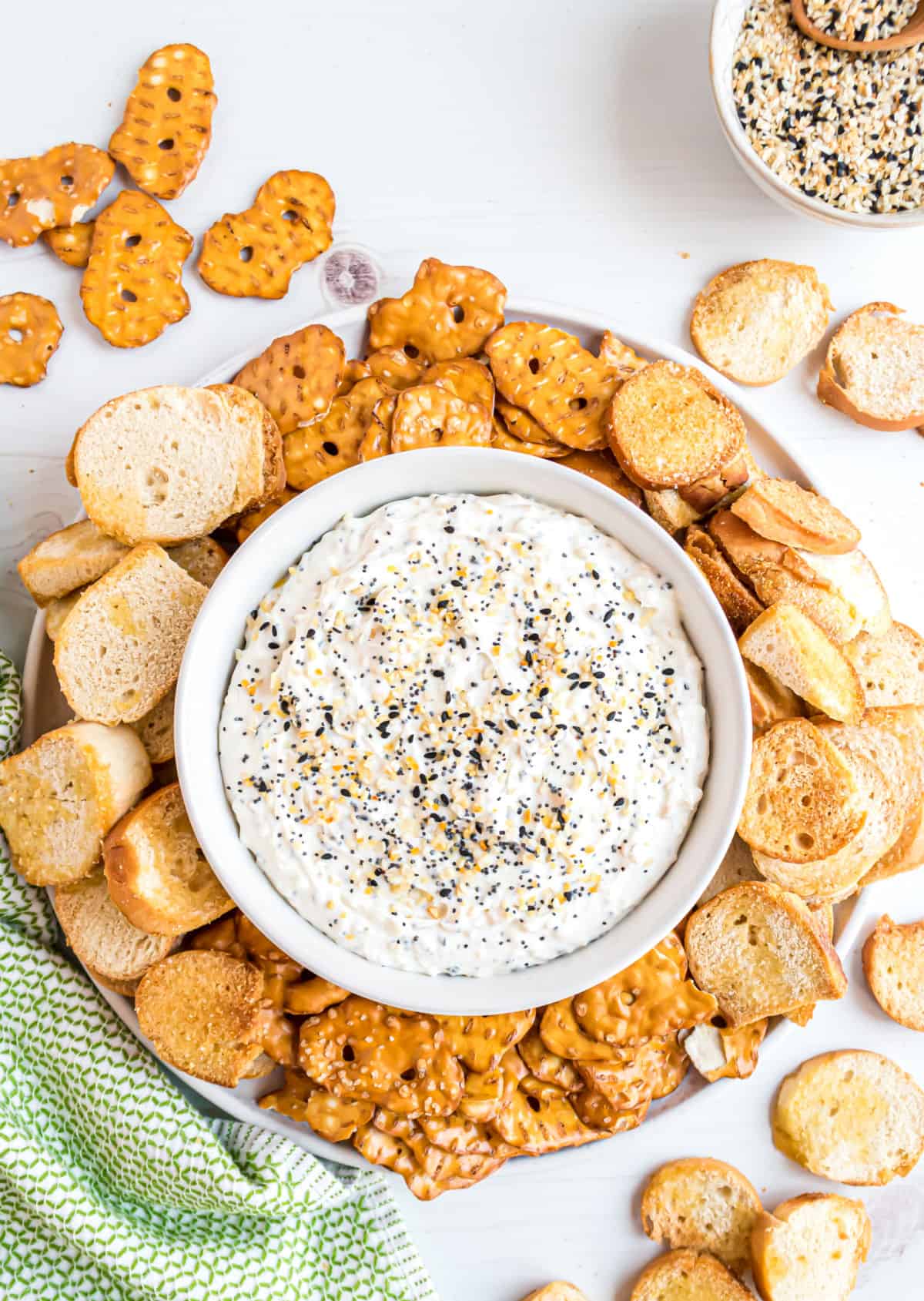 Serving Suggestions
Bagel chips make a great "snackable" for work, kids' lunch boxes, or a long car ride.
They don't need a pairing, but they will go together with hummus, artichoke dip, BLT dip, slow cooker buffalo chicken dip, beer cheese dip, or pepperoni pizza dip.
Our favorite though is homemade bruschetta with today's bagel chips.
Given how crispy they are, these Bagel Chips also taste delicious with soup or even as a replacement for tortillas in a southwest chicken salad.
Use sweet bagels, like cinnamon raisin or blueberry (skip the extra salt on them) and serve them with our cream cheese dip or cannoli dip.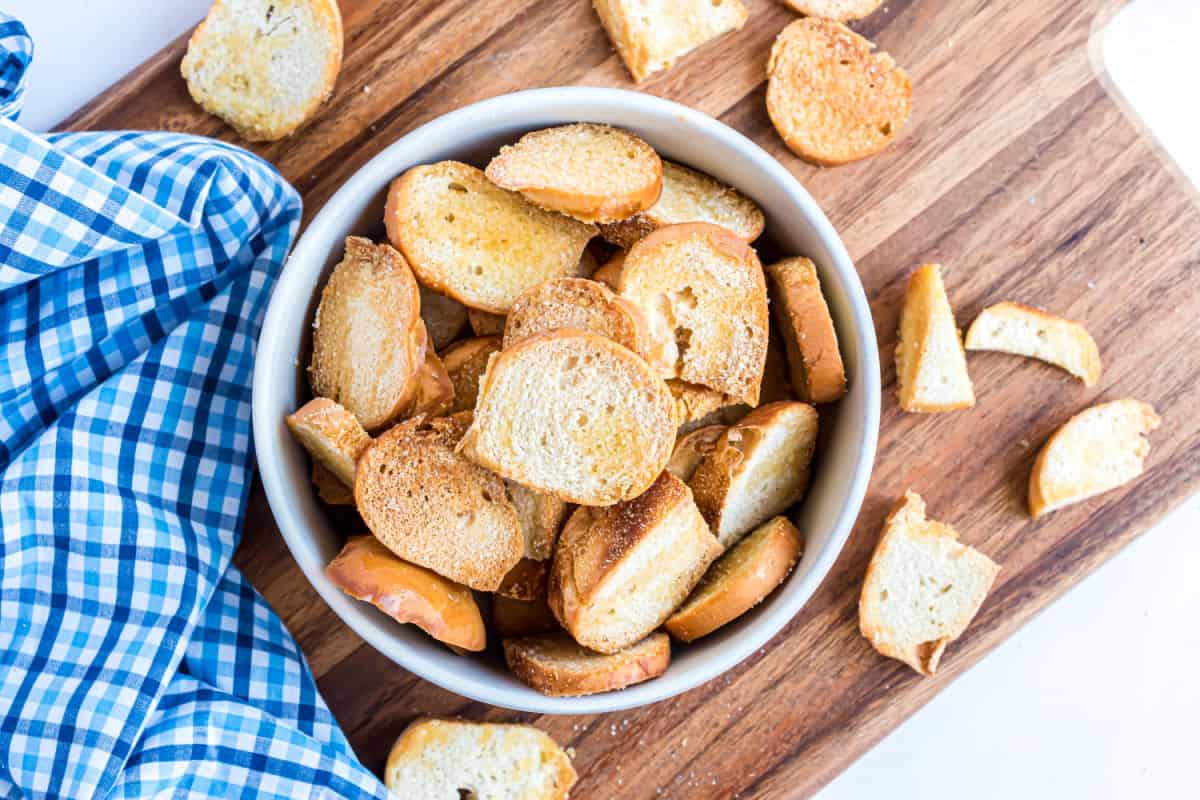 Recipe FAQs
How do I store the Bagel Chips?
Store the leftover Bagel Chips in an air-tight container or sealed Ziploc bag for up to 3 days. However, the bagel chips may lose out on their crispiness. So I'd recommend reheating them in the oven or air fryer for a few minutes before serving.
What kind of bagels should I use?
From plain bagels to everything bagels, you can use any type of bagel. You can even use the sweet ones with raisins and dried berries.
Can I do the same thing with other kinds of bread?
Absolutely. You can use tortillas, baguettes, challah, sourdough, or any other bread you have lying at home and follow the same recipe. Like bagels, make sure the bread you're using isn't too fresh, or the chips won't crisp up.
Can I reheat these Bagel Chips?
Yes, you can. If the bagel chips are not stored in an air-tight bag or container after cooling, they may turn soft and soggy. You can toss them in the oven or air fryer for a few minutes to make them crispy again.
More Delicious Appetizers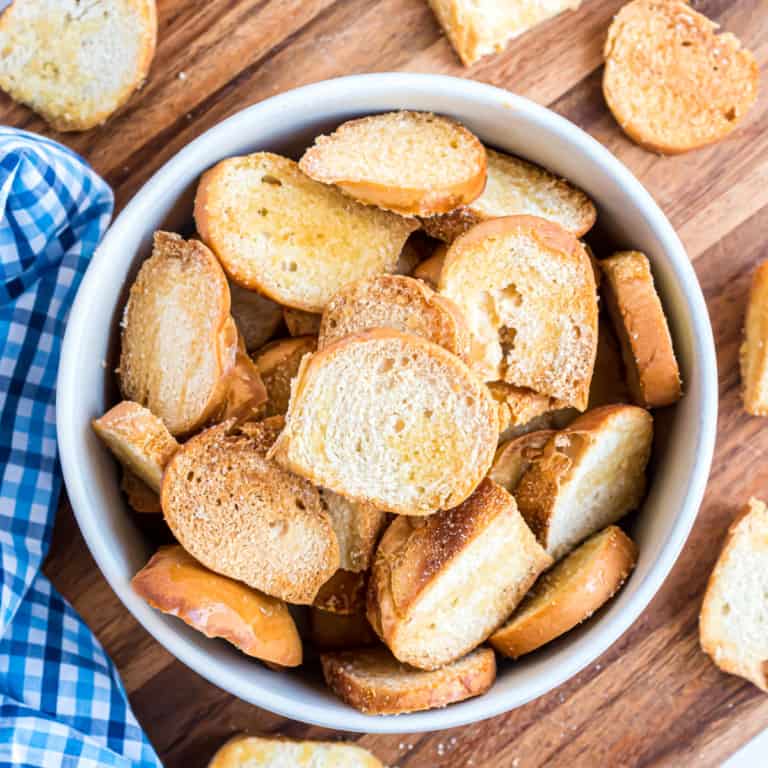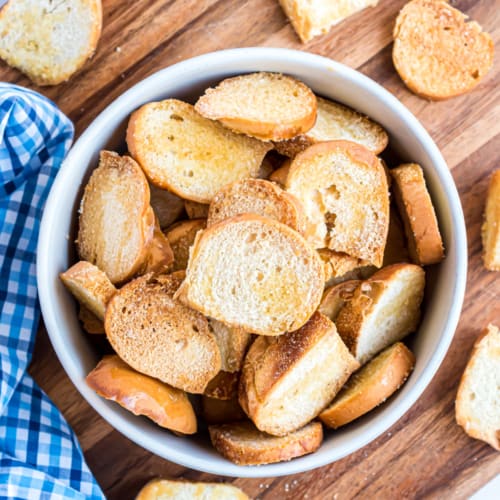 Homemade Bagel Chips
Homemade Bagel Chips are a great snack to dip, scoop, or munch on with your favorite dip. These crispy chips are simple to make and yet so addictive to eat.
Ingredients
2

plain bagels

unsliced

2

Tablespoons

olive oil

1

teaspoon

kosher salt
Instructions
Preheat oven to 350 degrees F. Line a large baking sheet with parchment paper, set aside.

Slice bagel in half, from the top (see photos in blog post). Slice each half of bagel into small 1/8-inch thick rounds.

Spread bagel pieces in single layer on baking sheet. Brush with olive oil and sprinkle with kosher salt.

Bake for 10-15 minutes, stirring gently at the halfway point. Remove from oven and cool completely.
Notes
Instead of sea salt, use our homemade everything bagel seasoning mix instead! Or, Cinnamon and Sugar – Make the bagel chips sweet! Instead of olive oil, drizzle the chips with 2 Tablespoons of melted butter. Then sprinkle the chips with our cinnamon sugar mix.
Delicious in soups! Or use as croutons on salads.
Swap out regular bagels for 4 mini bagels. Melted butter can be used instead of olive oil instead.
See blog post for more recipe tips and tricks and substitutions.
Nutrition
Serving:
0.25
cup
,
Calories:
52
kcal
,
Carbohydrates:
6
g
,
Protein:
1
g
,
Fat:
3
g
,
Saturated Fat:
0.3
g
,
Polyunsaturated Fat:
0.3
g
,
Monounsaturated Fat:
2
g
,
Sodium:
255
mg
,
Potassium:
12
mg
,
Fiber:
0.3
g
,
Calcium:
2
mg
,
Iron:
0.2
mg