No holiday is complete without a Chipped Beef Cheese Ball on the table. This savory snack is filled with cream cheese, green onions, seasoning, and buddig beef.
Looking for more cheese ball recipes? Try our Pineapple Cheese Ball with ham! Or give our Taco Cheese Ball a try, the perfect game day snack idea.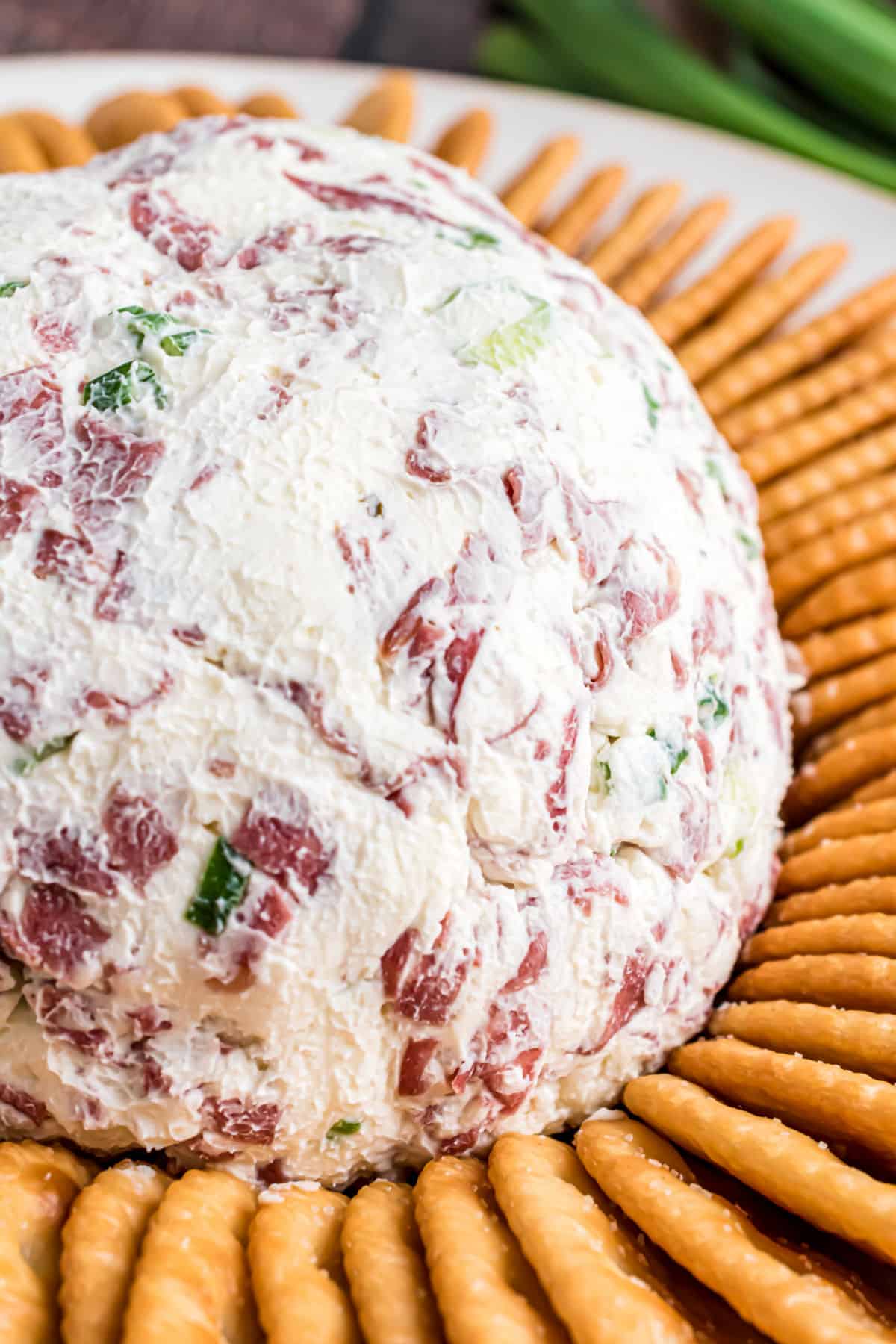 Why this Recipe Works
Hosting holidays and gatherings can be stressful. Don't let food be the cause of your stress.
I love having a handful of easy snacks and appetizers that are hearty and delicious, but low maintenance!
From easy grape jelly meatballs to 7 layer taco dip, we love recipes that can serve a crowd with very little prep.
Today's savory cheese ball fits that scenario!
Make ahead of time! Can be made the day before the event.
Serves a crowd.
Packed with flavor.
Very little prep time!
PRO TIP: Store in refrigerator wrapped in plastic wrap until ready to serve. Will maintain it's beautiful round shape while wrapped.
Ingredient Notes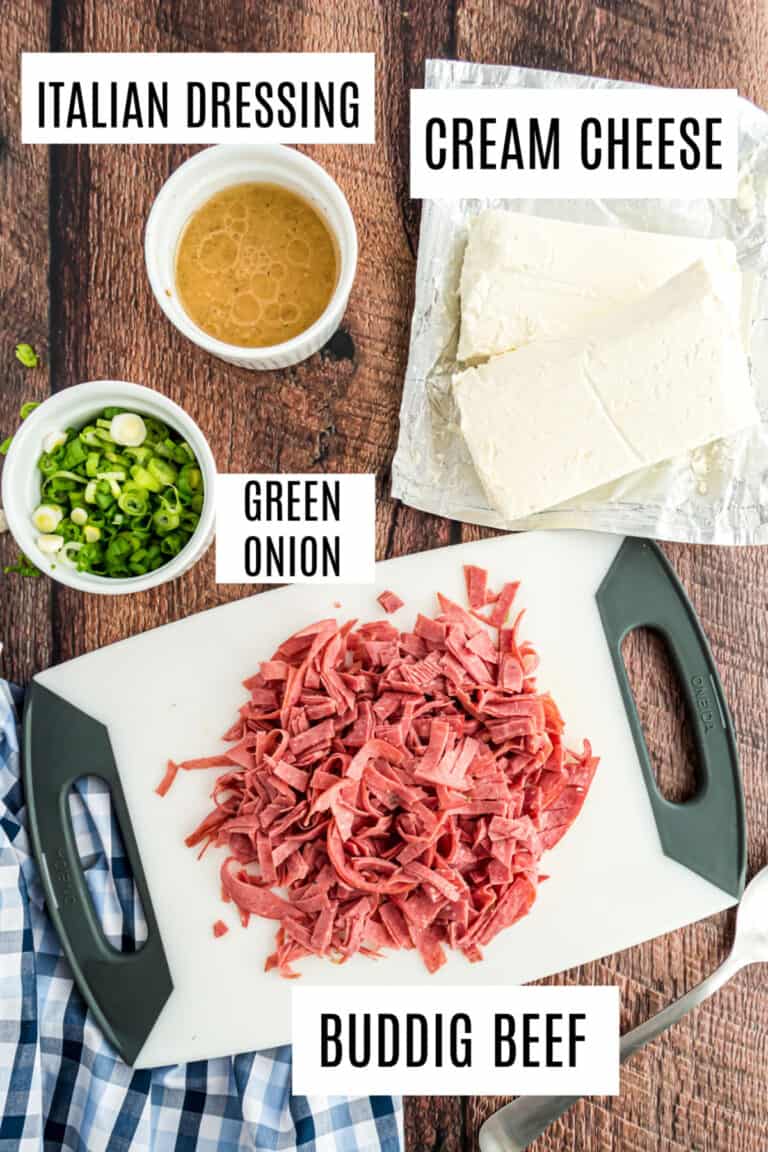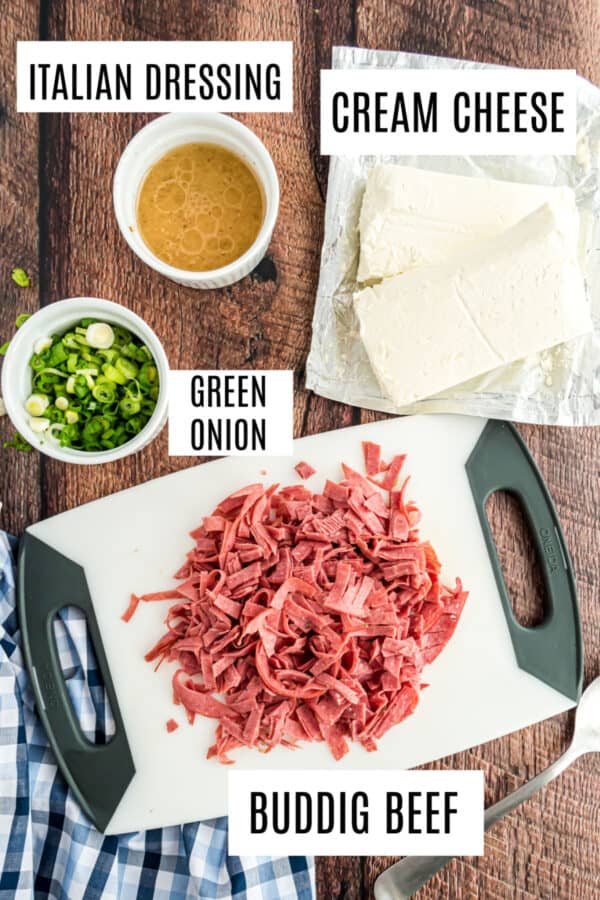 Cream Cheese- you'll want full fat cream cheese here. It's packed with flavor and the star of the show.
Italian Dressing- store bought works fine, but we love making homemade Italian Dresssing too. The dressing adds the right amount of seasoning, while helping bind it all together.
Green Onions- slice these from the whites all the way to the ends of the greens, it adds the perfect onion flavor without overpowering the cheese ball.
Buddig Beef- also can be called dried beef. It's a thin-sliced lunchment sold in small packets. If you can't find it, you can use thinly sliced deli ham or roast beef too.
Crackers- we serve our cheese ball with Ritz crackers, Townhouse crackers or Club crackers. All have that buttery flaky taste and texture that pairs perfectly with this beef cheese ball.
How to Make a Cheese Ball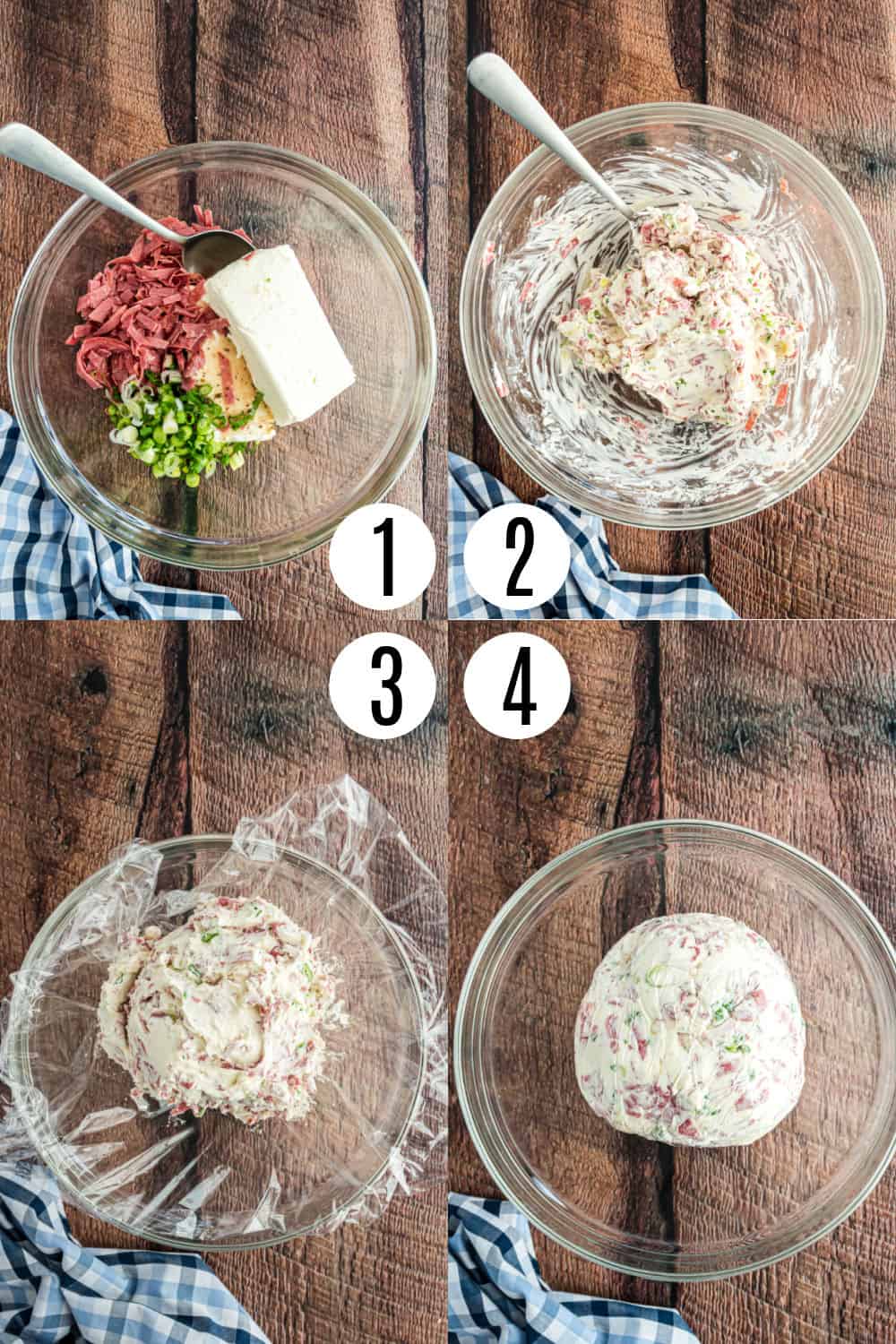 Combine Ingredients- mix the softened cream cheese with dressing, onions, and chopped lunchmeat.
Line a bowl with saran wrap. Spoon cheese ball filling into bowl and wrap the plastic wrap around the cheese ball. Refrigerate until ready to serve.
Unwrap. When ready to serve, unwrap the plastic wrap and you'll have a beautiful shaped cheese ball. Serve with crackers and enjoy.
Recipe FAQs
How do you store a cheese ball?
Cheese Balls need to be stored in the refrigerator in an airtight container or plastic wrap. These can be kept for about 1 week.
Can you save leftover cheese ball?
Once you've served your cheese ball, do not leave it out for more than two hours. Wrap it up and refrigerate it for later. If left out over 2 hours, don't save it.
Can I roll a cheese ball in nuts?
Yes! For today's chipped beef cheese ball, you can chop up some pecans or walnuts (or both) and roll it into the nuts right before serving.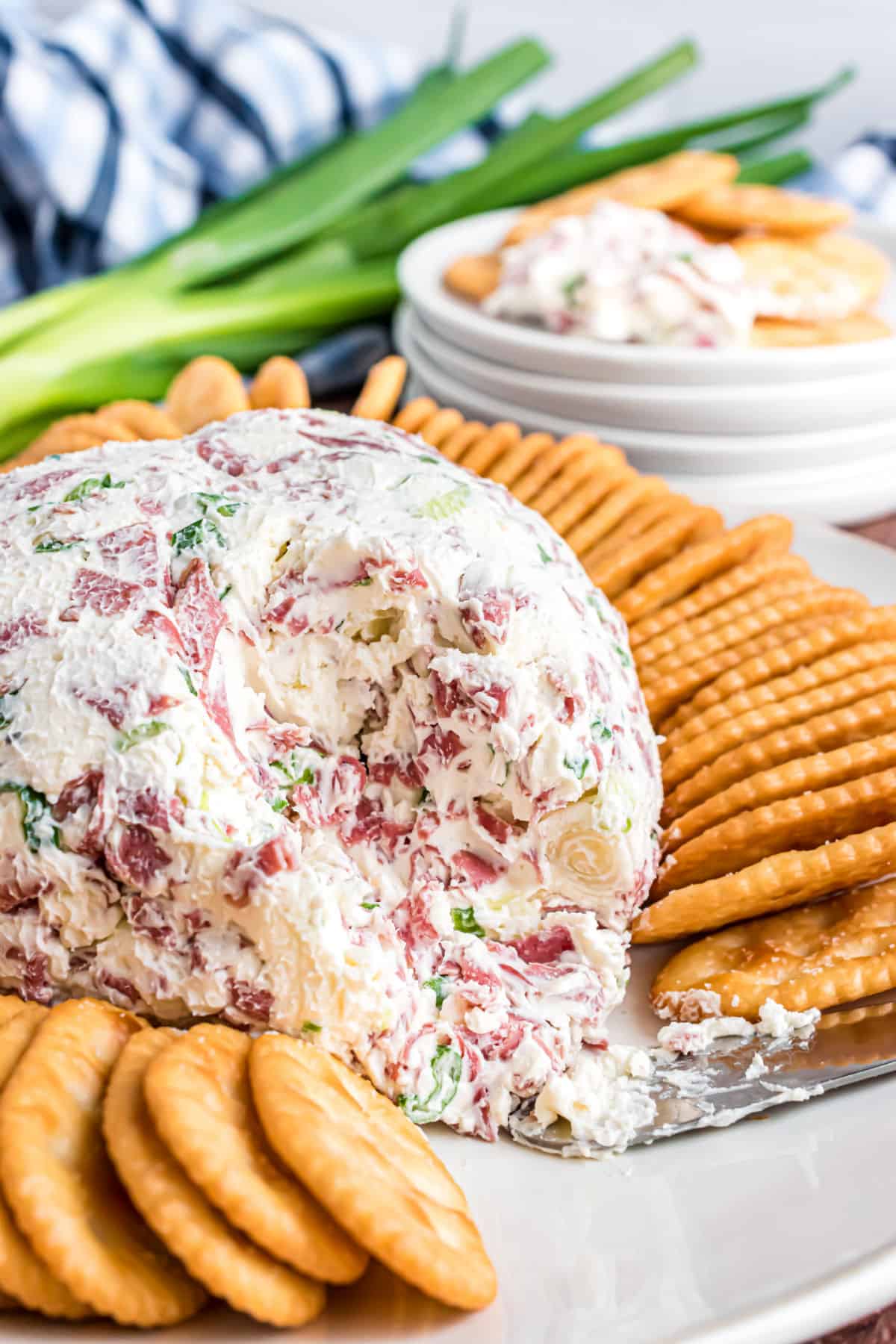 Tips and Tricks
Soften your cream cheese for cheese balls for about half an hour on the counter prior to assembling.
So many great substitutions can be made! Swap out the italian dressing for ranch dressing. And use cooked and crumbled bacon instead of the dried beef. This creates a delicious Bacon Ranch Cheese Ball.
Want some spice? Add in some finely diced jalapeno peppers for a spicy kick. They pair quite nicely with the creaminess of the cheese ball.
Add more cheese. Add some shredded cheddar cheese to your cheese ball if you want more cheesy flavor!
Double the recipe. Got a large crowd to feed? This recipe easily doubles!
Serving Suggestions: serve with crackers, toasted slices of a baguette, bagel chips, fresh vegetables, and pretzels.
Sweet Cheese Ball Recipes