Homemade Italian Dressing is zesty, flavorful and a cinch to make. You'll love this easy dressing recipe tossed in a salad or as a marinade for chicken.
It's a fact. Homemade salad dressing beats the store bought stuff any day! Try my ranch dressing recipe next. Whip up our delicious copycat Olive Garden salad soon.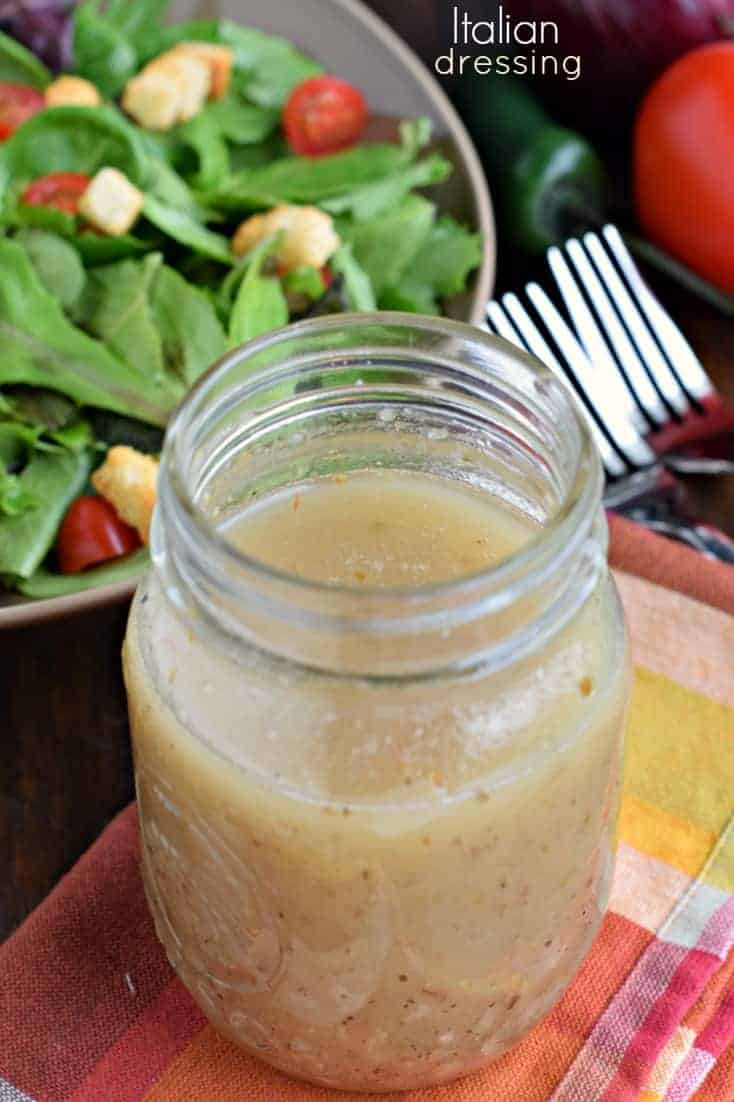 Why This Recipe is Best
No salad is complete without the perfect dressing. If you only make one salad dressing from scratch, make this Italian dressing recipe.
Made with white and red vinegar for tangy flavor.
Seasoned with Italian herbs and spices.
No corn syrup or preservatives like the bottled versions!
A hint of honey for sweetness.
Takes minutes to mix together!
I love the way turns a simple bowl of greens into a dish worthy of an Italian restaurant! Once you taste it you'll want to add our Italian dressing to anything and everything.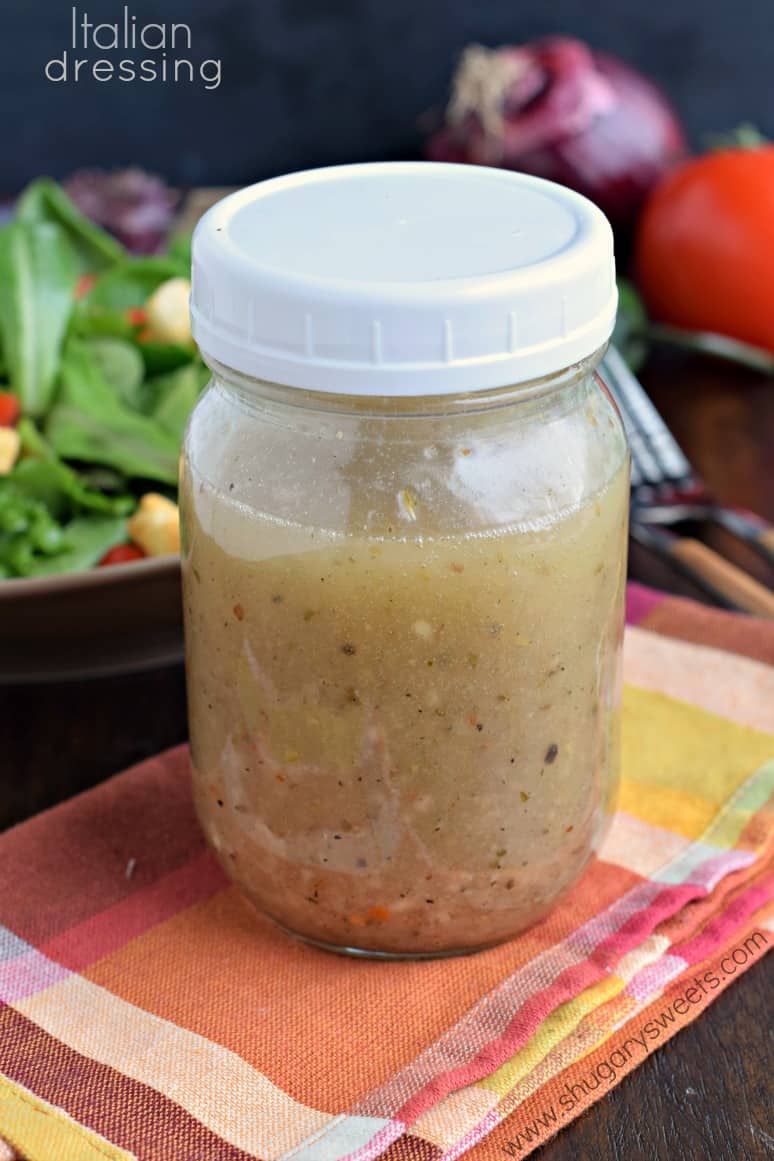 Ingredient Notes
Wondering what ingredients are in homemade Italian dressing? Here's what you need for the perfect flavor.
Oil. Many recipes use olive oil, but I prefer the more neutral flavor of vegetable oil in this recipe.
Vinegar. A combination of white and red vinegars gives the dressing a deeper dimension of tangy flavor.
Mustard. It adds a sharp tasting note without making the dressing taste like mustard.
Honey. Balances out the tang of the vinegar and mustard.
Spices. We use dried marjoram, garlic salt and oregano along with a little red and black pepper for some kick!
Pepper and onion. They infuse this dressing with incredible fresh, zesty flavor.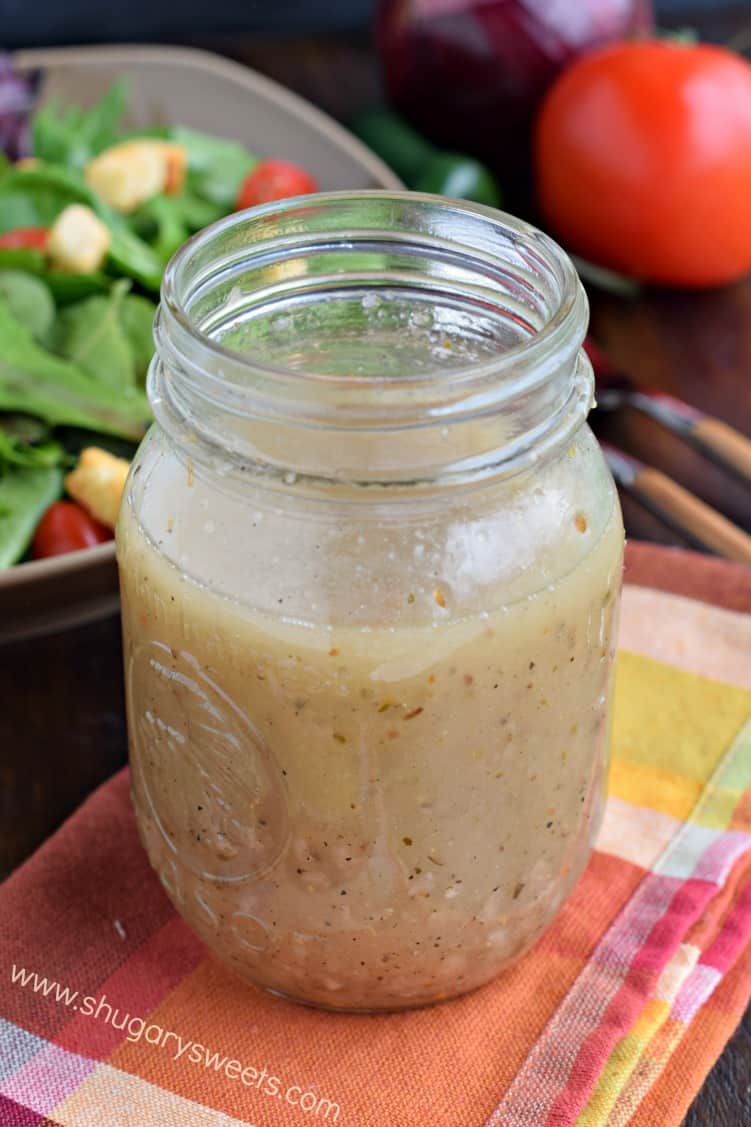 Tips and tricks
When chopping the red pepper, make sure it is very finely diced. You don't want a big hunk of it in your dressing.
If using garlic powder instead of garlic salt, you may want to add a little kosher salt to the recipe (I would start with about 1/4 tsp)
Use a mason jar to combine all your ingredients. I have a stack of these in my cabinet to aid in keeping my jars sealed.
Make the dressing at least 4 hours ahead of time. Even the day before is great. It gives the flavors time to combine.
SHAKE SHAKE SHAKE. And then shake again before serving.
Parmesan cheese is the perfect complement to this salad dressing recipe. Be sure to add some grated Parmesan to all your salads!
Some people like their Italian salad dressings served at room temperature, however I personally prefer them chilled. Your choice!
Recipe FAQs
How long does homemade Italian dressing stay good?
Our homemade Italian salad dressing keeps for about 1 week in the fridge. It may still be good longer than that but, because of the fresh ingredients in the recipe, I like to stay on the safe side.
Can I use olive oil instead?
Yes, you are welcome to substitute extra virgin olive oil for the vegetable oil in this recipe.
Can I add cheese directly to the dressing?
Parmesan cheese is a great way to amp up the flavor of this dressing even more. I prefer to grate the cheese fresh onto my salad and then add the dressing. You could add the Parmesan cheese directly to the dressing instead. If you choose that option, enjoy the cheese within 3-4 days for best taste.
Is this Italian dressing spicy?
I would describe this dressing as zesty rather than spicy. The red pepper does give it a bit of kick but it's tamed by the all the other sweet and tangy flavors. If you are sensitive to spice, feel free to omit the red pepper flakes.
Other uses for Italian Salad Dressing
This salad dressing makes a great marinade on chicken. Place your raw chicken in a large bowl or ziploc bag. Add enough dressing to cover and refrigerate for 4 hours. Grill or bake chicken according to recipe and enjoy the zesty flavor!
Adding this Italian dressing to our chicken pasta salad is perfect. Toss your cooked pasta (I actually love to use cheese tortellini) with some diced vegetables and this dressing. Serve and enjoy!
Have you ever tried adding Italian salad dressing to your ground beef? Add a little drizzle with an egg and breadcrumbs to your raw beef. Shape it into a loaf, this makes a delicious meatloaf!
More Dressing Recipes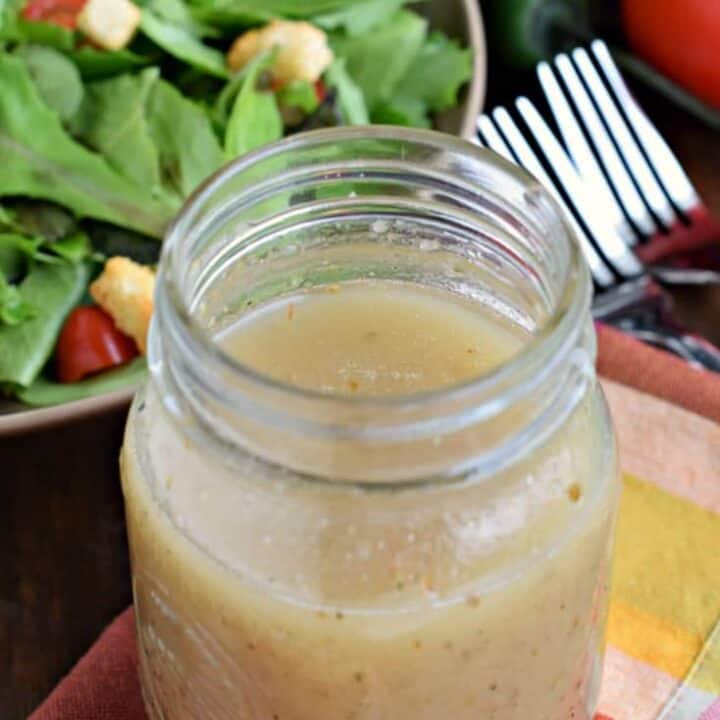 Homemade Italian Dressing
This zesty Homemade Italian Dressing is a cinch to make at home, and tastes better too! Poured on a salad or used as a chicken marinade, this dressing is scrumptious!
Ingredients
1

cup

vegetable oil

¼

cup

white vinegar

2

Tablespoons

red wine vinegar

1

teaspoon

garlic salt

2 ½

teaspoons

minced onion

3

Tablespoons

finely chopped red pepper

2

teaspoons

dijon mustard

1

teaspoon

honey

1

teaspoon

oregano

¼

teaspoon

marjoram

¼

teaspoon

red pepper flakes

¼

teaspoon

black pepper
Instructions
In a pint sized mason jar, combine all ingredients.

Shake vigourously and allow to chill in refrigerator for 4 hours or more. Shake before using.
Notes
If you don't like the little chunks, feel free to put it in a blender or food processor and pulse several times until desired consistency.
Nutrition
Serving:
1
Tbsp
,
Calories:
83
kcal
,
Carbohydrates:
1
g
,
Fat:
9
g
,
Saturated Fat:
1
g
,
Polyunsaturated Fat:
8
g
,
Sodium:
78
mg