This zesty Homemade Italian Dressing is a cinch to make at home, and tastes better too! Poured on a salad or used as a chicken marinade, this dressing is scrumptious!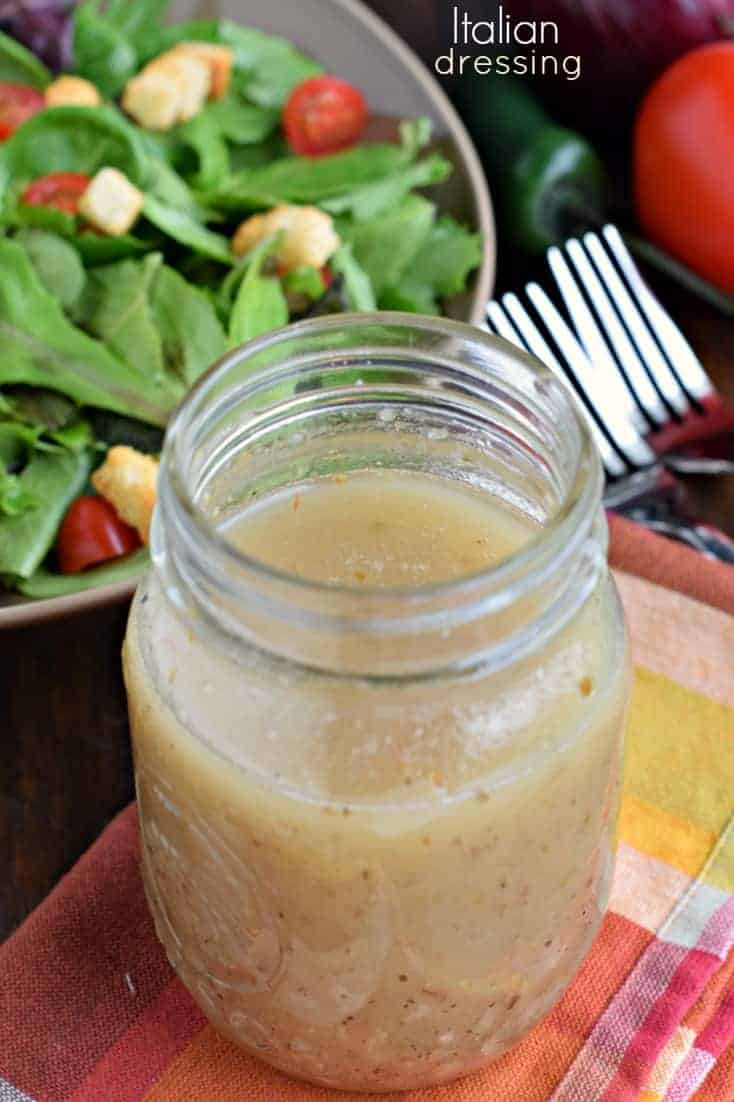 I've learned it's so easy to make your own dressing at home.
Not that I am against store bought, I use it all the time, but sometimes whipping up a fresh dressing is called for!
Especially if you don't feel like running to the grocery store. And yes, they sell the seasons mix, but why not try it at home from scratch?
I've got a delicious Shrimp Pasta Salad recipe that is drizzled with this zesty Italian Dressing, the perfect potluck dish!
I love eating salad. I know that sounds so ridiculous, but if I go out to eat, I always get a side salad. ALWAYS.
Even if it doesn't come with the meal. I started doing this when was I young and thin and wanted to fill up on healthy greens before my meal.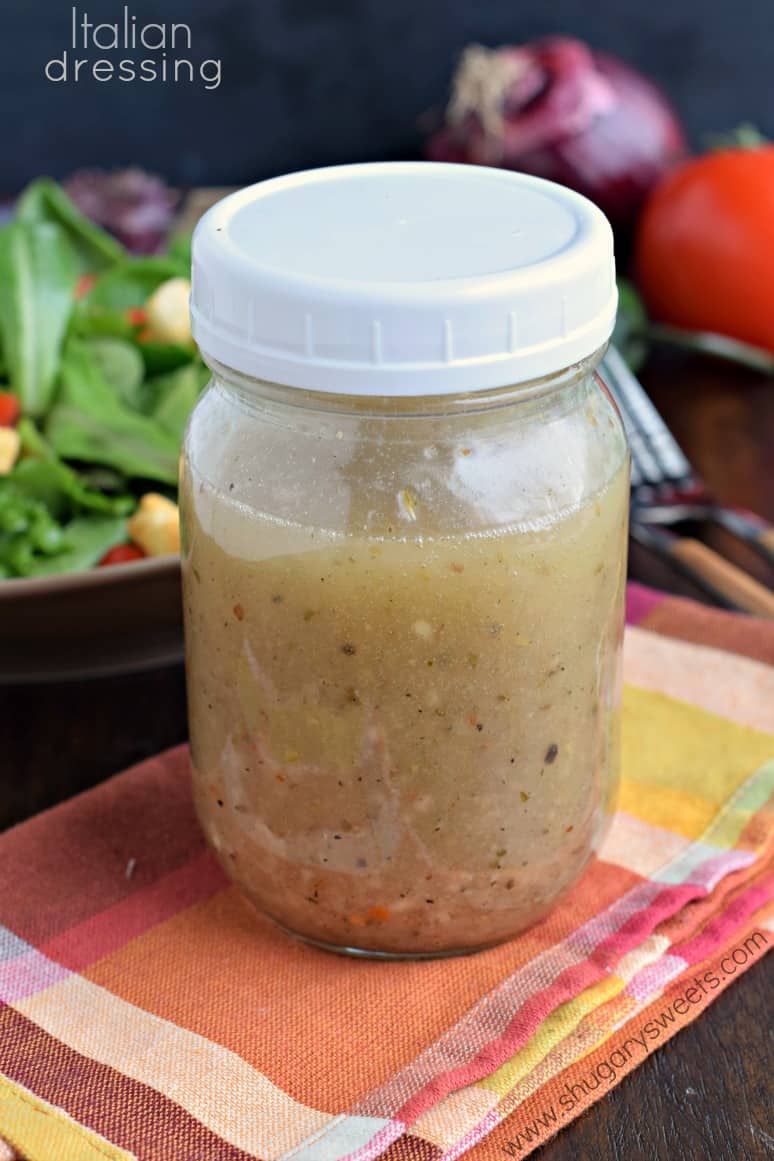 Now I'm old and well, not thin, and I still love filling up on the healthy greens. However, I love to try out new salad dressings from restaurants (especially italian salad dressings).
And if they can toss on fruit, nuts, croutons….all the better!
Hubby, on the other hand, eats dry salad. Like a turtle just gnawing on lettuce leaves.
It's bland and boring. But his aversion to condiments and creamy white stuff leaves him eating plain salads.
So today's Italian Dressing is delicious for most people. Not all. Not condiment haters.
No amount of delicious dressing could convince my husband. BUT, those of us who love italian dressing will LOVE this easy homemade version.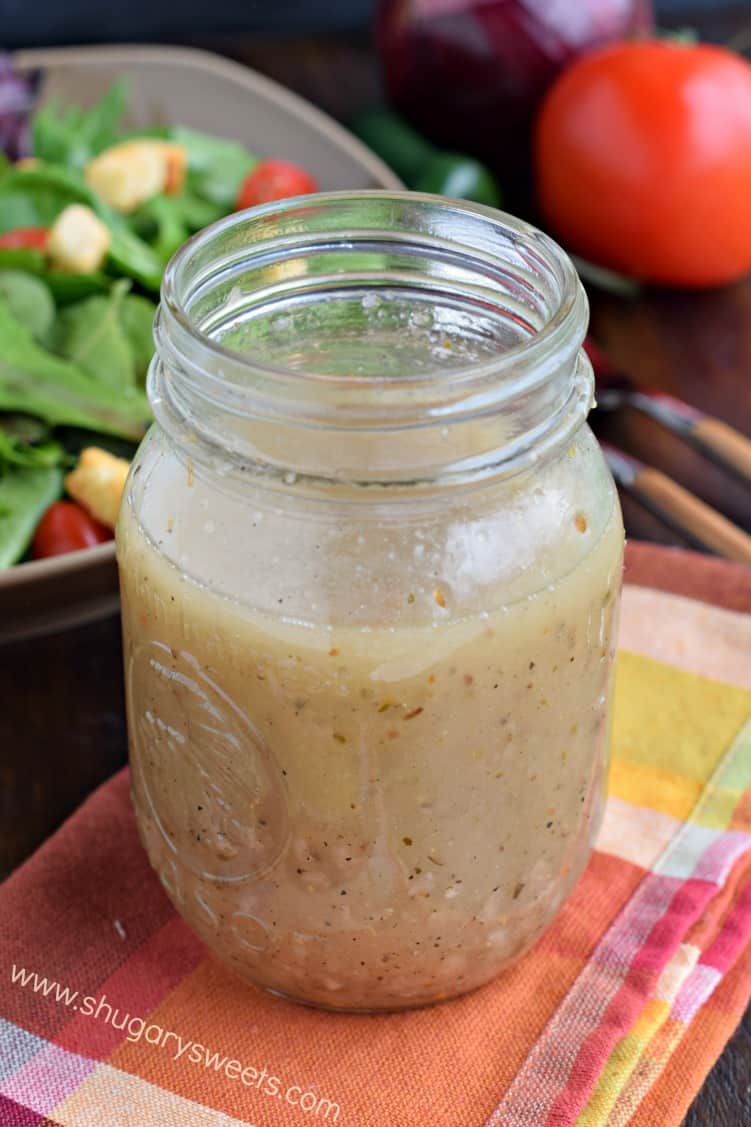 Tips and tricks
When chopping the red pepper, make sure it is very finely diced. You don't want a big hunk of it in your dressing.
If using garlic powder instead of garlic salt, you may want to add a little kosher salt to the recipe (I would start with about 1/4 tsp)
Use a mason jar to combine all your ingredients. I have a stack of these in my cabinet to aid in keeping my jars sealed.
Make the dressing at least 4 hours ahead of time. Even the day before is great. It gives the flavors time to combine.
SHAKE SHAKE SHAKE. And then shake again before serving.
Parmesan cheese is the perfect complement to this salad dressing recipe. So be sure to add some to all your salads 🙂
Some people like their italian salad dressings served at room temperature, however I personally prefer them chilled. Your choice!
Other uses for Italian Salad Dressing
This salad dressing makes a great marinade on chicken. Place your raw chicken in a large bowl or ziploc bag. Add enough dressing to cover and refrigerate for 4 hours. Grill or bake chicken according to recipe and enjoy the zesty flavor!
Adding this Italian dressing to a pasta salad is perfect. Toss your cooked pasta (I actually love to use cheese tortellini) with some diced vegetables and this dressing. Serve and enjoy!
Have you ever tried adding Italian salad dressing to your ground beef? Add a little drizzle with an egg and breadcrumbs to your raw beef. Shape it into a loaf, this makes a delicious meatloaf!
More Dressing Recipes