The best (and easiest) Pumpkin Pie recipe you'll need this holiday season. Make Thanksgiving dessert in no time at all with this delicious pie recipe!
We love serving pie for the holidays! This Pecan Pie tops the list! Don't forget to serve French Silk Pie to appease all the chocolate lovers.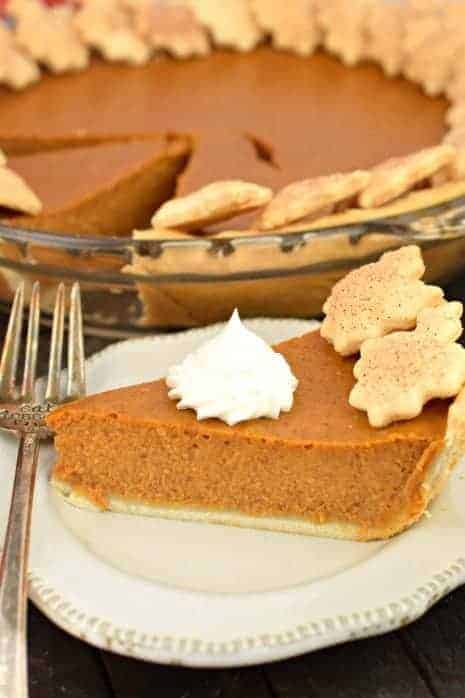 Thanksgiving Dessert
All these years of sharing pumpkin desserts (and apple pie) and I'm finally getting around to sharing my family's favorite, classic pumpkin pie recipe.
And I've got a secret for you…Libby's canned pumpkin has been sharing this recipe for YEARS.
There's only one little thing I do different…my family doubles all the spices.
I mean, why recreate the wheel when there is something perfect already? In an effort to use my website as an online cookbook for my kids, I'm sharing the recipe here.
One day, when they want to make a pumpkin pie for their family, I want them to find this recipe and see that sometimes mom didn't create the recipe all on her own. Sometimes I had a little help.
As you can see from the photos, the pie is perfect. I always use a refrigerated pie crust, because my homemade pie crust is good, but ain't nobody got time for that during the holidays.
PRO TIP: Make this ultimate pecan pumpkin pie for a delicious holiday dessert!
How to make Pumpkin Pie
Pumpkin pie is one of the easiest of all the pies to make. You literally just mix it all up together and pour it into your crust. Bake and chill. Slice and eat.
Crust. Like I mentioned above, I love using either a homemade pie crust or a refrigerated pie crust for pumpkin pie. The taste is delicious, and it's all about the filling anyway! The best part is there is no need to pre-bake or par-bake the crust. Simply place the dough in the pie plate and add filling.
I like to cut leaf shapes out of an additional pie crust to decorate the top of my pumpkin pie. Sprinkle them with cinnamon sugar before baking (and snack on the extras)!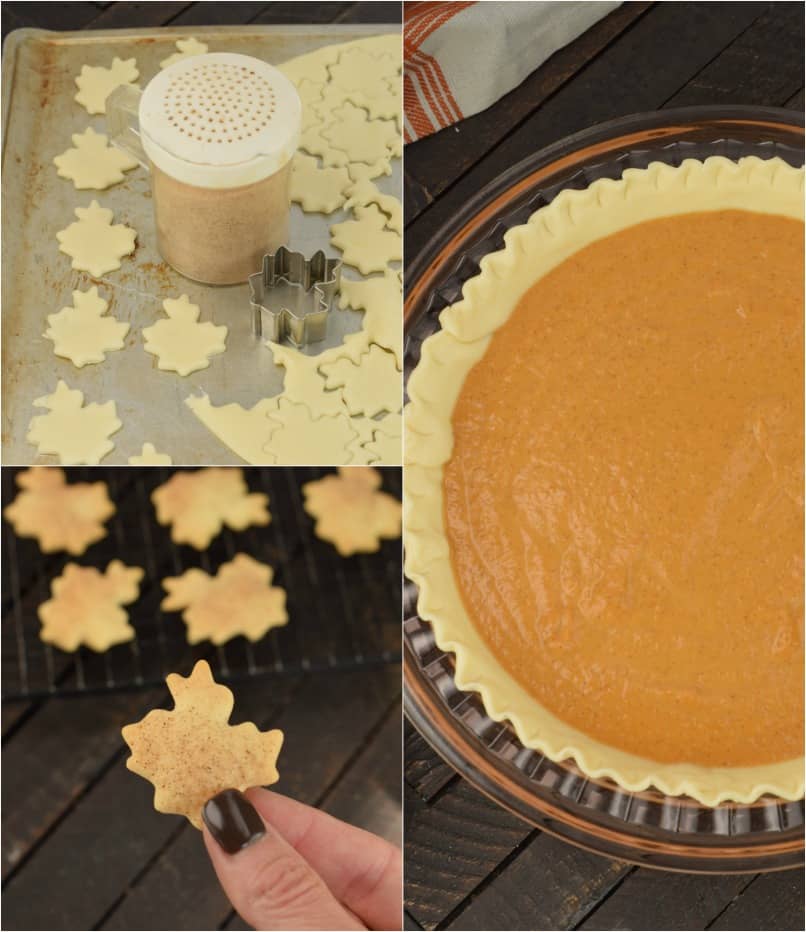 Pumpkin Pie filling. Canned pumpkin puree is what I use, don't use the pumpkin pie filling (they are two different things)!
How do you know when the pie is done
Great question. Pumpkin pie will have a slight jiggle when it's done baking, but it definitely should not appear wet. You'll notice the top of the pie is cooked when you look closely.
The pie will set completely as it cools, and then once it is refrigerated.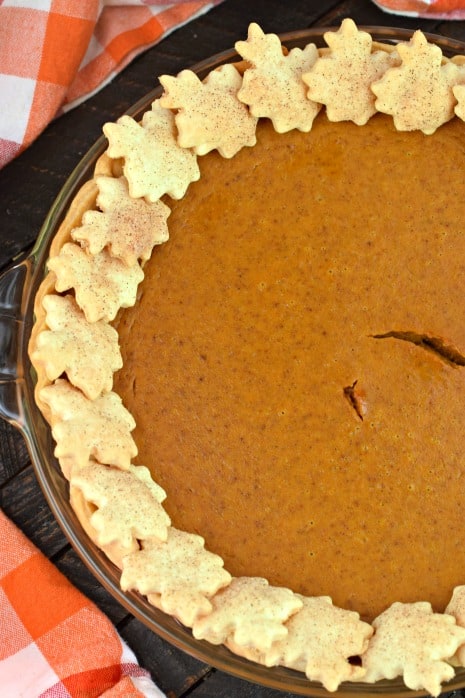 Tips and Tricks
Do no worry about cracks in the top of the pie. This happens. And that's what whipped cream is for anyway, haha!
Use a pie shield or foil strips to protect your crust. Because a pumpkin pie has to cook for about an hour, the pie crust will burn if exposed the whole time. I keep the pie shield on the pie for all but the first 15 minutes.
When making the pie filling it will be very runny, this is NORMAL.
Serve pumpkin pie with Cool Whip or homemade whipped cream. Or in my family, you have to have both!
Just add cheesecake. Yep, that's right. Try our pumpkin swirled cheesecake next!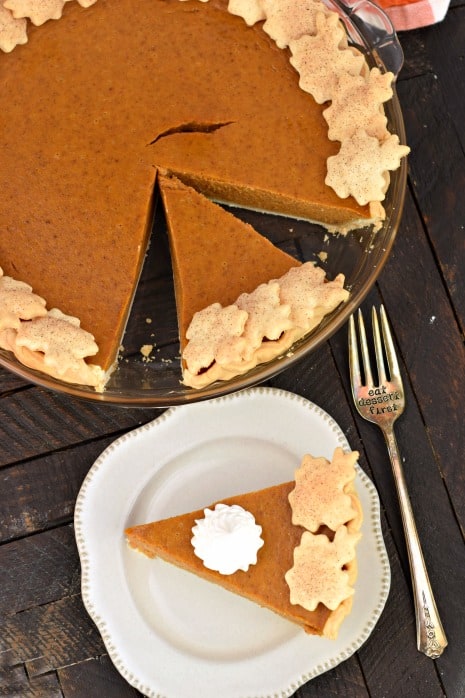 Recipe FAQs
Does Pumpkin Pie need to be refrigerated?
Pumpkin can go bad quickly if not refrigerated, so keep those pies chilled. If you're one of those people who prefer pumpkin pie room temperature, just take your pie out of the refrigerator during dinner, so that by dessert time it's ready to eat.
How long can you keep pumpkin pie?
Store leftover pumpkin pie covered in the refrigerator for up to 4 days.
Can you freeze Pumpkin Pie?
You can also freeze pumpkin pie for up to one month. Cover with plastic wrap, then in aluminum foil. Thaw in refrigerator overnight.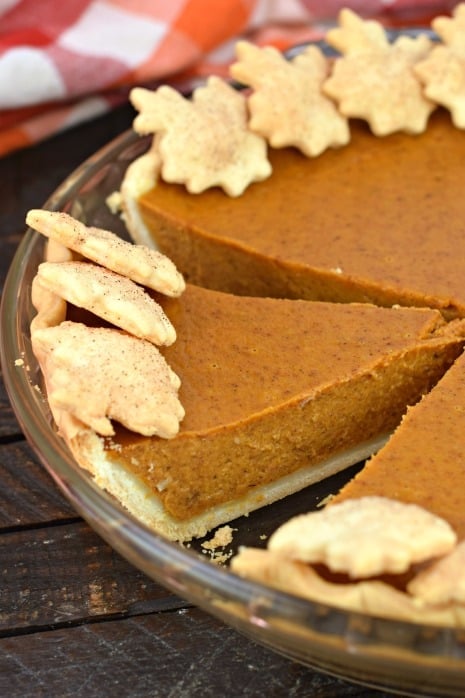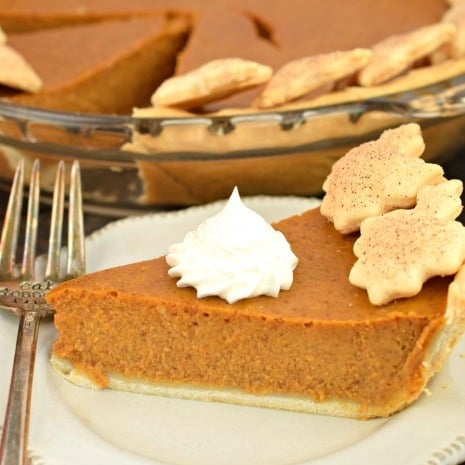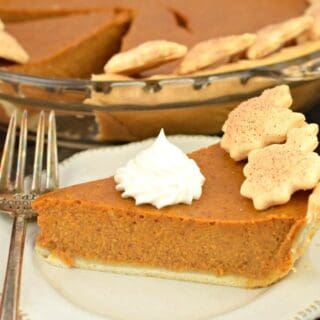 Pumpkin Pie
The best (and easiest) Pumpkin Pie recipe you'll need this holiday season. Make Thanksgiving dessert in no time at all with this delicious pie recipe!
Ingredients
1

refrigerated pie crust

see notes

¾

cup

granulated sugar

½

teaspoon

kosher salt

2

teaspoons

cinnamon

1

teaspoon

ground ginger

½

teaspoon

ground cloves

2

large eggs

1

can

pumpkin puree

15 ounce

1

can

evaporated milk

12 ounce
Instructions
Press pie crust into 9-inch pie plate, flute the edges with thumb.

In a mixing bowl, combine the sugar, salt, cinnamon, ginger, and cloves. Add in the eggs and whisk until blended.

Add pumpkin and evaporated milk until combined. Pour into pie crust.

Bake in a 425 degree oven for 15 minutes. Cover the pie crust edges with foil or a pie shield and lower temperature to 350 degrees. Bake for an additional 40-45 minutes, until a toothpick inserted comes out clean.

Remove from oven and cool. Refrigerate until ready to serve.
Notes
For the leaf design, you'll need TWO pie crusts, plus some cinnamon sugar to sprinkle on the leaves. Cut into shapes and bake in a 375 degree oven for about 15 minutes. Cool on wire rack.
Use 1 Tablespoon homemade pumpkin pie spice mix instead of the cinnamon, ginger, and cloves.
Nutrition
Serving:
1
slice
,
Calories:
206
kcal
,
Carbohydrates:
32
g
,
Protein:
4
g
,
Fat:
7
g
,
Saturated Fat:
3
g
,
Polyunsaturated Fat:
4
g
,
Cholesterol:
49
mg
,
Sodium:
201
mg
,
Fiber:
1
g
,
Sugar:
21
g
The best (and easiest) Pumpkin Pie recipe you'll need this holiday season. Make Thanksgiving dessert in no time at all with this delicious pie recipe!