If you love fall baking, you NEED to know how to make homemade Pumpkin Pie Spice! This recipe for pumpkin pie spice substitute is my go-to for baking pumpkin pie, muffins, cookies and all my other favorite seasonal desserts.
A blend of cinnamon, nutmeg, cloves, allspice, and ginger for the perfect Pumpkin Pie Spice Substitute. Easy to whip up a batch and stays fresh for two years!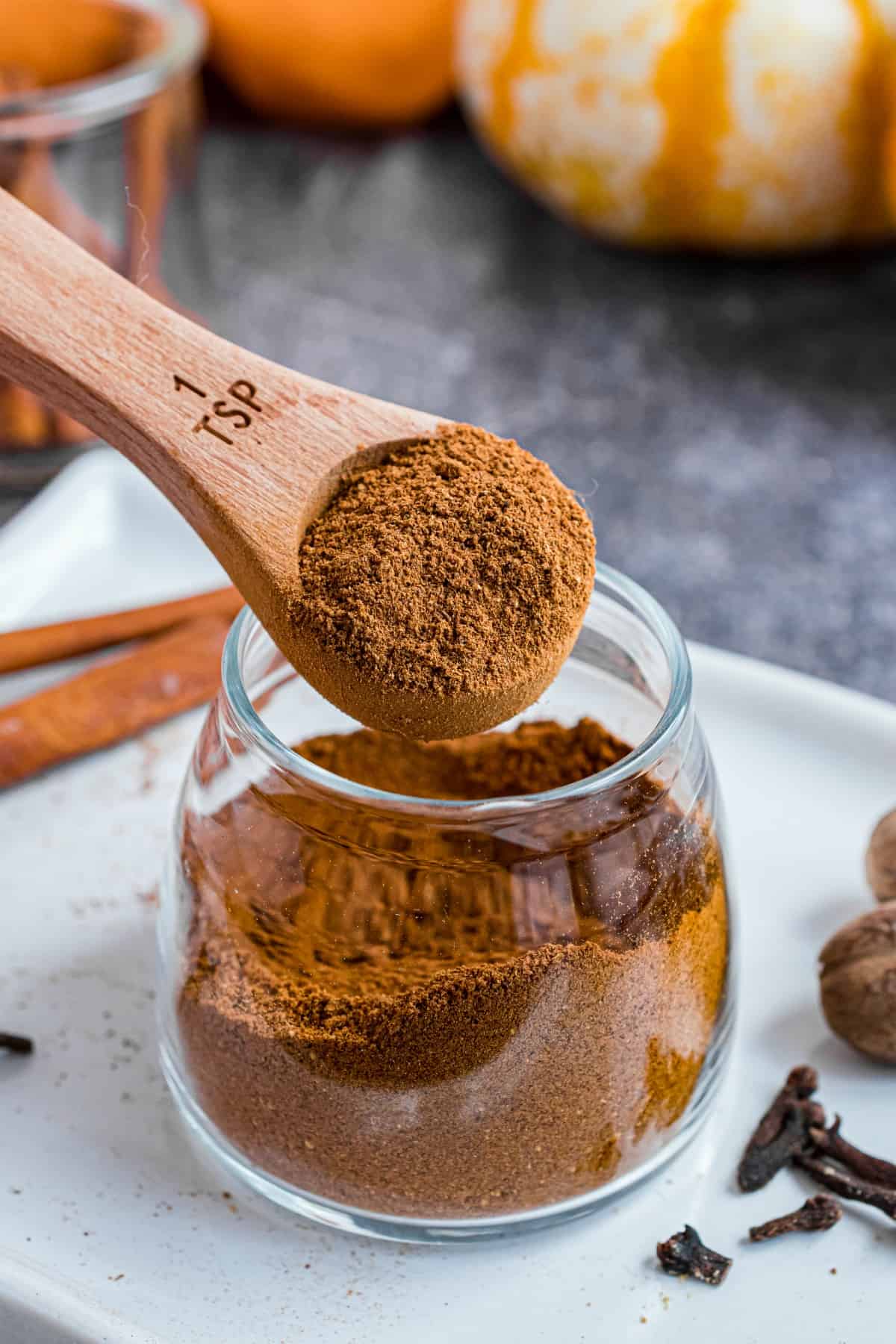 Pumpkin Pie Spice Substitute
Can you believe that even with all the Pumpkin Spice recipes I've shared over the years, I've never filled you in on how I make pumpkin pie spice at home?
While it's so convenient to just pick up a bottle of ready made pumpkin pie spice at the supermarket, there are plenty of great reasons to know HOW to make pumpkin pie spice substitute at home.
It's customizable – Want a pumpkin spice with a little more nutmeg or a little less clove flavor? Making your own means you can adjust the ratios of every spice to suit your taste buds.
Running out of store bought spice – How many times have I got out all my ingredients to make my favorite Pumpkin Bread only to discover I was out of pie spice mix? If you have all the individual components of this mix in your spice rack you'll always be prepared!
It lasts forever – Seriously. Whip up a double batch of this pumpkin pie spice mix and you can keep it in your cupboard for up to 2 years! Okay, if you're as addicted to all things pumpkin as I am you'll probably use it all well before then. So maybe make a triple or quadruple batch if you really want to stock up.
Not to mention that, if you buy your spices in bulk, you can probably make the equivalent of multiple bottles of store bought pumpkin spices for a fraction of the cost.
Ingredient Notes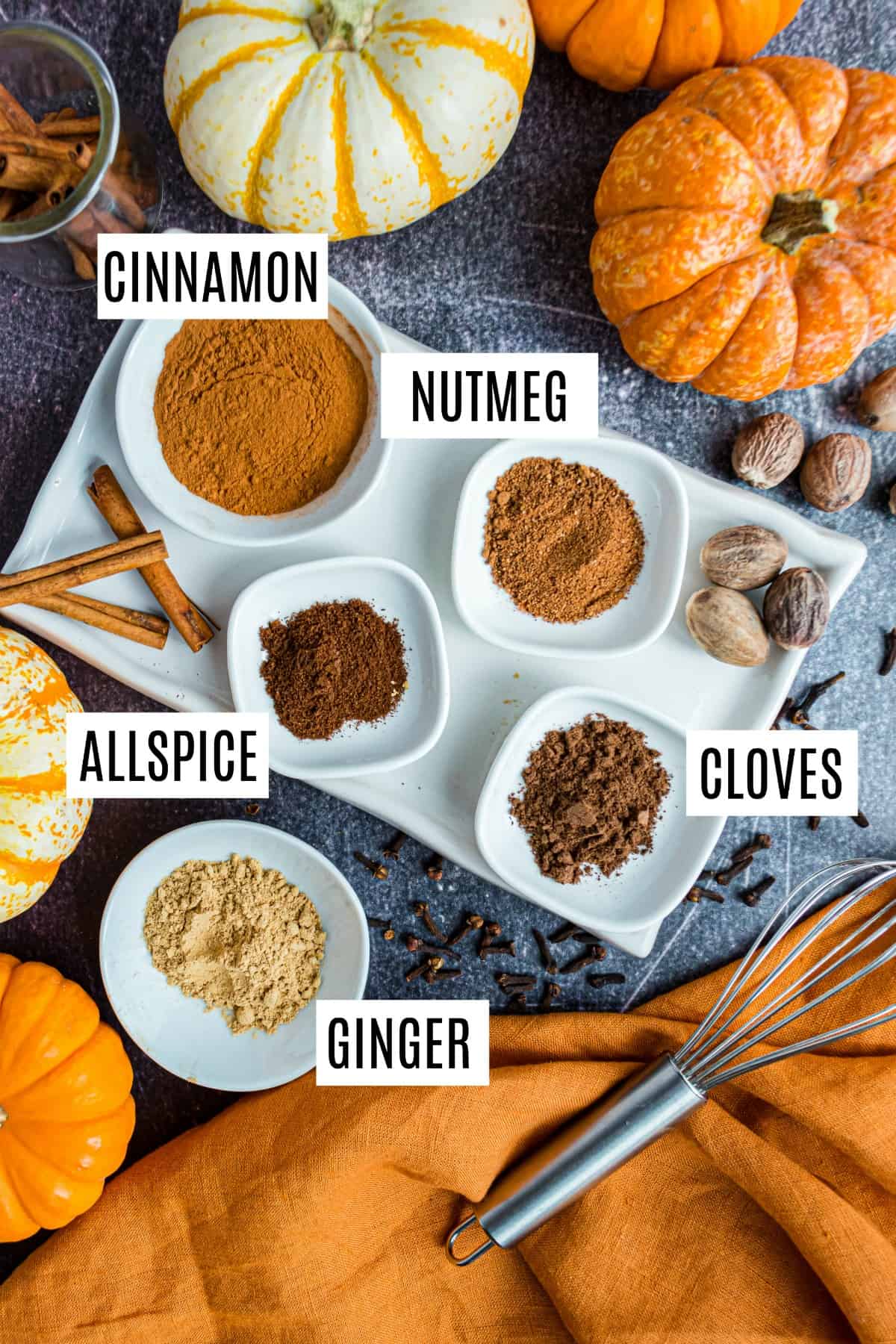 Cinnamon – Always essential for anything involving pumpkin! I use the standard cinnamon you can find at any grocery stores (also known as "cassia cinnamon").
Ginger – Ground ginger adds a powerful kick to this blend! You can reduce the amount if it's too spicy for your taste.
Cloves – Ground cloves have an extra pungent spiciness that some are sensitive to. I love the balance of cloves in this spice but feel free to reduce or omit it if you prefer.
Allspice – Like the name suggests, this ground spice gets its name because it combines many of the flavor notes of the first three spices into one but with a distinct fruitiness.
Nutmeg – No pumpkin spice is complete without this flavor!
Step by Step Instructions
STEP 1. Mix
Combine all the spices in a bowl and use a whisk to mix them together.
STEP 2. Store or use
Transfer to a storage container OR proceed use in a recipe as directed.
That's it! Just one minute of effort to save you time and money for months to come.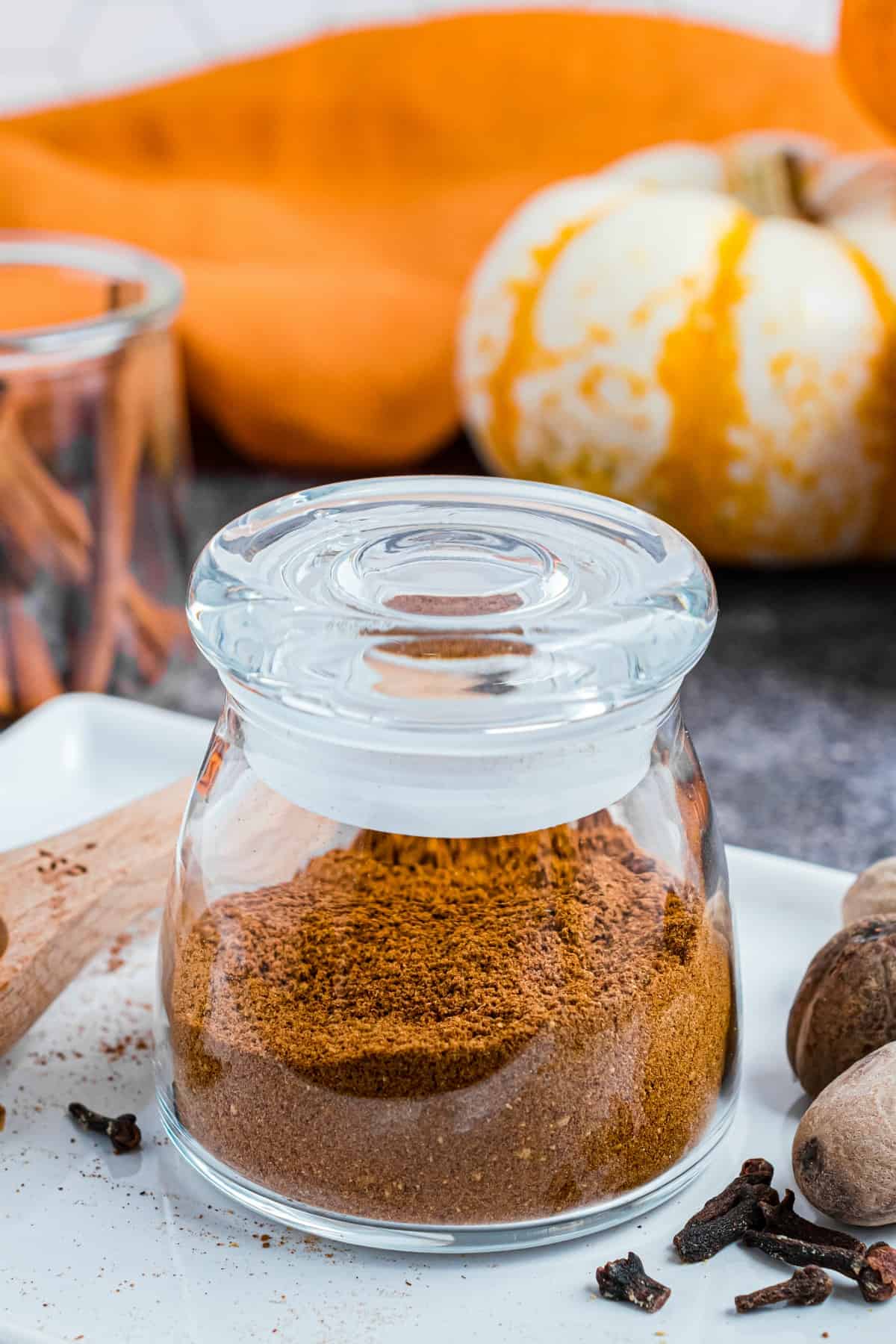 How to Store
Pumpkin Pie Spice will keep well for up to 2 years IF you store it correctly.
I prefer to keep mine in a spice jar with a lid tightly sealed. This glass spice jar from Amazon is my favorite. You can also recycle empty store bought spice jars and use them for storing this homemade mix.
Tip: Use a label maker or a piece of tape and a marker to label your spice mix, especially if you store numerous spice blends in your cupboard. (The last thing I want is to accidentally add homemade taco seasoning to, say, Pumpkin Spice Latte Krispie Treats! Blargh. )
The flavor of this spice blend stays freshest if you store it in a cool, dry place.
We also love making this easy chai spice mix. Perfect for all your baking!
How to Use
You're going to find yourself reaching for your pie spice mix ALL fall and winter long.
It was created with treats like Pumpkin Cinnamon Rolls and Pumpkin Coffee Creamer in mind, along with traditional Pumpkin Pie.
Use it as a substitute for the spices in this Pumpkin Pie Dip or a cold and creamy Pumpkin Pie Smoothie.
Homemade pumpkin pie spice turns a simple bowl of oatmeal into an extra special fall breakfast! I love it in my coffee too and I've been known to sprinkle it over bowls of apple sauce to jazz them up a little.
Pumpkin Spice EVERYTHING, please!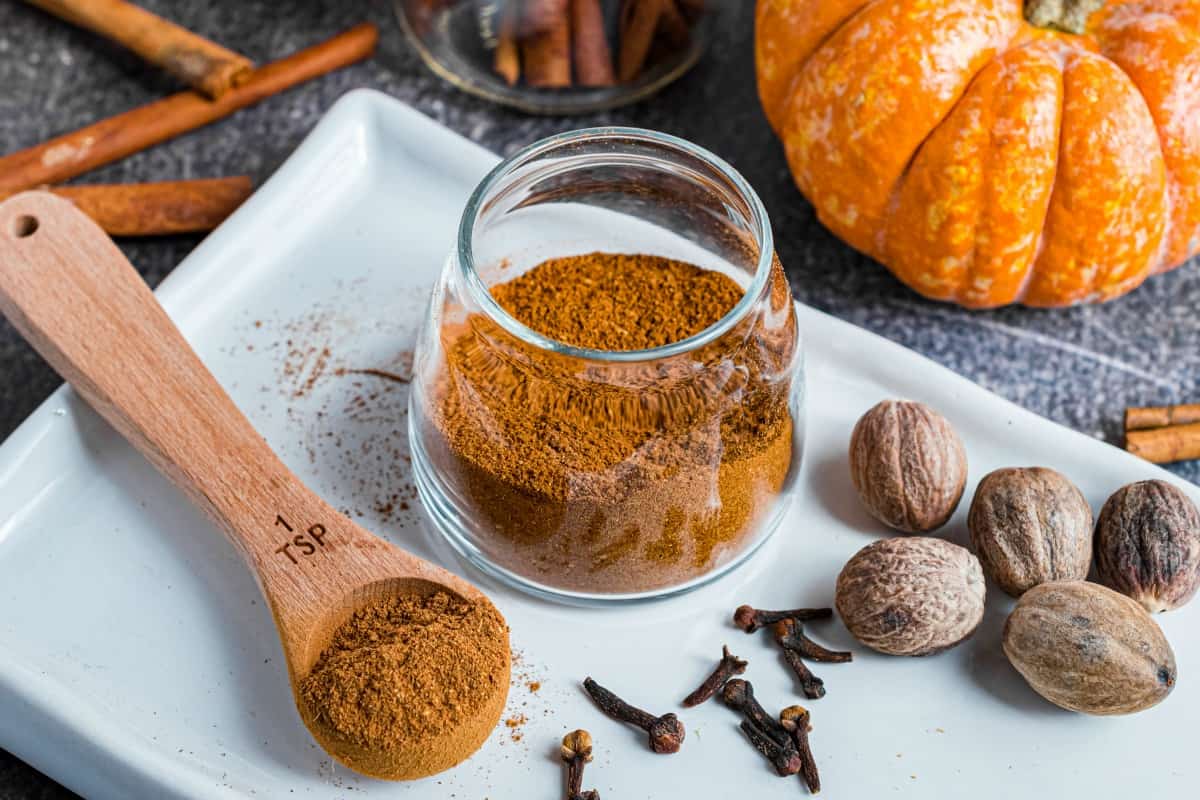 Recipe FAQs
What's the difference between pumpkin pie spice and apple pie spice?
While they both contain cinnamon, nutmeg and usually allspice, apple pie spice gets its signature aroma from the addition of cardamom. Pumpkin pie spice, on the other hand gets a major dose of flavor from ground ginger.
Can pumpkin pie spice mix be made without the cloves?
Yes, I still enjoy this pumpkin pie spice without the ground cloves. However, I would recommend just reducing the amount of cloves by half. You won't notice the flavor prominently but it still adds a little somethin' somethin' that makes this spice blend complete.
Can I use pumpkin pie spice for allspice?
Allspice is usually known for it's trio of flavors, cinnamon, nutmeg, and cloves. Pumpkin Pie spice does include ginger as well.
More Pumpkin Pie Spice Recipes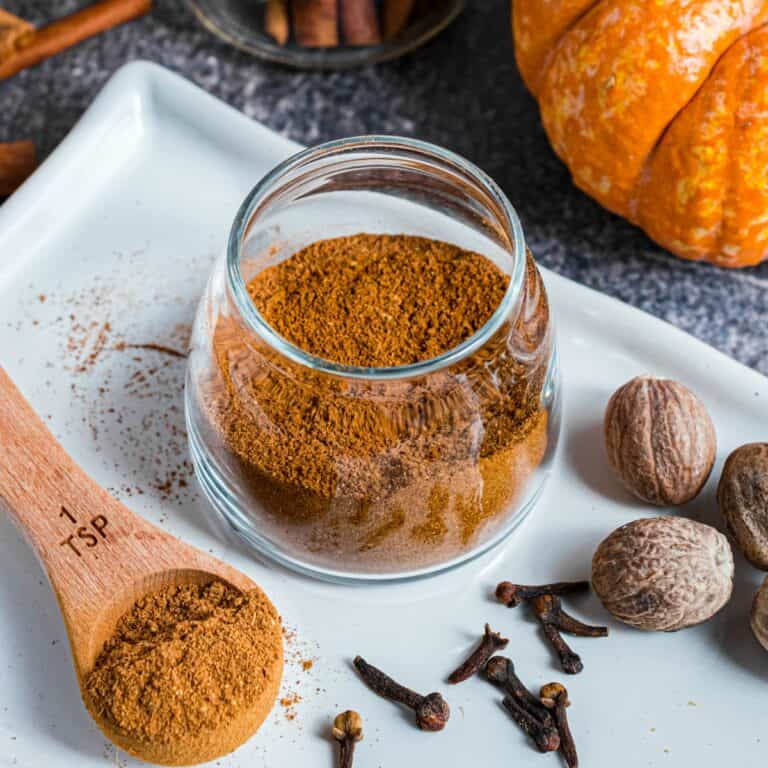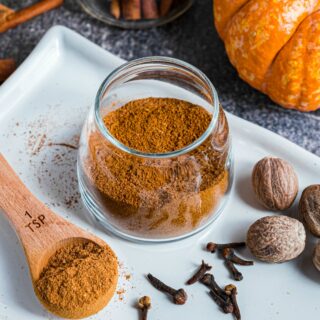 Pumpkin Pie Spice
A blend of cinnamon, nutmeg, cloves, allspice, and ginger for the perfect Pumpkin Pie Spice Substitute.
Ingredients
2

Tablespoons

ground cinnamon

2

teaspoons

ground ginger

1

teaspoon

ground nutmeg

1

teaspoon

ground cloves

1

teaspoon

ground allspice
Instructions
Add all spices to a small mixing bowl and whisk until combined.

Store in an airtight container for up to 2 years.
Notes
Perfect for fall baking.
Great addition to oatmeal or sprinkle on coffee drinks.
Spices can be adjusted to taste or to avoid those the reader isn't fond of (i.e. cloves).
Nutrition
Serving:
1
tsp
,
Calories:
6
kcal
,
Carbohydrates:
2
g
,
Sodium:
1
mg
,
Fiber:
1
g
Once you start making your own homemade Pumpkin Pie Spice you may never go back to dropping cash on the grocery store mixes again!