Pumpkin Cinnamon Rolls – Swirls of gooey, buttery, cinnamon sugar bliss with real pumpkin baked in to every bite. These are the best ever cinnamon rolls to make in the fall!
For true pumpkin fans, be sure to try my Pumpkin Roll Cake and my delicious classic Pumpkin Bars recipe!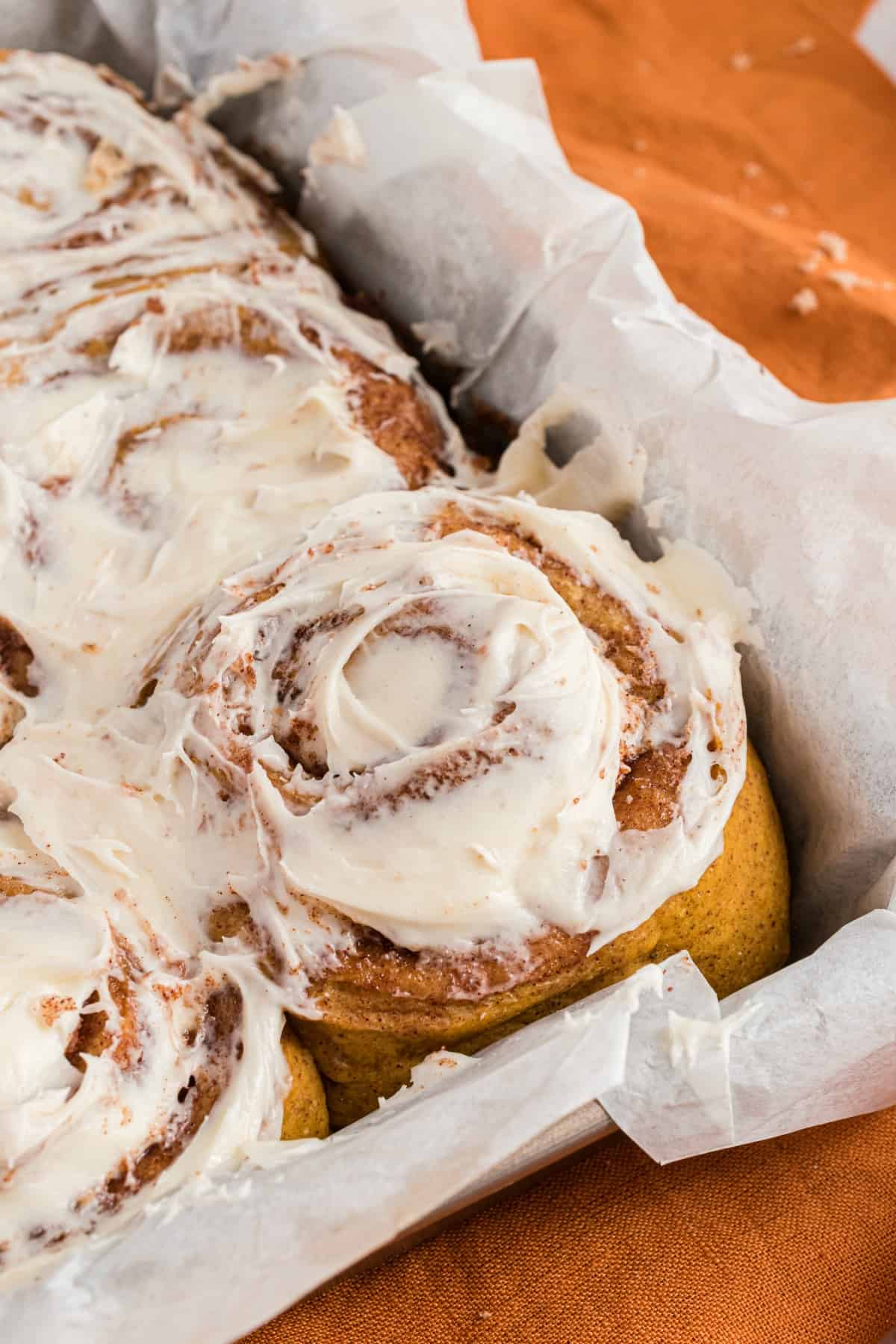 Why these cinnamon rolls are BEST
Is there anything that can get a tired mom out of bed faster than aroma of freshly baked cinnamon rolls wafting through the house?
I wouldn't know…I'm always the one awake early making them! Regardless, these pumpkin cinnamon rolls are worth waking up for.
I love, love, love an ooey-gooey sticky cinnamon roll. The cinnamon-sugar taste, the fluffy dough oozing with frosting, and, of course, the scent.
My classic Cinnamon Rolls recipe has been a favorite for years–you can't beat the taste of homemade! We then made an apple cinnamon roll recipe. So delicous.
Then, I added pumpkin to the dough. Wow.
Move over, plain cinnamon buns, there's a new king in town and his name is Pumpkin Cinnamon Roll.
Ingredient Notes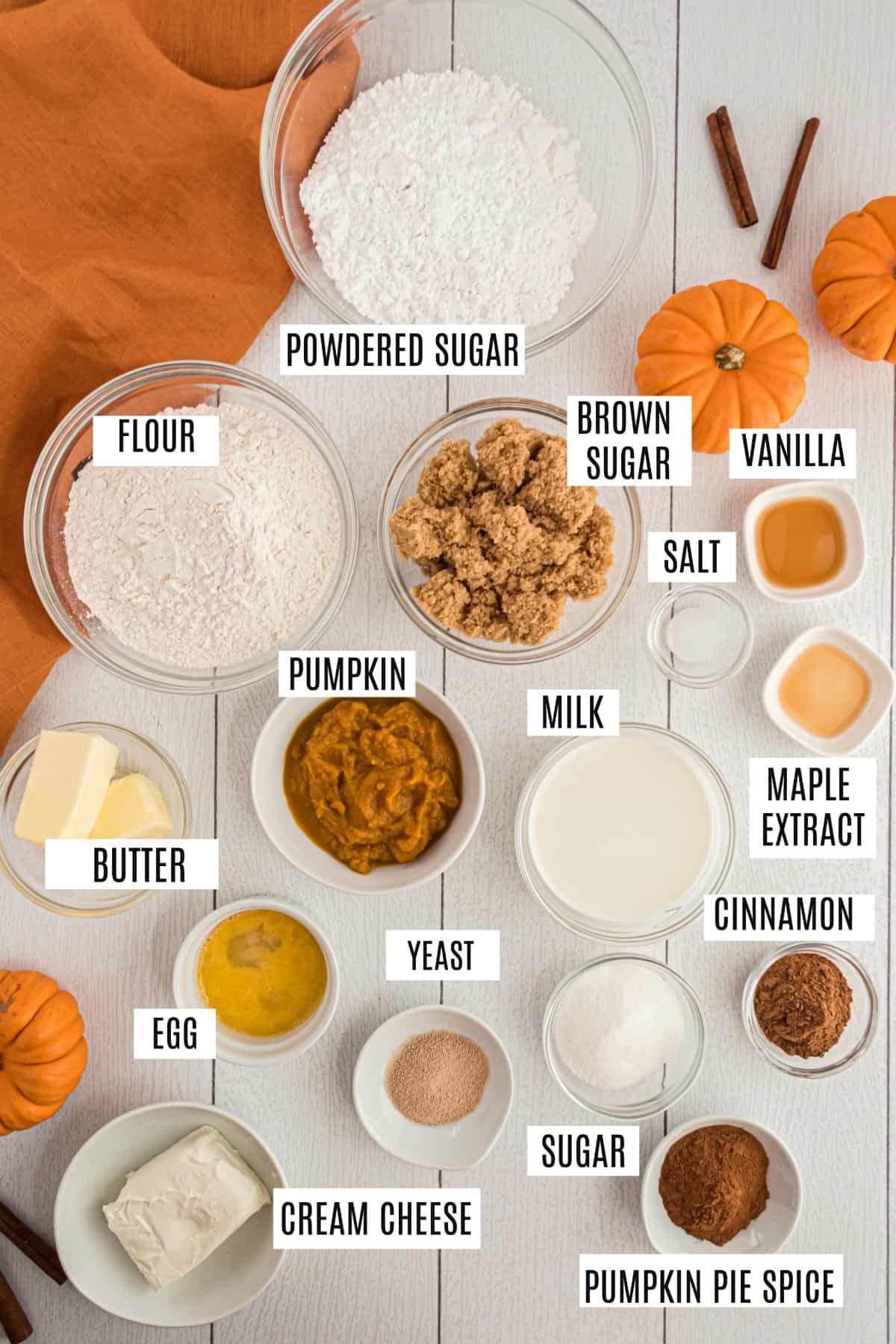 Here's what goes into the pumpkin cinnamon rolls that makes them so delicious:
Pumpkin Puree – Use canned plain pumpkin in these rolls, NOT pumpkin pie mix.
Flour – All-purpose flour works beautifully in these rolls. With just the right balance of structure to lightness, it gives the cinnamon roll dough a perfect texture. You can sub gluten-free flours at a 1:1 ratio but the rolls won't be as soft and the dough won't rise as much.
Yeast – You need active dry yeast for these. Do not use instant yeast (or bread machine yeast). I used 1 packet, or you can measure out the amount from the kind that comes in a jar.
Pumpkin pie spice – Adding a little spice to the dough adds an amazing element of flavor.
Unsalted butter – Butter is a must! It's baked into the dough, mixed in the filling and a key ingredient in the frosting, too. You can use salted if needed, just reduce the amount of salt added to the recipe.
Cream cheese – Cream cheese makes the frosting on these cinnamon rolls oh so good! Go with regular cream cheese for best taste.
Maple extract– give the icing a hint of maple flavor! You can leave this out if you prefer.
Step by Step Instructions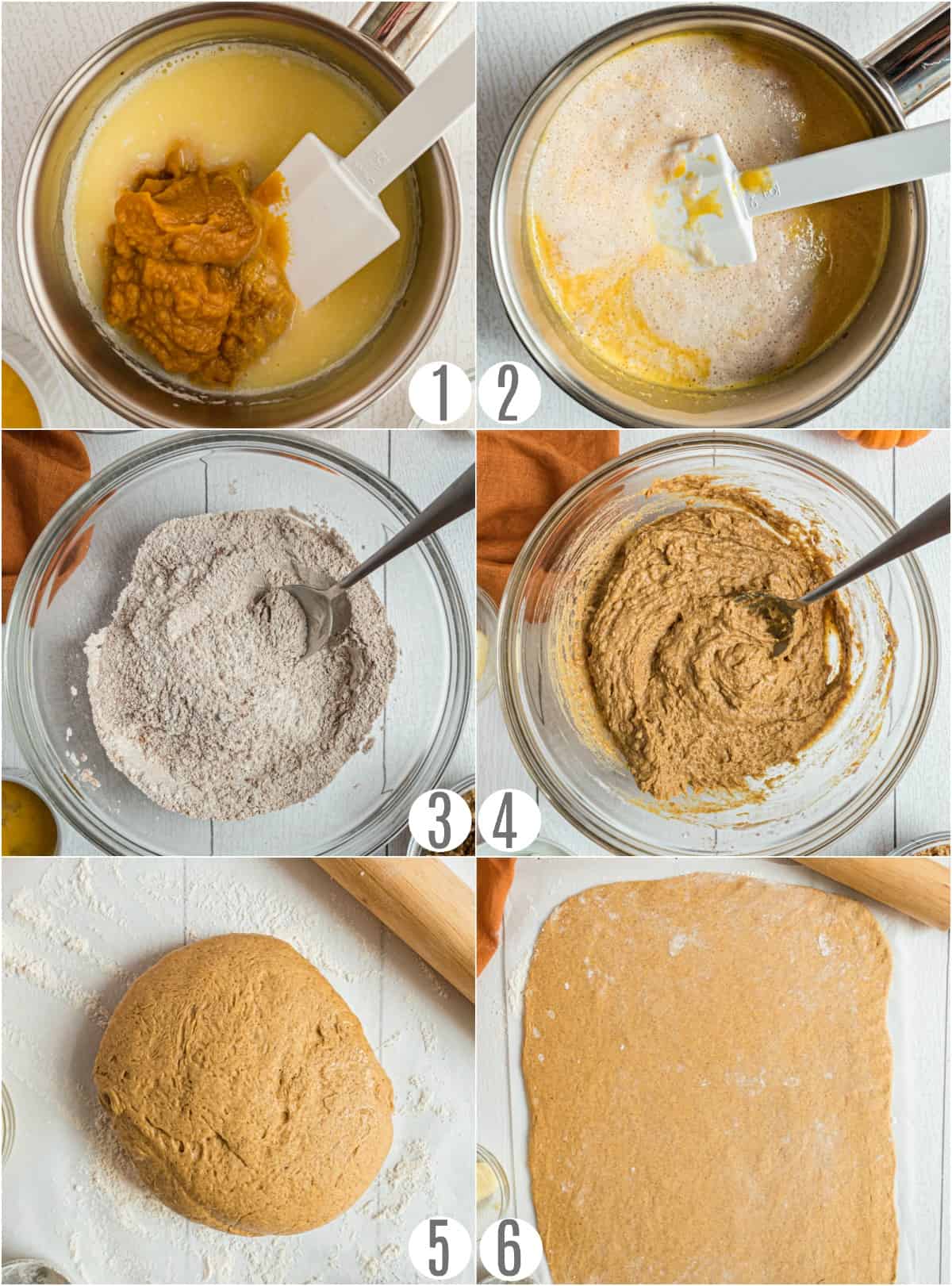 To make the rolls:
STEP 1. Heat milk
Heat milk over medium heat until it bubbles. Remove from heat and add in the butter, stirring until it's completely melted. Once the milk mixture is cooled to luke warm, stir in the pumpkin.
STEP 2. Proof yeast
Dissolve yeast with water and a teaspoon of sugar in a small bowl. Allow the yeast to proof for about 5 minutes until it's bubbly and a little foamy. Add the yeast to the pumpkin mixture and stir to combine.
STEP 3. Mix and knead the dough
In a large bowl, combine 2 ¼ cups of flour, ¼ cup sugar, salt and pumpkin pie spice. Add the pumpkin mixture and the egg. Mix well.
Stir in remaining flour a little at a time. Knead for about 5 minutes, adding flour as necessary to keep it from sticking to your hands and the surface.
Place the dough in a lightly oiled bowl and cover loosely with a towel to rise until it's doubled in size.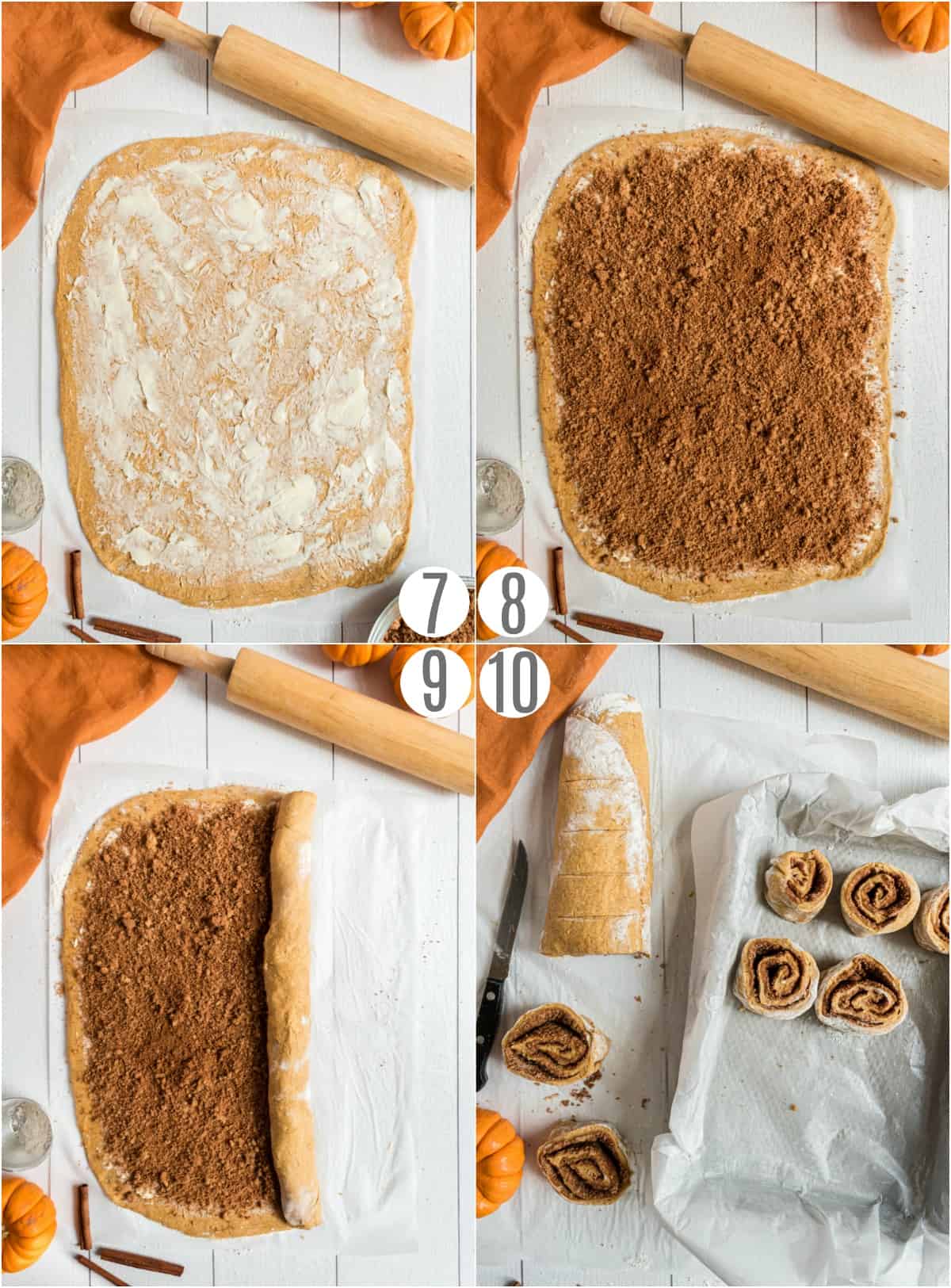 STEP 4. Fill and roll
Roll the dough out on a floured surface to form a rectangle about half an inch thick. Mix the cinnamon and sugar together in a small bowl. Spread soft butter over the rectangle of dough, then sprinkle with cinnamon sugar.
Roll the dough into a log, starting from the long end of the rectangle. Pinch the ends to seal, then slice the log into 12 equal pieces.
STEP 5. Bake
Place the pumpkin cinnamon rolls in a prepared pan with the spiral side face down. Cover and let them rise again for about 45 minutes.
Bake for 20 – 25 minutes or until the tops are brown. While the rolls are baking prepare the frosting.
To make the frosting:
In a small bowl, mix softened cream cheese and butter with an electric mixer until light and fluffy. Add the powdered sugar, vanilla, maple extract and salt until combined.
Spread the frosting over slightly cooled rolls and enjoy!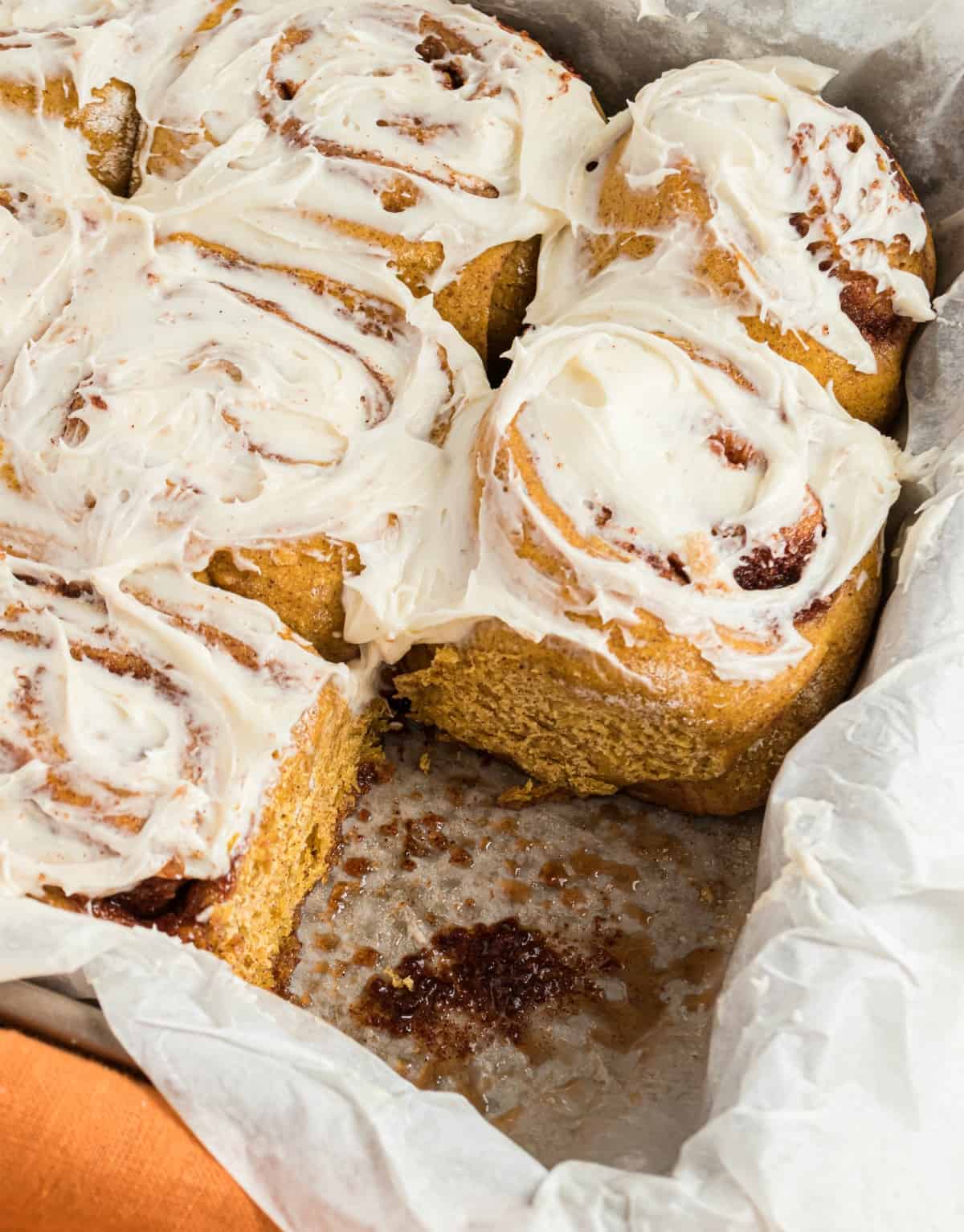 Tips and Tricks
For softer and gooeier rolls, brush the tops with heavy cream just before baking.
Store rolls at room temperature covered with plastic wrap to keep them from drying out. They'll keep for up to 3 days.
Pumpkin Cinnamon Rolls are best served warm! Reheat leftovers for a few seconds in the microwave before serving to get them soft and gooey again.
Want thicker frosting? Add more powdered sugar until you reach your desired consistency.
Did you know cinnamon rolls and chili are a thing? Pair these pumpkin cinnamon rolls with my favorite pumpkin chili recipe for a unique combo!
Pecans- try our pecan sticky buns next. They're a fall favorite!
Recipe FAQs
Why are my cinnamon rolls turning out dense?
Rolls get dense for a few different reasons. You might be adding too much flour to the dough during the kneading phase. The dough should be slightly sticky before its first rise. You might also be over kneading your dough!
How do you cut pumpkin cinnamon roll dough?
Slicing raw dough into neat sections can be tough. To get perfect slices every time, use a knife to mark off 12 evenly sized sections of dough. Just a quick indent across the top works. Then, use dental floss or a mandoline slicer to cut through the marks and section off the dough. Perfect cinnamon roll shape every time!
Can these be prepped in advance?
Absolutely! Prep the rolls the night before, then cover the unbaked rolls with plastic wrap and store in the fridge overnight. Pop them in the oven in the morning and you'll have freshly baked homemade cinnamon rolls on the table in no time!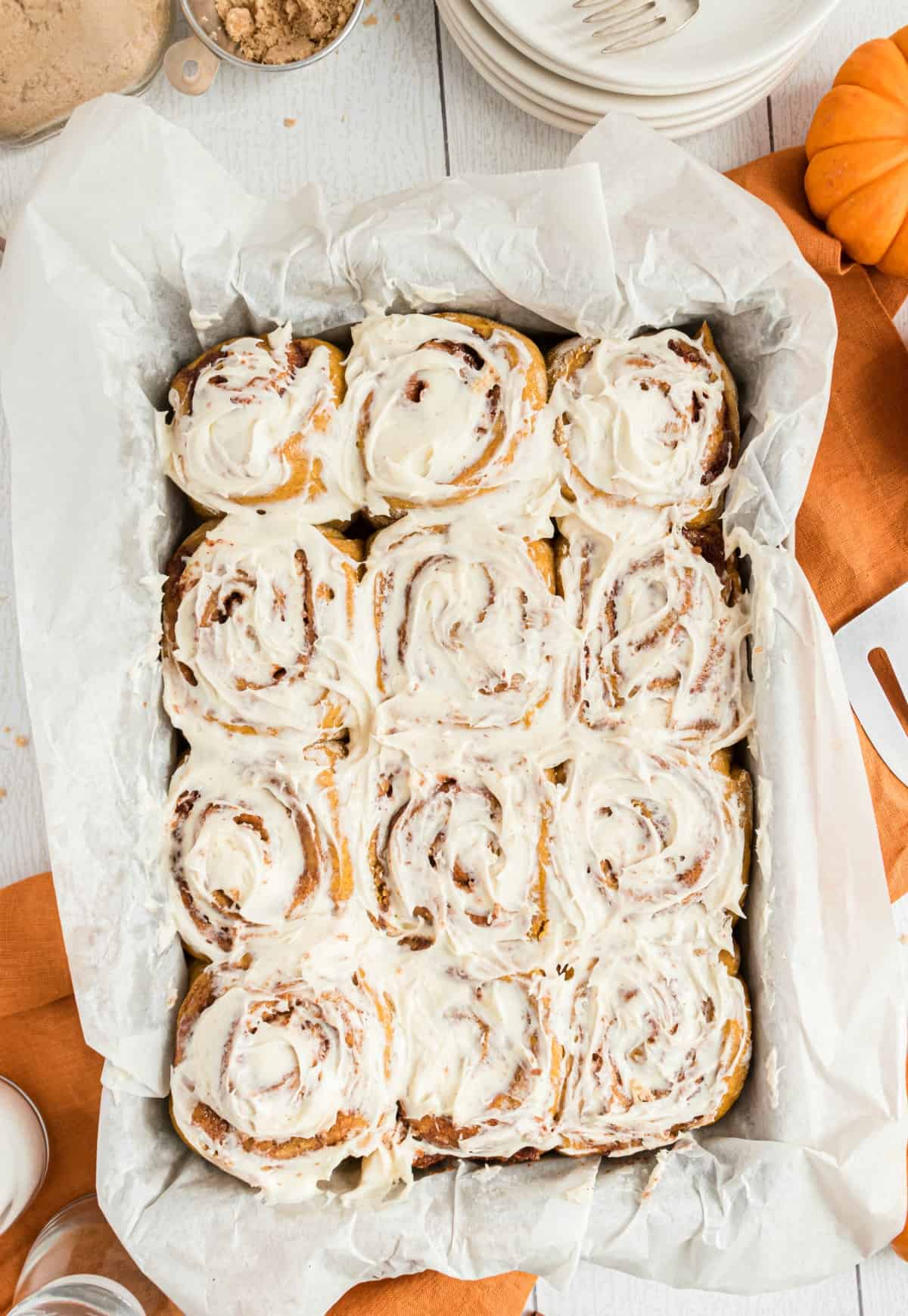 Pumpkin Cinnamon Rolls will be perfect for your Thanksgiving or Christmas breakfast this year! Put on a pot of coffee and relax while your kitchen fills with the irresistible aroma of baking cinnamon rolls.