If you're looking for an impressive pumpkin dessert that looks as good as it tastes, Pumpkin Roll is the answer! Made with real pumpkin and swirls of cream cheese frosting, this cake is pure pumpkin perfection.
You can never have too many pumpkin desserts! This Pumpkin Roll recipe takes an ordinary pumpkin cake and transforms it into something extra special. Make it ahead of time and store it in the freezer!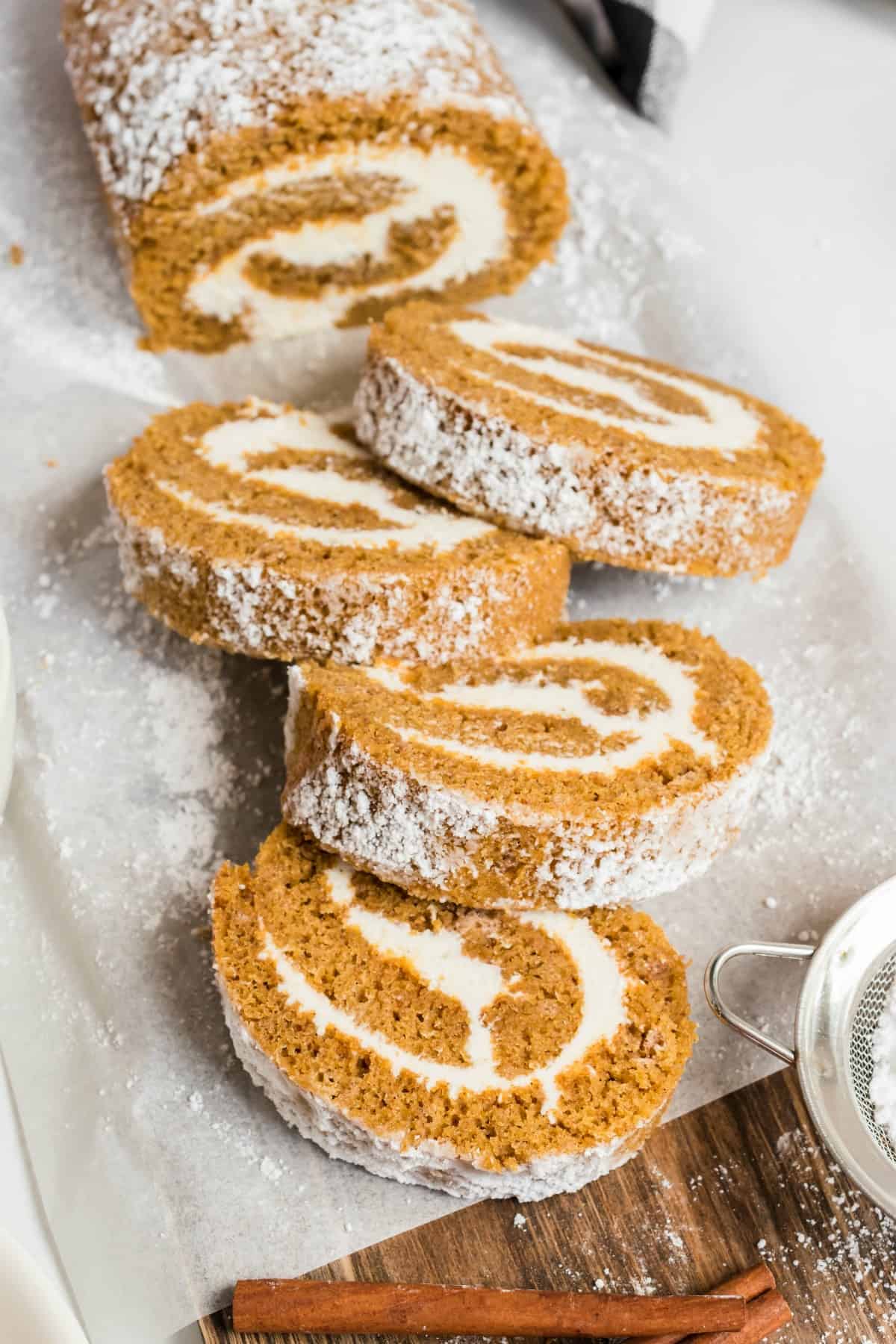 Perfection Every Time
If you're new to making roll cakes, don't be intimidated. This recipe makes it easy to create a beautifully rolled cake; cut it into slices to reveal spirals of creamy frosting.
This Pumpkin Roll cake is super moist and creates crisp clean slices, without cracking or crumbling. You'll love having this Libby's pumpkin roll recipe up your sleeve!
Much like my favorite Vanilla Cake Roll, creating these cake rolls ahead of time makes them the perfect dessert for entertaining!
Add it to your list of "must try" desserts this fall, along with Pumpkin Bread and Pumpkin Coffee Cake.
Ingredient Notes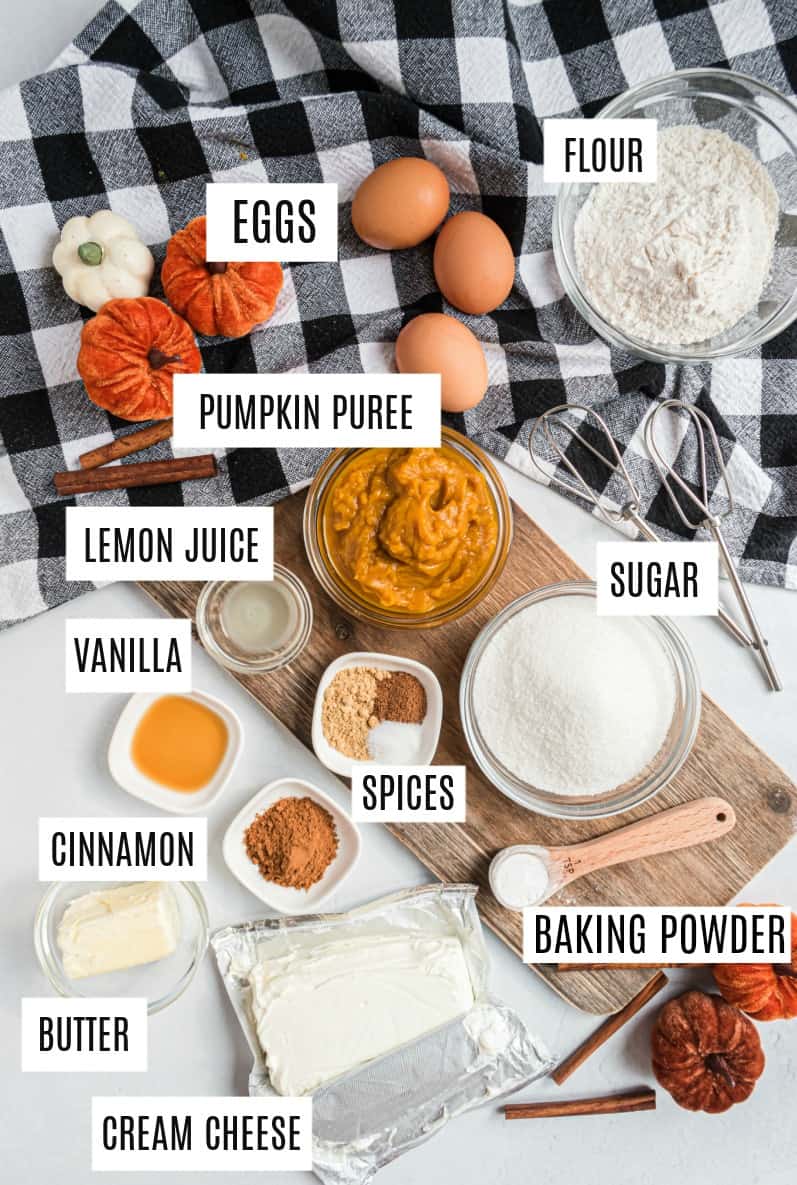 There are two parts to this Pumpkin Roll recipe: pumpkin cake and cream cheese frosting.
The biggest thing to note with ingredients for the cake is that you use REAL pure canned pumpkin puree. Not pumpkin pie filling or sweetened pumpkin mix. Sometimes the cans look similar on the shelf, so double check your labels!
You'll also notice this pumpkin cake batter calls for lemon juice. That little bit of acidity goes a long way in enhancing the flavor!
For the cream cheese frosting, I recommend real full fat cream cheese as opposed to low or reduced fat versions. Leave it on the counter for a few minutes before making the frosting so it's easier to work with.
Most importantly, or of equal importance, is the size of pan. You will need a 10×15-inch jelly roll pan. This creates the nice, thin cake needed for rolling.
See the recipe card for full information on ingredients and quantities.
Step by Step Instructions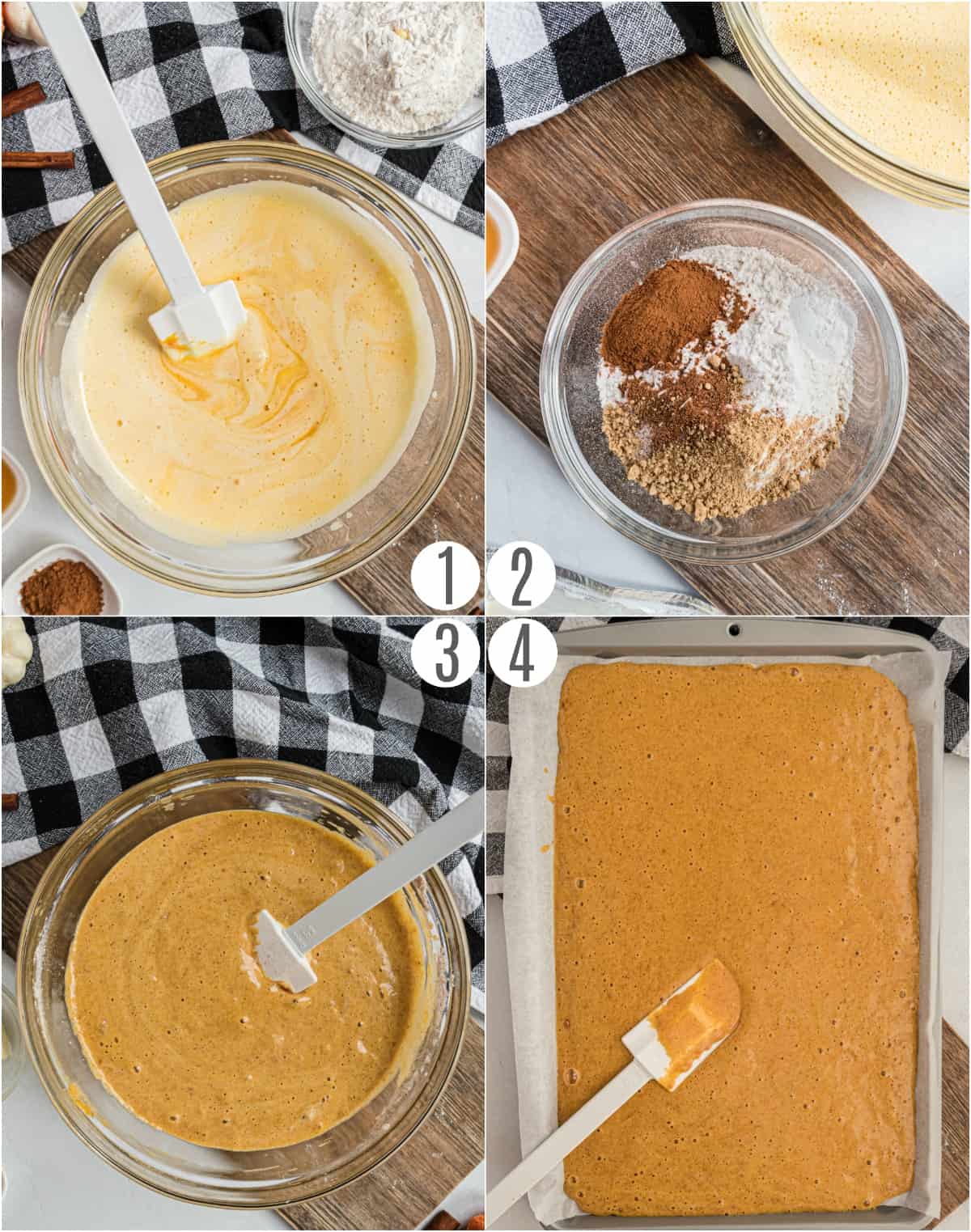 STEP 1. Make the pumpkin cake
In a large mixing bowl, beat eggs on high speed for 5 minutes with a hand mixer. Gradually beat in sugar, then stir in the pumpkin and lemon juice.
Stir together the dry ingredients in a separate bowl, the fold into the pumpkin mixture. Spread mixture into a jelly roll pan lined with parchment paper.
Bake for 15 minutes, then remove the pan from the oven.
STEP 2. Roll
Generously sprinkle a clean dish towel or cloth flour bag with powdered sugar. Turn the cake out onto the towel and carefully peel the parchment paper off the top of the cake. Beginning with the short end, roll cake in the towel and leave it rolled up to cool completely.
PRO TIP: I attempted to try just rolling the cake IN the parchment paper, and this DID NOT work. When it cooled and I unrolled the cake, it was cracking everywhere. Stick to rolling in a tea towel with powdered sugar.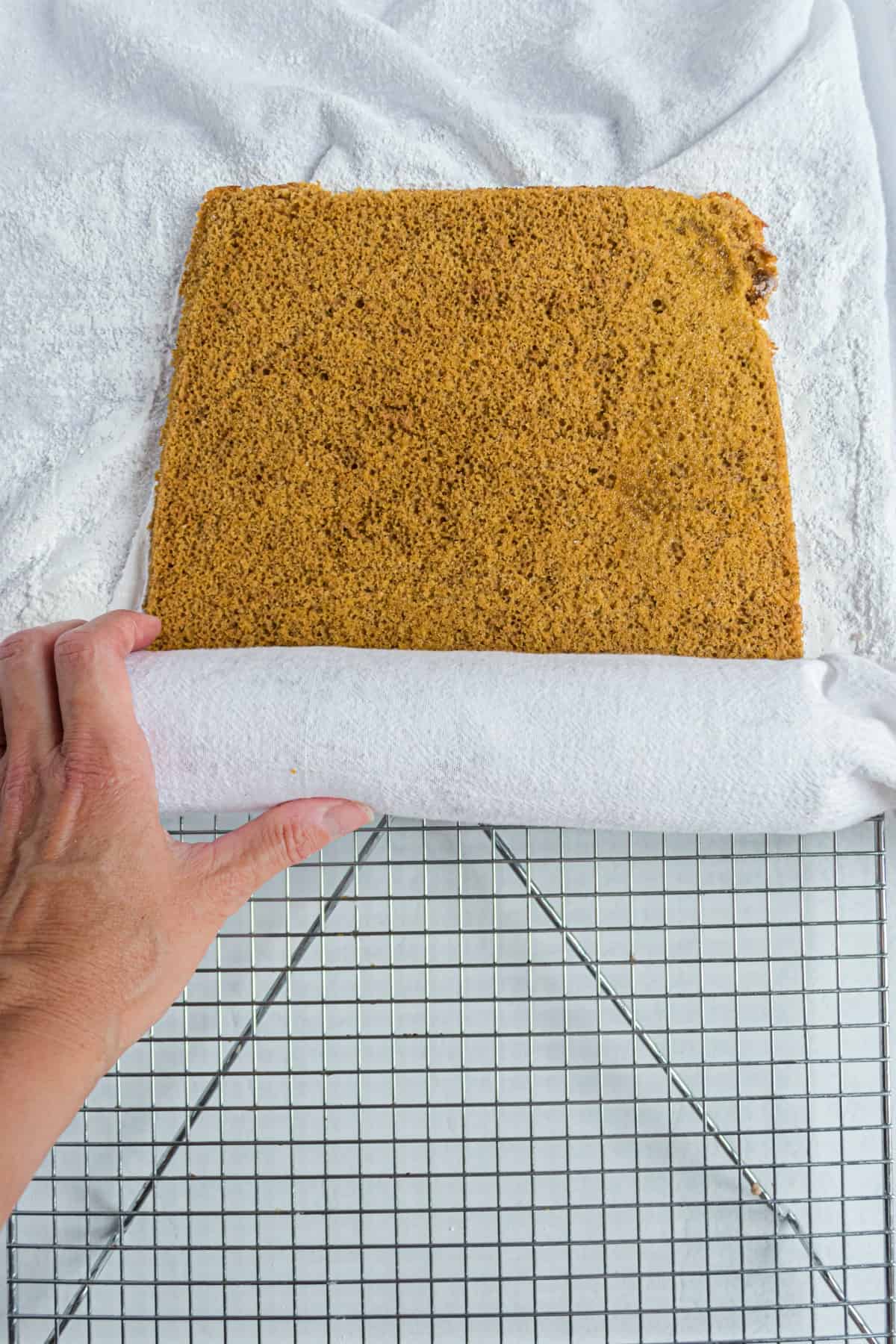 STEP 3. Make the frosting
Beat powdered sugar, cream cheese, butter and vanilla together until smooth.
STEP 4. Frost Pumpkin Roll
Carefully unroll the cooled cake and spread the filling evenly on top of the cake. Re-roll the cake with your hands–without the towel this time— and wrap tightly in plastic wrap. Chill for at least 1 hour in the fridge before slicing.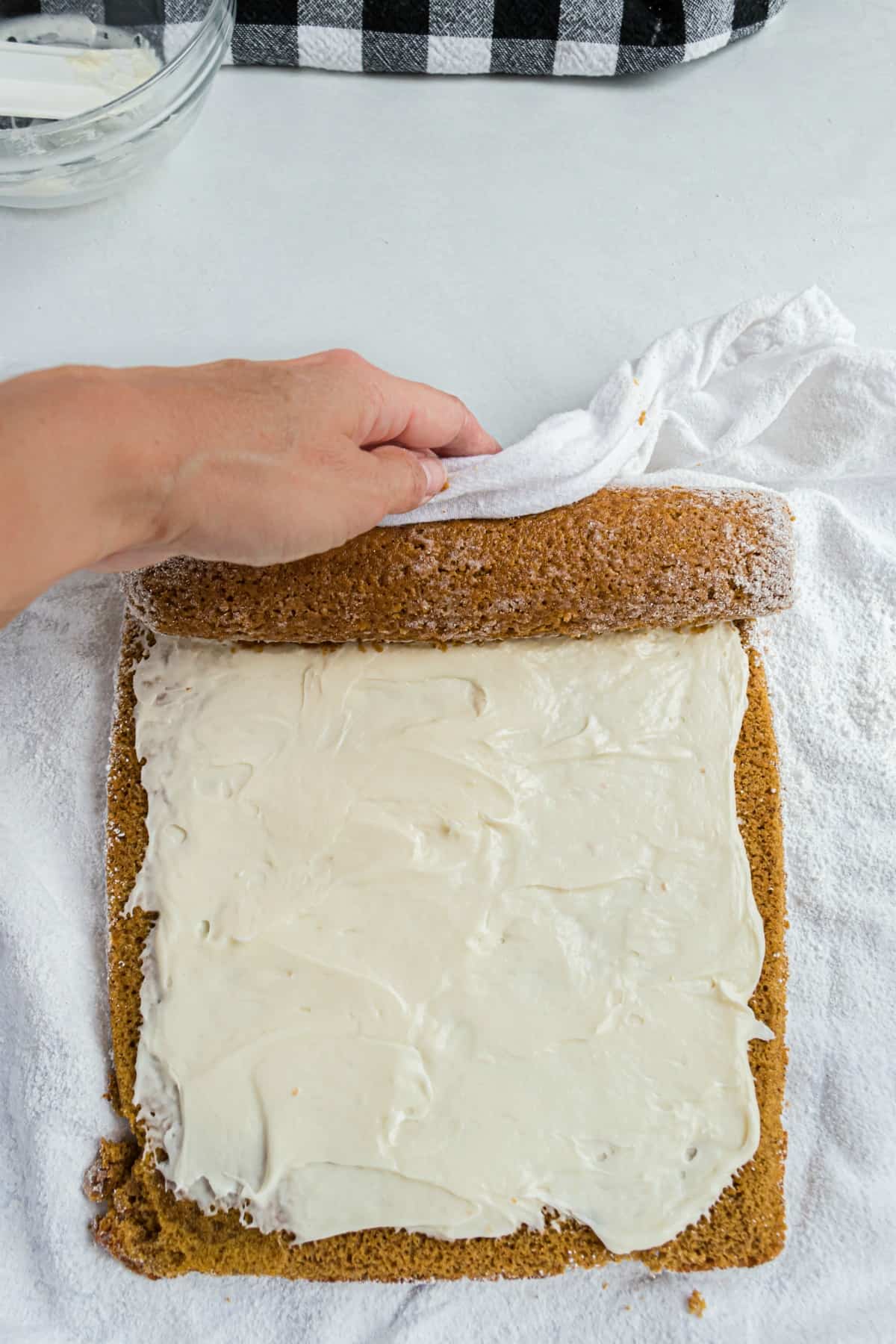 Tips and Tricks
For perfect slices without cracking or crumbling, place the roll in the freezer for 30-60 minutes before cutting.
Sprinkle each slice with powdered sugar right before serving for an extra pretty presentation. You can also sprinkle with nuts when serving too!
Make sure to use the correct size of jelly roll pan. Using one that's too large will result in a thin cake that cracks very easily.
Towel should be a clean towel that has no fibers or patterns. Flour sack towels work best!
Don't skimp on the powdered sugar for the towel! It is what prevents the cake from sticking to the towel when it's rolled.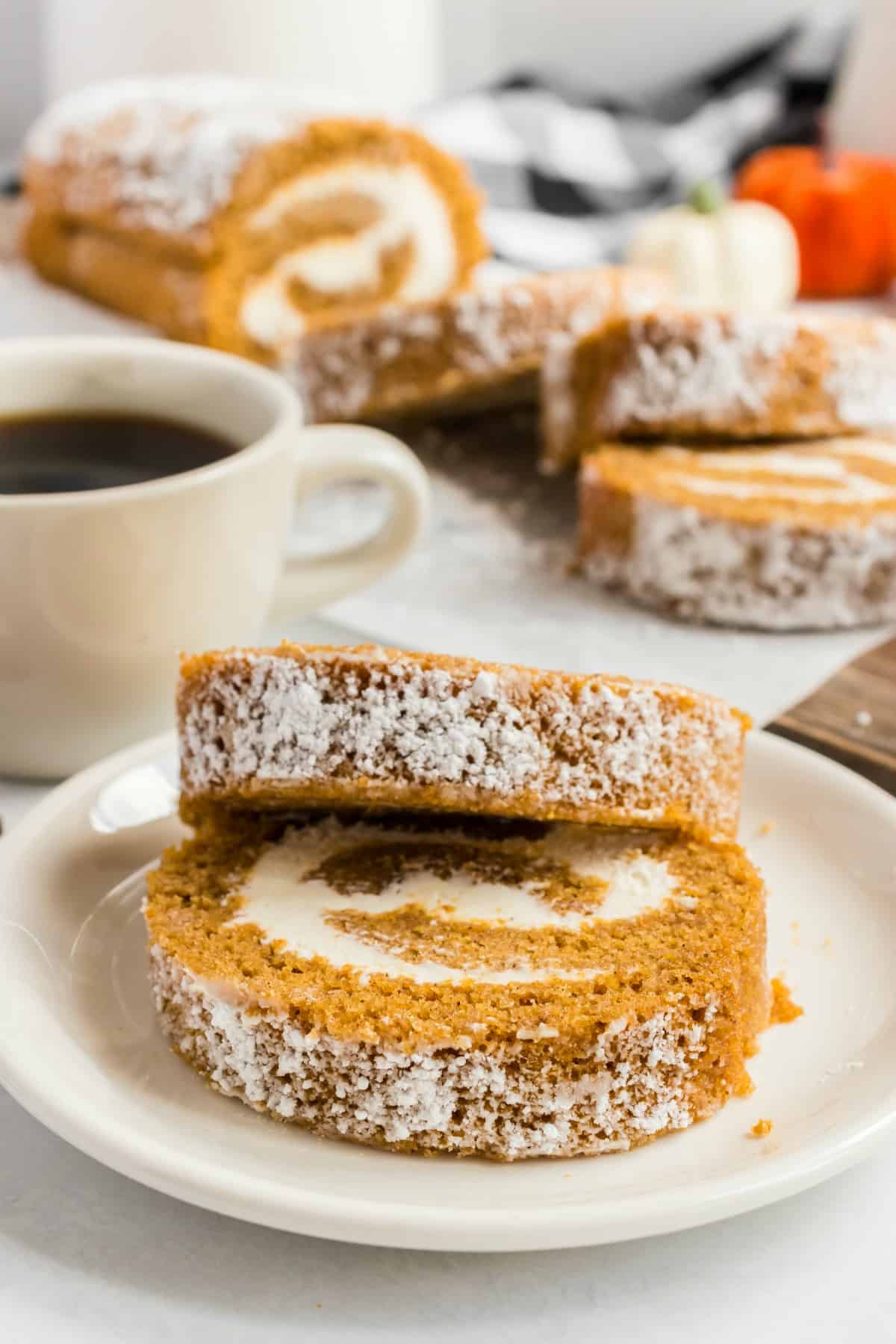 Recipe FAQs
How do you store pumpkin roll?
Keep leftover pumpkin roll in the fridge. You can also make this ahead of time Can be made ahead of time and chill for up to 2 days before cutting and serving serving.
Can you make a Pumpkin Roll ahead of time?
Yes. This cake can be frozen for up to 3 months. Bake and frost according to directions. Roll and wrap tightly in plastic wrap, then foil. Thaw in fridge overnight before slicing.
How do you get the cake out of the jelly roll pan?
To flip the cake out of the pan with ease, place towel with powdered sugar over jelly roll pan and place a cooling rack on top of the towel. While holding the cooing rack and towel firmly on top of the jelly roll pan, flip upside down and remove the jelly roll pan. This is a little less messy than turning the cake out onto the towel (powdered sugar flies everywhere!) But, you still get powdered sugar all over. It's part of the process!
How do you keep pumpkin roll from cracking?
Cracking happens for a lot of different reasons, but to minimize the chances, roll the cake while it's hot, right out of the oven. Then let it cool completely before unrolling and filling.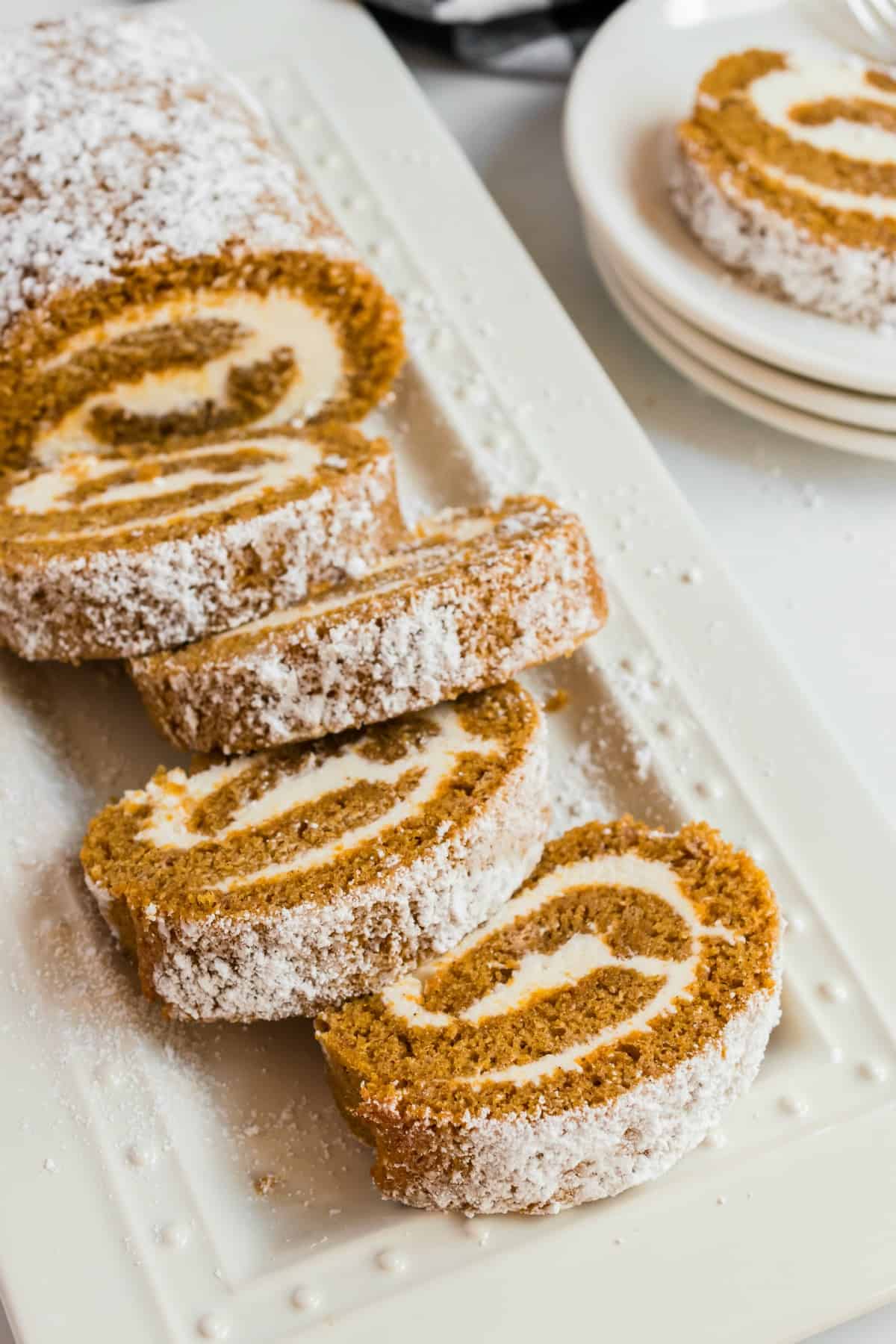 How great does this pumpkin roll look? The contrast of dark orange cake with the swirls of white icing is to die for! And the best news of all is that it tastes even better.
Love this recipe? Please leave a 5-star 🌟🌟🌟🌟🌟rating in the recipe card below & a review in the comments section below!
Don't miss out on this perfect Pumpkin Roll Cake recipe! With a delicious filling, it's the perfect fall dessert.