This No Bake Pumpkin Cheesecake Recipe is the perfect holiday dessert. Easy gingersnap crust with a creamy pumpkin cheesecake filling chock full of chocolate chips!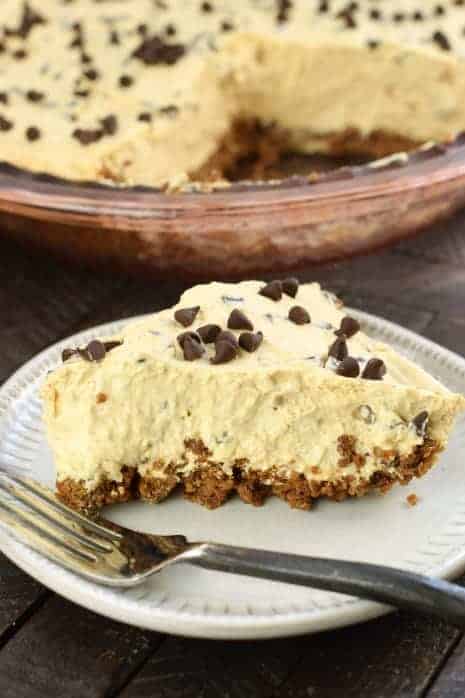 I know Pumpkin Pie is usually the traditional Thanksgiving dessert, but my family likes something different.
While there will always be some pie on the table, there's always room for cheesecake too.
Especially this No Bake Pumpkin Cheesecake Recipe.
Adding in the chocolate chips was a perfect addition to an already delicious dessert. I think you'll love how easy this one comes together.
How to make No Bake Pumpkin Cheesecake
STEP 1. The Crust.
In a food processor, pulse gingersnap cookies until fine crumbs. Add in melted butter and mix with a fork.
Press crust into the bottom of two pie plates.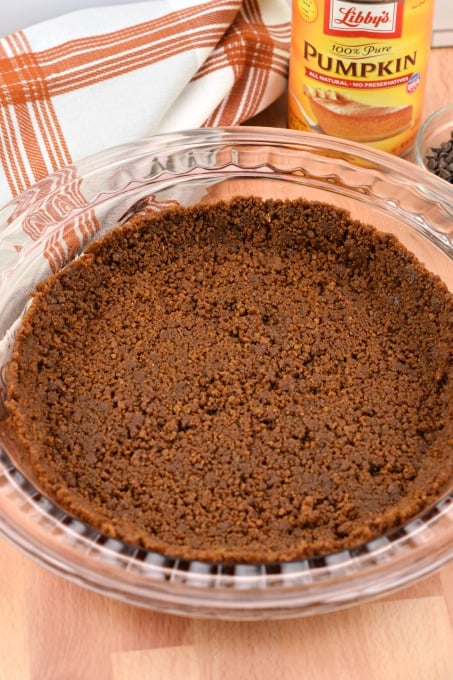 STEP 2. Filling.
In a large mixing bowl, combine cream cheese with sweetened condensed milk. Beat until fluffy, about 3-4 minutes, scraping down the sides of the bowl as needed.
Add in pumpkin puree, lemon juice, cinnamon, cloves, and nutmeg. Beat until combined.
Fold in Cool Whip and chocolate chips. Pour into prepared crusts, dividing filling evenly between the two pies.
STEP 3. Refrigerate.
Refrigerate pumpkin cheesecake for at least 3 hours or overnight. Slice and ENJOY.
Can No Bake Pumpkin Cheesecake be frozen?
Absolutely YES.
After assembling cheesecake in a freezer safe pie plate, wrap with plastic wrap completely. Then wrap entire cheesecake and plate in foil (over the plastic wrap).
Freeze for up to 3 months. Thaw in refrigerator overnight, slice, and enjoy!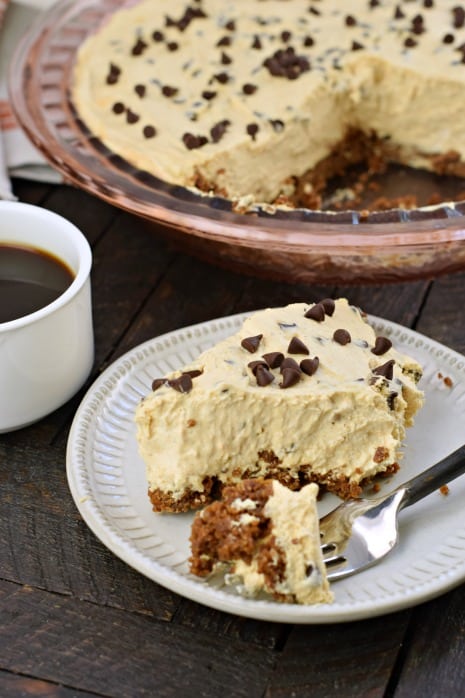 Tips and Tricks for Perfect Pumpkin Cheesecake
While making a no bake cheesecake is quite easy, here are some of my tried and true tips that help you be successful in the kitchen!
Cool Whip vs Homemade Whipped Cream.
This one is always a hot button issue. I personally don't mind Cool Whip in desserts, but if you can't find it, or want to use homemade, go for it!
Make sure if you are using homemade whipped cream to beat your heavy cream to peaks before gently folding in the cheesecake filling!
While it's not as stable as Cool Whip, refrigerating overnight or at least 6 hours will help!
Cookie Crust options.
I love the pumpkin paired with gingersnap cookies. However, you could use graham crackers like I did in this Pumpkin Cheesecake Recipe or go with Brownie Brittle like I did in these Pumpkin Cheesecake Bars!
You'll need 2 1/2 cups of cookie crumbs…so start processing your favorite cookie…Oreos, Nilla Wafers, Nutter Butters, etc!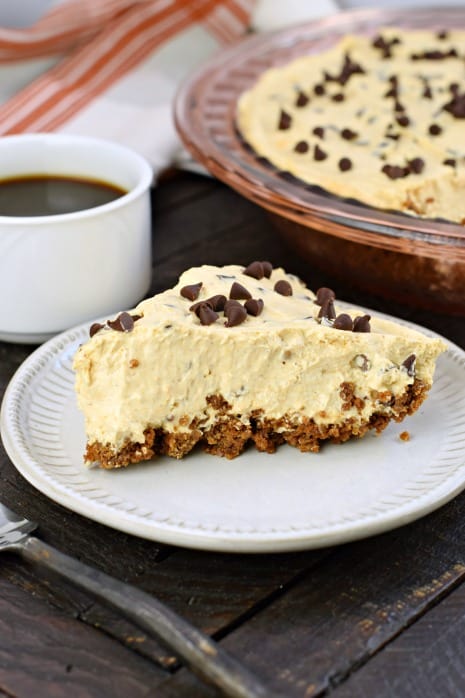 Softened Cream Cheese.
This refers to the blocks of cream cheese, not the whipped or tubs of soft cream cheese. I usually remove my cream cheese blocks from the fridge an hour or two before whipping it up!
Pumpkin Puree.
Pumpkin puree is the same as the canned 100% pumpkin puree…not pumpkin pie filling. You could also make your own if you prefer.
While some people love a cheesecake that is baked to perfection, a no bake cheesecake is creamy, like mousse. You'll love how easy it is, especially when you don't have to worry about cracks on top!
How to store Pumpkin Cheesecake
Cheesecake, especially a no bake cheesecake, should stay refrigerated.
You can store your pumpkin cheesecake with a layer of plastic wrap on top and refrigerate for up to 5 days.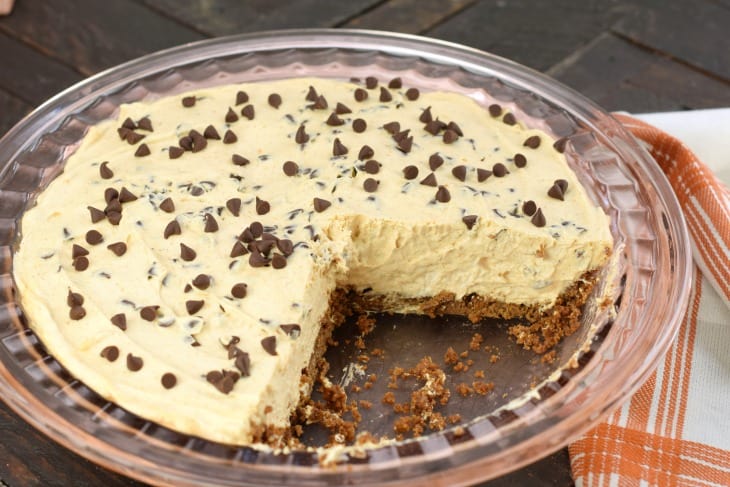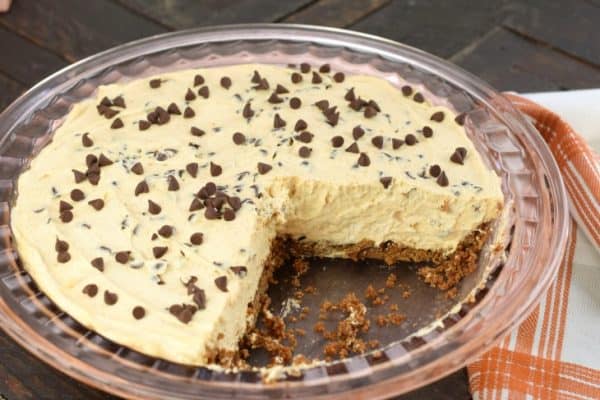 MORE Cheesecake Recipes
MORE NO BAKE RECIPES
This No Bake Pumpkin Cheesecake Recipe is the perfect holiday dessert. Easy gingersnap crust with a creamy pumpkin cheesecake filling chock full of chocolate chips!