Melt in your mouth, Peppermint Meringue Cookies, dipped in dark chocolate, just in time for the holidays. You'll want to add a handful of these sweet cookies to all your holiday plates!
If you love meringues, be sure to give my favorite Pumpkin spice meringues a try! Or try my favorite 4th of July meringue cookies!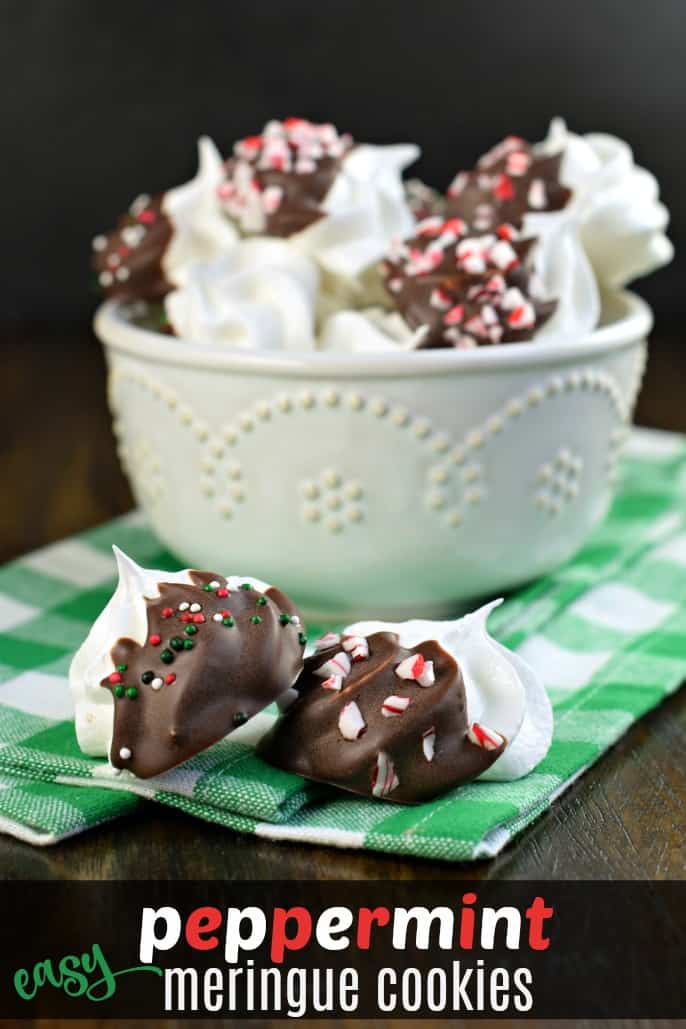 Peppermint Cookies
Well here it is, my last week of recipes before Christmas. And we're kicking off this week with one of my favorite cookie recipes.
Meringue Cookies. Not just any meringue cookie either, a delicious, holiday Peppermint Meringue Cookie.
If you've never had one, let me describe it to you in my best possible way:
Melt in your mouth, crunchy on the outside, slightly chewy center, and peppermint flavor, dipped in chocolate.
Now, to achieve the best Meringue Cookie texture, you'll want to follow these tips.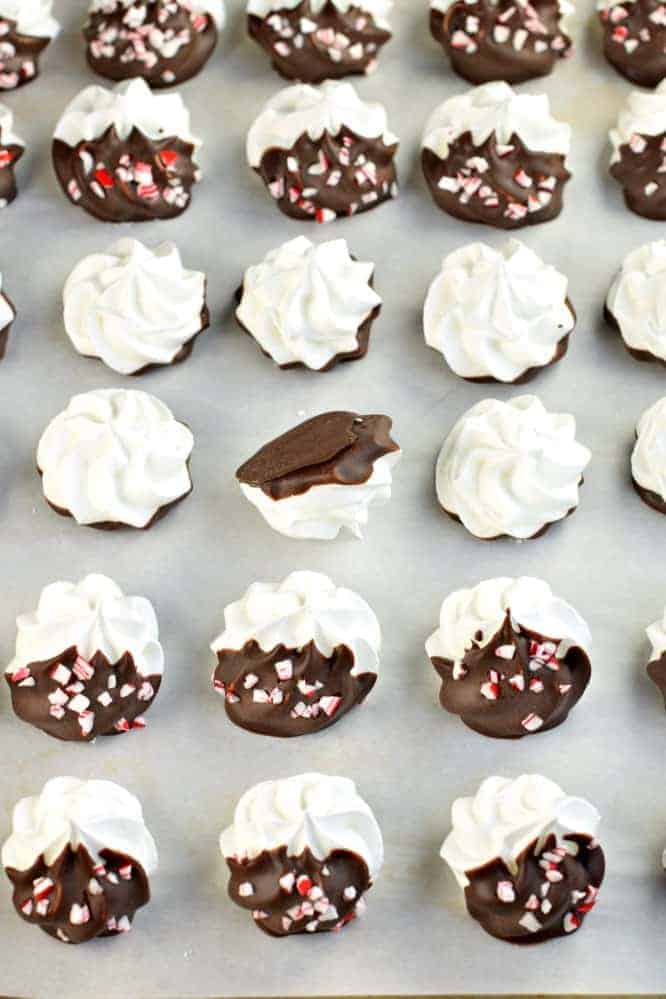 How to make Peppermint Meringue Cookies
Start by using room temperature egg whites. I find eggs are easier to separate when they are room temperature.
Save the egg yolks and use them for the homemade Lemon Curd!
You'll beat those egg whites to stiff peaks using medium high speed on an electric mixer.
Next, line 2 baking sheets with parchment paper. Preheat oven to 200 degrees F. Cooking meringues at low temperature is part of the success. I cook mine for 80-90 minutes.
Don't bake meringue cookies on humid day, or store them in the house when it's humid. For whatever reason they won't set up properly. Much like Divinity Candy, meringues can be finicky.
For flavor, use about 1/2 tsp of your favorite flavoring or extract. Today's recipe uses Peppermint Extract. Be sure not to use MINT as you don't want it to taste like toothpaste.
For additional flavors, you could use about 1-2 Tbsp of JELL-O gelatin powder. This will also add color to your meringues.
If you choose to add food coloring, add it to the meringue when you add your flavoring. It helps distribute it more evenly. Additionally, choose gel food coloring over liquid so it doesn't deflate your egg white peaks!
Pipe the meringue onto your parchment paper lined baking sheets by filling a pastry bag fitted with your choice of tips. I use an open star tip or flower tip for best results. Or drop meringues one tablespoon at a time onto parchment paper.
Cool completely before adding any chocolate to your meringue cookies.
Finally, when done baking, let meringue cookies sit in oven for about 4 hours or overnight, with the oven turned off. This step gives your cookies the best texture!
To store your meringue cookies, fill a large ziploc bag and press out the extra air. Store at room temperature. ENJOY.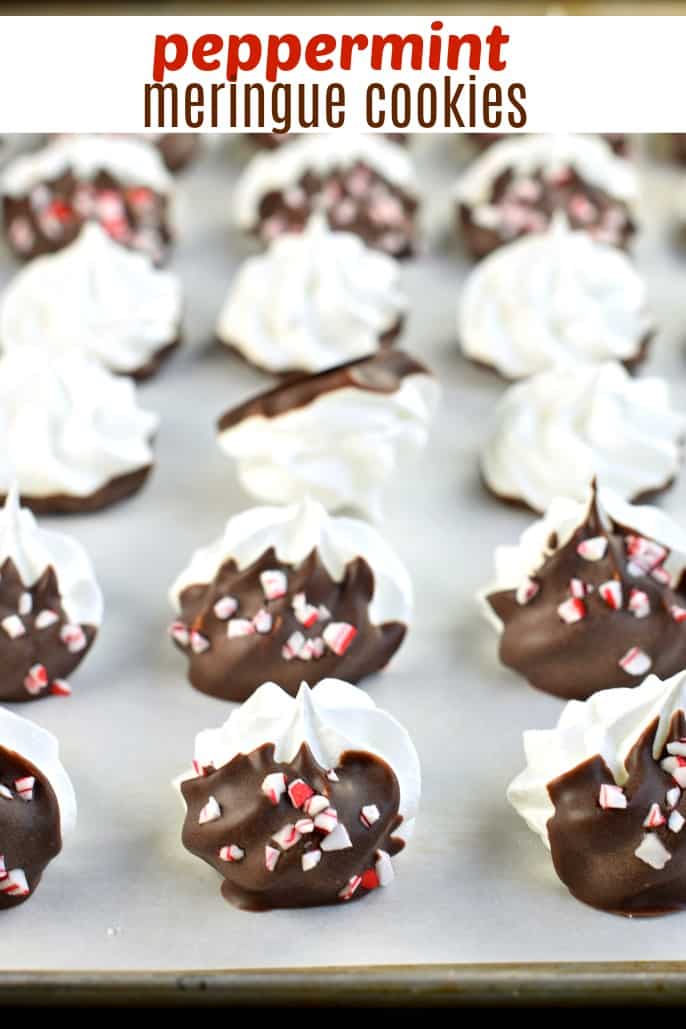 Meringues for every holiday
Melt in your mouth Pumpkin Spice Meringue Cookies are the perfect fall treat. You'll love the hint of nutmeg too!
Delicious, festive, melt in your mouth Strawberry Meringues dipped in chocolate! My favorite cookie recipe! These are perfect for Valentine's Day or any baby shower.
One of my favorite flavor combinations ever: Chocolate Mint Meringue cookies. Light green and perfect for St.Patrick's Day or Christmas too!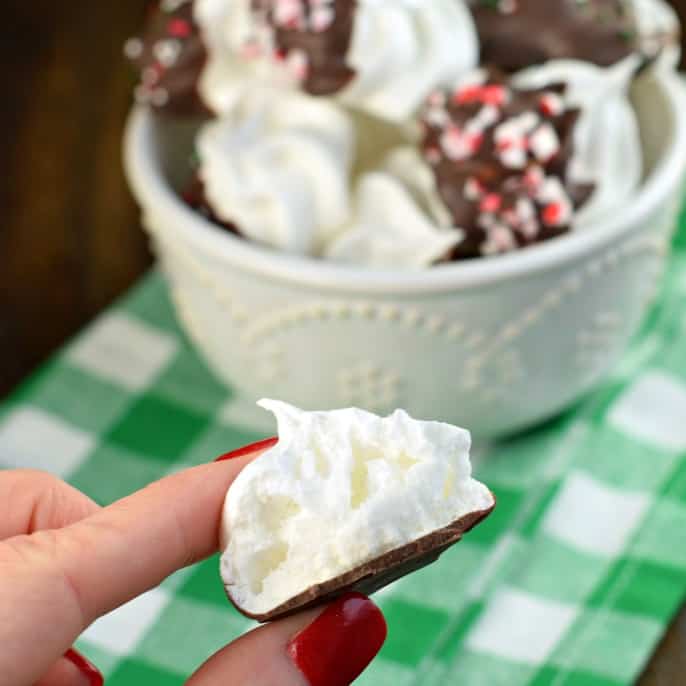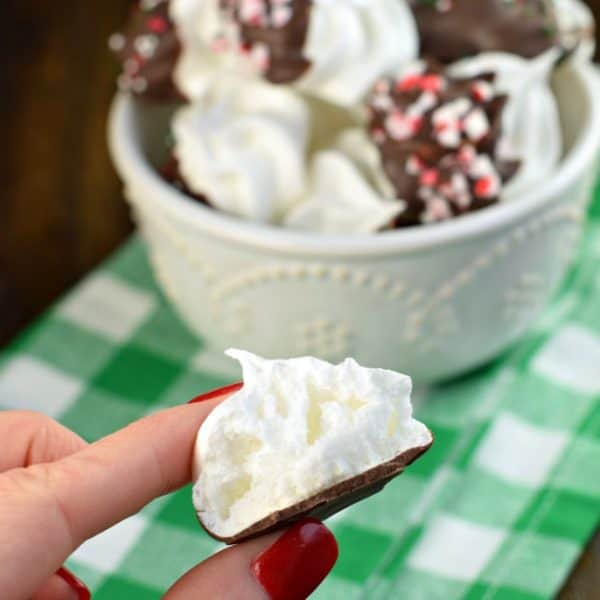 Recipe FAQs
Why do my meringues crack?
Typically if your meringues crack it means your oven temperature is TOO HIGH. Be sure to use an oven thermometer if this persists. It can also happen with changes in temperature, so don't PEEK on those meringues while baking, as opening the oven can cause cracks.
How long do meringue cookies last?
When stored properly, meringue cookies will last about two weeks.
How do you know when meringue cookies are done?
Once baked, meringues should be light and crisp, but not browned. You will know when they are done when the meringue cookie can easily be lifted from a piece of parchment paper and the bottoms are dry.

A few favorite Cookies for the holidays
Looking for the BEST sugar cookie cut out recipe? These Cream Cheese Sugar Cookies are so flavorful and they always hold their shape. Don't forget to add the delicious Vanilla Bean Frosting too!
Hate making cutout gingerbread cookies? These Gingerbread Cookie Bars are soft and chewy and topped with a delicious cream cheese frosting. Whip up a batch this holiday season!
These Easy Traditional Kolachky Cookies Recipe for Christmas have a melt in your mouth cookie base and are topped with sweet preserves. Don't forget the extra powdered sugar!
This Almond Bars recipe is a sweet treat that has a shortbread-like texture and a delicious almond glaze on top! You'll want to make extra and freeze them for later!
These Twix cookies have a buttery shortbread cookie base with creamy caramel and chocolate on top! I'm not even kidding when I say they are addictive!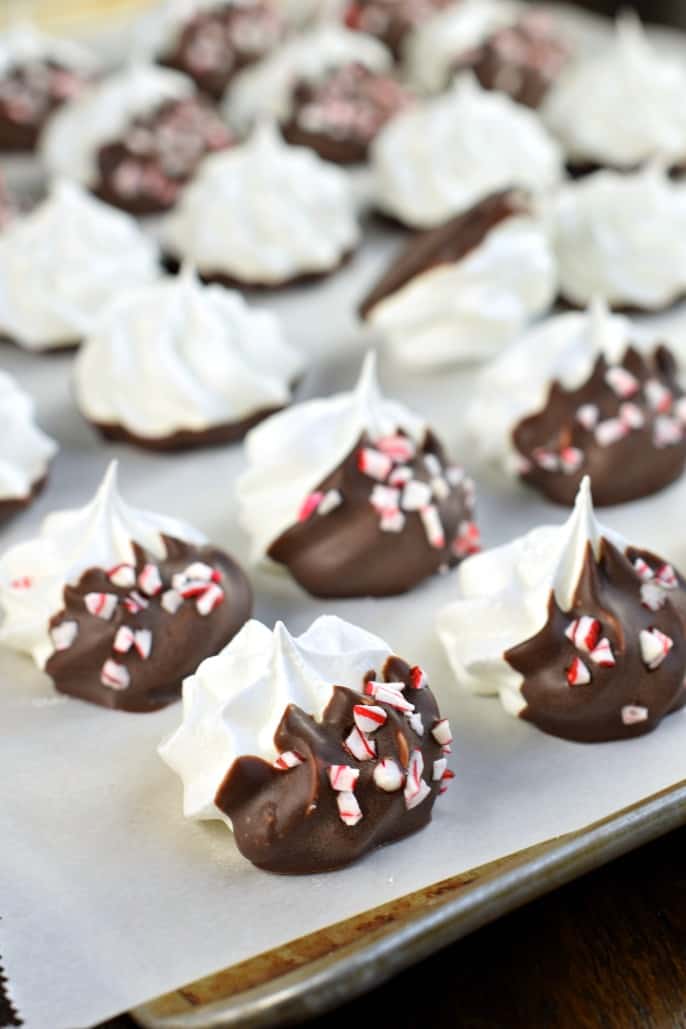 More Holiday treats
Melt in your mouth, Peppermint Meringue Cookies, dipped in dark chocolate. You'll want to add a handful of these sweet cookies to your holidays!