The Best Peanut Butter Fudge recipe with no candy thermometer needed. Soft and creamy and packed with peanut butter flavor, this easy fudge recipe is perfect all year long!
If you love peanut butter, be sure to try our very best peanut butter cookies. Chewy and perfect in every way. Readers love this peanut butter cake too, topped with creamy peanut butter frosting.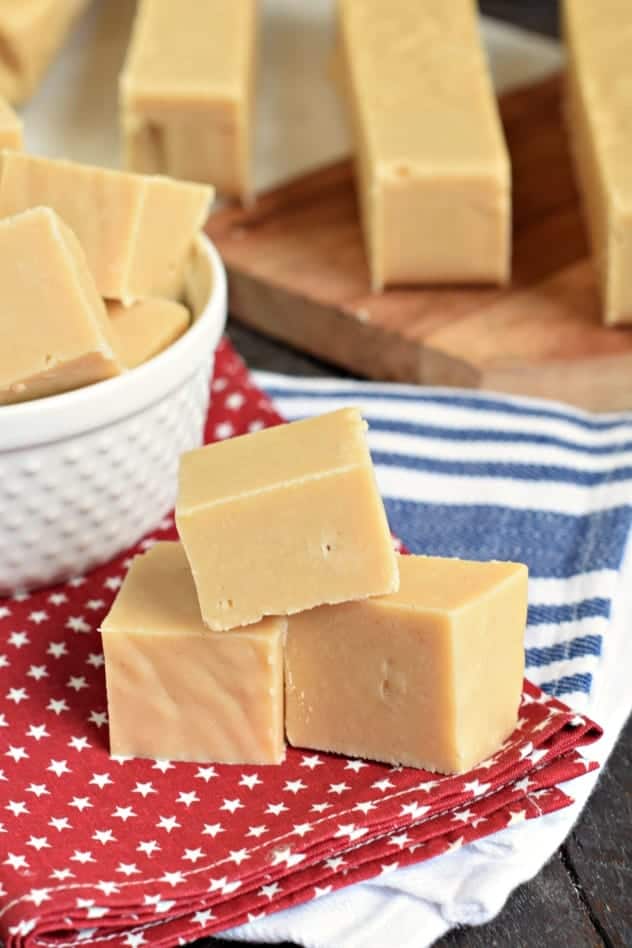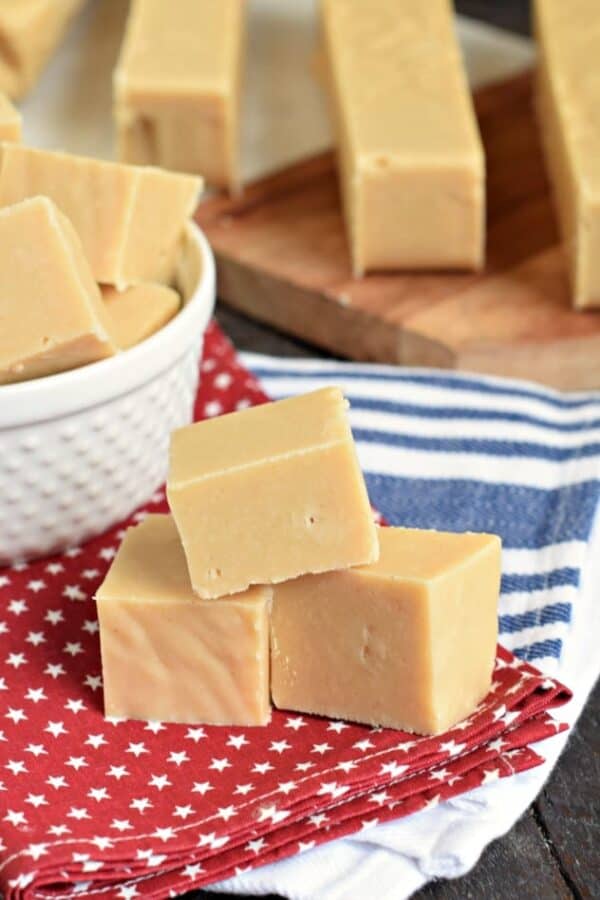 Why this Recipe is Best
Fudge is one of my favorite things to make! A few of my close friends have nicknamed me the fudge queen. Hey, if the name fits, I'll wear it. I'm still waiting for my crown though.
Fudge is the perfect treat to bring to parties, or to have around the house in the holiday season. The great thing about this easy Peanut Butter Fudge recipe is that it's also great to make throughout the year.
I love to make this during the summer when I want a sweet treat but it's too hot to turn on the oven!
This is seriously the easiest peanut butter fudge recipe! The combination of creamy peanut butter mixed with white chocolate fudge is so yummy.
There are few things in life that go as well together as peanut butter and chocolate. I combined the two favorites for this decadent dessert.
Nothing says holiday like a piece of fudge and a cup of Christmas Punch!
No candy thermometer
Soft and Creamy
EASY!
I'm here to teach you How to make the perfect fudge!
How to Make Peanut Butter Fudge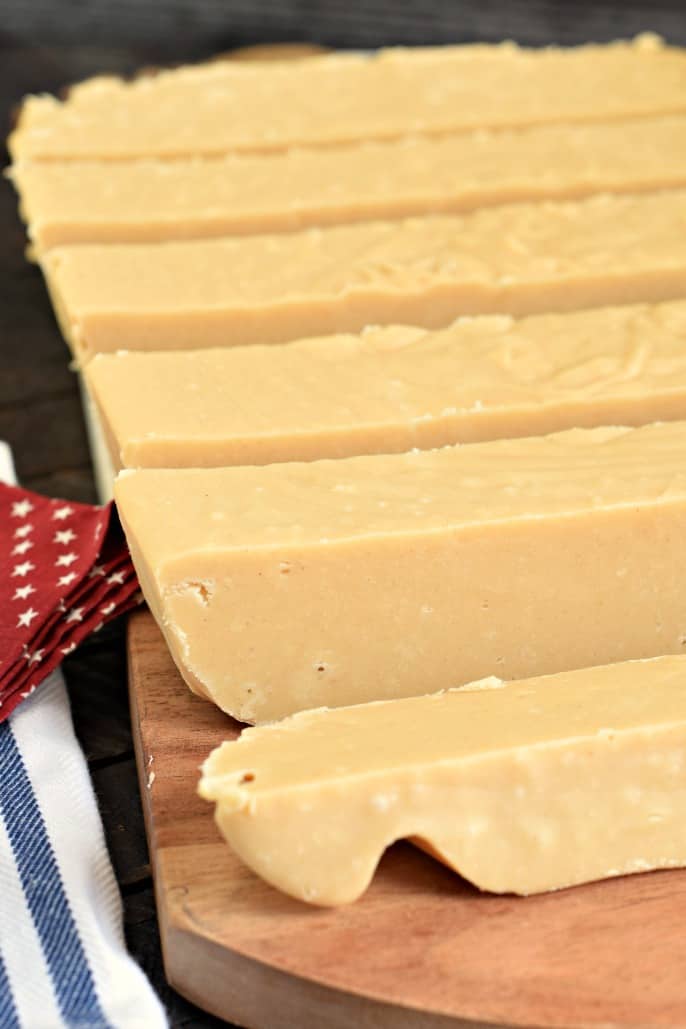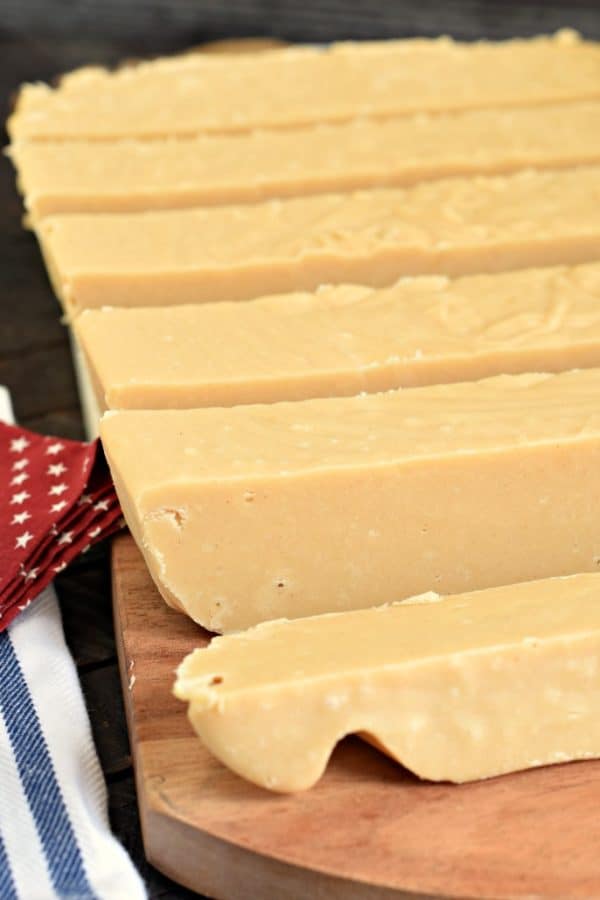 Step 1: Line an 8×8" square baking dish with parchment paper or foil. Set aside.
PRO TIP: use binder clips or clothespins to secure the parchment paper to the dish before pouring in the hot fudge.
Step 2: In a large saucepan heat the sugar, butter, salt, and heavy cream until combined.
Continue to heat until the mixture comes to a rolling boil, then spend four minutes stirring continuously. Make sure you set your timer for these four minutes. This step goes fast!
Step 3: Remove from the heat. Quickly whisk in the white chocolate chips, marshmallow cream, and peanut butter. I usually put all of these ingredients in my KitchenAid Mixer and whisk them for about 1 minute, until the white chocolate morsels have melted.
Step 4: Pour fudge into your prepared pan and allow to set for 3 hours, or until it becomes hard. You can refrigerate to speed up the process (but beware, refrigerating fudge can dry it out faster than keeping it at room temperature).
Step 5: Remove from the pan and remove the parchment lining. Cut into bite sized pieces and enjoy!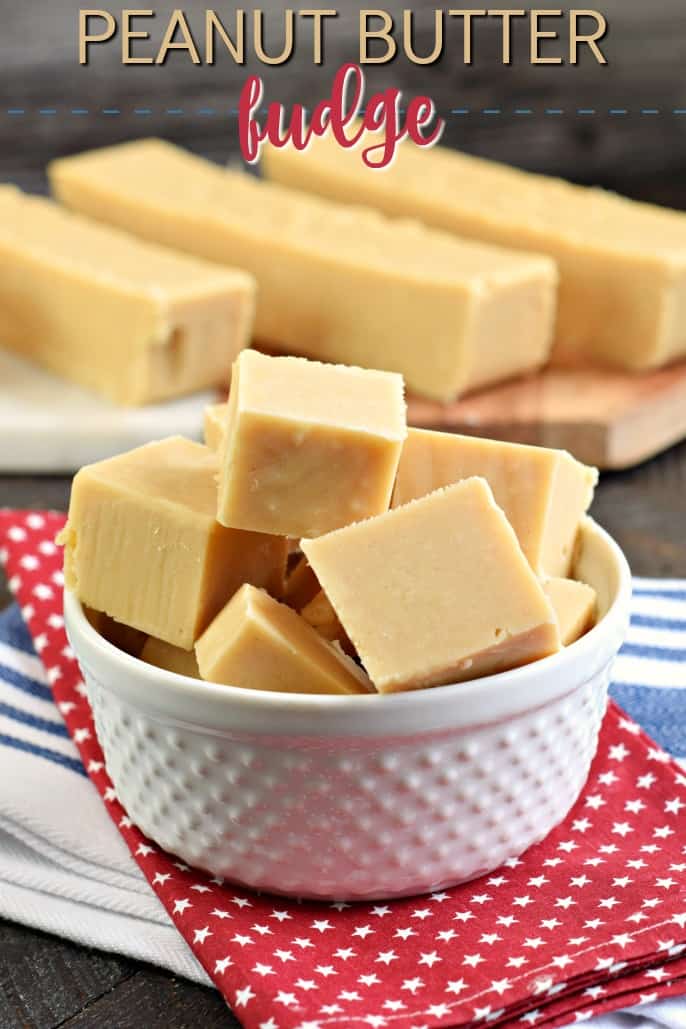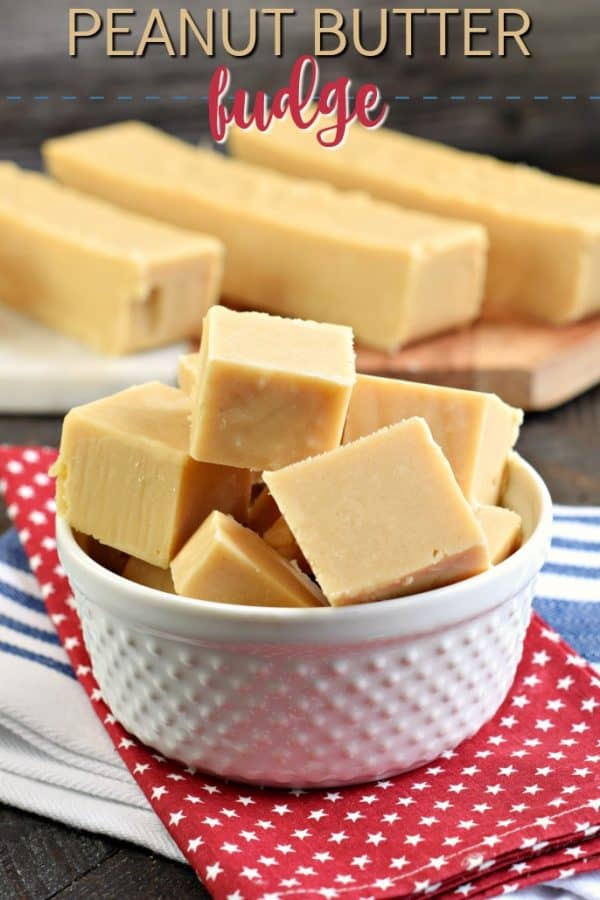 Recipe FAQs
Why won't my fudge harden?
If your fudge doesn't properly set after heating a cooling, it sounds like you didn't boil it properly. Make sure to have a ROLLING boil for a full FOUR minutes.
Why is my fudge grainy?
Using natural peanut butters can do this to fudge, or not dissolving all the sugar prior to boiling.
Should I refrigerate fudge?
I prefer to keep this uncut in an airtight container at room temperature. However, you can FREEZE fudge for up to three months!
Can I Freeze Easy Peanut Butter Fudge?
Yes! You can double this easy peanut butter fudge recipe and freeze a batch for up to three months.
Once it hardens, wrap up the uncut fudge in plastic wrap and then slide into a large ziploc freezer bag, pressing out all the air.
When you're ready to eat it, place the ziploc bag on the counter to come to room temperature to thaw. This is usually best if you let it sit out overnight. Slice the fudge and enjoy!
How to Store Peanut Butter Fudge
You can make this peanut butter fudge a few days in advance and then store it until you're ready to enjoy it, or give it away!
Make sure the peanut butter fudge is stored in an airtight container at room temperature.
I prefer to leave the fudge UNCUT until it's time to serve it. This keeps the fudge from drying out. Then, just cut what you need—a little, or a lot—at a time.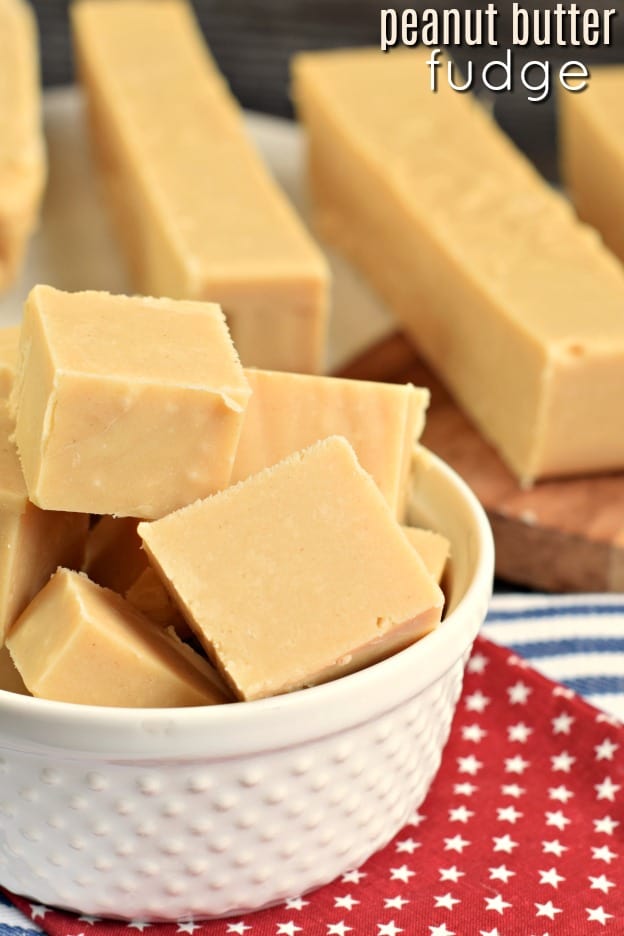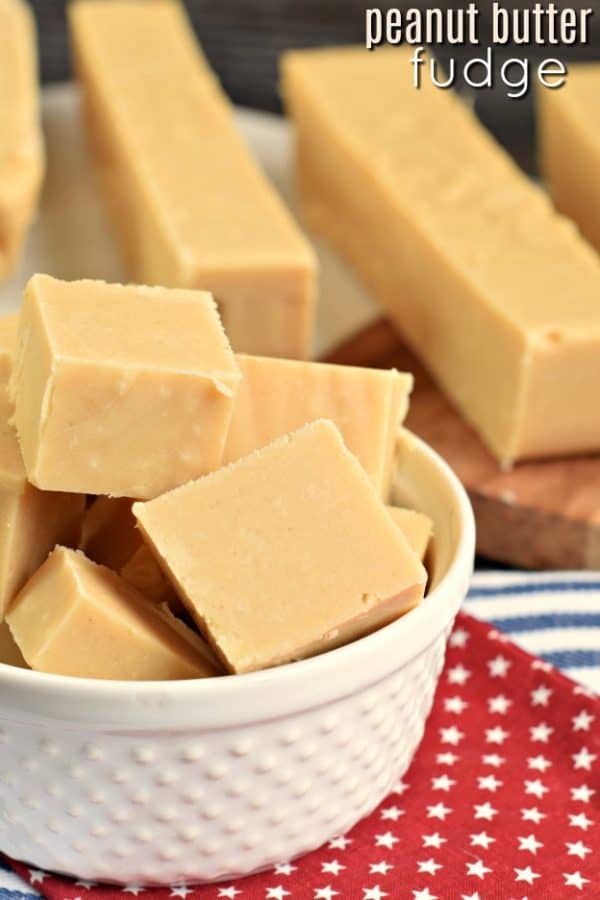 Tips and Tricks
Don't use a natural peanut butter. I love natural peanut butter but it's too oily to use for this creamy peanut butter fudge recipe.
Stick with creamy peanut butter for this recipe. Avoid using crunchy peanut butter to keep this fudge creamy and well blended.
Don't scrape the sides of your sauce pan after cooking, this adds sugar crystals to your fudge which can make it grainy.
You can add candy or chocolate bits for a yummy fudge topping. Just drizzle melted chocolate on top or mix in your favorite candies like Reese's Pieces, M&M's, etc.

Other Fudge Varieties
Remember how I said people had given me the nickname the queen of fudge? It might be because I have a slight obsession with making a ton of different fudge varieties.
This Easy Peanut Butter Fudge recipe is packed with peanut butter flavor. Chocolate fudge and peanut butter come together for a rich and creamy treat that is easy enough to make throughout the year.