Do you know How to Make Vanilla Fudge? It's easier than you think and is so simple to customize with your favorite candies, nuts and other delicious mix-ins!
Making this vanilla fudge is the perfect base for so many other flavors, including our birthday cake fudge recipe! It's also the perfect starting point for pink lemonade fudge.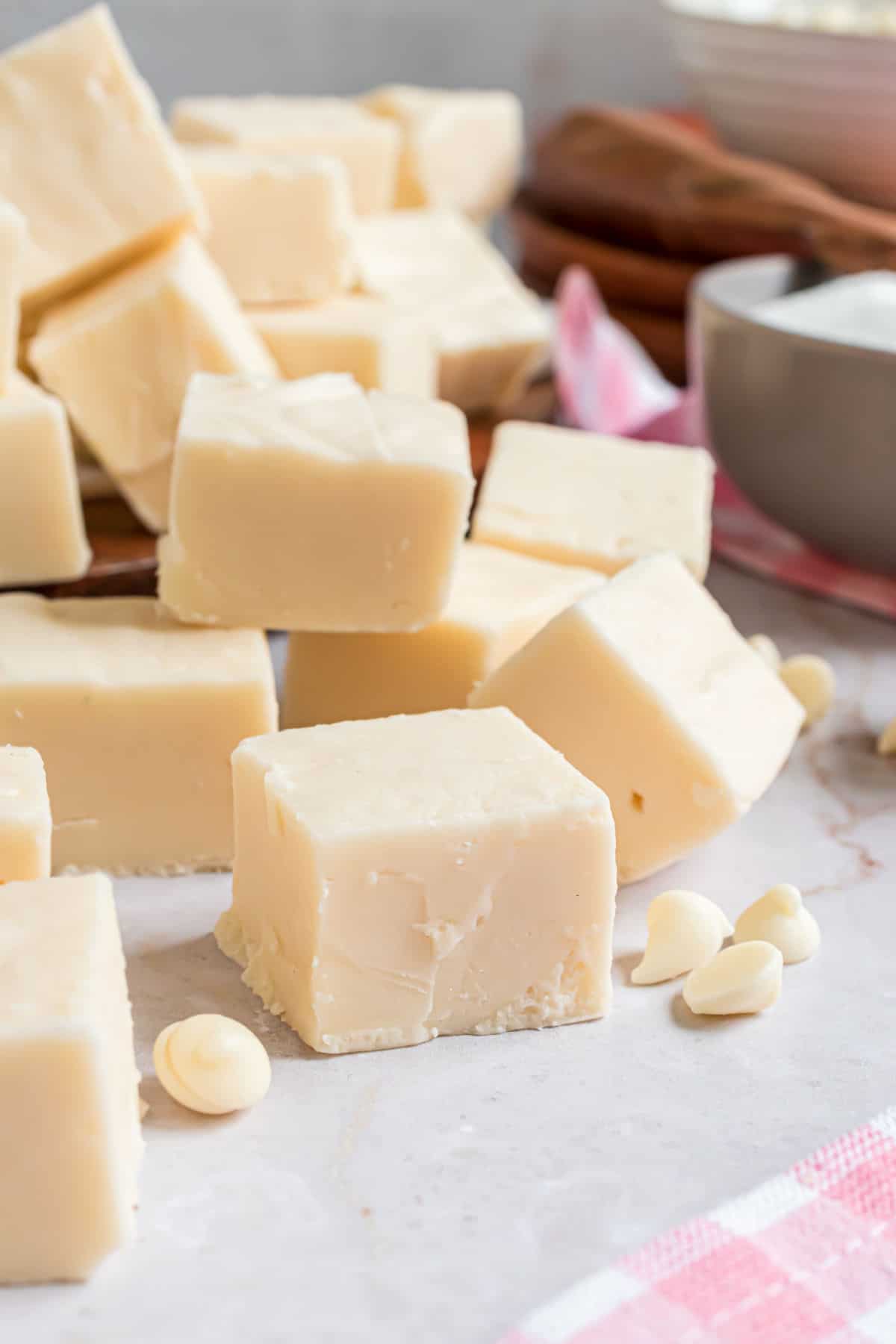 Why this Recipe is Best
Have you ever made fudge before?
Fudge is one of those candies that seems really complicated to make and will impress the heck out of your friends, but is actually really easy!
Fudge is one of my favorite things to make. In fact, I don't just make it at the holidays –I make it year-round, thanks to my Easy Vanilla Fudge recipe!
If you want to learn how to make vanilla fudge and how to customize it with your favorite flavors, keep on reading -I'm spilling all of my tricks!
Making vanilla fudge –sometimes called "white fudge" –only takes a handful of ingredients that you may already have on hand. You'll definitely want to keep them around just in case any last-minute fudge cravings hit!
Ingredient Notes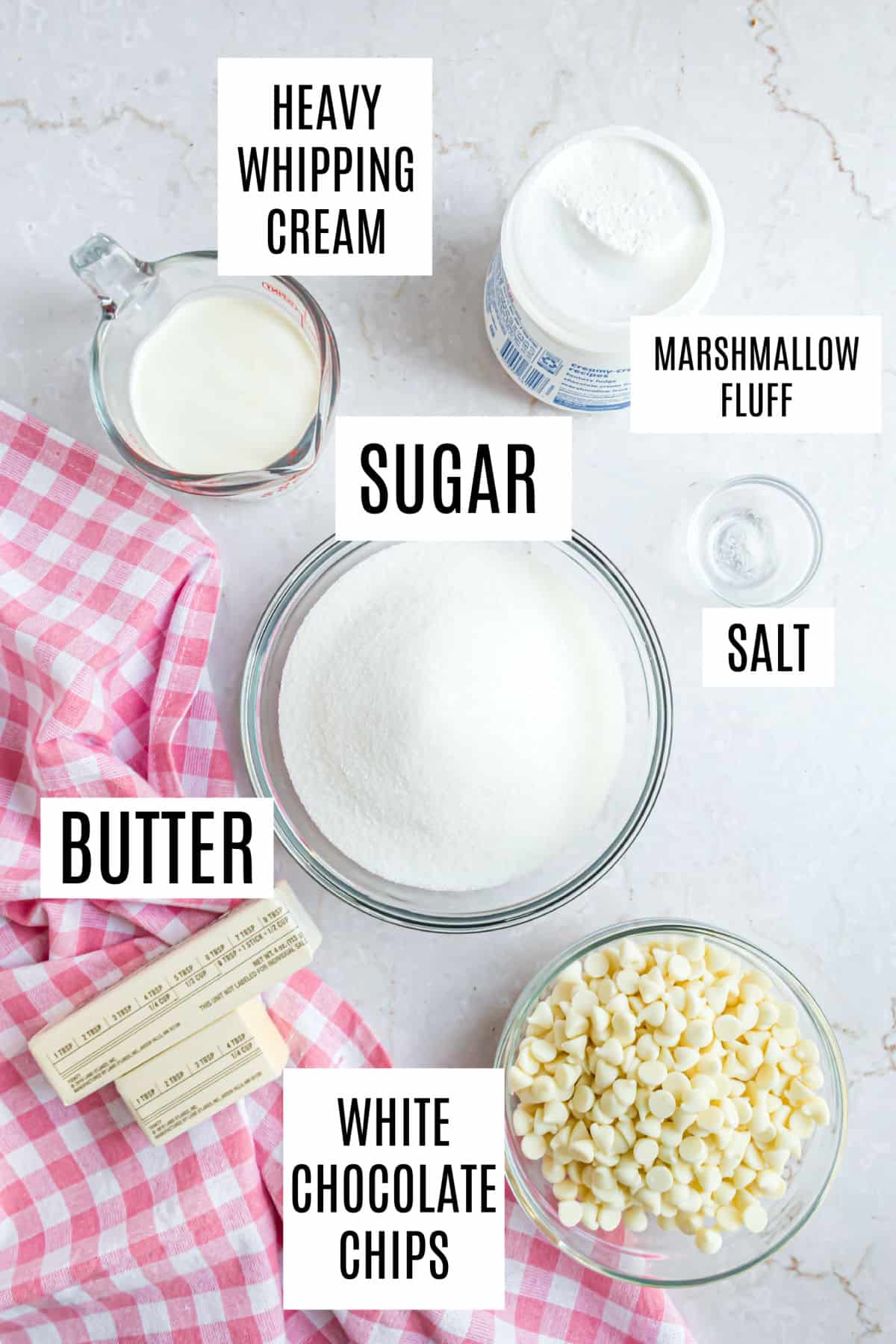 You'll start with butter and sugar and cream, of course. All of the best candy recipes start with those basic building blocks.
You'll also need white chocolate chips or morsels.
The key to making easy white fudge in my house is marshmallow cream, sometimes called marshmallow fluff.
I like using marshmallow fluff in my fudge recipes because it cuts out a lot of steps and is what makes my vanilla fudge so easy to make.
That's it.
5 simple fudge ingredients (or 6 if you count a pinch of salt) are all you need to make an easy vanilla fudge recipe. From there, any other flavors, candies, cookies or nuts are just extras!
To get a deep vanilla flavor, add in vanilla extract, vanilla beans, or vanilla paste!
Step by Step Instructions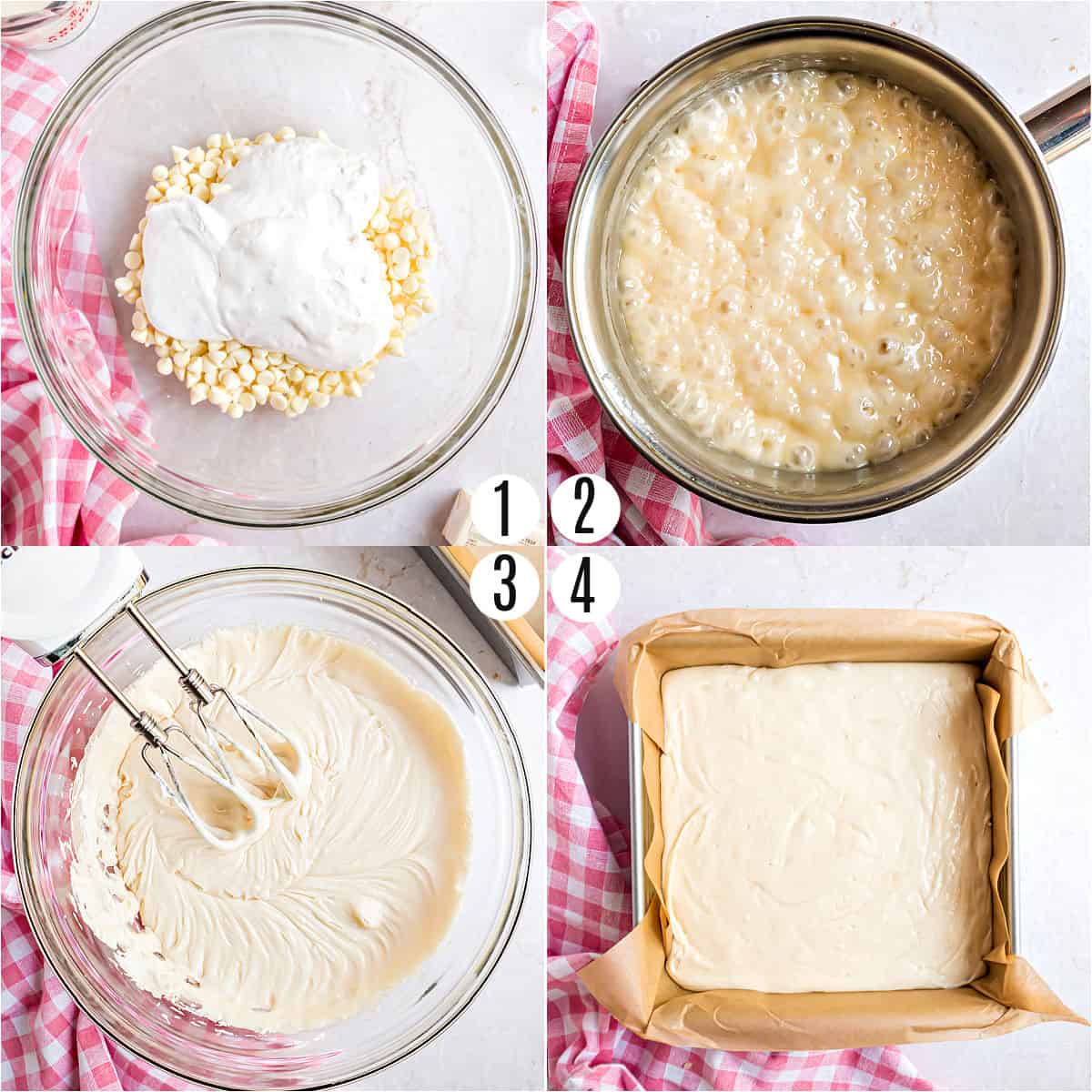 If you've ever made some "old school" fudge recipes, you know that they have you cook a mixture of sugar, butter and cream to a certain temperature, then wait for it to cool down, then beat it until it's creamy.
The result is delicious, but kind of a lot of work. When I want fudge, I want it FAST!
So instead I figured out how to make vanilla fudge with an easier method that makes fudge that is just as creamy and delicious.
Step 1. Before you get started, place the white chocolate and the marshmallow cream into a large mixing bowl. Set this aside –you want to do this first because once the butter and sugar is ready, you'll need to pour it over this mixture right away!
Step 2. In a saucepan, bring the sugar, cream, butter and a pinch of salt to a boil and cook for 5 minutes, keeping it at a steady boil.
Step 3. Remove the pan from the heat and very carefully pour the hot sugar mixture over the prepped white chocolate and marshmallow cream.
Use an electric mixer to blend everything together for about a minute, just until the white chocolate is melted and everything is smooth. Once this is ready, you can fold in any extra mix-ins you might want or simply pour it into a prepped 8-inch pan.
Step 4. After a 2-hour rest, your white fudge is ready to cut and enjoy!
PRO TIP: You can also make white fudge ahead of time, even up to a couple of weeks in advance, making it the perfect candy to make when you're busy entertaining.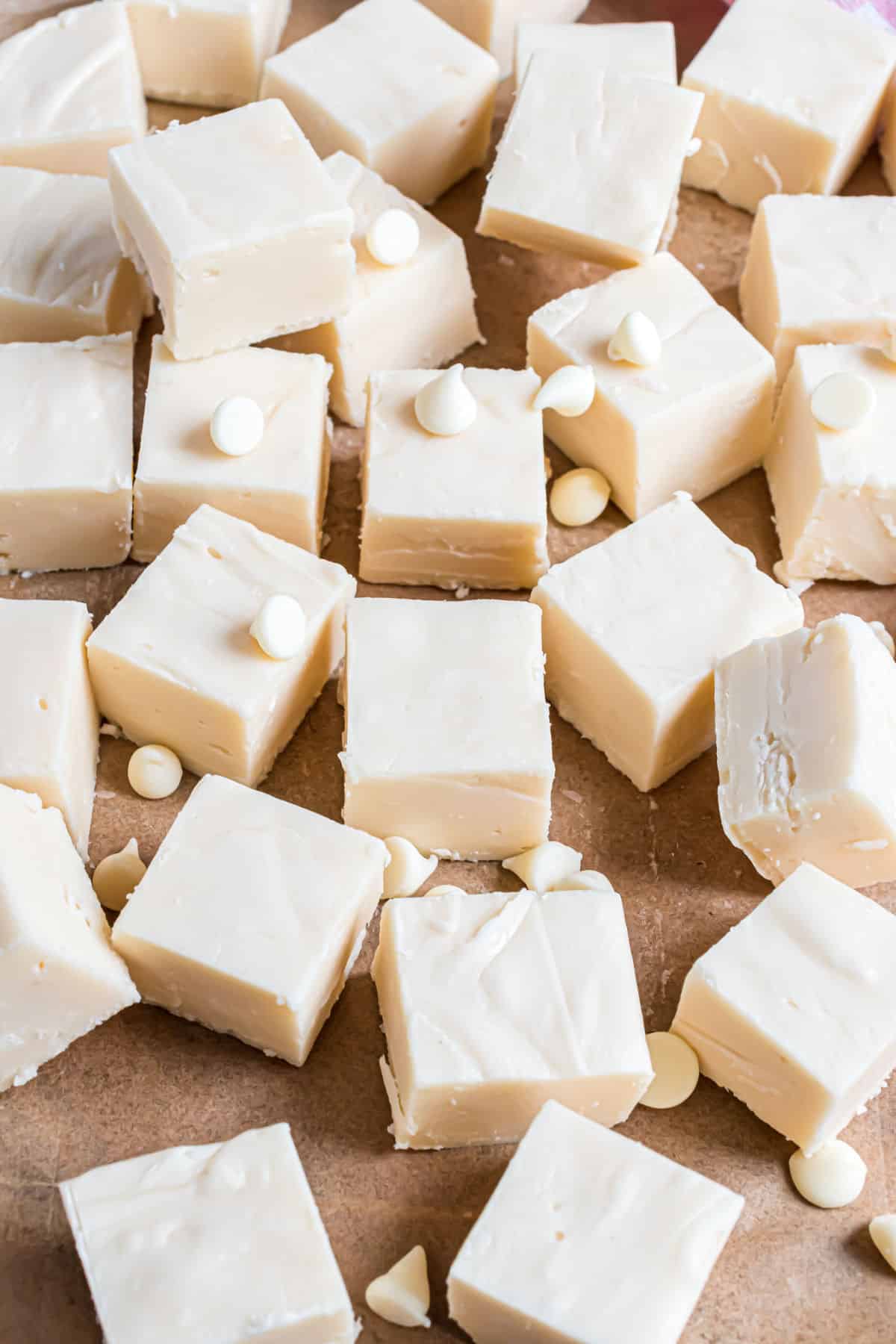 Variations
Once you know how to make vanilla fudge, you can tweak my easy recipe to personalize it in a million different ways!
Simply add in some flavor extract if you want or mix in anything from chopped candy to nuts to sprinkles.
It is also the perfect base if you want to add some food coloring to make it any color you like for a holiday party or even a baby shower!
See?? One easy vanilla fudge recipe can make you a master of all things fudge! Knowing how to make fudge is easy as can be, and you can even learn how to make chocolate fudge if that's more your style.
What will you add to your white fudge to make it your own?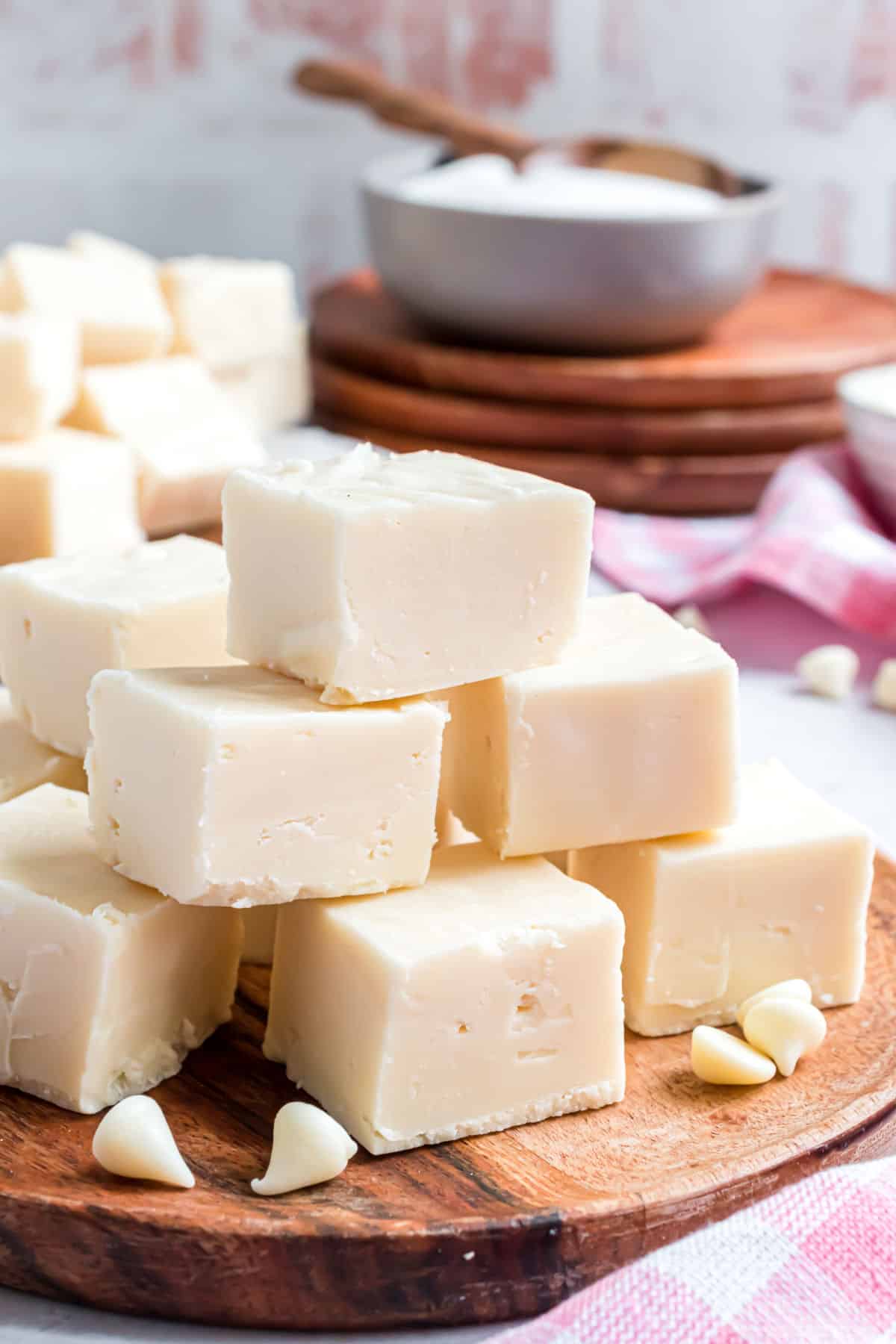 More Easy Desserts